Skiing in Spain? – Yes, you have understood correctly, that is possible. Spain is about so much more than Sunshine, Sangria & Beaches. It is home to numerous beautiful mountains, whose peaks are perfect for skiing and snowboarding during the winter months.
Spain is undoubtedly a wonderful European winter sports destination that is compared to other European ski regions still rather uncrowded. Indeed, it is only ranked second to Switzerland when it comes to the greatest number of mountains. Snow-covered summits just an hour away from cities such as Madrid and Barcelona or even the desert provide 1,157 kilometres of slopes divided into 36 ski resorts across the whole country.

That will be the first article of the series "Winter in Spain" and will give you an interesting overview of the different regions for skiing in Spain. In this article, I will briefly explain what to expect when you go skiing in Aragon, Catalonia, Andalusia, Cantabria, and Central Spain.
Use the map below to discover them.
1) What you need to know about Spain as a winter destination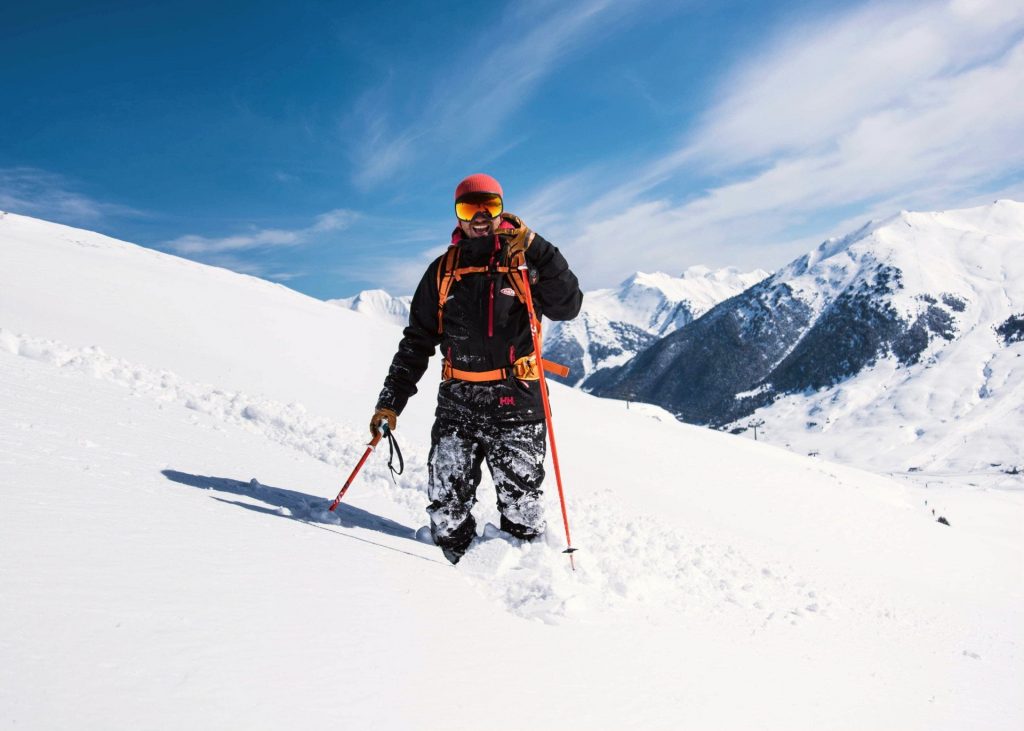 Spain is the perfect destination for every late riser – Here, the clocks tick differently. In Spain, the sunrise and sunset take place late compared to Central Europe, which enables you to benefit from the sun rays on the slopes the whole afternoon. So, the Spanish can enjoy the fun on the descents usually until 5 pm, or even longer. The sun above Spain keeps you nice and warm during your day in the snow and on the terrace of the ski huts. Here, nearly every day you can enjoy the perfect weather.

Après ski is definitely not neglected in the Spanish ski resorts. Several bars and nightclubs invite you for some nice fiestas once you have unstrapped your skis or snowboard. Especially, Marchica in Formigal is the right place for you, if you are looking for the perfect party in the mountains.
2) Best regions for skiing in Spain
Spain has many different regions suitable for skiing throughout the whole country. North, or South, or even just an hour away from Madrid or Barcelona.
Below you will find the best regions for skiing in Spain:
Skiing in Aragon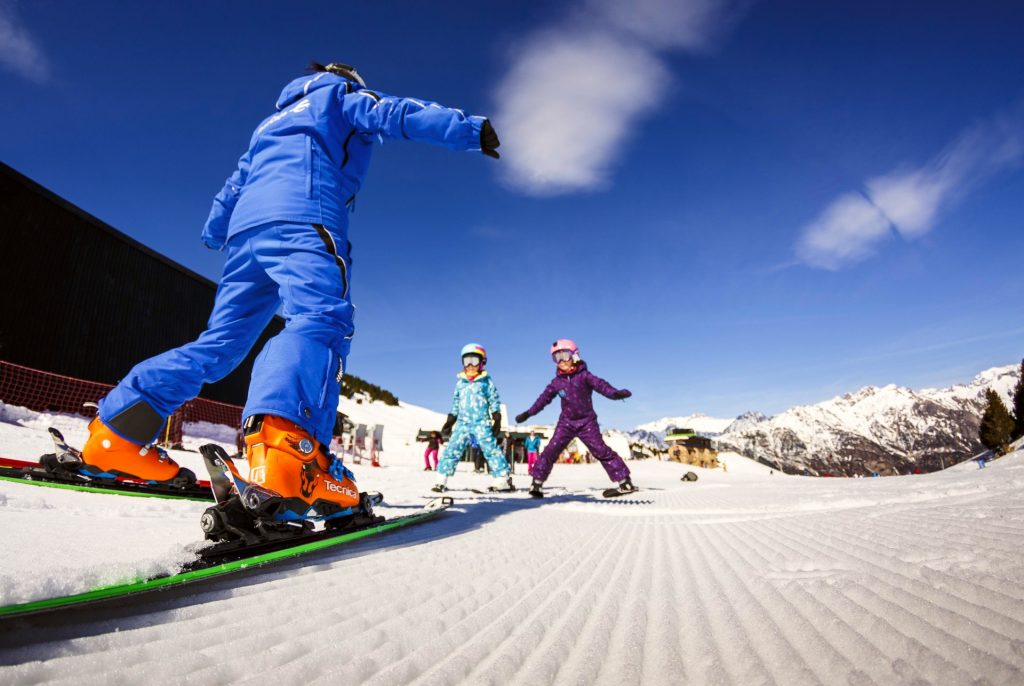 Located in the North of the country, right at the French border, this region in the Aragonese Pyrenees lets every winter sports enthusiast's hearts beat higher. Aragon is one of the 17 autonomous communities in Spain and, due to its geographic location, even a really popular destination for skiing in Spain.
Here you can enjoy nearly empty slopes of all different difficulty levels, especially during the week. Powder lovers will get their money's worth at Aragon's beautiful snow-covered resorts.
The range of ski resorts goes from Candanchu, Panticosa, Formigal, Benasque, and Javalambre to Valdelinares. Especially Formigal is a perfect choice for beginners who want to learn how to safely ski in plough and brake surrounded by the winter wonderland of the Pyrenees and view to the summits of Peña Blanca or Punta Escarra. For skiing in Formigal, I can definitely recommend our ski school Escuela de Esquí Formigal, which has already made hundreds of CheckYeti customers more than happy.
In Aragon, you don't only have the possibility to do some basic skiing or snowboarding. Additionally, it is also a perfect spot for some nice cross-country, ski touring, and telemark experiences for all those of you who cannot get enough of the winter fun.
Skiing near Barcelona in Catalonia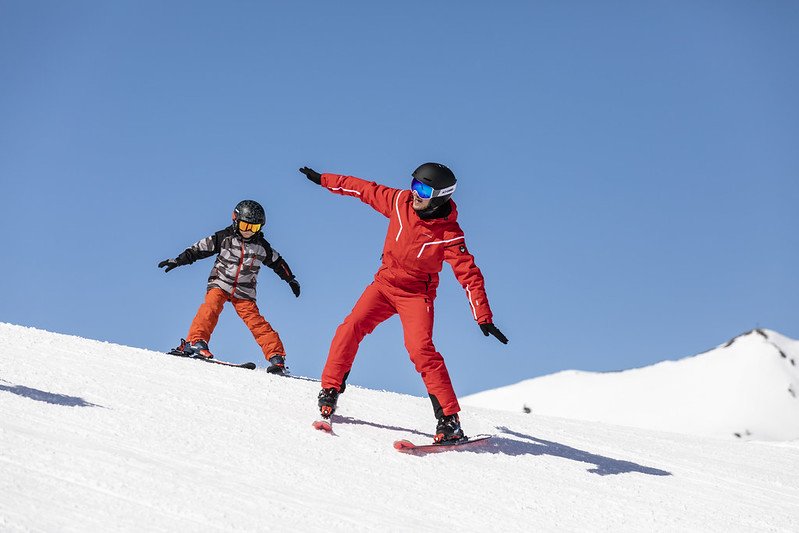 Catalonia, located in northeastern Spain, is well-known for Barcelona, Gaudí, and the Costa Brava. But due to the Catalan Pyrenees, it is without doubt also one of the best regions for skiing in Spain. It also offers Spain's greatest number of ski resorts that are accessible by bus from Barcelona, just for a day trip!
A combination of a skiing holiday and a city trip is no longer a dream of yours. The exact season depends a lot on the weather, but with some luck, it even starts in early December and ends at the beginning of March, whereas January and February are ideal for your skiing trip to Spain.
Catalonia alone already inhabits more than 400 kilometres of slopes, divided up to several ski resorts: Vallter 2000 Ski resort, Boí Taüll, Tavascan, La Molina, Vall de Nuria, Sant Joan de L'Erm, Port del Comte, and Baqueira Beret. Especially Baqueira Beret is famous for its 160 kilometres of slopes in up to 2,510 metres altitude and is at the same time Spain's largest ski resort. Skiing near Barcelona, or more exactly in Baqueira Beret has a lot of added value to your ski trip to Spain. Here, I would suggest booking some exciting lessons with Escuela de Ski Baqueira. Check out their offers on our Website!
Also, off-piste and cross-country enthusiasts get their money's worth in Catalonia. Everyone, who is looking for a winter activity of a different kind, will find their happiness in snowmobile and dog sledding adventures.
Skiing in Europe's most southern ski resort in Andalusia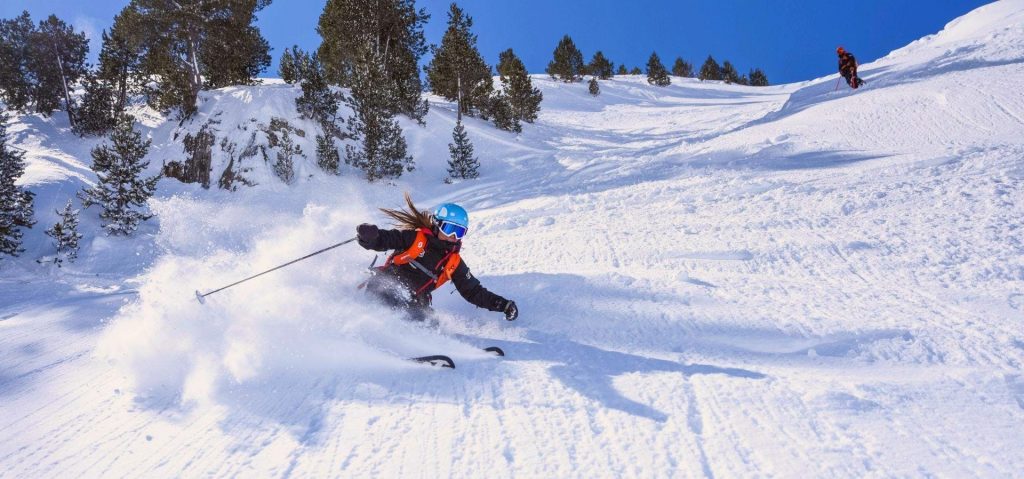 Andalusia is well-known for summer, but obviously, you don't have to wait for the hot days to get the Sangria pouring. The Sierra Nevada, located near Granada on the Spanish Mediterranean coast, is the most southern resort for skiing in Spain and in Europe. This area continues to break records, as it is also one of Europe's highest resorts with an altitude of 3,282 metres. Usually, it opens from late November until early May. All those of you, who go up until the highest point, will be rewarded with an amazing view of the Costa del Sol, Gibraltar and the Moroccan coastline.
The Sierra Nevada makes the heart of every winter sports enthusiast beat faster. No matter if snowboarder or skier, if beginner or advanced, if Spanish or foreigner – give it a try and go skiing in Spain! Our ski school Escuela Española de Esquí y Snowboard Sierra Nevada has already proven its high quality over a hundred times. Check it out and convince yourself!
Skiing in Cantabria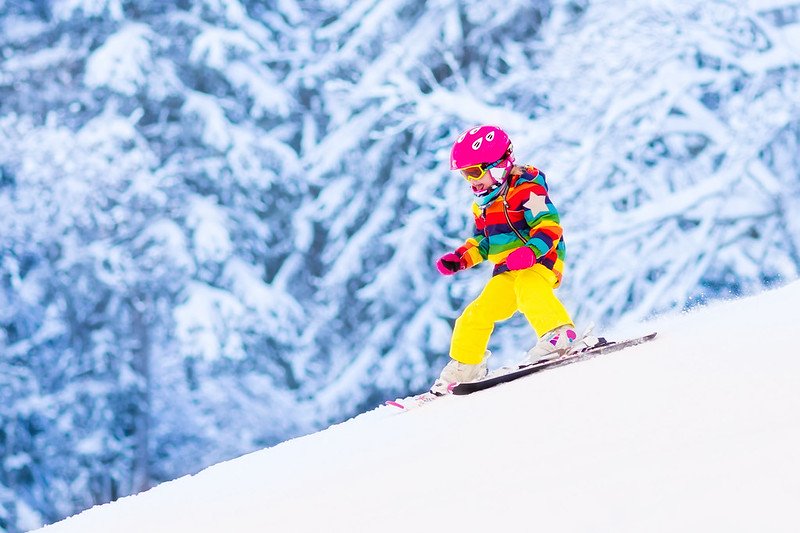 Cantabria, another autonomous community located in the northern part of the country and known as "Green Spain", offers plenty of forested mountains with ski resorts. Cantabrian ski areas are located along the Cordillera Cantábrica (Cantabrian mountains), which are one of the main mountain ranges in the North.
Cantabrian ski resorts are rather small, as the biggest area, Alto Campo, offers 28 kilometres of slopes. Nevertheless, this is not in contradiction with the outstanding quality of the snow, slopes, and resorts. The range of ski resorts goes from San Isidro, Alto Campoo and Valgrande-Pajares to Leitariegos. In Alto Campo, you will also be able to ski at an altitude of 2,120 metres with an amazing view of the glistening snow-covered peaks of Cuchillón and Cornón. I ensure that this experience is going to be unforgettable, especially with our partner ski school Escuela de Esquí Slalom Alto Campoo. Definitely check out their lessons!
Skiing near Madrid in Central Spain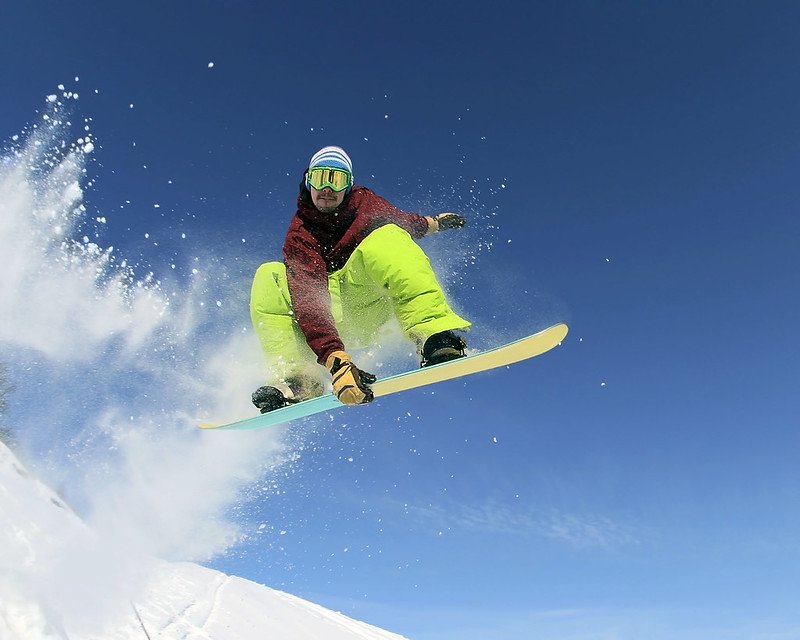 If you are looking for some snow, sun, and fun, central Spain is the right choice for your skiing holiday in Spain. Only a stone's throw away from the capital city, Madrid, the central mountains turn into a paradise for winter sports lovers. Busses from Madrid make some of the resorts easy accessible.
The range of ski resorts goes from Navacerrada, Covatilla, La Pinilla and Valdesqui to Valdezcaray. These areas in the heart of Spain are compared to the ones in the Pyrenees rather small. Just 100 km located away from Madrid, La Pinilla is the ideal area for day trips from the capital city. Its 21 km of slopes are small but beautiful and offer a great view of the surrounding region and the peak Cervunal.
Now, after this first article you have an overview of skiing, and winter sports in general, in Spain. In the second article of the series "Winter in Spain", we will give you further information about skiing in Spain and tell you more about Spain's biggest ski resort, Baqueira.