Paragliding in Annecy is like waltzing in Vienna, drinking sangria in Spain, or listening to jazz music in New Orleans: you can do it anywhere, but it's just not the same when you're not in the top location. To help you prepare for this great experience and give you an insight into what to expect from paragliding in Annecy, the CheckYeti team has summarised all the important information in this article.
Paragliding in Annecy: When & where?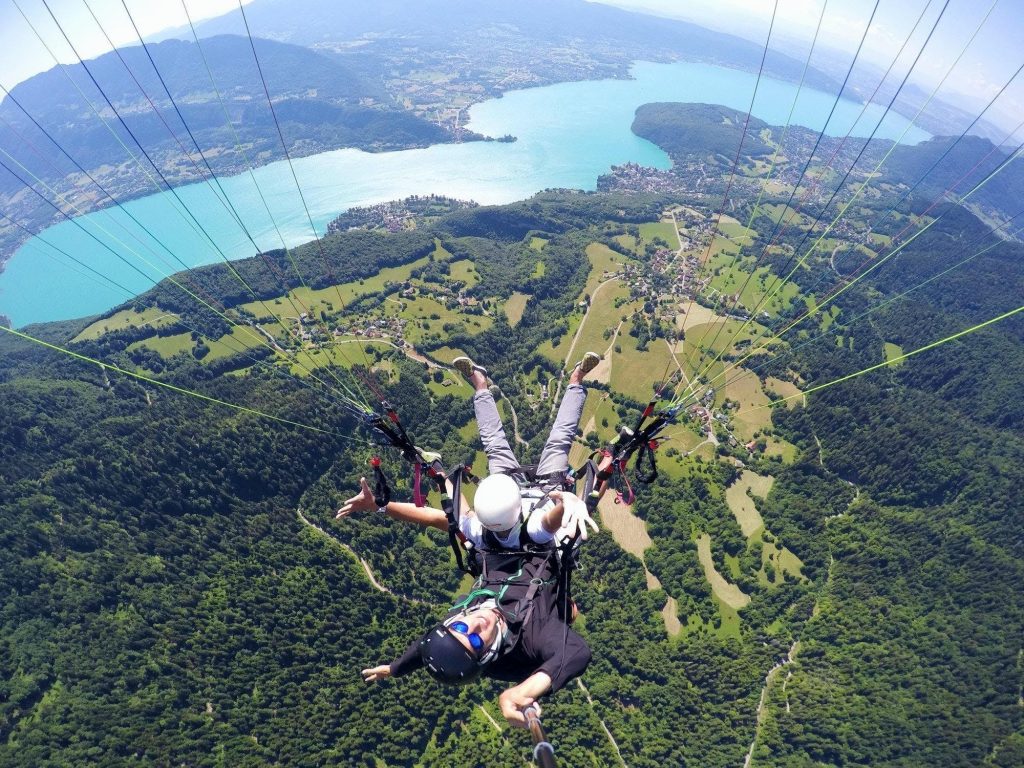 Annecy is widely known as the ultimate paragliding hotspot: The conditions for flying are excellent, the access is easy, and of course, there's the unique landscape of Lake Annecy. Highlights include the castle of Duingt, the cliffs of La Tournette, and the majestic Dents-de-Lanfon mountain. If you get high enough during the flight, you can even see the famous Mont Blanc in the distance.
When?
The best meteorological and thermal conditions can be expected from April to November
Standard flights mostly take place in the morning due to the stable flying conditions at that time
Thermal flights usually start in the afternoon because that's when you can easily use the updrafts to gain altitude
Where?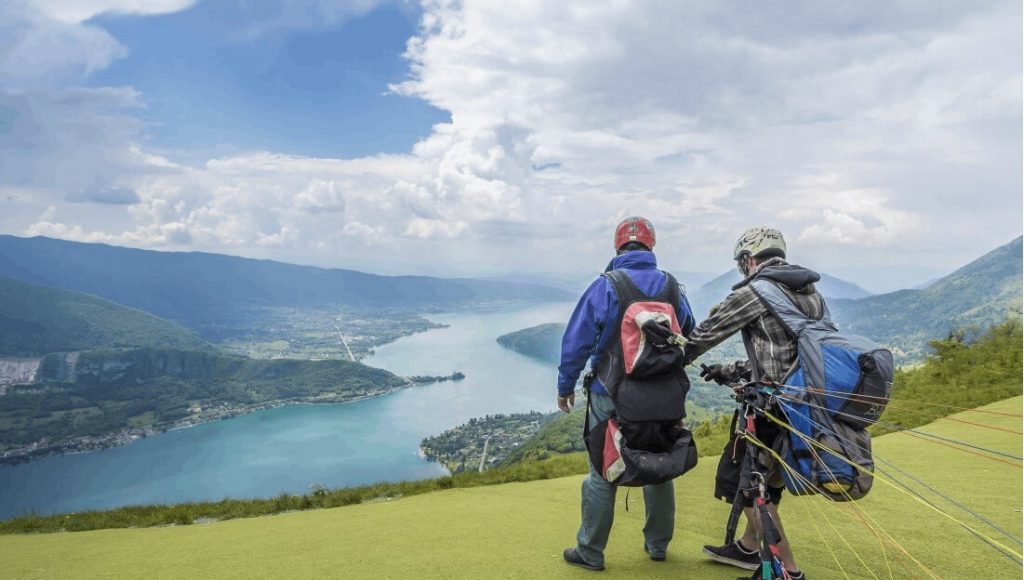 All flights take place at the southern end of Lake Annecy (the exact route always depends on local conditions)
Meeting point: The meeting point is either at the landing site in Doussard (from where the provider will take you to Col de la Forclaz by shuttle bus) or directly at the starting point (in which case you will be brought back there after the flight). It takes about 30 to 40 minutes to get from Annecy to the meeting point.
Start: In almost all cases, the flight takes off at the Col de la Forclaz mountain pass.
End: Doussard
What you should know about your very first paragliding experience in Annecy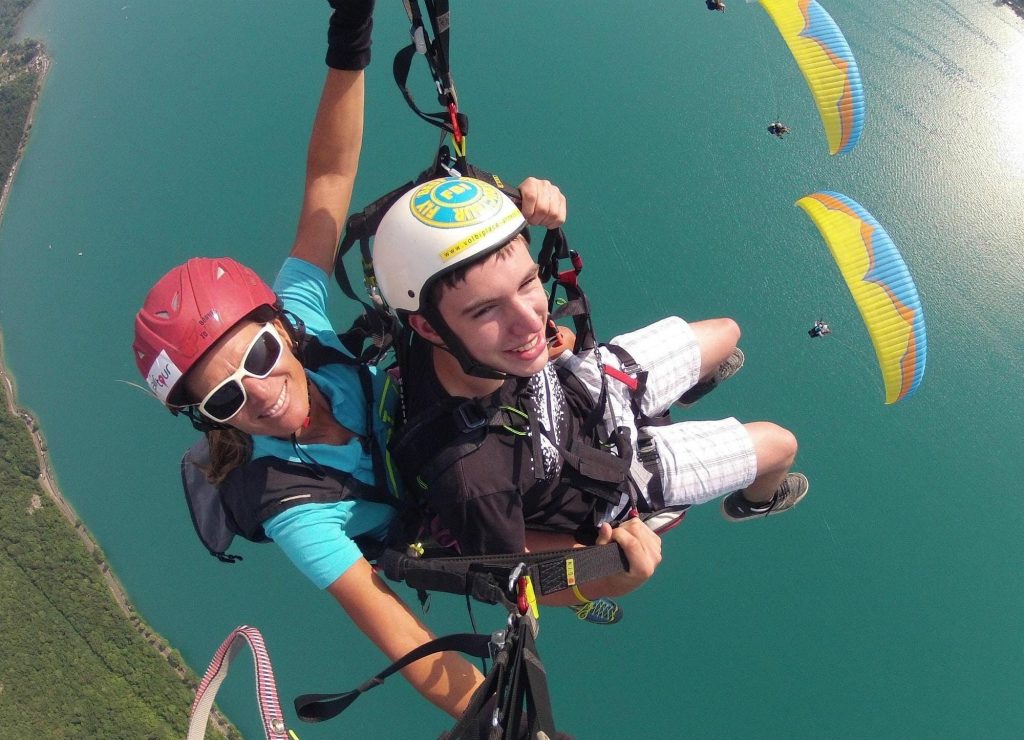 Paragliding for the very first time is a unique experience that you share with a highly skilled pilot who will take care of everything for you. Depending on what paragliding adventure you choose, the flight can take on various forms: a smooth journey in calm air, a thrilling and roller-coaster-like ride, or a long and breath-taking panoramic flight. If the weather conditions are good, there are no limits to what your pilot can offer you.
We recommend a standard flight for your first paragliding experience, during which you'll be gently gliding 800 metres to Doussard. On a flight such as this, you'll have 10 to 20 minutes to admire Lake Annecy and perhaps even take control of the paraglider.
Alternatively you can choose a thermal flight. During this flight, the pilot uses thermal updrafts to gain altitude and thus extend the flying time. There is an even longer flight, the long-distance flight. This one can last over one and a half hours and is the long version of the thermal flight.
The brave ones among you can of course also opt for an acrobatic flight, but be warned, this flight is not for the faint-hearted. You'll fly through the air for 10 to 25 minutes, performing figures whose names speak for themselves: Spinner, Helicopter, 360 or Wing Over.
The best paragliding schools in Annecy
has a paragliding world champion on their team
offers flights for children from 5 years of age
children's flights (up to 14 yrs) are among the cheapest in the region
has a chalet at the landing spot in Doussard which is available to paragliders
founder Fabien Blanco-Gomez is a true nature lover and combines both educational theory and knowledge of the region in his paragliding offers
the school was founded over 15 years ago
Fabien trains paragliding pilots and coaches the French national team
the family business was founded in 1987
offers long-distance flights
the team consists of over 10 experienced pilots (including female pilots)
Bring home a souvenir
Usually, the photo/video service costs 30 € per flight for 15 to 20 photos and 3 or 4 videos, which will be given to you on an SD card at the end of the flight (you can also just download everything later from the paragliding school's website). We recommend this option as it will give you a nice souvenir that you can share with others. Besides, you don't have to worry about anything: your pilot is not only good at flying, he will also be happy to film and take pictures for you!