I guess the recent 600 °C perceived have prompted me to write about the best places for scuba diving in Corfu. In case you were looking for a new recipe for carbonara, sorry to disappoint. If you find one, however, you are more than welcome to forward it to me!

Holiday time has arrived, and I can almost hear my suitcase, which has obviously been packed for a while, calling me to report from the living room. This year, I decided to combine my budget (certainly not seven figures) with landscapes that would fill my heart as well as my eyes. Corfu was definitely the chosen one!
My irrepressible desire to do sport and visit new places led me, before leaving, to find out about an innovative way of spending my holiday in contact with nature, terribly fascinating to do over there: scuba diving.
Inevitably, I contacted every colleague who had visited the island before me in an attempt to know as much as possible. The technical advice of the friendly owners of a local diving centre I called, then, definitely enlightened me. I decided to share all the valuable information I gleaned with you, in case you might need it.
Join me on this exciting journey to discover the best places for scuba diving in Corfu. Breathe in…hold your breath…(maybe not until the end of the article)…here we go!
Colovri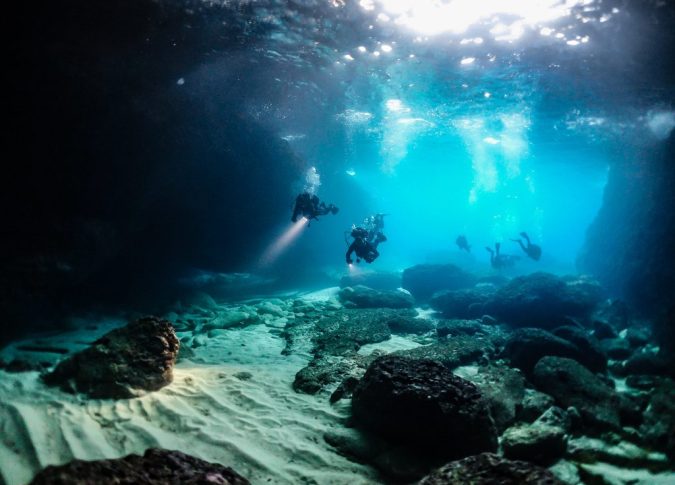 Let me preface this by saying that the maximum depth of the water I dived was 4/5 metres (yes, in short, not exactly an Indiana Jones), but when I read the information about this place, I wasn't scared at all. Despite the remarkable average depth of 30 metres from the surface, experts and connoisseurs confirm that optimum visibility makes it doable also for beginners like us.
Beautiful specimens of anthias, shrimp, barracuda and moray eels are only a fraction of what we might see once we put on our diving gear. For the more experienced and daring (or reckless, as the case may be), there is the possibility of going all the way into the abyss: waiting for them will be a sheer drop to a depth of 40 metres. Let's just say that I more than willingly leave it to them.
Monastery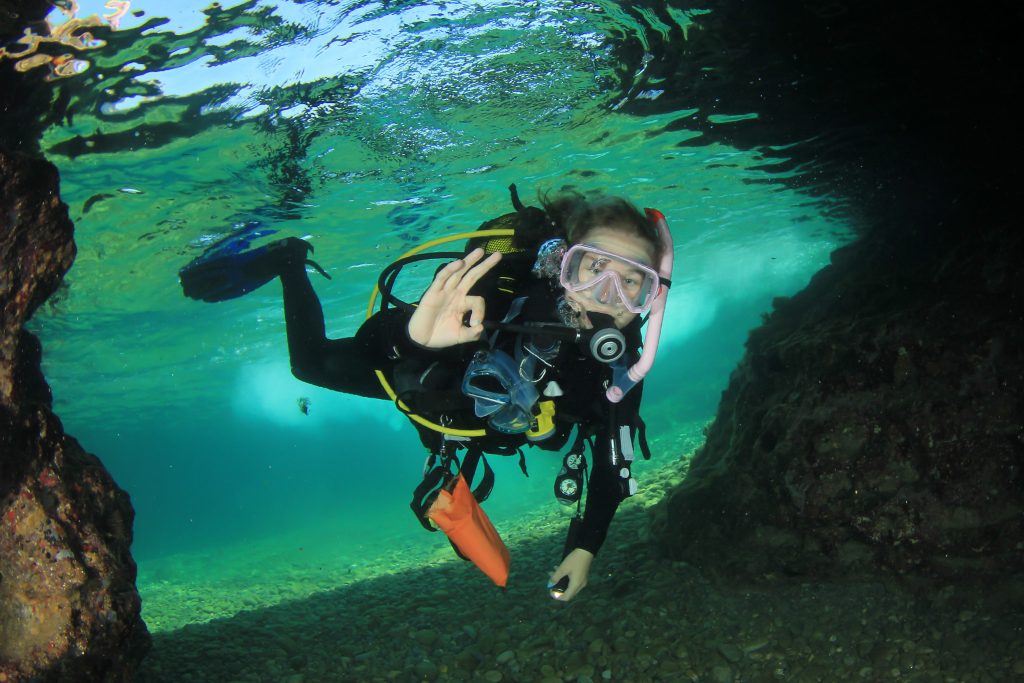 The variety and number of caves that can be explored at this fascinating site have earned the Monastery the appreciation of a large number of divers from all over the world. The combination of different depths, from 3 to 25 metres, unique colours and rich marine flora provide the perfect setting for a dream experience, no matter how familiar we are with masks and fins.
I was then told by a dear colleague and fearsome ping-pong opponent (hello Paolo, if you are reading me) that the Monastery is home to a multitude of fish and, above all, octopuses. More than enough to feel like in one of those National Geographic documentaries. Can't wait!
Hole of Ha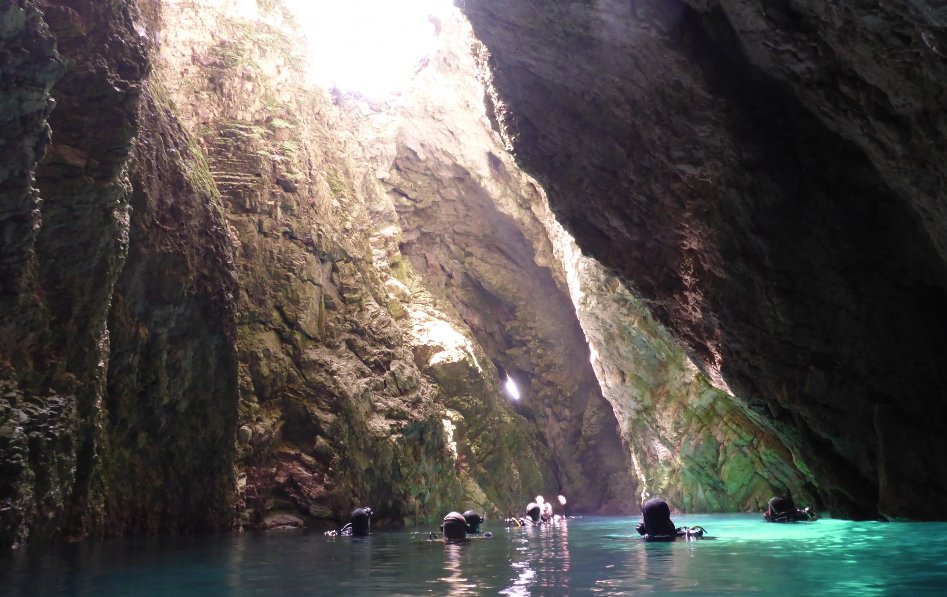 Perhaps a little belittling, the 'Hole of Ha' is undoubtedly one of the island's noteworthy sites. Some blogs venture to describe it as the reason why Corfu is the cave-diving capital of the world. A bit too much? I wouldn't know. The fact is that the Hole of Ha is basically a cave located in a mountain, and it has no ceiling.
This means that when you look up, you can admire the vegetation growing luxuriantly next to the 'hole' in the mountain, as well as irresistible plays of light produced by the sun's rays reaching up to you. Don't worry about unwanted tans: this cave is at a 'maximum' point of 18 metres from the surface, and a minimum of 25. I don't think you'll need sunscreen.
Paleokastritsa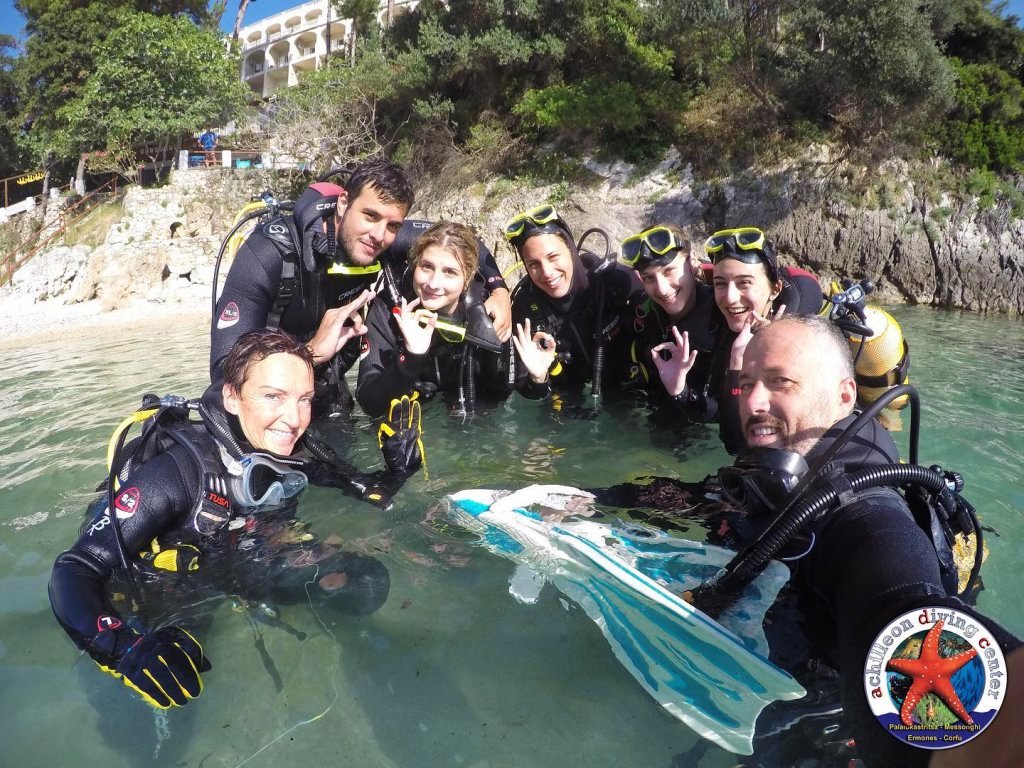 No, it's not the name of a satanic ritual, nor did my cat run across my keyboard (also because I don't have any). Paleokastritsa is a place renowned throughout Greece for its versatility in scuba diving excursions. It is no coincidence that many diving centers are based here! Tourists from all over, and at all levels of experience, can find activities dedicated to discovering scuba diving with fascinating points of interest. From seeing pictures here and there, I started to take a look at it.
At the end of the research, I felt extremely satisfied. The idea of exploring caves and seabeds lit only by the last efforts of the sun is definitely fascinating. Knowing that there are cheap locations where nature still reigns supreme is definitely heartening.
As heartening as knowing that you have reached this point because it means that you either found the article interesting or that you remembered not to hold your breath until the end. At best, both. See you soon!