Spain is a beautiful country that has much to offer, especially when it comes to scuba diving! I've collected all the important information about the 4 best spots to go scuba diving in Spain. These spots are all over the country and therefore offer diverse experiences.
Dive into an adventure of your choice in a dream location: there's Mallorca in the Mediterranean Sea, the Canary Islands located off the coast of Northwest Africa, Santa Pola in the South and Tossa de Mar in the North of the mainland. Whether you want to try out diving for the first time, get a PADI certificate to dive autonomously or go on guided dives offshore, our Spanish diving schools offer it all!
Scuba Diving in Mallorca
Portocolom
Portocolom is an old fishermen's village located in a sheltered bay. It is known for its harbour, the largest natural harbour of Mallorca, and the charming colourful houses that surround it.
The local diving school offers lessons for divers of all levels of experience. You can choose between trial dives, the PADI Open Water Diver Course for beginners and guided dives. The first two options start with practice dives in the school's swimming pool. Once you're acquainted with the equipment, breathing techniques and rules, the instructor takes you for an open water dive in the sea. Only certified divers can participate in guided dives during which a guide shows you amazing spots such as the area around Portocolom's lighthouse, the caves of Isla es Fred and Cala Sa Nau Bay.
There are numerous diving spots all within a 10-minute boat ride from the school. While beginners usually dive in calm and sheltered bays, advanced divers may get to see shipwrecks, fascinating rock formations and grottoes. But don't worry, no matter the level of experience, all divers can explore the diverse marine fauna and flora of Portocolom. You may come across small fish, crabs, snails, octopuses and even rays while scuba diving in Spain!
Santa Ponsa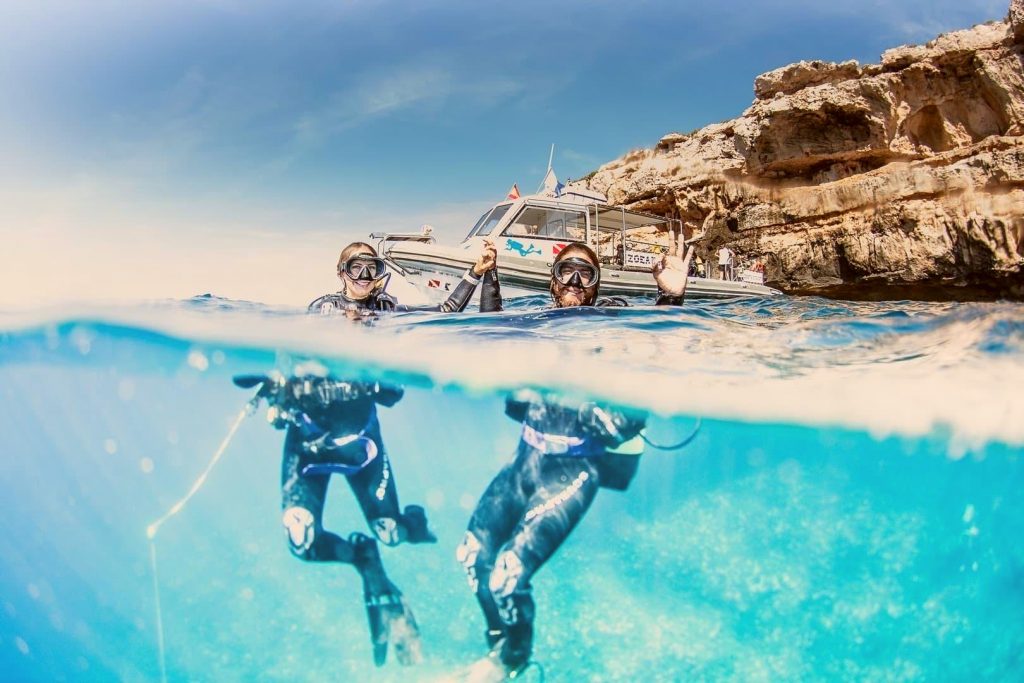 The popular holiday destination Santa Ponsa lies on the southwest coast of Mallorca and is only 20km away from the capital, Palma de Mallorca. What makes this spot very special, is that most of the diving takes place in a beautiful marine reserve.
Just like in Portocolom, trial dives, PADI courses for beginners and guided dives are also offered by the local school. During the trial dive, there will be no practice dives in the pool as divers go straight to the sea to put theory to practice.
When it comes to diving sites, there are over 30 spots that your instructor can choose from. While more experienced divers have the option of going to see caves, wrecks and fascinating rock formations, beginners focus on observing colourful life underwater like groupers, moray eels, barracudas and the marine vegetation.
Scuba Diving in the Canary Islands
Tenerife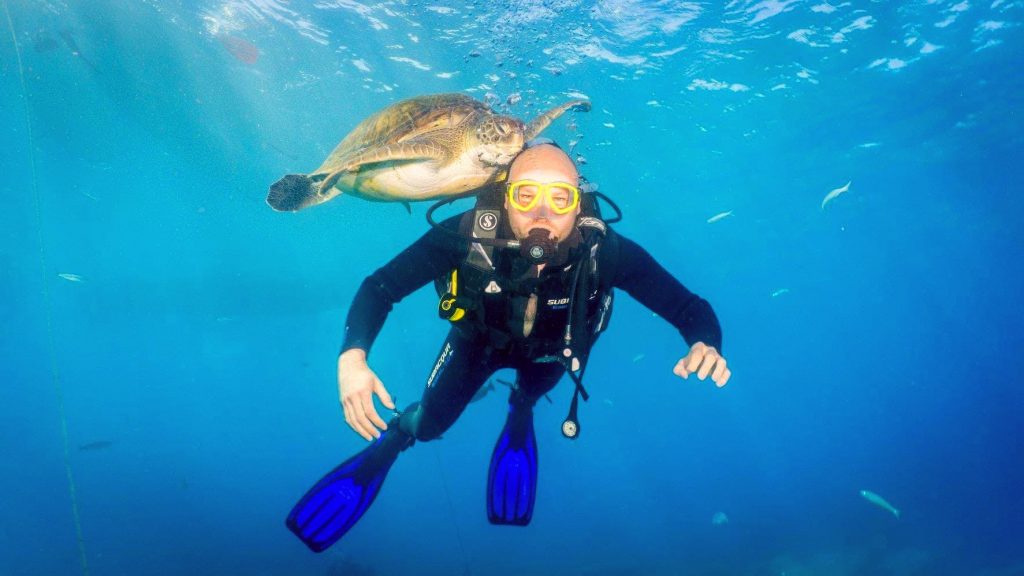 Tenerife is the biggest island of the Canaries. The most popular diving spots around here are on the beautiful Costa Adeje and its beaches: Playa de las Americas, Playa de las Vistas and Playa de los Cristianos. Los Chuchos Bay is also a breathtaking spot where you can be sure to meet "Chuchos", meaning stingrays.
Since Tenerife is one of the more famous spots on this list, this is also where you can find the most offers. A wide range of different fun activities including trial dives, guided boat dives and PADI courses are offered by the local schools. Amongst the PADI courses, there is a unique and quite rare offer you shouldn't miss out on: the scooter course, also known as the PADI Diver Propulsion Vehicle Course!
Lanzarote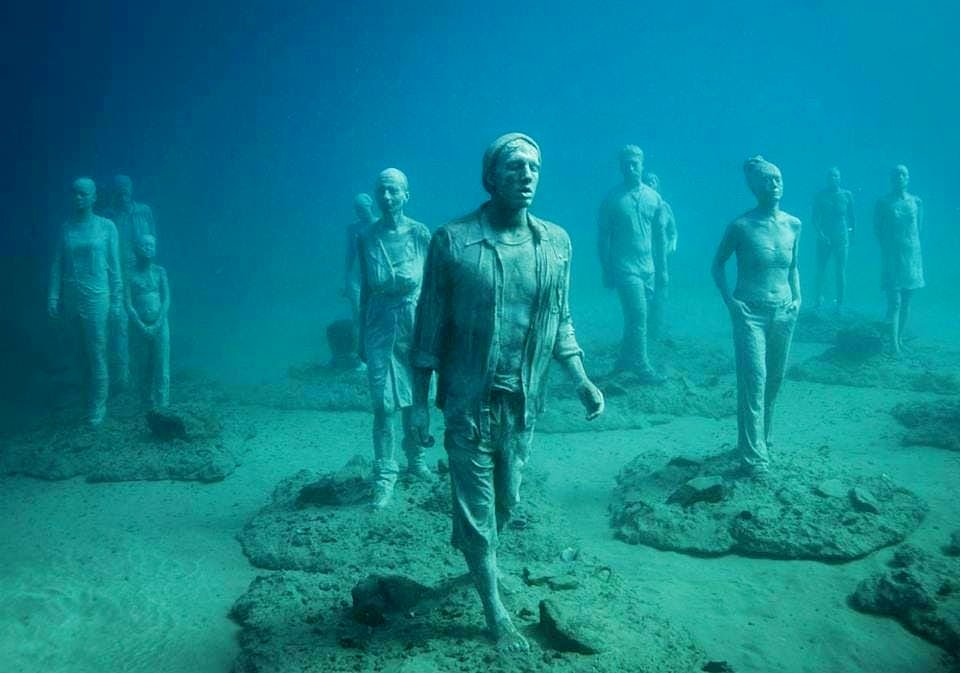 Lanzarote is the easternmost island of the Canaries. It is known for its always sunny weather, its volcanic landscapes and dreamy beaches. The highlights include the world-famous underwater museum Museo Atlantico, the Flamingo Wall and the beautiful beaches of the coastal area Costa Teguise.
All scuba diving classics are available here: trial dives, a wide selection of PADI courses and guided boat dives. However, two very special offers are also offered in Lanzarote. The first one is a tour of the Museo Atlantico, and the second is sea trekking! Both activities will leave you in awe of the incredible sights and the colourful underwater world.
If you want to find out more about scuba diving in the Canary Islands, go ahead and read this article: Scuba Diving in the Canary Islands: the 5 best spots
Scuba Diving in Santa Pola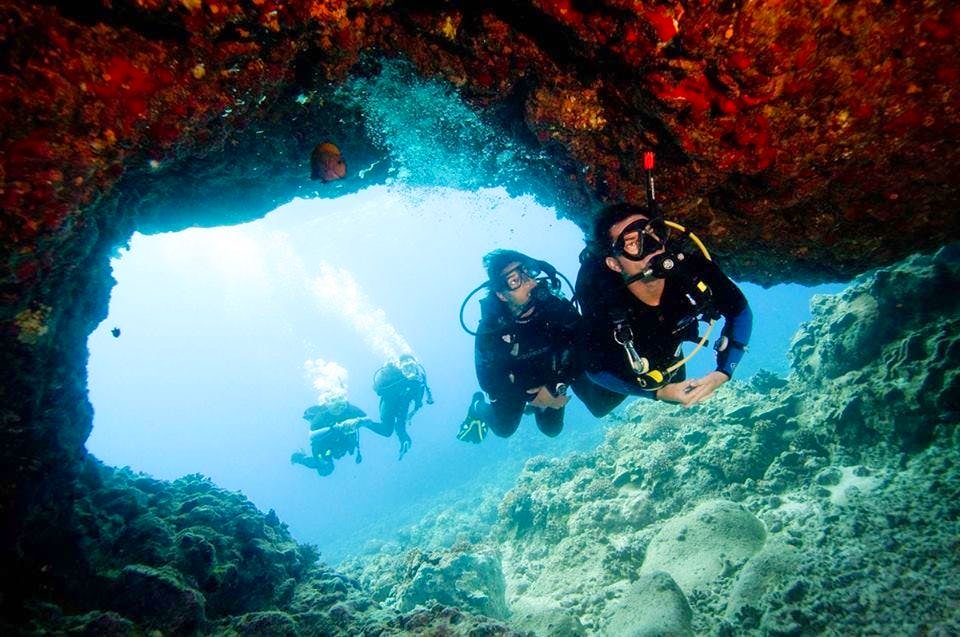 Santa Pola is a true beach paradise in southeastern Spain. Because of the beautiful white houses and the numerous white-sand beaches, the coastal area around Santa Pola has been given the name of Costa Blanca ("white coast").
The local diving school welcomes divers of all levels and its base is only 10 metres away from the sea! Here, you'll find a wide range of offers including trial dives, PADI courses for beginners and advanced divers and guided boat dives for certified divers. Beginners usually complete their first dive at the beach and can dive up to 6 metres. If you choose to go for a second dive, you might double that and dive down to 12 metres. More experienced divers are brought to offshore diving spots by boat.
There are more than enough spots where your instructor can take you diving. Breathtaking places such as the marine reserve of Tabarca Island, and the big variety of fish and small caves that await you in La Nao can be explored even by beginners. Instructors usually recommend La Llosa for deep dives and Little Conga for wreck dives. If you're more in the mood for a beach dive, your instructor can take you to beautiful spots like Cala Cortina, Cabo de Palos and many more.
Scuba Diving in Tossa de Mar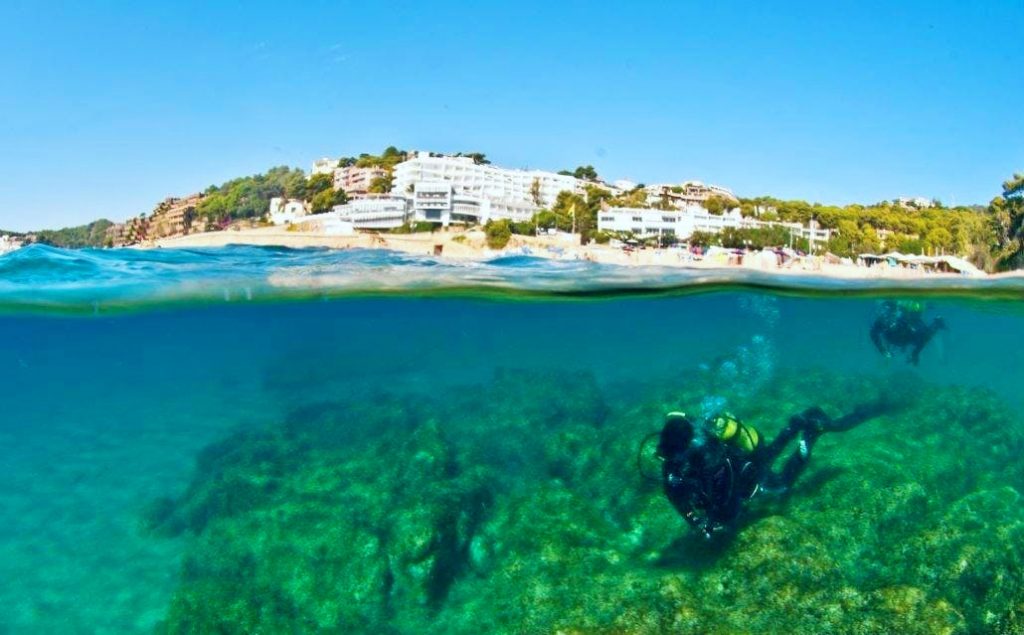 Tossa de Mar is a picturesque small fishing village located on the northernmost coastal area of Spain called Costa Brava. It lies in a bay between rocky cliffs that drop steeply to the sea.
There are numerous diving spots to choose from around the crystal clear waters of Tossa de Mar. An impressive marine fauna and flora are waiting to be explored by divers of all ages and levels. Whether you want to try out diving during a trial dive or become a certified diver through a PADI course, an unforgettable adventure lies before you!