The possibilities to go snorkeling in Mallorca are endless. From north to south, you don't have to look too hard to come across beautiful coves with colourful reefs and wonderful sea creatures that make a dream-like setting for swimming underwater.
There are plenty of good reasons to go snorkeling. Is it an inexpensive, accessible and safe activity for all ages, no matter your level or experience. Snorkeling is also a minimum-effort leisure activity that has many health benefits, like reducing stress and improving overall strength. But most importantly, it is a fun way to discover new places, and to connect with nature!

This following article will cover the 5 best spots for snorkeling not to be missed when visiting Mallorca. From the exclusive and luxurious Port D'Andratx on the west coast of Mallorca to Cala Varques on the east coast or to the marine reserve of Les Illes Malgrats southwest of Santa Ponsa. Our list is based on the preservation of the location, purity of the water and protection of the marine life.
Here is our ranking:
Use the map below to help you discover the best spots for snorkeling in Mallorca.
1) Snorkeling in Port D'Andratx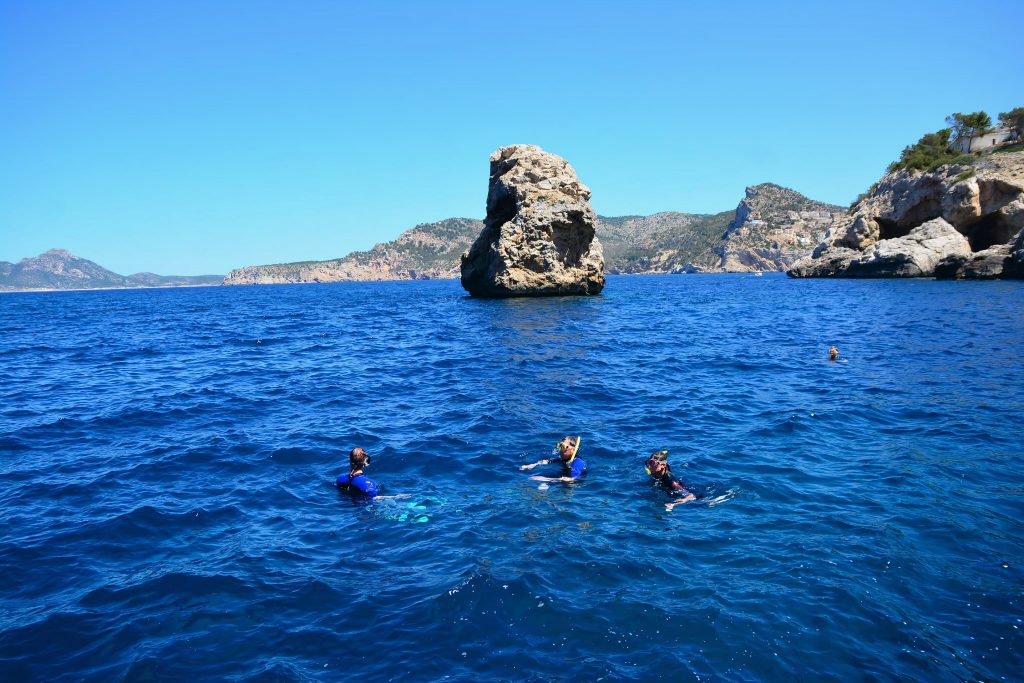 Port D'Andratx is located on the southwestern tip of Mallorca. It is known for being one of the most exclusive residential areas of the island, but also for its untouched nature and impeccable waters. Surrounded by the hills and valleys of the Tramuntana mountain range, it has one of the most astonishing landscapes on the island.
With a wide variety of snorkeling sites, and through the preservation and conservation of the environment, its waters have a great visibility for diving. Just a few kilometres from the bay, we can also find the Dragonera Island. Proclaimed as a natural park, this island is home to the Lilford Lizards, an endemic species from the Balearics.
If you wish to explore the area and the marine ecosystem, then you can experience a two-hour snorkeling excursion. As part of the excursion, you will be taken on a boat directly to one of the more than 25 dives sites in the area, to swim and snorkel in the crystal-clear blue sea and discover the seabed and coral reefs. The activity includes all the necessary gear: mask, fins and snorkel, so you don't need to worry about bringing your own!
2) Snorkeling in Santa Ponsa – Les Illes Malgrats Marine Reserve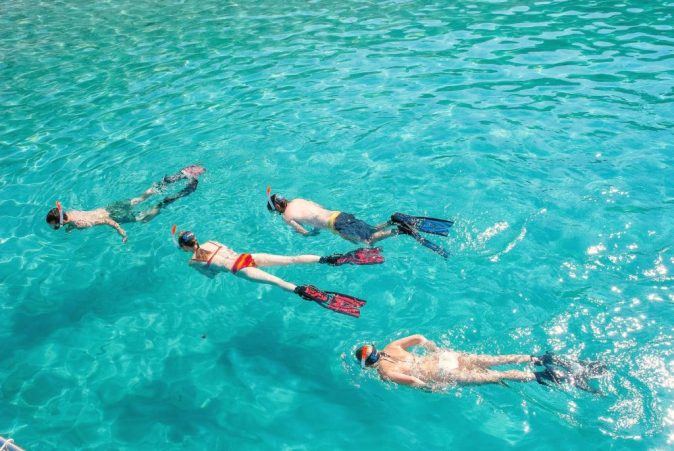 Within a 30-minute drive from Palma, Santa Ponsa, is a small, but lively village very busy during the summer months. The sea conditions are usually good and calm, with no strong currents and shallow waters. One of the highlights of Santa Ponsa is without a doubt the Malgrats marine reserve. This reserve is under strict fishing and diving regulations, making it a totally unspoilt, and hundreds of species live away free from human intervention.
One of the best and most fun ways to get to this incredible dive site is to do a snorkeling trip. Easy to learn, safe and with no experience needed, kids from 8 can also join this fun trip. Even if it's your first time, you will learn how to breathe underwater and feel "like fish underwater"!
Together with a certified guide, you will go by boat to this incredible dive site, which has shallow natural pools. It is an excellent opportunity to admire the seabed and the fishes. There is no need to bring your own equipment, you will be equipped with all the complete gear.
3) Snorkeling in Cala Varques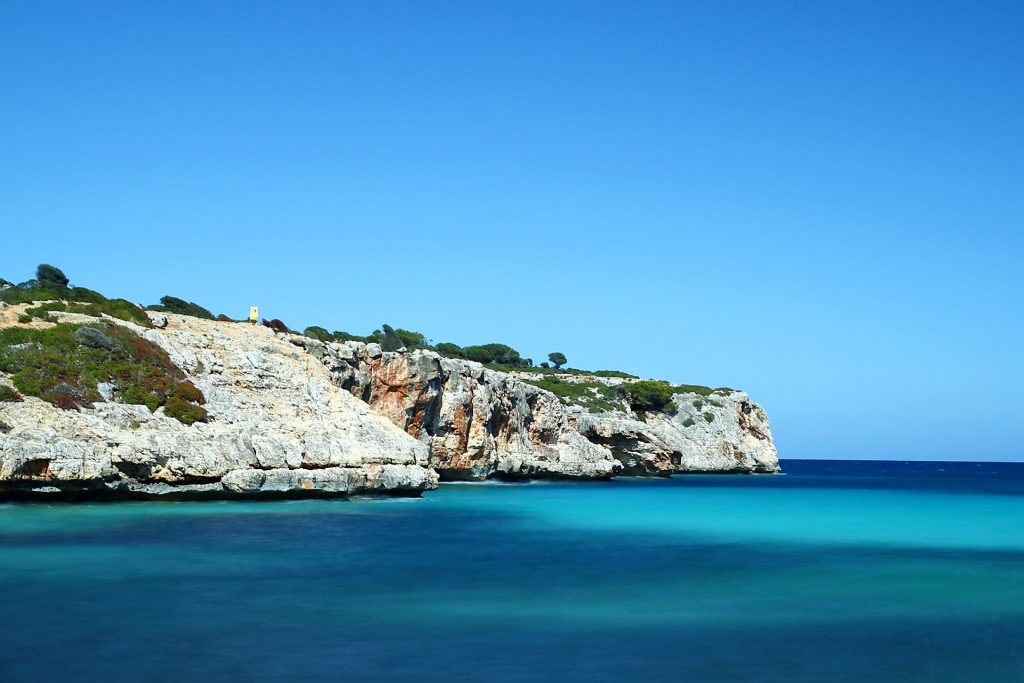 East of Mallorca, located only 12 kilometres from Manacor, we can find one of the most unspoiled areas of the whole island. The difficult access to the bay causes Cala Varques to be considered as a real wonder of nature, in spite of its greater number of visitors in the summer. The quite shallow sea has a wonderful deep turquoise colour which contrasts beautifully against the white sand. There are no services at all on Cala Varques, turning it into an oasis away from the crowded cities.
Unlike other sites, Cala Varques is located within a freshwater cave, where formations of stalactites and stalagmites shape its interior. The incredible geo-structure with hidden tunnels and passageways make this out-of-the-ordinary place to visit. This spot will also give you the opportunity to discover the different ecosystems and animals that inhabit its interior.
Not only will you enjoy an underwater show while snorkeling, but you will also see the coastline by boat from Portocolom to our destination. You can relish a beautiful boat ride along the cost, and contemplate the incredible views of the beaches and the paradisical coves that are forming the bay, such as Cala S'Algar or Cala Murada.
4) Snorkeling in Cala Delta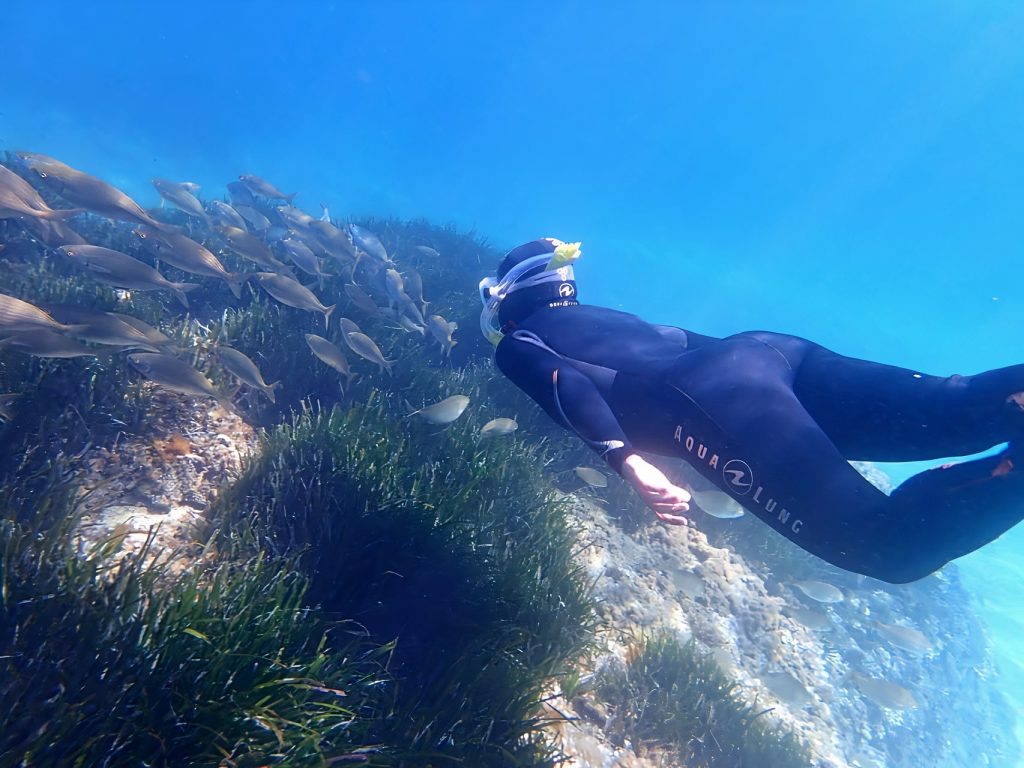 Cala Delta lies between the city of Palma and Cala Pi, and it is situated 7 km away from Arenal. Very few people frequent this cove, it is certainly one of the nicest for snorkeling. The cove is surrounded by small cliffs, with fine sand and deep blue coloured water. Among the rock shallow natural pools are taking shape, allowing to see the seabed even without having to snorkel.
Also, the Posidonia oceanica seaweed, also known as Mediterranean tapeweed can be found underwater. It constitutes an essential part of the marine ecosystem, providing habitat and nutrition for many species of fish, crustaceans, and molluscs.
If you are curious to explore the sea, then you can opt for a guided excursion from Arenal that will take you to the Cala Delta. Once there, you will be amazed by the variety of sea life, and could even interact with many types of fishes. The snorkeling equipment is provided directly on site, so you just have to grab it the same day and start exploring!
This beginners and kid-friendly snorkeling location will be the perfect way to immerse yourself in the snorkeling world. Even if you are not a first-timer, the colours of the reefs, and the shapes will catch your eye!
5) Snorkeling in Porto Cristo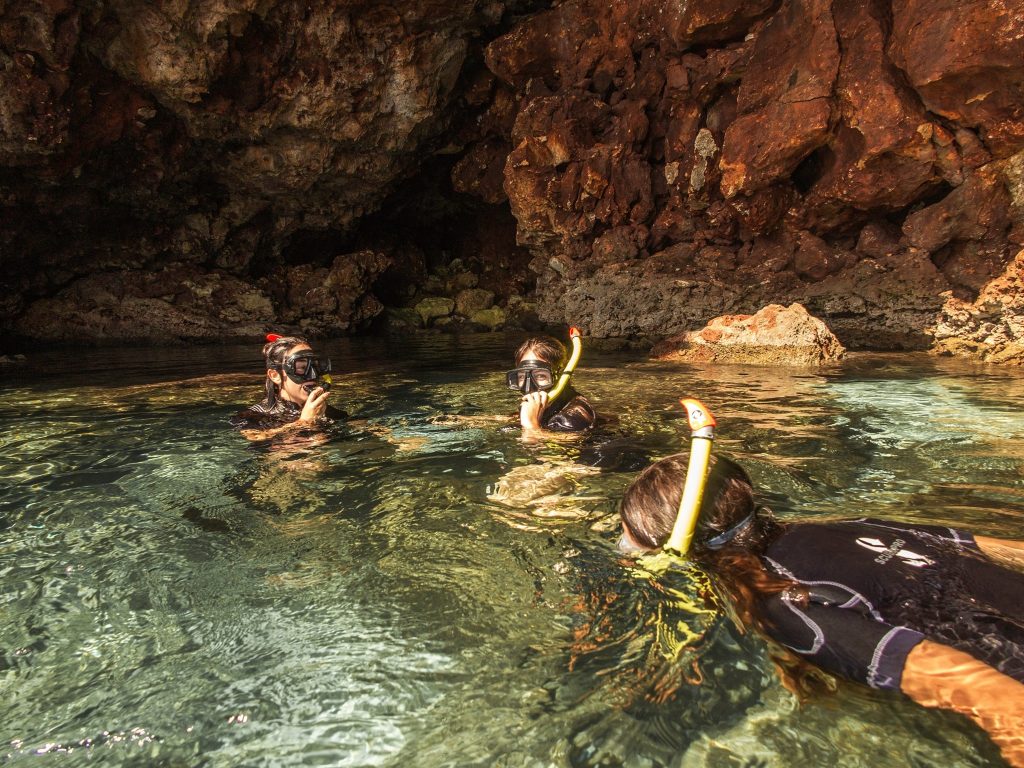 Porto Cristo is a charming little fishermen's village that has maintained its traditional appearance with picturesque streets and façades. It is located on the east side of the island, 14 km from Manacor and 65 km from Palma. Its sheltered, rocky coastline turned it into one of the most popular destinations for snorkeling and scuba diving. You can either snorkel off a fine sand beach, or venture into a sea cave, including the famous Drach and Hams caves, where you will come face-to-face with the many species that inhabit this part of the island.
The best way to experience an underwater adventure is by joining a guided trip from Porto Cristo. During two hours you can dive and explore the clear waters, meet different sea creatures and get to learn all about them together with a qualified instructor! Again, this is a perfect spot for families with kids, since the waters are shallow and safe for beginners. If you choose to book a snorkeling trip, you will find the necessary gear on the boat.
Around 10 million travellers from around the world visit Mallorca every year. The biggest island of the Balearic archipelago offers stunning natural landscapes, a typical Mediterranean climate, with more than 300 days of sunshine a year. Thus, snorkeling becomes understandably the perfect activity to match with this sun-and-beach destination.