Ski lessons with a limited number of participants and regular tests for ski instructors and hotel staff are just some of the measures taken by the Austrian government to prevent the spread of Covid-19 during the 2020 ski season.
Those who decide to take advantage of this ski season will find many advantages: less crowded slopes, smaller groups where you can learn better, and shorter queues at the ski lifts. Furthermore, waiting times at the ski schools, rental shops and ski pass offices are expected to be much shorter as they all encourage customers to book online in order to avoid queues and large assemblies in the first place.
Even if the risk of infection cannot be completely excluded, protecting skiers from Covid-19 is the number one priority for ski schools. Indeed, an ever-increasing number of precautions can be taken to significantly lower the risk of contracting covid during ski courses. Below, you will find a useful infographic with the 6 most important measures that will be adopted by ski schools and ski resorts in general for the ski season of 2020/21.
Measures set by the Austrian government to prevent the spread of Covid-19 in ski schools and ski resorts: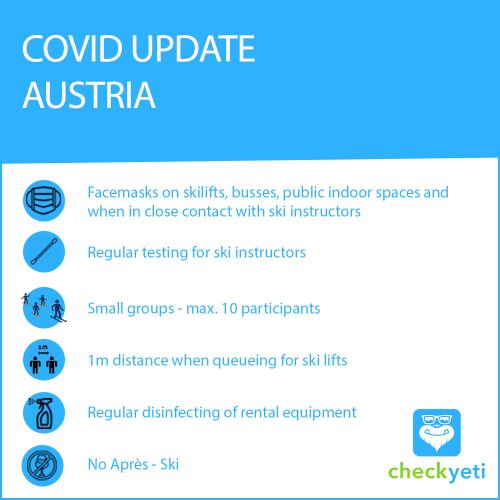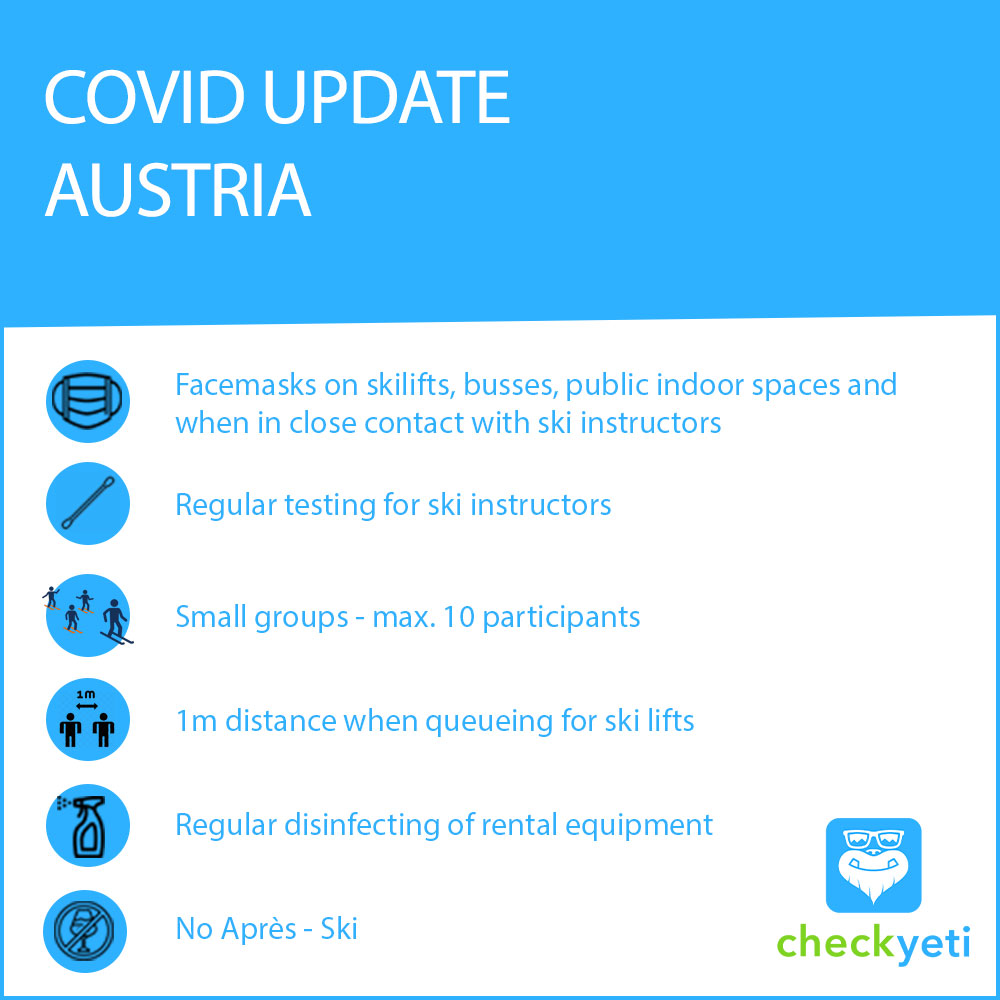 The Austrian government has compiled a list of 7 measures to curb the spread of covid that are to be implemented by ski schools, rental shops and other entities related to winter tourism.
1. Facemask:
On the slopes, it is not necessary to wear a mask. However, on the ski lifts, in closed spaces, and on public transport, the use of a facemask is compulsory. Masks are also required at the ski schools' meeting points from the age of 6 years old if a safe distance to others cannot be respected.
2. Regular tests:
All the staff of the ski schools who are in contact with the public, as well as guest reception staff in hotels and other forms of accommodation will be tested up to once a week.
3. Small groups:
To prevent the spread of Covid-19, ski schools in Austria must offer ski and snowboard courses with a maximum of 10 participants.
Smaller groups can be a great advantage for course participants. In fact, the ski instructor will be able to guide each participant better. Nevertheless, due to the smaller number of available slots, it is possible that the courses may fill up earlier. It is therefore recommended to book in advance. Most schools on CheckYeti offer free cancellation up to 24 hours before the activity. Booking a ski course in advance is therefore risk-free.
4. 1 metre distance:
In a ski resort, there are many occasions when queues or assemblies are formed, such as in front of the ski schools, in front of the rental shop, or when waiting for a cable car or for a shuttle bus. In all these cases, it is important to respect at least 1 meter of social distance.
We at CheckYeti recommend that you book your ski lessons and your equipment online. This will reduce the risk to a minimum and allow you to enjoy your holiday without stress.
5. Regular disinfection of the material:
Rented equipment will be disinfected each time it is brought back to the store.
6. No Apres-ski:
Après-ski will not take place as usual. If the current measures allow it, bars will be open, but they will have to follow strict rules. Examples of such rules are: only table service (you will only be allowed to drink alcohol when seated at a table) and a minimum distance between one group and another must be maintained both inside and outside.
7. Registration of each ski school guest:
To react quickly in the event of an infection with covid-19, the ski schools in Austria must register each guest. This will make it possible to easily tracet who has been in contact with someone who tested positive.
Covid-19 and Ski schools: Additional safety measures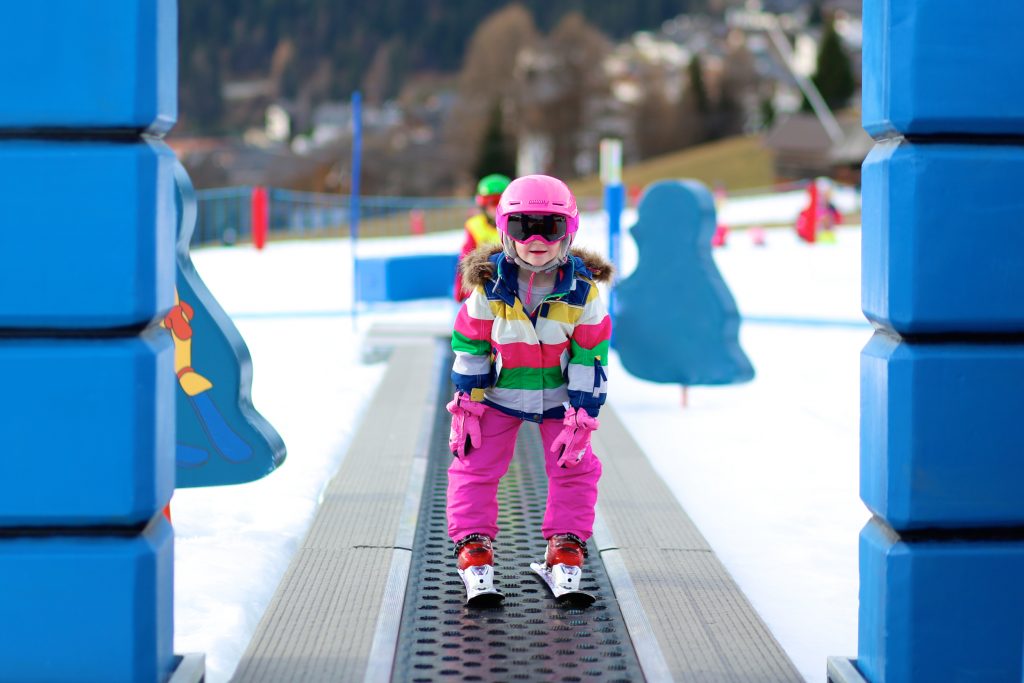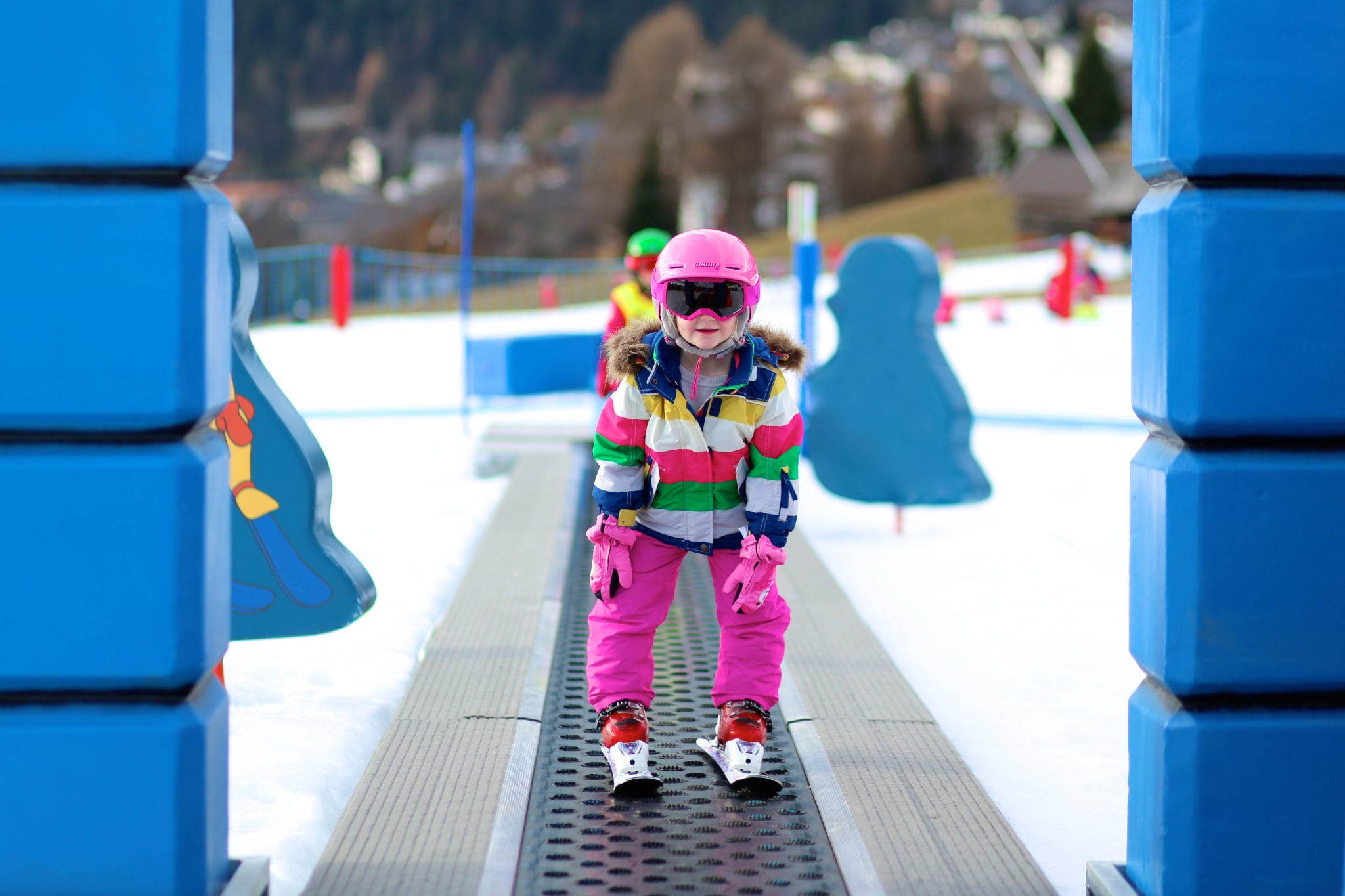 Covid-19 and ski schools: Many ski schools want to provide their customers and staff with additional security. For this reason, some of them have decided to take extra measures to avoid queues, gatherings, or potentially contagious situations. Certainly, with these additional measures, the risk of infection is not 100% eliminated, but it is further reduced. Here is a short list including some ski schools in Austria that have taken special measures for covid.
Skischule Jochberg: The Jochberg ski school in Kitzski, in Tyrol pays special attention to children, where social distancing can be more difficult to maintain. As such, the ski school has decided to have a maximum of 5 children per group in the Kinderland.
Skischule Ramsau: The ski school Skischule Ramsau is located in the Styria, Dachsteinregion. The school invites all guests to book online so that they can go directly to the meeting point and avoid a stop at the ski school office and payment on site. Moreover, entertainment of children will only take place outdoors.
Skischule Arlberg: This ski school in Tirol, just a few metres from the Vorarlberg border, will take exactly the same measures as the previous school. Furthermore, the ski resort in which it is located, Ski Arlberg, which is the largest ski resort in Austria, has decided that during the high season, the daily opening hours will be extended in order to spread out more people on the lifts and slopes.
Schischule Glungezer: In order to avoid assembly and reduce the risk of infection, the ski school Schischule Glungezer in the Tux Alps of Tyrol has moved its course schedule forward. This way, the lunch break is a little earlier and course participants can go to restaurants before rush hour.
Alpin Skischule Patscherkofel: Is another ski school located in Tyrol, near Innsbruck. This school has decided to eliminate any breaks during the lesson, so that the members of the course do not stay next to each other for too long.
Rudy' School Mariazell: The Rudy' School ski school is located in Styria on the border to Lower Austria. In order to reduce social contacts to a minimum and thus prevent the spread of Covid-19, the ski school has decided to limit the number of its students per group. For all ski courses, the maximum number of participants will be 5 people, while for snowboard lessons, the maximum number will be 4.
Snow & Mountain Loitzl: This ski school located in Loser in the Altaussee Region in Styria, close to the Upper Austrian border, has also decided to reduce the maximum number of participants per group for their ski lessons. Again, the number of skiers will be limited to 5.
A relaxed ski season:
The safety of guests is, without doubt, the priority for ski resorts, ski schools and hotels. Nevertheless, before booking every element of your vacation, especially this year, you should check the type of cancellation policy for the offer. If you are not sure what other details to pay attention to before booking the ski school on CheckYeti, you can contact our team of experts at support@checkyeti.com. A member of our staff will contact you shortly to answer any questions you may have and, if you wish, help you with your booking process. Skiing is a passion, so get on the slopes only if it brings you joy and a sense of relaxation.