In Switzerland, setting measures to prevent the spread of Covid-19 is a responsibility of sports and tourism operators, but also and above all, an individual responsibility of visitors in the ski resorts.
Alongside the compulsory face mask in indoor spaces and an accentuated focus on hygiene, the authorities demand that each individual respect the rules such as maintaining social distance. Furthermore, the police will patrol the ski lift terminals to make sure that the covid measures are respected. This is how Switzerland is preparing to welcome thousands of skiers, just like it does every year.
With 338 ski resorts, Switzerland is one of the most popular destinations for avid skiers. In order to allow this popular winter sport to continue throughout the season of 2020/21, Switzerland, like many other neighbouring countries, has taken various safety measures to prevent the spread of Covid-19. Below, you will find an overview of the main points and, further down, the detailed explanation of the rules.
Measures taken in Switzerland to prevent the spread of Covid-19 in ski schools and ski resorts: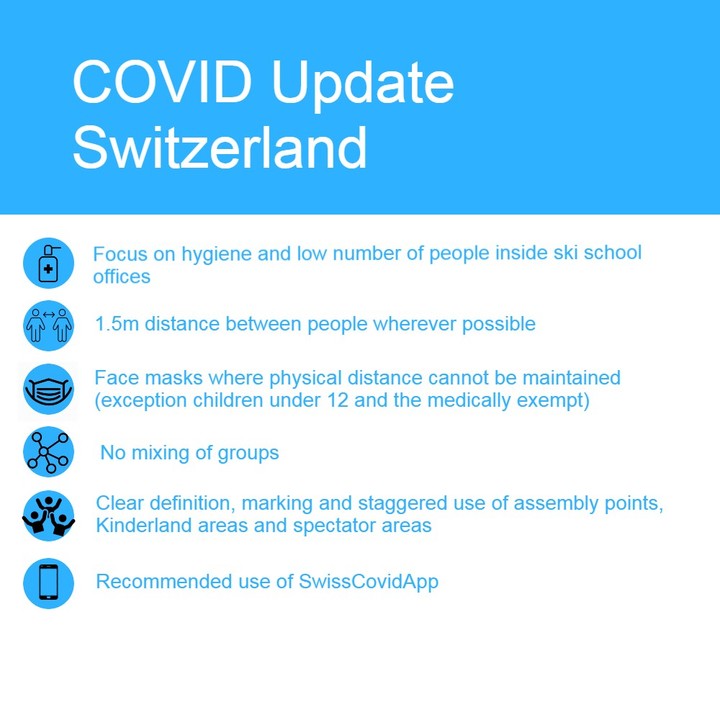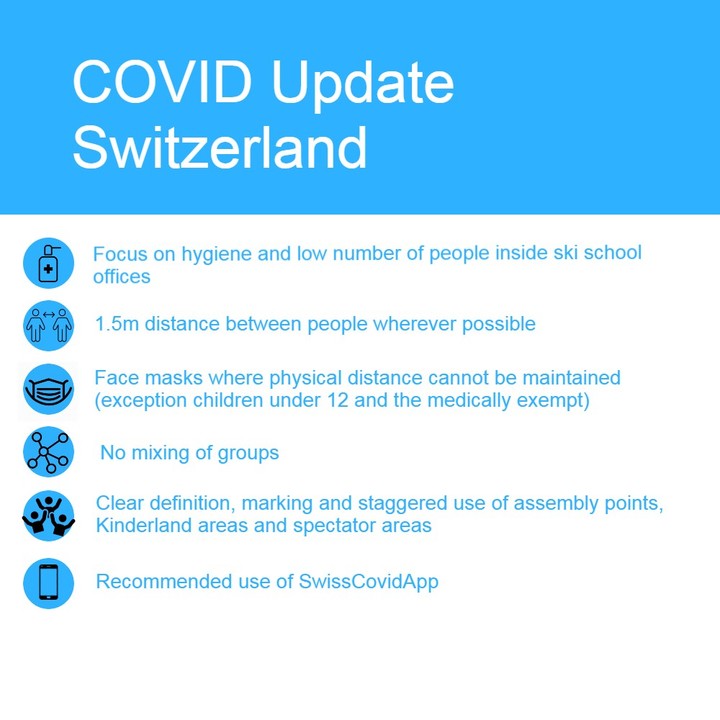 This is the summary of the measures set by the Swiss government and the Swiss Ski Lift Association (Seilbahnen Schweiz). However, in Switzerland, the cantons have the freedom to close ski resorts if they consider it necessary or to tighten anti covid measures.
1. Hygiene
A high standard of cleanliness is undoubtedly one of the most effective ways to prevent the spread of Covid-19. The ski schools in Switzerland and the ski resort operators will make hand disinfectant available to the public in all facilities.
2. Social distancing:
Visitors are asked to maintain a distance of at least 1.5 metres between one person and another. As already mentioned, the Swiss Ski Lift Association urges all visitors to observe this rule, as well as other important rules such as the use of the face mask. To further encourage skiers to respect the rules, there will be numerous controls and guests who are caught not complying with the regulations more than once, may even run the risk of having their ski pass revoked.
To encourage social distancing, some ski schools offer smaller groups for their lessons during the 2020/21 ski season. The same applies to some ski areas where the number of skiers admitted per day will be smaller than usual. As a matter of fact, having fewer people in a group is also undoubtedly synonymous with better quality lessons because they allow participants to have a more individualised experience. At the same time, emptier slopes make it easier for beginners to learn to ski with a more relaxed atmosphere.
3. Face mask:
Where social distancing cannot be respected, it is mandatory to wear the face mask, even outdoors. This also applies to ski school meeting points or crowded sidewalks. Moreover, it is also compulsory to wear a face mask in places where there is contact with the public, i.e. on ski lifts (including closed chair lifts but also on open-air chair lifts, T-bars and magic carpets). The face mask should be worn in Switzerland from the age of 12. Special medical cases are excluded. On the slopes themselves, masks are not required.
4. No mixing of groups
The schools are committing themselves to not letting the participants of different ski courses mix. To do this, there will be more time between lessons to allow the previous group to leave the meeting point before the participants of the next group arrive.
5. Clear definition of spaces
Ski schools will try to eliminate the risk of transmission of Covid-19 by creating designated meeting points for a small group of people. In the ski resort, there will also be numerous signs indicating where to queue for the ski lift or purchase tickets. In addition, groups will be kept separate from each other.
6. Tracking:
To react quickly in case of an infection, it is important that all visitors to ski resorts use the tracking app. This way, you can be more relaxed knowing that you have not come into contact, even for a few minutes, with someone who might have been infectious.
Technology not only helps with tracking. The Swiss government and the Swiss Ski Lift Association recommend that you buy your ski pass on the internet to avoid queues at checkouts and without having to use cash or the touchpad of the POS terminal.
To further reduce non-essential contact with others, we at CheckYeti recommend that you book your ski or snowboard lessons or individual lessons with your ski instructor online. You can also book your ski equipment on our website. This way, you can organise everything well in advance from the comfort of your own home and no longer have to worry about anything when you arrive at the ski resort.
Covid-19 and Ski schools: Additional safety measures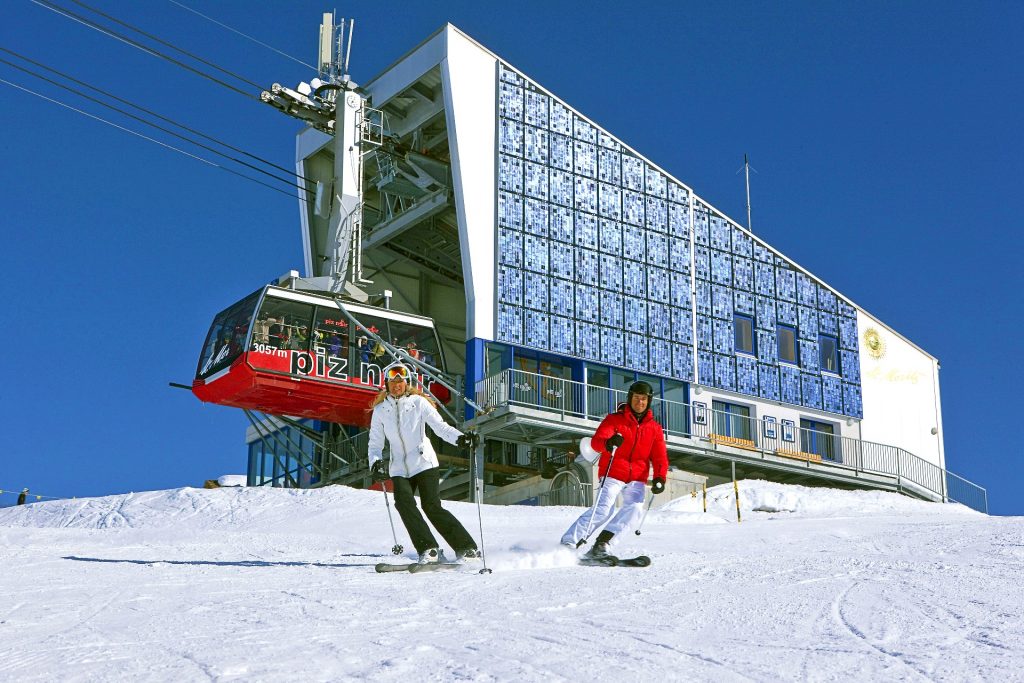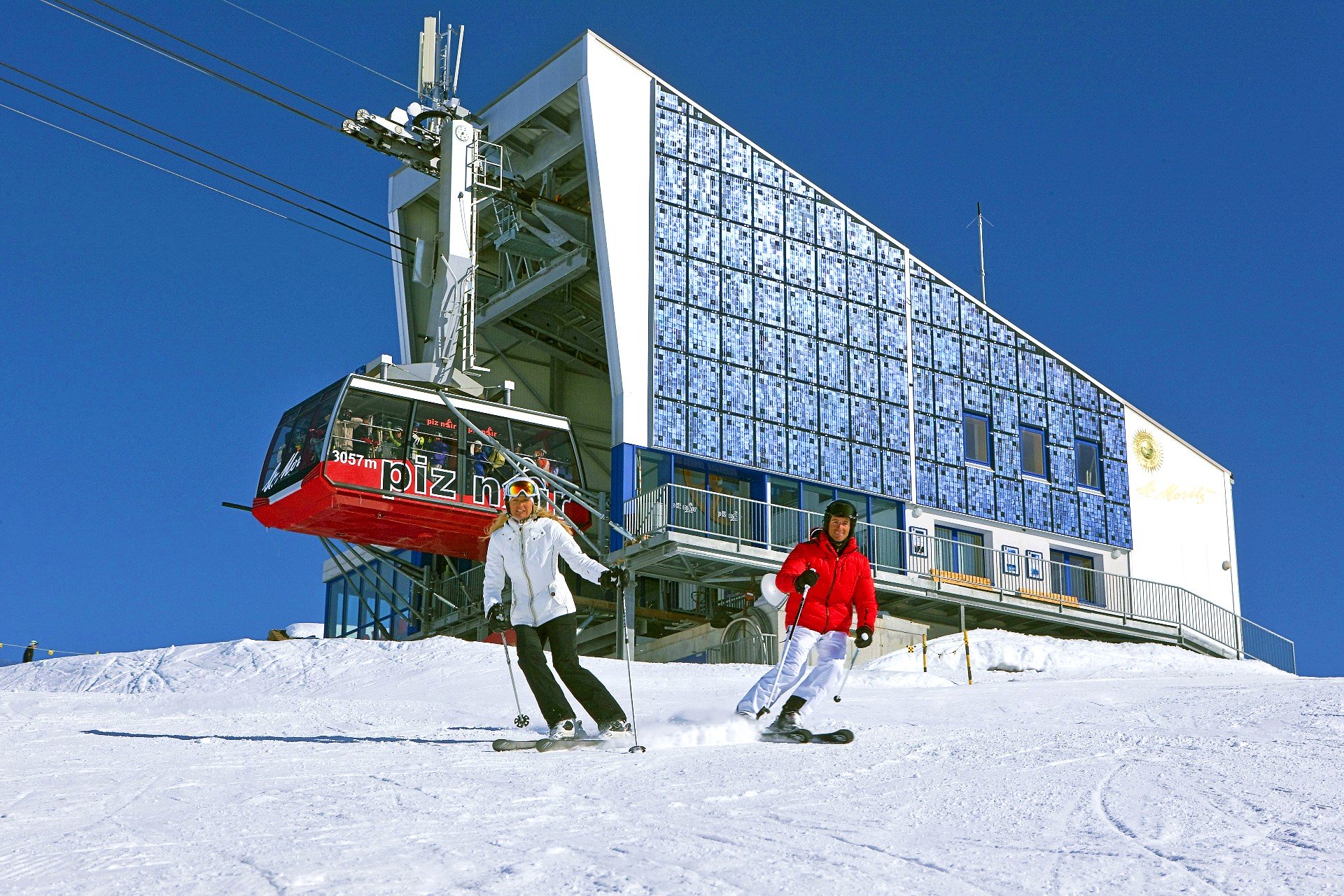 In addition to the rules imposed by legislation and the measures taken by the Swiss Ski Lift Association, some resorts and ski schools have decided to take additional measures to ensure even more safety for their guests and allow skiers to spend their ski holidays with even less worry:
Adrenaline Ski School Verbier:

The ski school, located in

Verbier

in the

canton of Valais

, has decided to limit the size of groups during its ski and snowboard lessons. The group lessons for adults will be restricted to a maximum of 4 participants and for children to a maximum of 6.
Summit Ski- & Snowboardschule:

In order to limit the spread of Covid- 19, this ski school in

Zermatt

, in the

canton of Valais

, has taken numerous measures. One of them is the particular attention to hygiene. Ski instructors will carry hand sanitising gel during the lesson, to always have it available whenever needed. The instructor will also wear a mask during the lesson if requested by the participants.
Evolution Ski School Zermatt:

The Evolution Ski School Zermatt in the

canton of Valais

urges its guests to avoid booking ski lessons in person. Among the alternative options, you can choose to book online.
PassionSki – St. Moritz:

The ski school in

St. Moritz

in the

canton of Graubünden

is committed to combating the spread of Covid-19 by taking advantage of its small size. Like a family, the ski school has an excellent overview of who has been in contact with whom, allowing rapid isolation in case of infection. Furthermore, the school is also committed to keeping guests informed about coronavirus updates.
Diablerets Pure Trace & Villars Ski School:

The ski resort

Villars-Gryon-Les Diablerets

is located in the canton of Vaud. Les Diablerets is a village in the canton of Vaud.

Both ski schools aim to make guests feel at ease by making face masks compulsory for ski instructors, even during lessons. This way, should the ski instructor come close to a participant, the participant will be protected.
Eco Ski School Andermatt:

The ski school is located in

Andermatt

in the canton of Uri. It offers a free ECO Buff style face mask, small groups of a maximum of 5 participants or private lessons, all while paying particular attention to avoiding queues.
A relaxed skiing season in the Swiss mountains:
The safety of guests is without doubt the priority for ski resorts, ski schools and hotels in Switzerland.
Many ski schools in Switzerland listed on CheckYeti offer free cancellation up to 24 hours before the activity to ensure greater flexibility this ski season, which is more exposed to unpredictable events compared to previous seasons.
For this reason, before booking every element of your holiday, especially this year, you should check the cancellation policy of the offer. If you are not sure what other details to pay attention to before booking your ski school, please contact our team at support@checkyeti.com. Our staff consists of snow sports experts and this year they have been trained to answer questions about the Covid-19 situation. After your email, we will get in touch with you shortly to answer all your questions and, if you wish, to help you with the booking process.
We hope that your passion for skiing will continue to accompany you, even in this 2020/21 skiing season, and we hope you have fun on the slopes. However, go to the slopes only if you feel safe and comfortable with all the Covid-19 measures. Otherwise, the powder snow will still be waiting for you next winter.