Let's go on a little adventure together and discover Morzine and its ski area! We've asked experts at the Easy2Ride ski school, which is celebrating its 20th anniversary this year, to come along on our journey and to share their knowledge and best tips with us.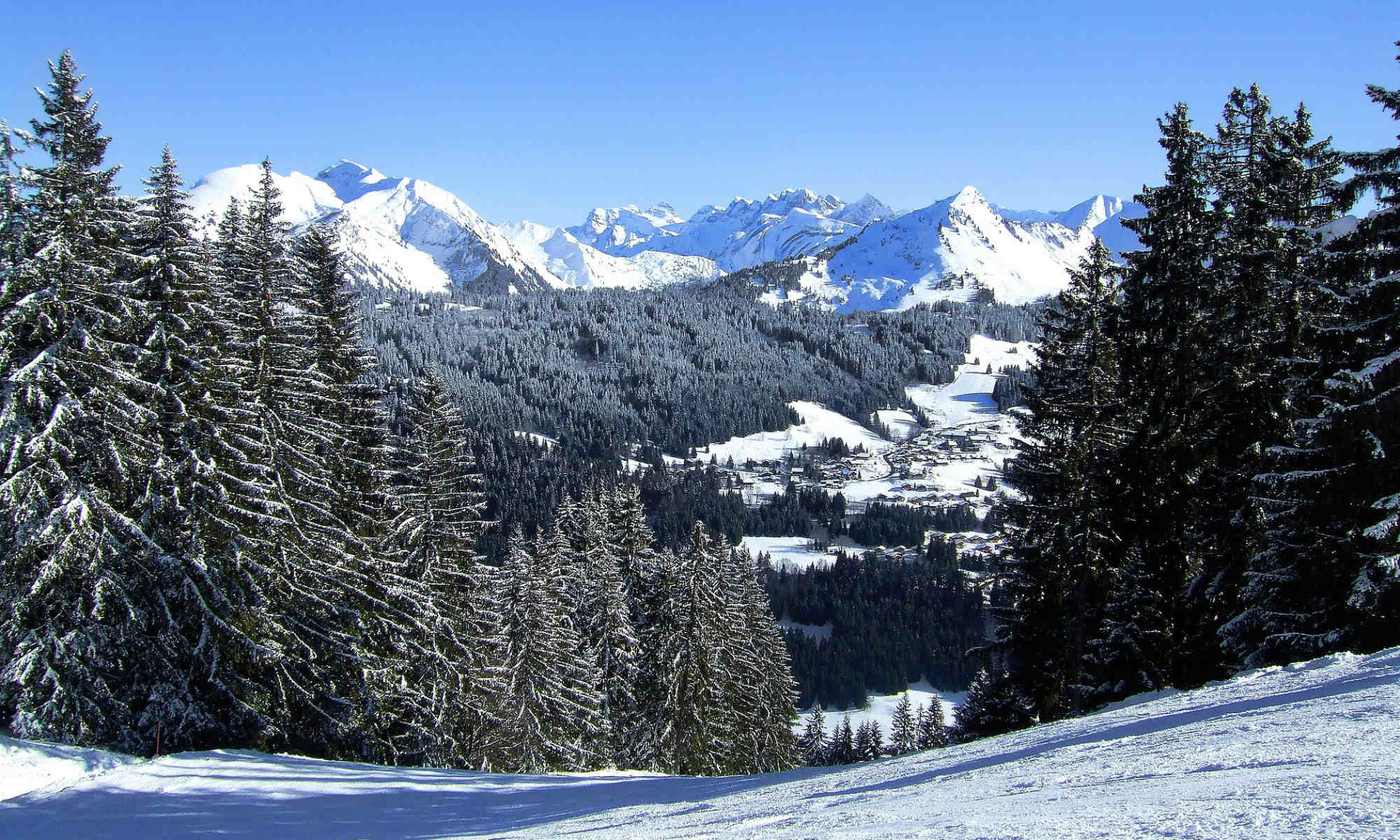 For the past two seasons, we've been working together with Easy2Ride and have thus been able to offer wonderful winter holidays in Morzine for all winter sports enthusiasts. This is why we're particularly happy to present this resort located in the beautiful Aulps valley ("Vallée d'Aulps" in French). Christophe, head of the ski school, Edwina, executive assistant, and Francesca, Julien and Pascal, three instructors, talked to us about local cuisine, relaxation, landscapes and – last but not least – the slopes! Are you ready to find out all about Morzine? Then let's get started!
YUMMY: Morzine's cuisine

The resort is situated between the French Savoie region and Switzerland, which means, as connoisseurs among you will surely know, that the local food in Morzine is excellent! Whether you choose to go to a restaurant in the village or high up on a mountain, all restaurants offer local culinary specialities and gourmet meals, but also little snacks that you can eat during a short break. As diverse as the culinary offers may be, all restaurants use fresh, sometimes even local and organic products.

With a choice this broad, the possibilities are endless, but what is THE must-have dish one has to have tried at least once? You can choose between several Savoie classics, most of which consist of meat, bread and cheese: Tartiflette, Croûte, Fondue,… – yet Julien and Edwina both agree: Tartiflette is THE must-have!

You might ask yourself where to go to taste the best Tartiflette. If you're looking for something in the village, Edwina recommends La Grange and L'Étale. However, if you're already on the slopes, try going to Vaffieu, right at the Belvédère chair lift; the food is great, the atmosphere is always relaxed and the view is simply breathtaking.

WOW: Morzine's breathtaking views

Morzine lies at the heart of the Alps, right next to Switzerland, and is a true picture-postcard village. With its regional architecture and its traditional wooden cottages with balconies and slate roofs, every visitor is quickly overcome by Morzine's beauty. Furthermore, due to the area's altitude (between 1000m and 2002m), everyone can discover and enjoy the mountainous vegetation. Skiers can fly down the slopes amidst a unique landscape consisting of huge pine trees and snow glistening like a thousand stars.

Wondering where to enjoy the most breathtaking panoramic view in Morzine? There's no need to go very far or to look for a secret tip: Francesca absolutely loves the view from the Belvédère, at the Belvédère chair lift mountain station. Not only can you enjoy one of the best views of Morzine, but you can even see the famous Mont Blanc in the distance! This hot-spot, which is on top of the Pleney mountain, is even accessible to skiers with very little experience as the slopes leading back down are all blue. Once there, you can also enjoy the view from the Vaffieu restaurant terrace.

Experienced skiers capable of skiing on red slopes should definitely also go to the Pointe du Nyon summit. This offers a 360° view including Morzine and the beautiful Lake Geneva on one side, and the majestic Dents Blanches mountain on the other.

HOORAY: My first slope in Morzine

Morzine is quite a diverse area. Whilst the majority of the slopes are green and blue, some slopes are more difficult, yet just as enjoyable. Moreover, you can also try out freeriding, ski touring and many more activities. Therefore, while this destination caters perfectly well to the needs of all skiers, it is particularly well-suited for families and beginners. Thanks to a total of 5 beginners' zones spread across the whole resort, inexperienced skiers can work on their skills almost anywhere. The most popular beginners' zones are the ones situated at the bottom of the slopes, in the village of Morzine, and the one on the Pleney mountain where skiers can safely make their first turns and work on the snow- plough technique.

If you feel confident enough on your skis, you might want to try skiing on a real slope. However, with so many green and blue slopes, it's not that easy to choose the perfect one. Julien recommends Piste B as a "first slope" for beginners. This scenic and long piste takes you from the summit of the Pleney, through the beautiful pine tree forest and all the way down to Morzine. It really offers perfect conditions, the wide turns and the long descent make make for a prolonged and enjoyable descent that is easy to ski.

Surely all this information is quite helpful, but we've forgotten to answer a very important question: What is the best time of year to go skiing in Morzine?
You'll find ideal skiing conditions in January, however, if you'd like to enjoy a bit of sun too, you'll have better chances in March!

AAAAnd relax…in Morzine

Skiing holidays go hand in hand with memorable descents on snowy slopes. Nevertheless, a few included breaks are needed to be able to truly relax. Ski resorts always know what to offer to holidaymakers wanting to sit back for a bit and Morzine is no exception! In fact, Morzine has been labelled "Top of the French Alps", which means that every skier can expect a pleasant, lively and high-quality stay. Furthermore, the resort was also awarded the label "Family Plus" due to Morzine's family-friendliness and outstanding services for families with children.

Indeed, Morzine's range of offers isn't limited to the slopes – there's always something to do off the pistes as well! Christophe, head of the Easy2Ride ski school, gave us a few tips on what to do.

What's the perfect spot to relax after a day of skiing?
The wine bar La Chaudanne! An endless wine menu and a very helpful and knowledgeable sommelier await you here.

The best place for a night out?
Le Tremplin – without hesitation. Daily live music acts attract party animals from all over the resort.

And what about moments of relaxation?
For relaxing, you should definitely go to the Parc des Dérêches. The sauna there is particularly enjoyable and the pools complex offers relaxation and entertainment for the whole family.

Morzine's hidden treasure

From Pascal's point of view, Morzine's best-kept secret attractions are the Vallée de la Manche valley and the Lac des Mines d'Or lake, both preferably to be discovered during a ski tour.
Christophe also pointed out that Morzine's geographical location at the heart of the Portes du Soleil ski resort network is an invitation to explore the whole Franco-Swiss area.

Have a look at the ski lessons offered in Morzine >

About Easy2Ride
The school was founded in 1999 and now employs around 30 professional instructors. The team takes very good care of each of their clients. Whether you're contacting them for additional information or for a booking request, you can be sure to receive an answer in no time. Easy2Ride welcomes skiers of all skill levels and ages, and offers group lessons as well as private lessons.

Booking a lesson at Easy2Ride comes with a small bonus: all groups are limited to a maximum of 8 participants and lessons are always held in an friendly and relaxed atmosphere. Furthermore, those who take part in group lessons are each awarded a medal at the end of the course and have the opportunity to celebrate their progress by drinking hot chocolates or mulled wine.

Whether I'm describing a beautiful ski area or telling you all about the right skiing techniques, writing articles always makes me want to leave for a new adventure, and I hope reading them has the same effect on you!