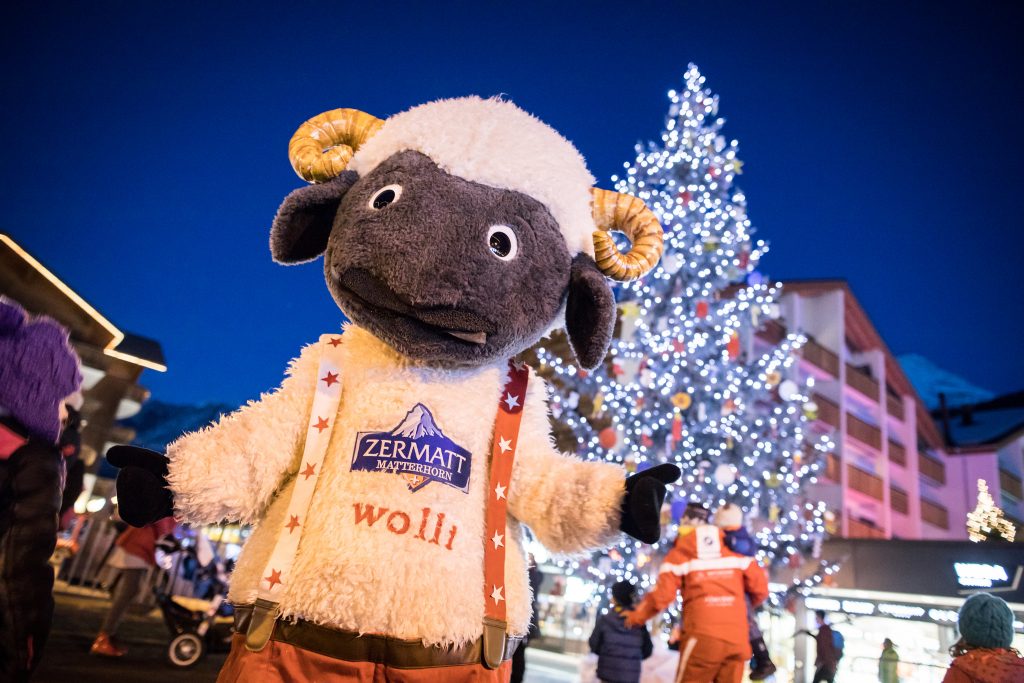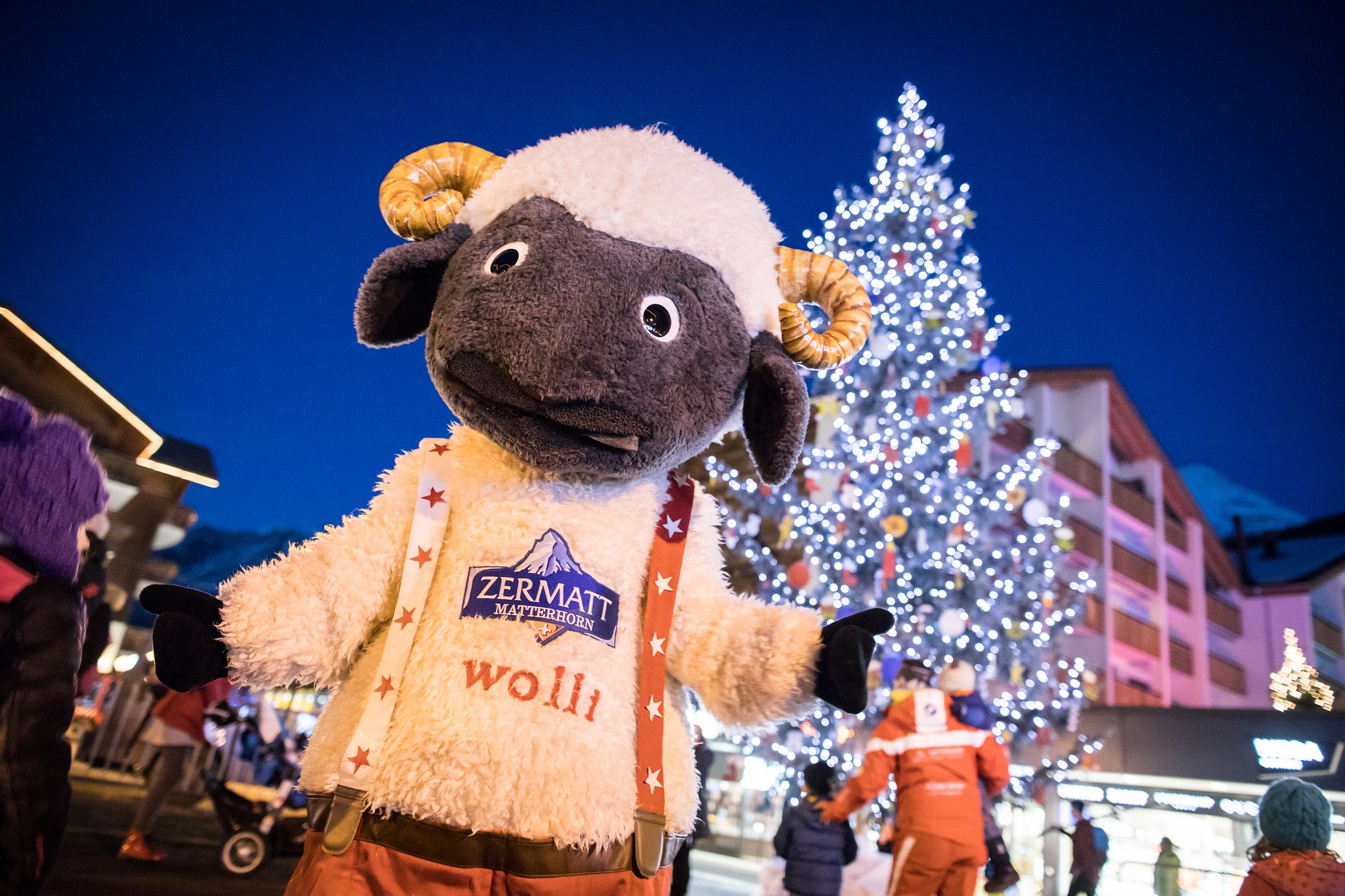 To learn to ski in Zermatt, the resort famous for its view of the Matterhorn, means being introduced to the sport in a location perfectly suitable for beginners, thanks to its 75km of blue slopes.
Visiting Zermatt for your holidays also allows you to choose from an array of ski schools that are based here. The CheckYeti blog will help you understand the characteristics of each one and choose the one that suits you best. 
In addition to skiing, Zermatt offers a lot of culinary tradition, breathtaking views and unusual experiences such as the igloo village. During a winter holiday, Zermatt provides everything you could want from a mountain resort… and maybe even a little more. The article will cover all the features of the ski resort, from a description of the location and a brief explanation of the best slopes for learning how to ski in Zermatt, to other activities you can do when you are not skiing.
The location: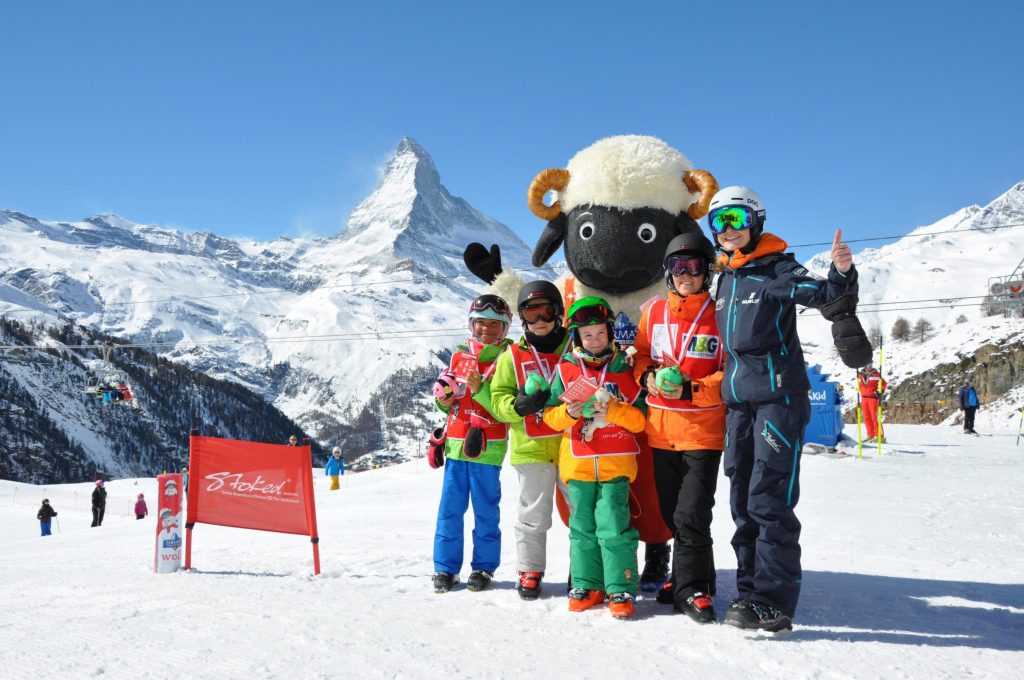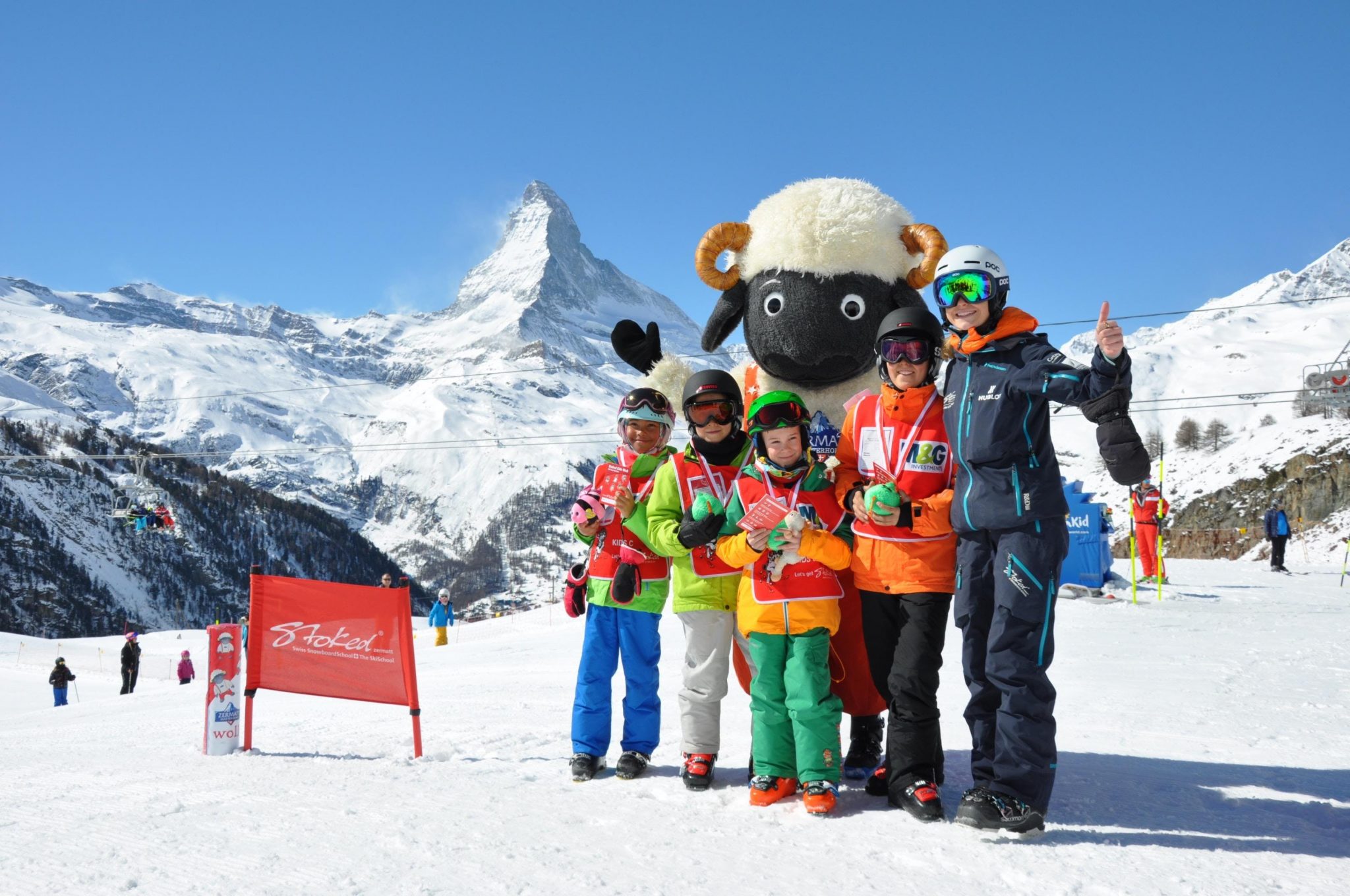 Just over 2.5hrs from Geneva and a 3hr drive from Milan Malpensa, Zermatt lies directly at the foot of the Matterhorn mountain. This traditional and iconic ski resort offers 200km of local slopes for all levels across the four interconnected skiing sectors of Rothorn, Gornergrat, Matterhorn Glacier Paradise & Schwarzsee.
Zermatt is also linked by lift and piste to the Italian resort of Cervinia, this link providing a further 160km of pistes and creating a total of 360km of skiable area.
The Rothorn, Gornergrat & Matterhorn Glacier Paradise sectors have lifts carrying skiers up to over 3000m in height and present an incredible view of 38 mountain peaks that tower above 4000m. The Klein Matterhorn has Europe's highest pistes at 3820m and is also the starting point of an iconic 21km red descent back down into Zermatt.
The Stockhorn area of the Gorner glacier is home to a couple of yellow runs that descend more than 1300m. Yellow runs are considered the world's most difficult: These are ungroomed, unpatrolled off-piste tracks that are marked and secured from avalanches. Zermatt is also one of the few resorts that offer summer skiing, with 25km of pistes and 8 ski lifts remaining open all summer. The resort's summer snow area offers something for everyone, with wide, flat slopes for beginners to more thrilling runs for speed racing. A great opportunity to learn to ski in Zermatt during the summer holidays.
The best slopes to learn to ski in Zermatt: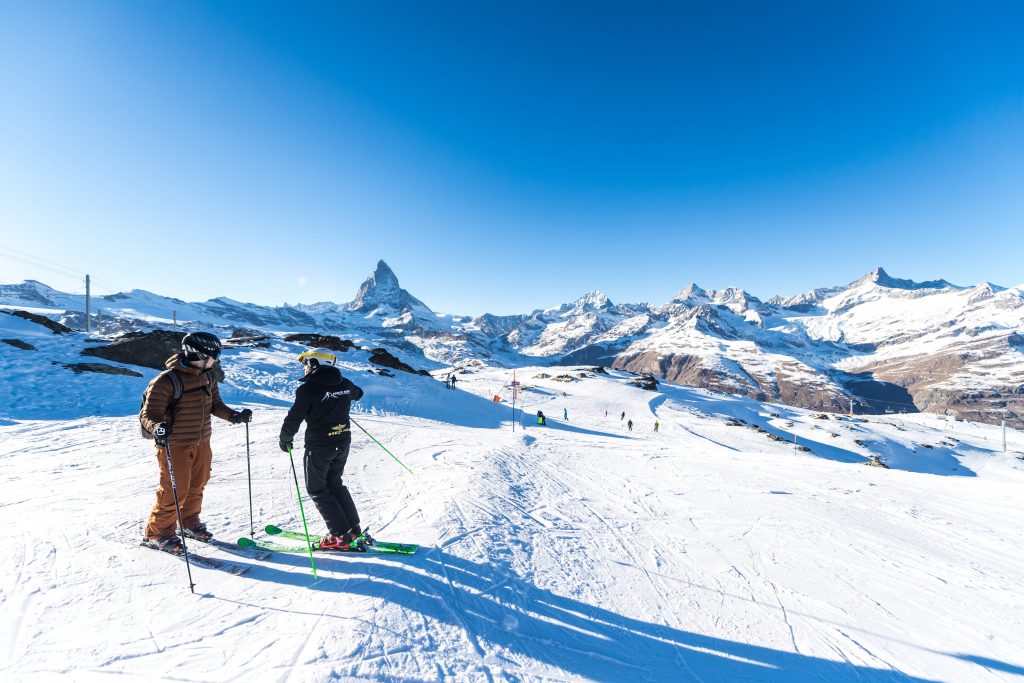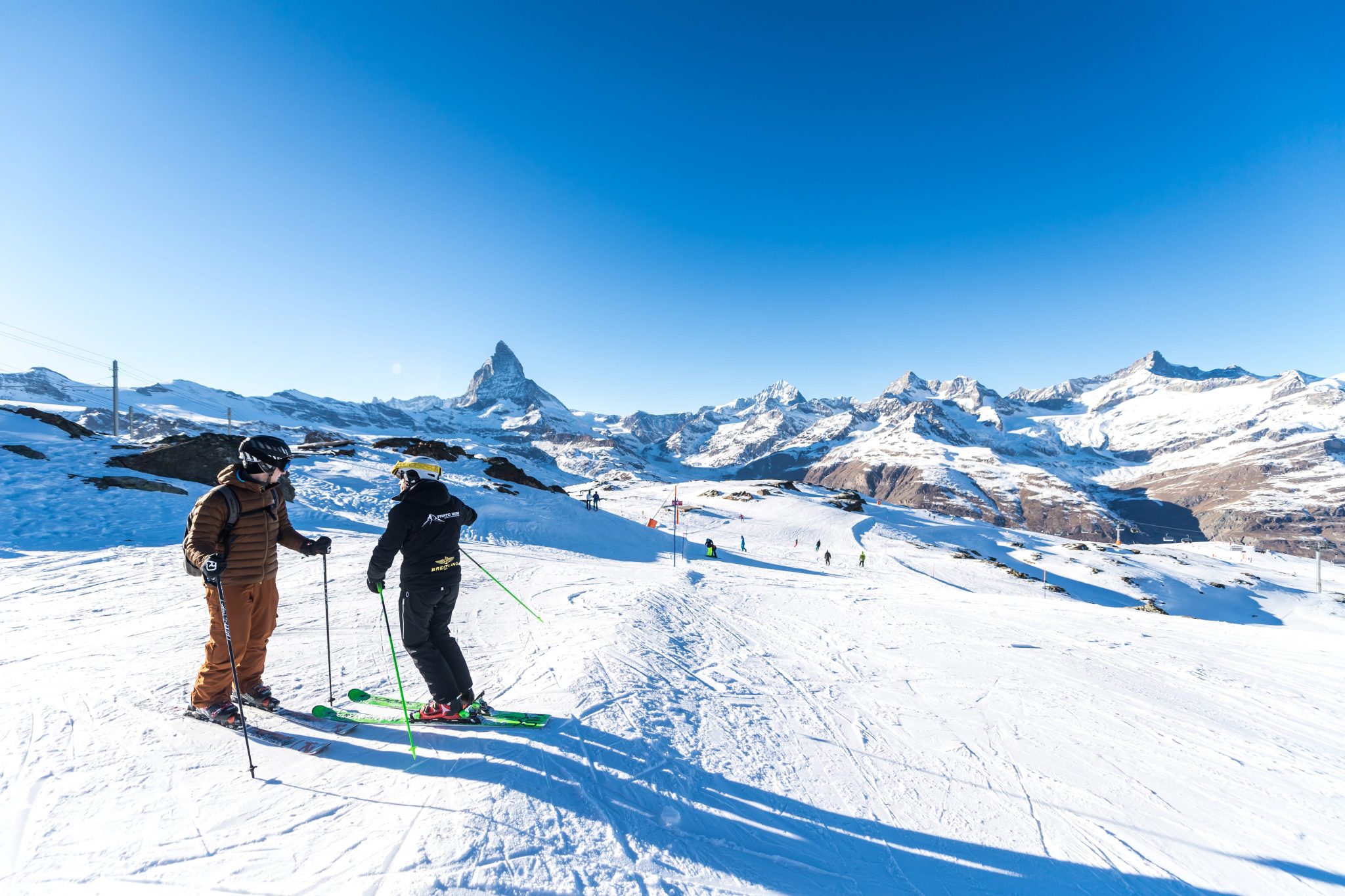 Although 69% of slopes in Zermatt are red, there are also 75km of blue runs, so learners have plenty of choice. Zermatt offers a ski pass for beginners, which provides access to the lifts & runs of the Sunnegga-Blauherd beginners area. The pass is free for children under 10yrs.
Ski schools offer lessons from age 3yrs and upwards, groups being organised according to age and ability. Group lessons for kids generally last for 3hrs, and for adults, 5hrs. Adult groups have no more than 6 participants and the instructors focus on targeted exercises & corrections to help skiers progress as quickly as possible.
After the lessons, the blue slopes in the Gornergrat area are recommended for further exercise. Additionally, the glacier offers well groomed & flat pistes that are suitable for beginners and come with breathtaking panoramic views. The Gornergrat area is also recommended for intermediate skiers, as various extended red runs start here that are ideal for practicing newly-learned skills.
Learn to ski in Zermatt: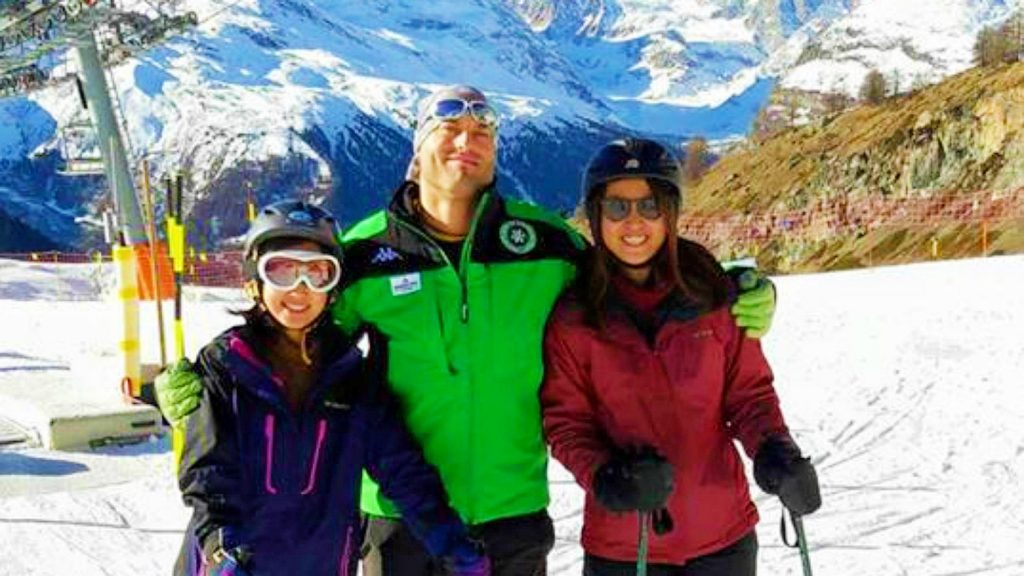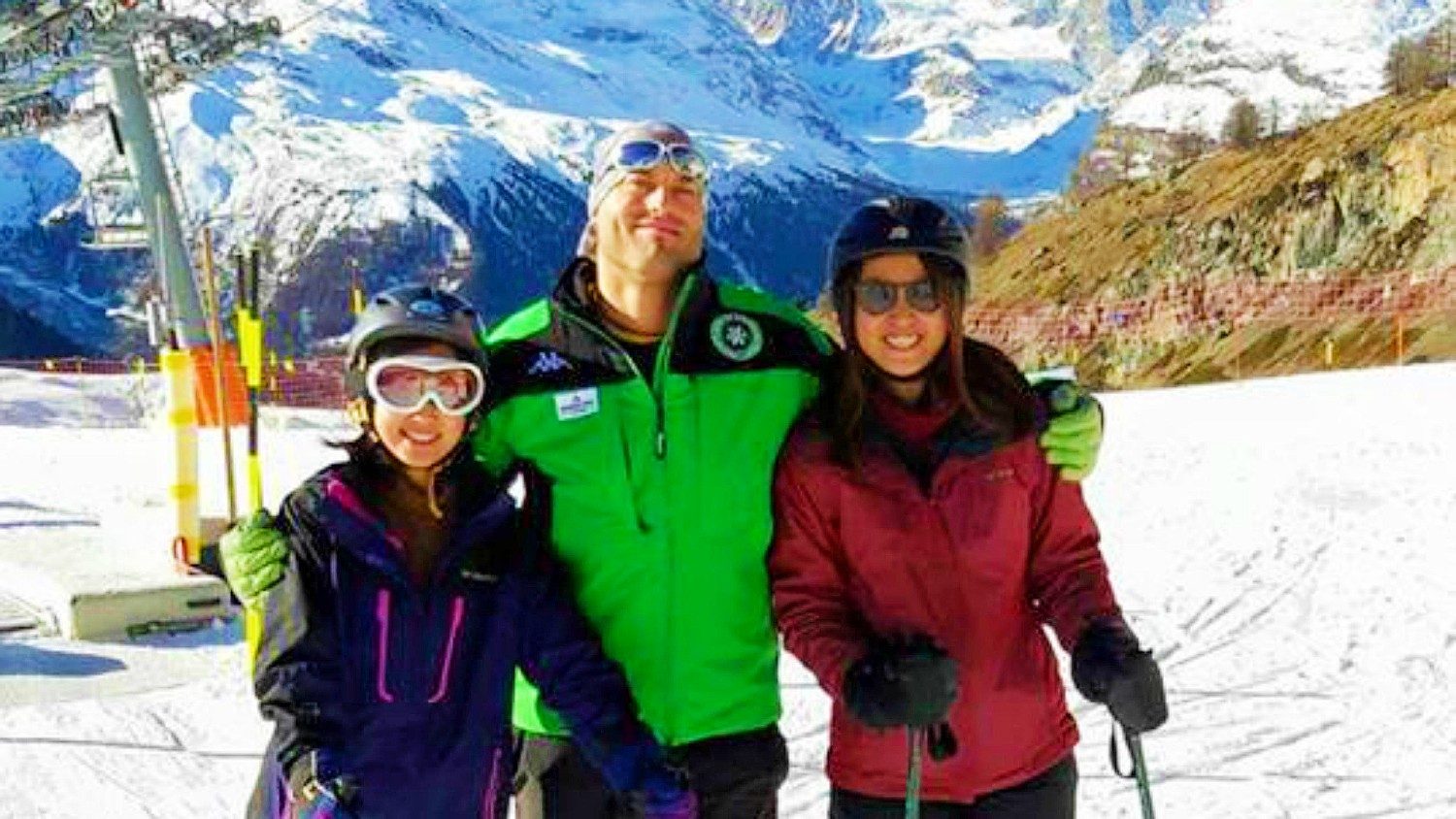 In Zermatt, there are a large number of ski schools. For this reason, we at CheckYeti have decided to briefly present our partner ski schools so that you can easily choose the one that suits you best.
Alpine Ski School Zermatt: Alpine Ski School offers private ski, snowboard, freestyle and off-piste lessons in English, French & German.
Zermatters: Zermatters offers group skiing and snowboarding lessons in English, some with lunch options.
Stoked Ski- und Snowboardschule: Stoked offers group ski lessons from 4yrs, plus private ski, telemark, freestyle, freeriding & snowboard lessons in English and other languages.
Skischule Family Skiing: Offering private ski, ski for families and family guiding lessons in English, German and Russian.
Evolution Ski School: For private ski, snowboarding, freeride & ski guiding lessons in English.
Summit Ski- & Snowboardschule: Summit is Zermatt's first British snowsports school and offers group ski lessons and private ski and snowboard lessons in English.
European Snowsport Zermatt: Offering private skiing and off-piste lessons in English.
Prato Borni Ski & Snowboardschule: Prato Borni offers private ski, snowboard and telemark lessons in many languages.
Matterhorn Diamonds Skischule Zermatt: For private ski and off-piste lessons
ESKIMOS Ski & Snowboard School Saas-Fee: ESKIMOS offers private skiing lessons in English, German, Dutch & French.
Group courses for children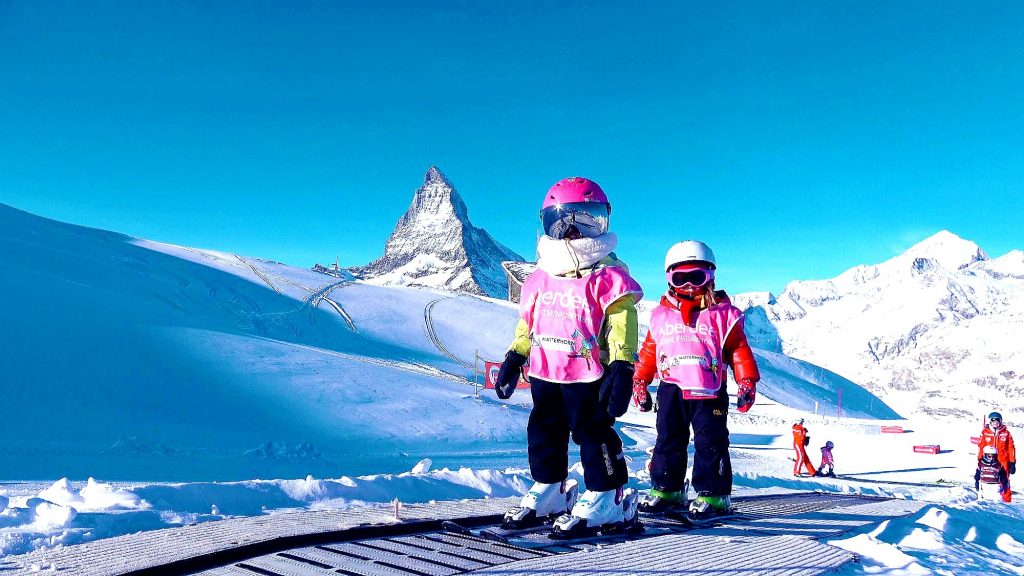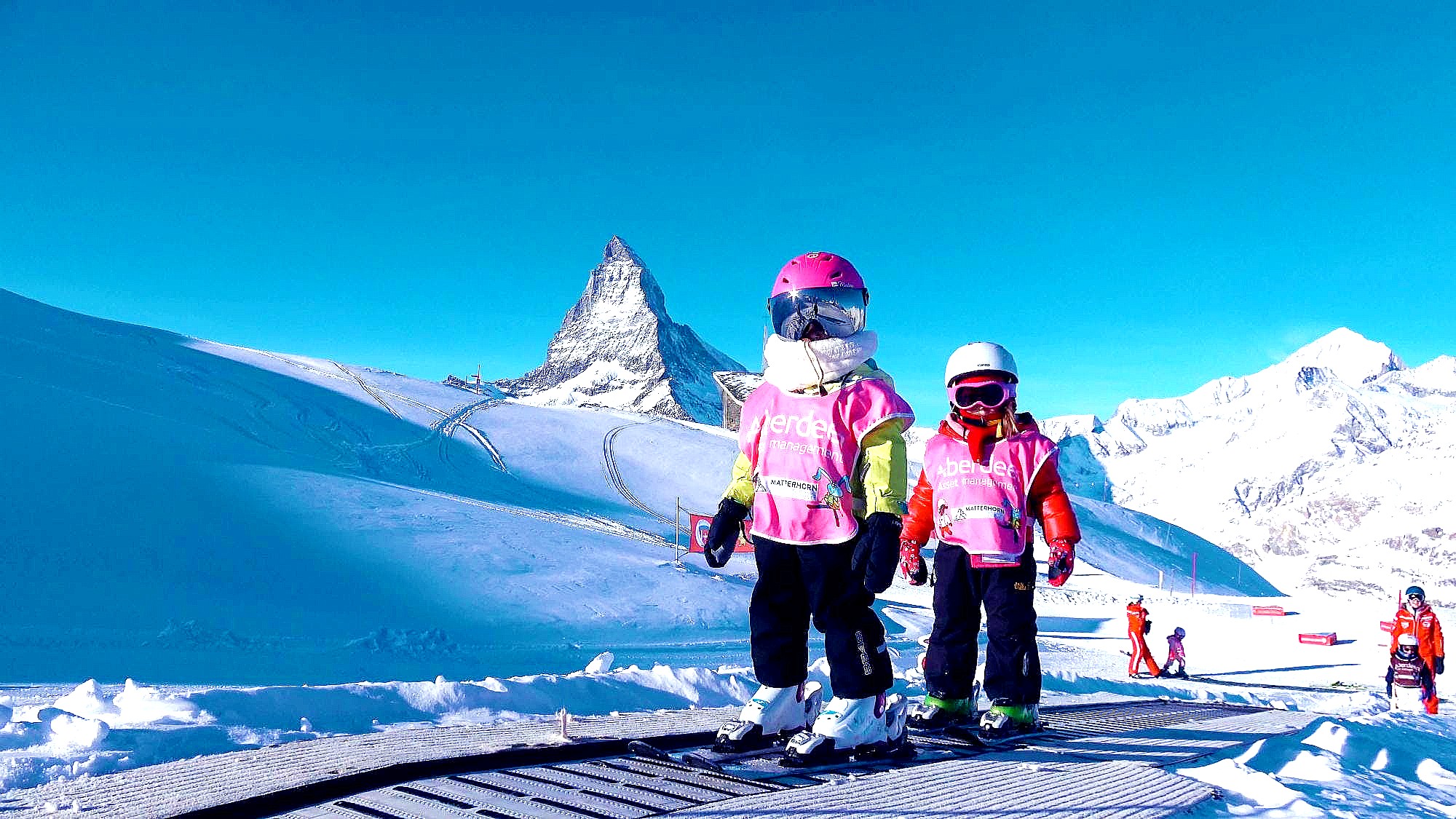 Young skiers can start to learn to ski in Zermatt at the age of 3yrs, lessons lasting between 2-6,5hrs daily, depending on the ski school. Ski schools in Zermatt arrange lessons in groups of 6-8 children according to their ability, and some lesson packages have a lunch option.
Young beginners learn their first moves in one of the ski Kindergartens around the Sunnegga area. The kindergarten playfields are secure and specially designed for children, with moving carpets and fun obstacles. Some ski schools have mascot characters who further help little learners get used to moving on skies.
Ski novices start with the basic techniques of the snowplough and glide. When these are well established, lessons progress to easy slopes with a gentle incline, where the young skiers begin to work on snowplough turns.
When it comes to young skiers with prior experience, the ski schools in Zermatt take the more advanced straight to the more challenging slopes that suit their level. After snowplough skiing, the next step is the graduation to parallel skiing and eventually carving.
Zermatt ski pass
The Zermatt ski pass covers 200km of slopes in the Sunnegga-Rothorn, Gornergrat and Schwarzsee-Matterhorn glacier paradise areas. Passes can be bought for any number of days and a free bus takes skiers to the Sunnegga-Rothorn and Matterhorn glacier paradise valley stations. Kids can ski for free until their 10th birthday and there are reduced price ski passes for kids and teens, such as on Saturdays, when the ski pass is free for children under 16yrs.
What to do in Zermatt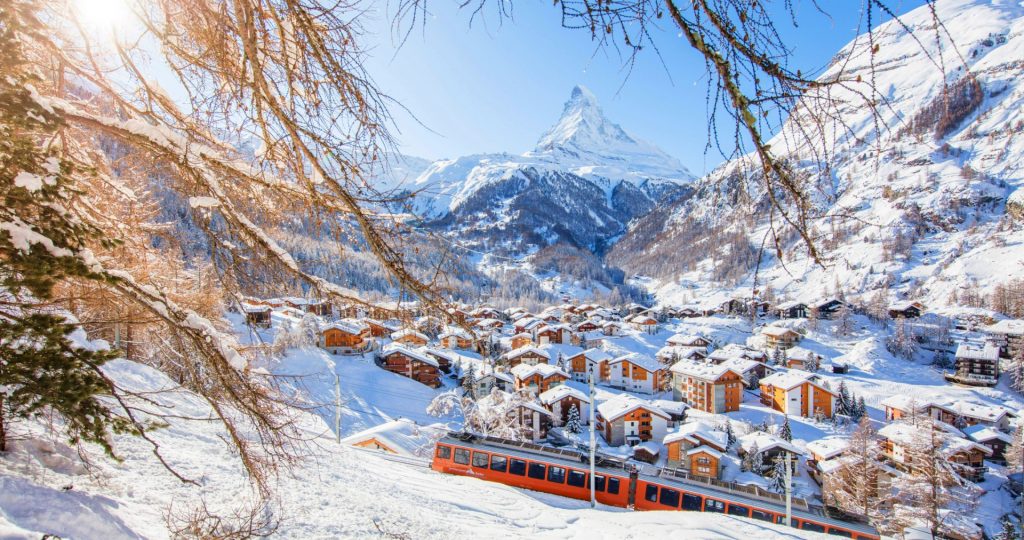 In addition to learning how to ski in Zermatt, there are many other outdoor activities to do:
Igloo village Zermatt:

The Igloo village Zermatt is a hotel at 2727m above sea level made up of a set of igloos. As well as a place to stay overnight, this unusual building offers the opportunity to have lunch, enjoy a hot drink or cheese fondue, have a tour of the interior and enjoy après-ski.

Hiking:

Even in winter, the Zermatt area offers 70km of prepared trails. For this reason this Swiss town is ideal for passionate explorers.

Eat in panoramic restaurants

: The view of the Matterhorn is undoubtedly one of the things that makes Zermatt special. Combining this spectacular view with good food is definitely a great way to spend your holidays. Recommended are the Alphitta restaurants with typical cuisine and live music, Adler-Hitta that has recently introduced panoramic windows to allow a breathtaking view, even when eating indoors. And last but not least, the Enzian restaurant which, in addition to regional cuisine, offers Italian dishes too.

Go to the observatory of Gornergrat:

Thanks to the Gornergrat Bahn train, getting to the observatory is very simple. The train ride is very scenic and you can enjoy a wonderful view on arrival.

Curling

: A fun and relaxing, typically winter sport. Curling in Zermatt is particularly popular, so why not also try throwing a stone on the ice? If you prefer to watch, there is a competition in January every year with 60 teams from all over Europe.

Cross the Italian border and visit Cervinia

: The two cities are connected by a lift. Reaching Cervinia is therefore very convenient. There, you can not only visit the town and ski on its slopes, but also taste typical Italian food.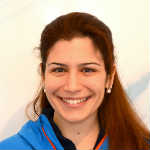 Born in South Tyrol, I love mountains and nature in general. Whether it's 30 degrees or -10 degrees, my motto is "always find new challenges and new emotions in the nature".