If you look for children's ski lessons in France, chances are you'll come across terms like "Piou Piou" or "Petit Yeti". But what does that mean? They are titles of medals given by French ski schools to children once they have successfully finished a ski lesson. Find out which award children get for which lessons and what they represent.
Why do ski schools award medals and what do they represent?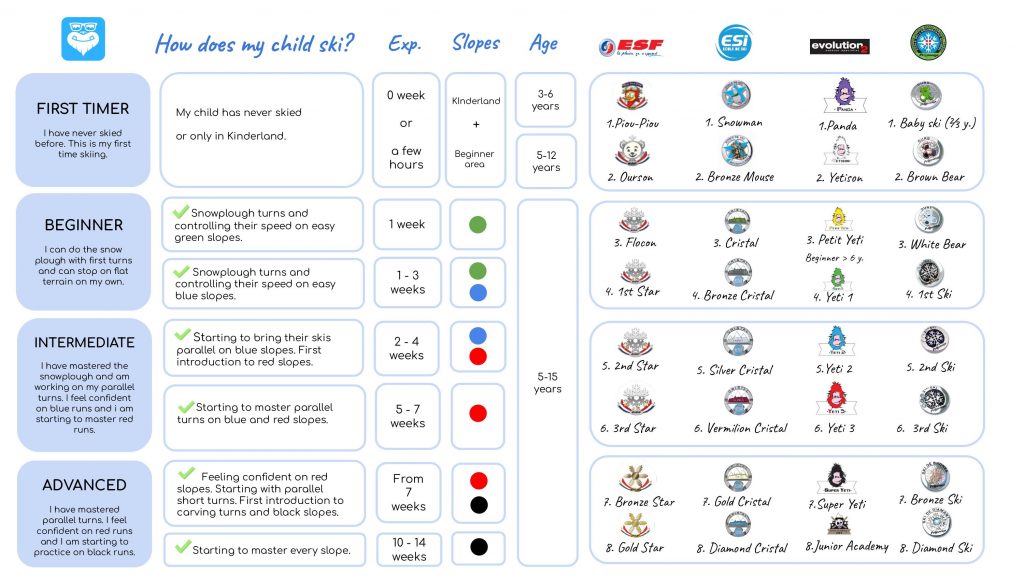 In France, the main ski schools (ESF, ESI, Evolution 2, Prosneige, Oxygène) have a level system for children's ski lessons. Each level has its corresponding lessons and names. Once children have completed and passed a lesson, they obtain a medal.
The duration of children's group lessons is always 5 to 6 days. While children in ESF and ESI lessons have to pass a test at the end of the week to get their medal, the Evolution 2 and Prosneige schools prefer the approach of checking and testing the children's skills throughout the week. The medal allows children to pass on to the next level and take part in a more difficult lesson. Although this makes sense at first, the fact that each ski school has different names for the courses makes all this a little bit overwhelming. But don't worry, I'm here to shed some light on this topic!
Before I dive into all this, you should know that your child doesn't need such a medal to access children's ski lessons in France. If children already have a certain level in skiing and don't have a French ski school medal because they've learned to ski elsewhere, that's no problem! It's up to you, the parents, to evaluate your child's level and book the appropriate lesson. Don't worry if you don't know what level to book: most ski schools call you once you've completed an online booking to talk about your child's skiing skills – what they can and cannot yet do. They then tell you which lesson they would recommend. If the instructors notice that the lesson is either too easy or too difficult for your child on the first day, they can always switch them to another one that's more skill-appropriate.
While most children's ski lessons have specific requirements of what a child should be able to do before starting the lesson, the following four factors are usually the most important indicators:
A child's age
a child's experience (how many days/weeks of ski lessons in total)
their technical skills (snowplough, parallel turns, etc.)
the terrain they can ski on (green, blue, red, black slopes)
Medals for First-Timer Levels

The lessons for first-timers are for children between 3 and 12 years, the upper row being for children aged 3 to 6 and the lower row for 5 to 12-year-olds. For the little ones, the lessons mostly take place in a secured area made especially for young kids, often known as Kinderland. Fun obstacles, games and magic carpets (to help the kids get to the top of the area) are often found here. While some schools have their lessons in a Kinderland, others have another approach and prefer to take kids to a beginners' area or easy slopes.
These lessons are for children who have never skied before. The instructors introduce them to the equipment in a playful way. They also always make sure the older kids can do basic balance exercises before teaching them how to carefully glide on their skis for the very first time.
ESF (Ecole du Ski Francais) has the so-called Piou-Piou Club for children between the ages of 3 and 5. Piou-Piou consists of 4 levels, each level having its own name (Piou Piou, Blanchot, Sifflote and Garolou). When kids make progress, they level up from one level to the next. Once they complete the last test of the Garolou lesson, they receive their Piou-Piou Club medal. If you're interested, check out the Piou-Piou Clubs in La Plagne, Alpe d'Huez and Val Cenis.
Kids who are first-time skiers and are between 6 and 12 years old are welcome in Ourson lessons. Here, most lessons take place on green slopes. The requirements to participate in the Ourson lesson are the following:
have an understanding of the equipment
put on and take off skis on your own
control your speed
do basic snowplough turns
be comfortable skiing on flat terrain
ski in schuss (straight downhill)
ESI (Ecole de Ski Internationale) offers lessons for young children, which take place in the Kinderland or directly on the slopes. Some of the most popular Kinderlands can be found in Les Deux Alpes, Les Orres and Les Angles. The lessons go by various names such as Snowman and Mouse (white, green and bronze). Don't worry if you can't find Snowman or Mouse lessons: some ski schools have other lessons for first-timers that have other names. During these lessons, kids learn how to walk with skis, to slide, to hold their balance and to snowplough. Children aged 6 and up start learning how to do turns using the snowplough, how to control their speed, and how to use a T-bar ski lift.
When it comes to Evolution 2, most of their ski schools have slight differences in their offers. For example, depending on where you are, the first level is called Panda or Cariboo Club. This level is for first-time skiers from the age of 3 and can be found in some resorts: Chamonix, Les Arcs, Tignes. Here, the skiing and learning are done in a Kinderland. Yetison is the equivalent of Panda but for older children. Sometimes though, kids from the age of 4 can participate if they meet the necessary requirements. During these lessons, children start to do straight downhill runs and snowplough turns. Depending on the school you choose, children will either complete this lesson in a Kinderland or on easy slopes.
The Prosneige ski schools welcome children as young as 2 years old to their first-timer lesson Baby Ski. During this lesson, the goal is to simply get used to the equipment while learning to move on skis. The same lesson exists for 3- to 4-year-olds: Little Bear. Here, kids learn to be more autonomous in Kinderlands and to balance on skis. The most popular spots for this lesson include Val Thorens, Tignes and Les Menuires. Prosneige's Brown Bear lesson is for kids between 5 and 13 years with no or only very little experience. The goal of this lesson is to be able to do snowploughs on green slopes. Depending on the chosen ski resort, these lessons can take place either in a Kinderland or on easy slopes.
Medals for Beginner Levels

In general, the beginner, intermediate and advanced lessons are for children between the ages of 5 to 13. Meaning that from here on, it's not so much about a child's age anymore but more about their experience and skills.
Right after ESF's Ourson lesson comes Flocon. To participate, children have to either have the Ourson medal or master the following things:
control their own speed
do turns using the snowplough
ski in schuss
shift from one ski to another
get up from falls on their own
be comfortable skiing on green slopes
The next level is called First Star. To participate, children should either have their Flocon medal, or be able to do parallel turns, use T-bar ski lifts and be comfortable skiing on green slopes.
The ESI equivalent to ESF's Flocon is called Cristal. Children in this lesson should have 1 to 2 weeks of skiing experience and be able to do snowplough turns on green slopes and use ski and chair lifts. The Bronze Cristal is the perfect lesson for kids who have completed the ESI Cristal lesson or the equivalent thereof in a different school. Alternatively, children can participate without a medal, if they can control their speed, feel safe skiing on easy blue slopes and are starting to use ski sticks.
Evolution 2 has two lessons for beginners: Petit Yeti for beginners having no or only a little experience, and Yeti 1 for slightly more experienced beginners. In general, Petit Yeti is aimed at beginners and first-timers over the age of 6. Here, kids learn how to sidestep, how to get up after a fall and how to keep their balance despite uneven terrain and obstacles. They also learn how to use lifts and how to shift from a snowplough turn into parallel skiing. The slightly more advanced lesson is called Yeti 1. During this lesson, children try out the step turn and the skating step, and learn to use ski sticks. They also learn how to come to a quick stop after a turn. Petit Yeti and Yeti 1 are both completed on green slopes.
White Bear and 1st Ski are the beginner's lessons at Prosneige. According to Prosneige, if your child knows how to do snowplough turns on green slopes, they're ready for the White Bear lesson. The goal of this lesson is to master basic techniques on blue slopes. 1st Ski is for children who have 1 to 3 weeks of experience and feel confident skiing on blue slopes. Here, the goal is to learn how to parallel ski on blue slopes and to side-slip.
Medals for Intermediate Levels

At ESF schools, the 2nd Star is a lesson for kids who either have their First Star medal (or an equivalent medal) or know how to do multiple basic turns one after the other, how to traverse a slope and how to master uneven terrain. In this lesson, children learn to do sharp turns, to side-slip and to use the skating technique. They also start to bring their skis in a parallel position on mostly blue and even some red slopes. After this, the next level is the 3rd Star. Here, children learn to do parallel turns, to ski in schuss and to go in and out of side-slips on mostly red slopes.
ESI's Silver Cristal lesson is ideal for children who can already do parallel turns and side-slips on smooth slopes, and don't resort to snowploughing anymore. After this lesson comes the Vermillon Cristal level. On this level, children learn to confidently ski on red slopes. Instructors mostly work on basic carving and turn techniques with the children.
Yeti 2 is the level in which children learn side-slip variations. In this Evolution 2 level, they also learn how to ski in schuss over moguls and holes and how to perfect their posture. Most of the skiing here is still done on blue slopes. The red slopes are explored on the next level, Yeti 3. Here, children learn to ski in schuss and do so-called hockey stops (also known as parallel stop). They also attempt to do various turns on red slopes.
Prosneige follows with its intermediate levels called 2nd Ski and 3rd Ski. For the 2nd Ski level, children should have between 2 to 4 weeks of skiing experience. The goal in these lessons is to parallel ski on blue slopes and try out side-slips on red slopes. The 3rd Ski level is for kids who have 5 to 7 weeks of experience. At the end of the lesson, they should be able to parallel ski on red slopes, do various kinds of turns (both short and long) and do hockey stops.
Medals for Advanced Levels

If your child is starting to avoid side-slips by doing parallel turns and knows how to adapt the length and type of turns depending on the terrain they ski on, it might be a good sign that they are ready for ESF's Bronze Star advanced level. Generally speaking, kids at this level should be able to jump over small moguls and feel confident skiing on red slopes. The final level is called the Gold Star. The requirements for this advanced lesson are the following: ▷ be able to ski on all types of slopes ▷ be able to ski down steep slopes in schuss ▷ feel safe on challenging terrains such as ski-cross areas and half-pipes. Fun fact: the final test of the Gold Star lesson includes a timed slalom race!
The two advanced lessons of ESI schools are called Gold Cristal and Diamond Cristal. The Gold Cristal level is a great fit for kids who can ski over small moguls and feel safe skiing on red slopes. Children who participate in this lesson should also be able to perform basic carved turns (a technique where you only ski on the sharp edges of the skis). Children who have mastered all kinds of terrains (including moguls and icy slopes) and are experts at turns and controlling their speed, can perfect their skills in ESI's Diamond Cristal lesson. During this lesson, children even get introduced to the art of freestyle.
On Evolution 2's Super Yeti level, children learn to perfect their turn techniques on black slopes. They are introduced to carving techniques and can even try to freestyle in a snowpark! Once children have completed Super Yeti, the next level is the Junior Academy. Here, the goal is to do turns on red and black slopes and to perfect techniques on black slopes. This level is also where children try off-piste skiing! Note that to participate in this lesson, children have to be over the age of 10.
Prosneige schools differentiate between their Bronze and Diamond Ski lessons. Usually, children who are over the age of 8 and have between 7 to 10 weeks of skiing experience are put into the Bronze Ski lesson. The goal of this lesson is to ski on red slopes and start to explore black slopes. If the children feel ready, they may even give freestyling a try in a snowpark. The Diamond Ski lesson caters best to the needs of skiers over the age of 10 who have 10 to 14 weeks of experience. To have this much experience means that one should feel confident skiing on every type of slope – even black ones! After this lesson, children will have perfected their techniques on all kinds of terrain.