Santorini is famous all over the world for its blue-domed churches and iconic caldera, a crescent-shaped bay created by a large volcanic eruption. With many beautiful landmarks around the island, it is no wonder that Santorini boat tours are an absolute must for every visitor. But how do you decide which tour is right for you? CheckYeti's team of experts has gathered all the information on Santorini boat tours to help you find your perfect trip.
Santorini boat tours: sail away from the hustle and bustle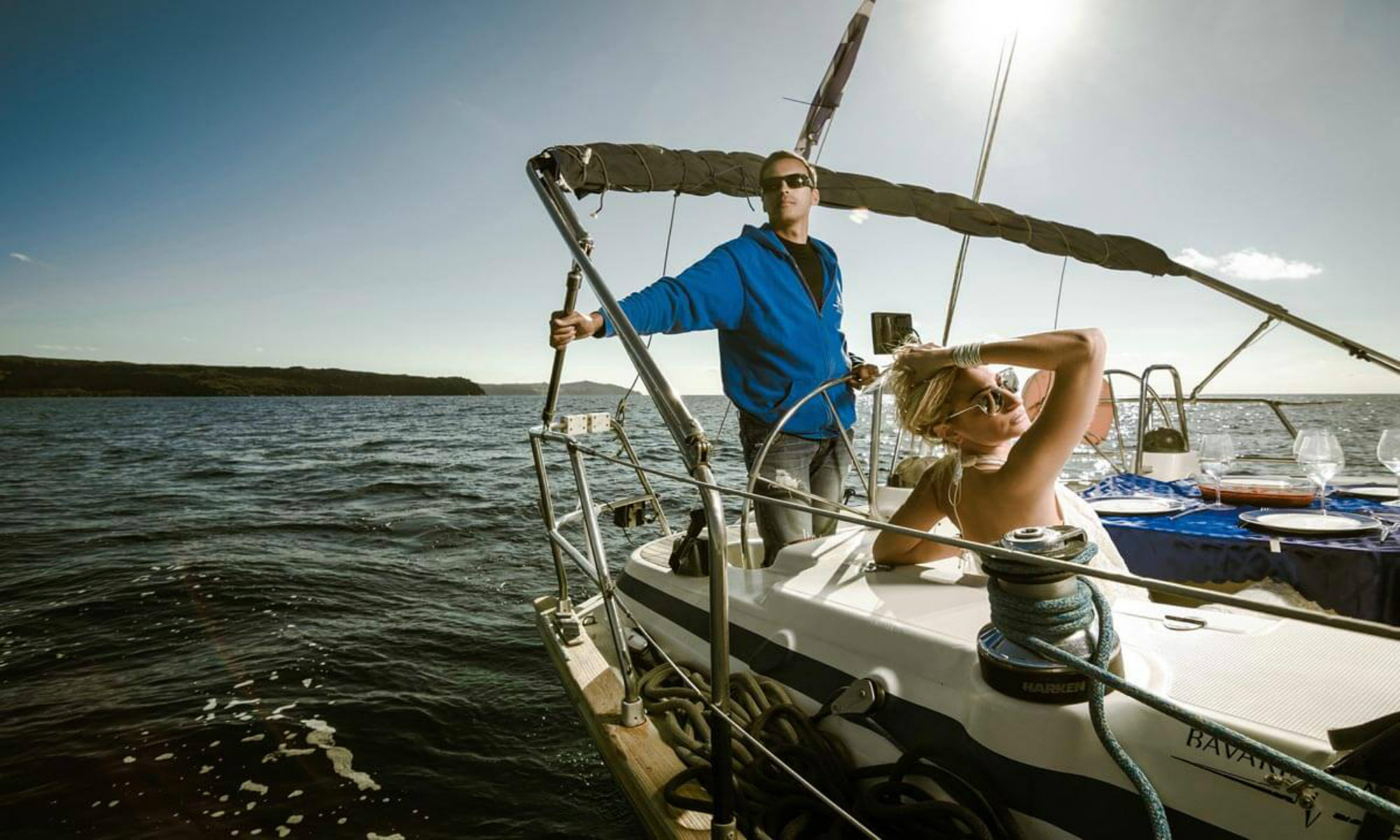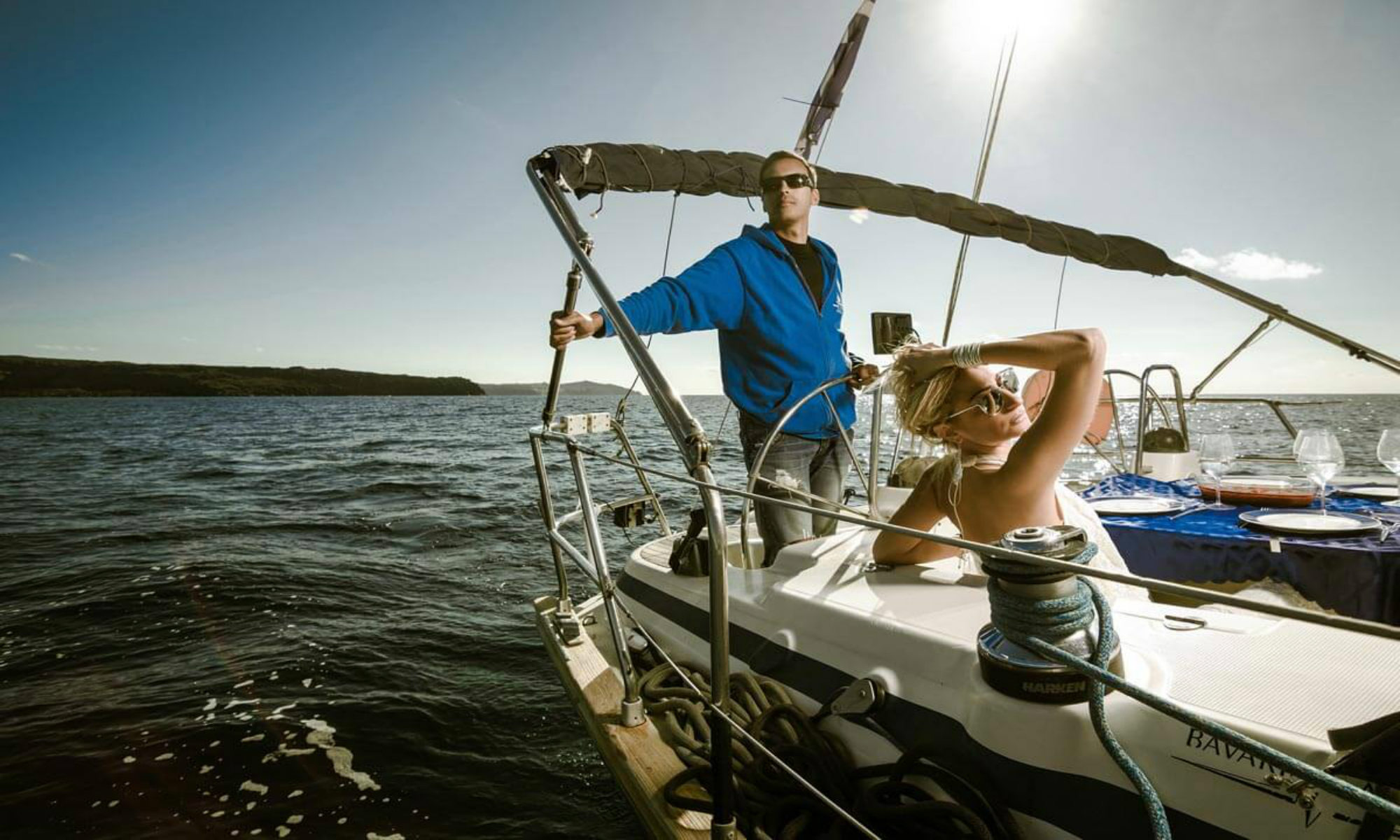 When it comes to Santorini boat tours, a sailing trip offers all the bells and whistles. For holidaymakers who are looking to get away from the crowds, a relaxing sailing tour is just the ticket. A sailing ship typically offers room for 8-10 people and sailing trips are available from Vlichada port on the south coast of the island. Those who are staying elsewhere on the island don't need to worry as there are sailing tours available which will pick guests up from their hotel and drop them back off after their trip.
One of the highlights of a sailing trip is a stop on Thirasia. This small island lies west of Santorini and is part of the archipelago. Inhabited by just over 300 people, this is the perfect place to soak up the authentic Greek atmosphere. There is also an opportunity to swim and snorkel in the crystal-clear water. Snorkelling equipment is usually provided, as is free wifi, so holidaymakers can post their stunning photos on Instagram and Facebook straight away. To complete a wonderful sailing experience away from the hustle and bustle, holidaymakers can book a tour which includes a tasty meal cooked on board.
CheckYeti Tip: Skipper George from Angel Sailing Santorini is a former merchant marine captain who travelled the world for 15 years before settling down in Santorini. He is passionate about showing his guests the sights on his beautiful sailing yacht and he will make their boat trip even more special.
Santorini boat tours: speed, fun and sun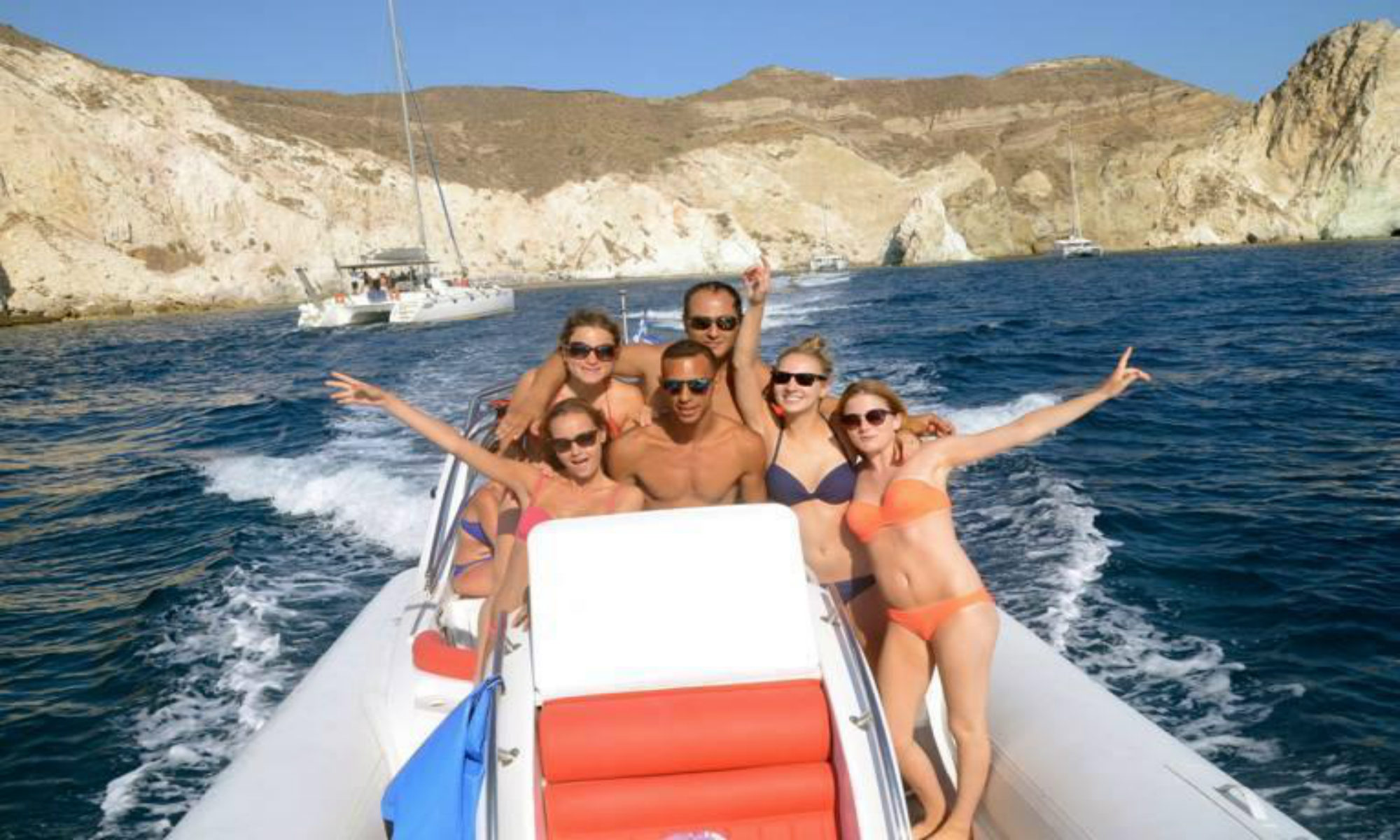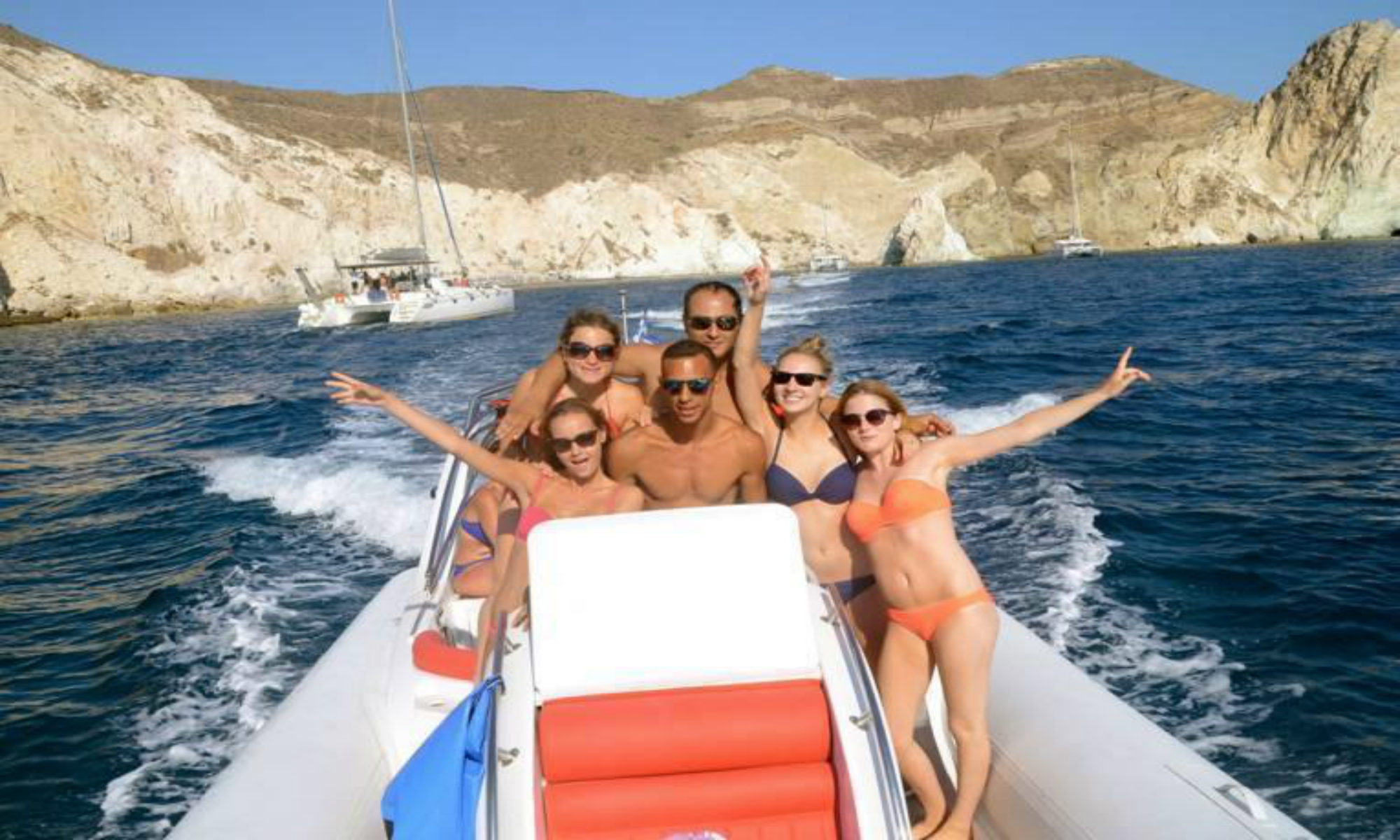 A speedboat tour is ideal for those who want to have fun out at sea. A speedboat typically holds up to 8 passengers and there are speedboat trips available from Perissa, a lively town on the southeastern side of the island. Perissa is especially popular amongst young holidaymakers who enjoy the many bars, restaurants and the famous black beach.
From Perissa, there are different speedboat trips to choose from. The destination of each trip varies depending on the duration of the tour. What these Santorini boat tours from Perissa have in common is that holidaymakers will discover the beautiful beaches the island has to offer. There are plenty of opportunities to swim in the crystal-clear water and to discover the impressive underwater world. For those who enjoy snorkelling, the equipment is usually provided. Tours can last up to 3.5h and will take guests to all the major hotspots as well as hidden gems. Guests can, for example, stop at Mouzakia. This isolated beach, located along the caldera, can only be reached by boat. It is the perfect spot for a quiet and refreshing swim.
Santorini boat tours: enjoy the famous Oia sunset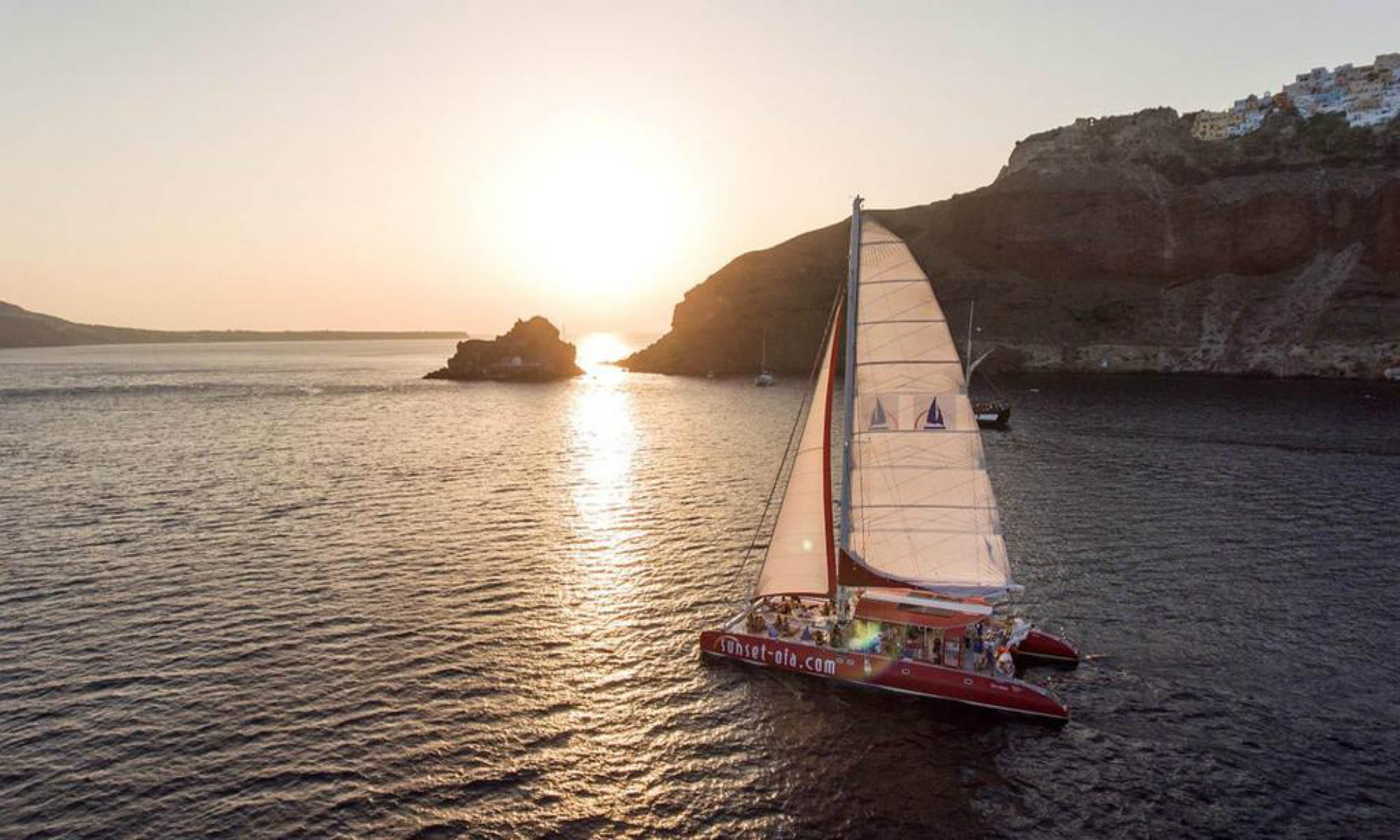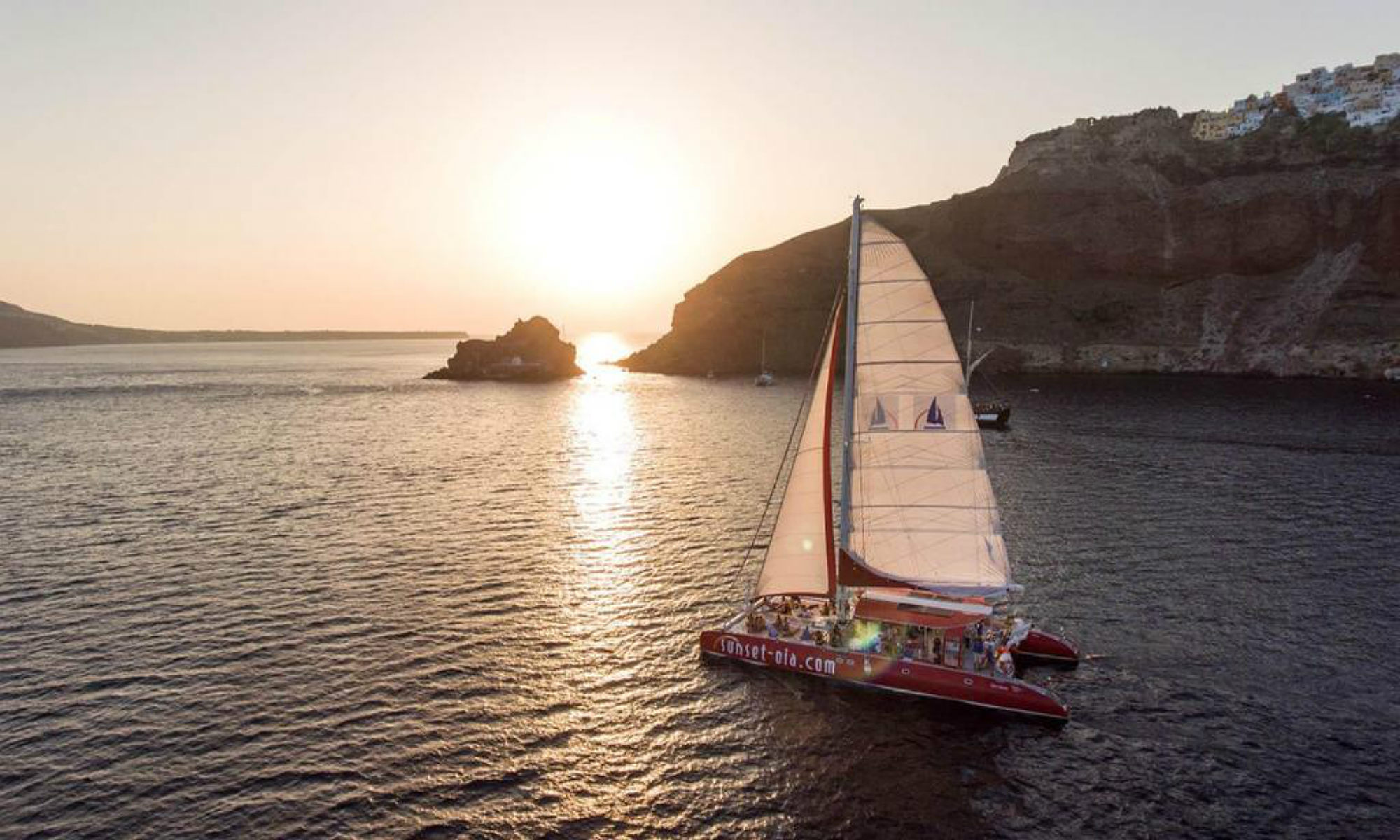 A visit to Santorini is not complete without a view of the sunset in Oia and a catamaran tour delivers just that and more. A catamaran typically offers room for up to 55 people and trips depart from places such as Amoudi Bay. This charming little port lies just below Oia and is easily accessible via the stairs that lead from Oia down to the bay. Guests who are staying elsewhere on the island or who don't fancy the walk down (and back up) can be picked up from their hotel or holiday apartment and can be dropped off again after their trip.
The highlight of a late afternoon tour is the incredible sunset at Oia, but of course, there are some very nice stops along the way. Guests can, for example, visit the Hot Springs where they can swim in the mineral waters of the volcano. Some catamaran tours also stop near Mesa Pigadia, which offers a secluded bay for swimming. Snorkelling equipment and free wifi are usually provided. Holidaymakers who want to treat themselves can even book a catamaran trip which includes a delicious dinner on board with unlimited wine and soft drinks which can be enjoyed before the ship stops at Oia for that famous sunset.
CheckYeti Tip: If you are planning to swim in the Hot Springs we recommend you don't wear your favourite bathing suit. The sulphur of the volcano can cause yellow stains so it is best to bring darker coloured swimwear.
Santorini boat tours: create your own itinerary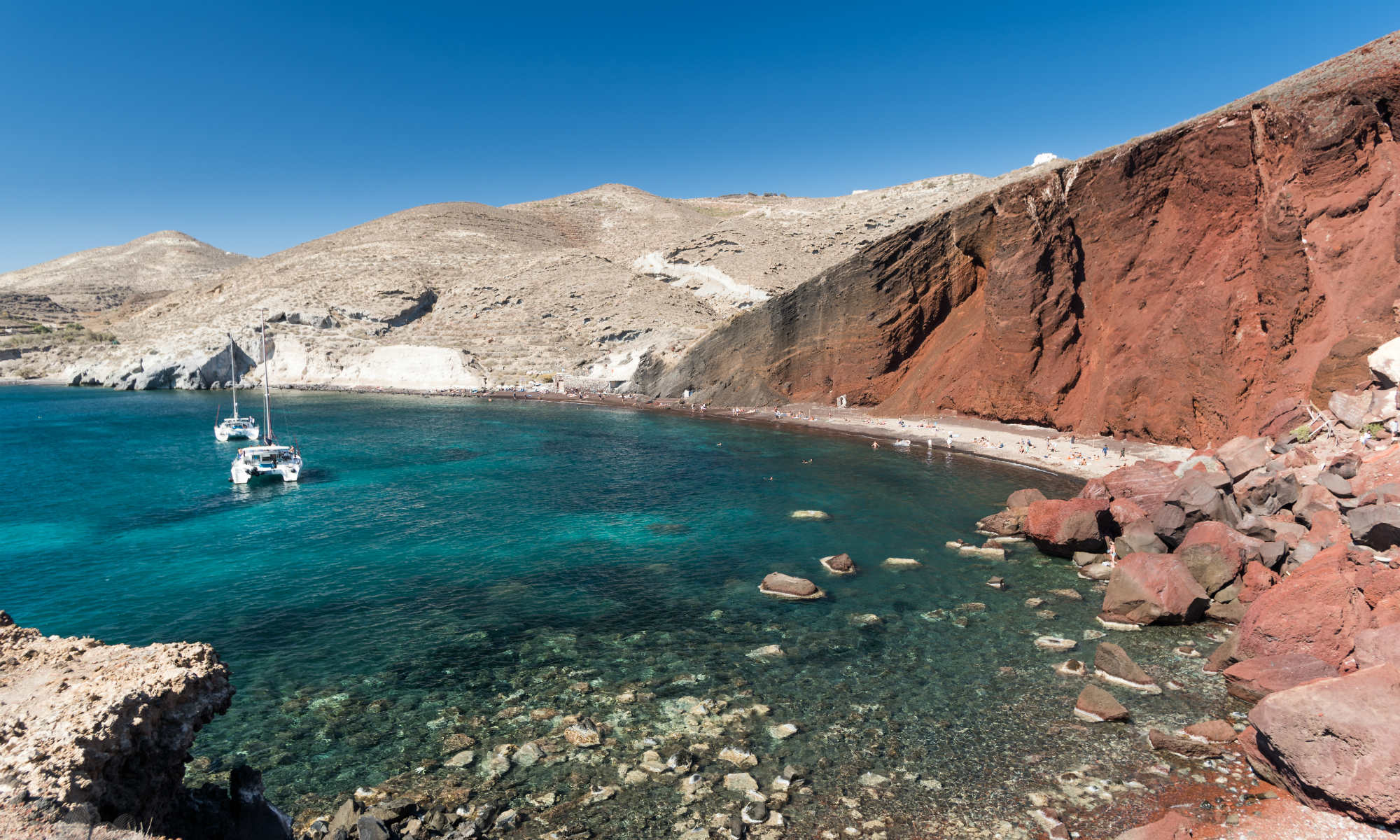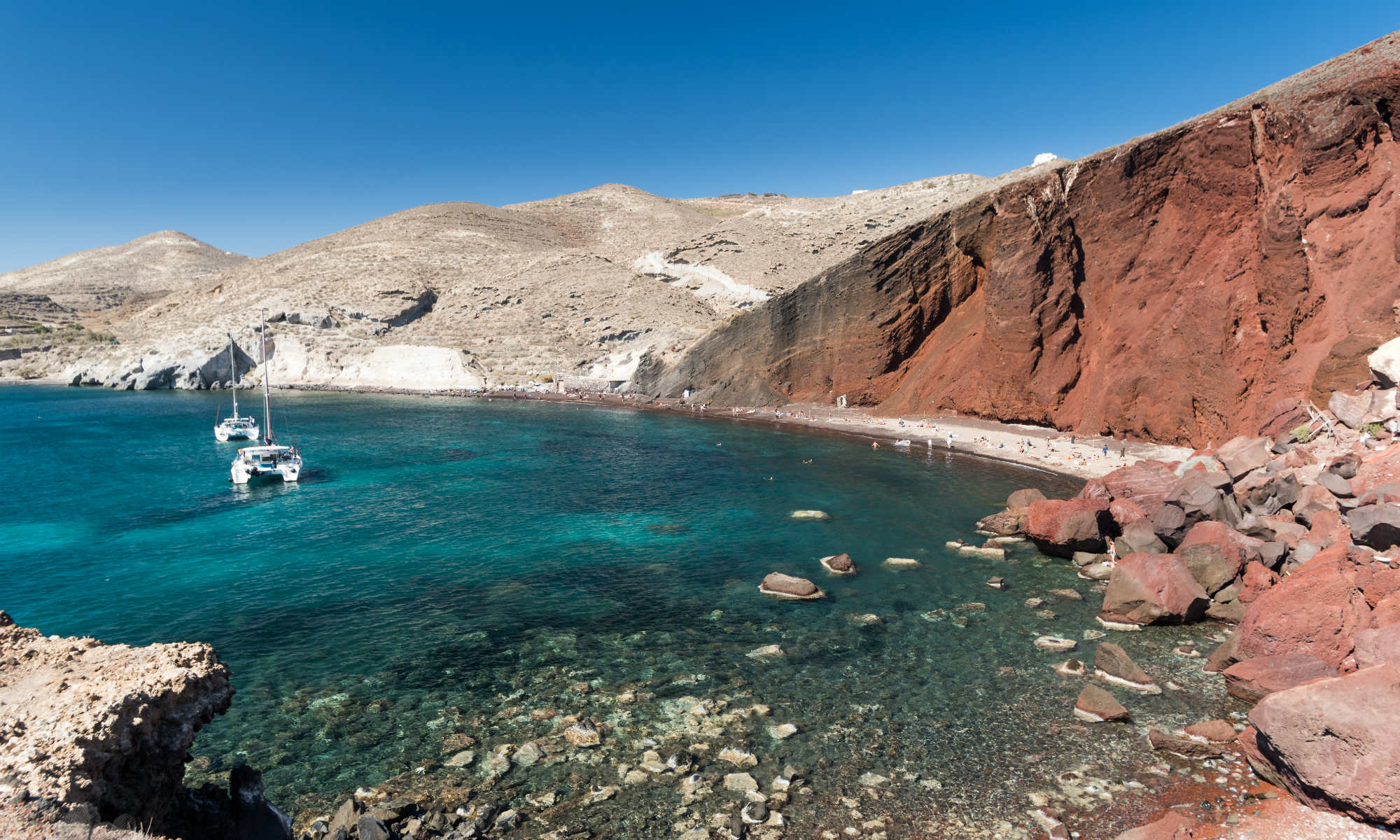 A private boat trip is ideal for a group of friends who are looking for a personal experience. Private Santorini boat tours are available from Agios Georgios in the south of Santorini. Holidaymakers can typically choose between a smaller boat which holds a maximum of 4 passengers or a larger boat for 10 passengers.
The huge benefit of a private boat tour is that holidaymakers get to decide exactly where they want to go and what they want to see. Of course, the knowledgeable and friendly skippers will be more than happy to give advice on the best places to visit. They know the area like no one else and are able to show visitors the hotspots as well as the more secluded areas away from the crowds. A possible stop is the Red Beach, located on the south coast of Santorini. The beach is named after the unique red colour of the iron-rich sand and cliffs. From the water, holidaymakers will have a great view of this impressive sight.
CheckYeti Tip: After the boat trip, the beach at Agios Georgios is the ideal place to soak up the sun. There are also some beach bars that offer free sunbeds for guests who have a drink or order food.

I have always been fascinated by the mountains. In summer, there is nothing I love more than leaving the city behind and enjoying the great outdoors.