Milan's strategic location, between Valle d'Aosta and Trentino, means that this city is literally surrounded by ski slopes. As most ski resorts are located three or more hours from Milan, it might seem tricky to organise a spontaneous trip to the slopes. However, with our suggestions about the closest slopes to Milan, you won't have to drive too long to enjoy a fun weekend getaway on the slopes!
So, if you're wondering where to ski in Lombardy near Milan, keep reading! We'll introduce you to three ski resorts within two and a half hours away from Milan, easily reachable by car: Monte Pora, Chiesa in Valmalenco and Gressoney La Trinité. Here, you can spend a great day on the slopes with your friends, or you can learn how to ski with the help of the local ski schools mentioned in this article.
The article covers the following ski resort in the vicinity of Milan:
Chiesa in Valmalenco – a ski area reachable by train from Milan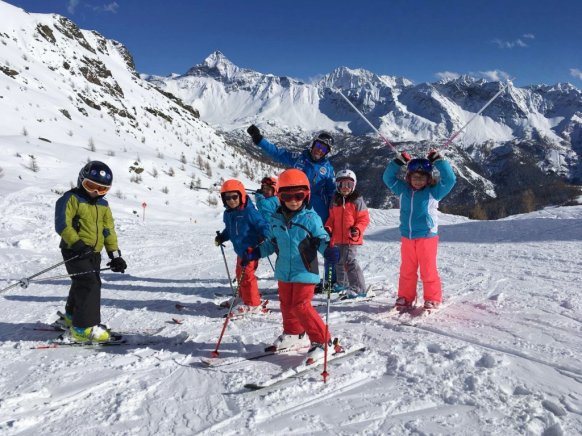 Chiesa in Valmalenco is a small village surrounded by forests in the province of Sondrio, just over two hours by car from Milan. Thanks to Trenord's initiative "I Treni della Neve" (lit. "Snow Trains"), the combo Train+Shuttle+Skipass allows you to reach the slopes leaving your car at home. By buying a single ticket, you can save money and at the same time do a favour to the environment. In fact, arriving by train in Sondrio and taking a shuttle to the ski lifts of Chiesa in Valmalenco, will help to limit the CO2 emissions caused by cars.
From Chiesa in Valmalenco you can take the Snow Eagle, one of the largest cable cars in Europe and reach the slopes of Alpe Palù. The ski area of Valmalenco boasts more than 50 km of alpine ski slopes suitable for skiers of all levels. Beginners can ski on various blue slopes, while more experienced skiers can enjoy some red and black slopes, including the Thoeni, with an inclination up to 55%. Valmalenco is also a very popular destination for snowboarders thanks to the Palù Park, which often hosts World Cup competitions and offers an 11-metre jump plus several funboxes suitable for riders of all levels.
If you are not a ski lover, you can reach Lake Palù on snowshoes and try the excellent specialities of Valtellina, available in all the mountain huts of the area. If, on the other hand, you would like to take skiing or snowboarding lessons, the qualified instructors of the EnjoySki Ski School will guide you patiently in learning the sport while you are immersed in the breathtaking landscape of Valmalenco.
Gressoney la Trinité – Monte Rosa Ski with 180 km of slopes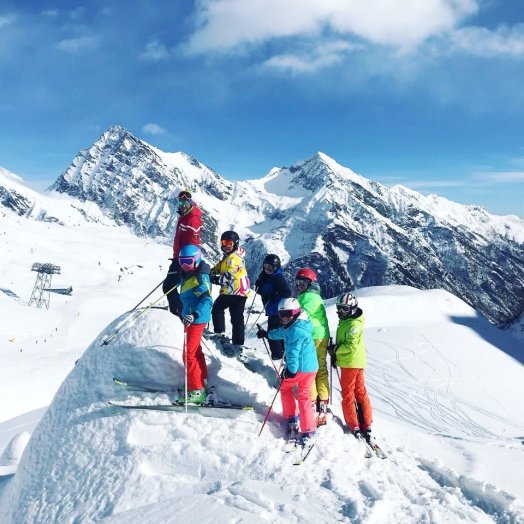 Gressoney La Trinité is an important tourist destination located in the Lys valley, just over two hours by car from Milan. Dominated by the Lyskamm glacier, the charming village of Gressoney La Trinité is part of the Monterosa Ski area and boasts a strategic position between Champoluc and Alagna Valsesia, easily reachable on skis. The area offers many blue and red runs and is equipped with snow cannons to guarantee a continuous snow cover.
Experienced skiers have at their disposal 180 kilometres of slopes in the Monterosa Ski area. By taking the Punta Jolanda chairlift you can ski to the Bedemie-Seehorn chairlift and then go down to Staffal, a crucial point of the ski area which is well connected to Champoluc and Alagna. Between Gabiet and Punta Jolanda we find the highlight of Monterosa Ski, the historic "yellow slope" often used for international special slalom competitions and reserved for the most experienced skiers. If this is not enough and you are looking for a unique experience, in Gressoney you can go heli-skiing: a helicopter will take you to otherwise unreachable peaks where you can ski on the fresh and uncontaminated snow of the Aosta Valley mountains.
The ski area of Monte Rosa Ski also has areas dedicated to children and blue slopes for beginners with convenient carpet lifts. In Gressoney La Trinité there is a baby snow park where children can play in the snow and familiarise themselves with skis and snowboards. The instructors of the Ski School Gressoney Monte Rosa boast a qualified staff able to teach both children and adults in an effective and fun way, paying attention to safety and passing on all their passion for winter sports.
Monte Pora – a beginners' paradise 1 hour and 45 minutes from Milan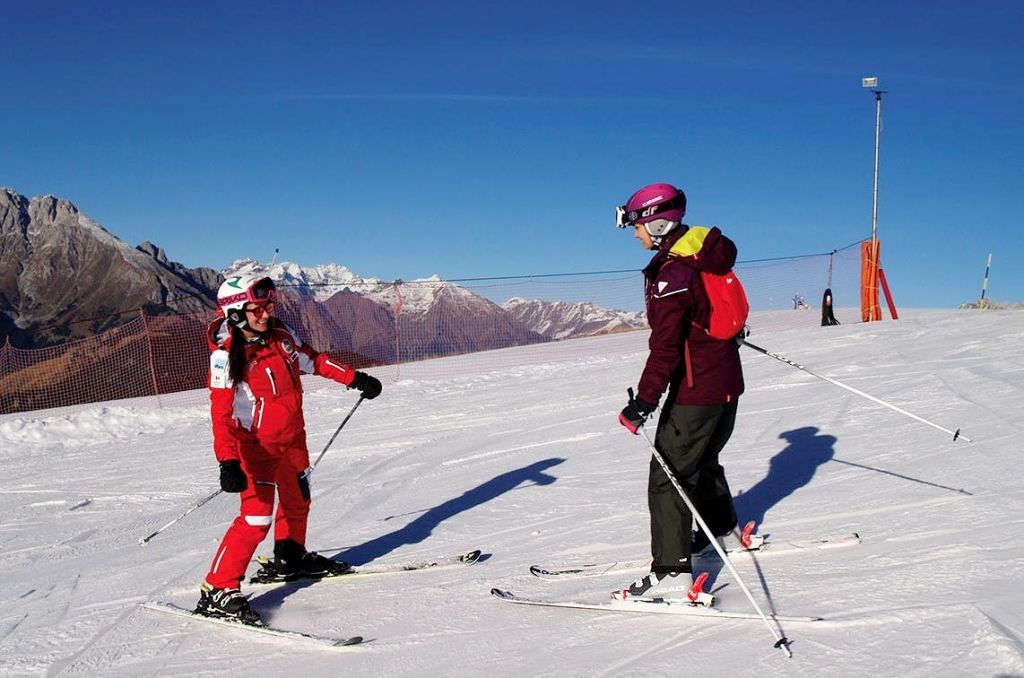 One of the closest ski resorts to Milan is Monte Pora, in the province of Bergamo. Located just 100 kilometres from Milan, about 1 hour and 45 minutes by car, this area offers a unique panorama, which includes not only mountains but also the calm waters of Lake Iseo.
The slopes of Monte Pora are located in an area characterised by abundant snowfalls that guarantee a ski season from late November to April. The ski runs are also equipped with artificial snow cannons that can create a consistent layer of powder in a short time. Due to the scarce vegetation of Monte Pora, the slopes are wide and safe, while thanks to the western exposure of this ski area, it is possible to ski in the sun all day long, but on Fridays, it's also possible to ski at night for a very competitive price. There is also a snowpark for freestyle enthusiasts and a skating rink for those who prefer to stay in the valley.
With its 20 slopes, Monte Pora's ski pass is relatively cheaper than most ski resorts, making it the perfect place for adults and children to learn skiing. The qualified ski instructors at the Monte Pora National Ski & Snow School work carefully to teach these winter sports to children and adults alike, passing on their strong love and respect for the mountains.
Below you can find a summary of the most important information about every ski resort.
| | | | |
| --- | --- | --- | --- |
| | Monte Pora | Chiesa in Valmalenco | Gressoney La Trinité |
| Height | 1880 masl | 2353 masl | 3275 masl |
| N. of lifts | 7 | 9 | 20 |
| Km of slopes | 11 | 23.3 | 180 |
| Blue slopes | 2.3 km | 10.4 km | 29 km |
| Red slopes | 8.2 km | 8.1 km | 89 km |
| Black slopes | 0.5 km | 4.8 km | 14 km |
Now that you know which ski slopes are closest to Milan, you have no more excuses to spend the weekend on the couch! If you've never set foot in a ski or snowboard boot, now is the perfect time to get started. Practising a sport in contact with nature is a great way to leave behind the hustle and bustle of everyday life and to admire the magnificence of the mountains while breathing in some good fresh air.