Unique summits in the heart of the Central Alps, resorts with high snow reliability and magnificent powder snow descents one can only dream of – all this awaits you on your freeride adventure in Austria. Thanks to the high altitude of most of its resorts and their easily accessible off-piste areas, Austria is considered to be one of the most popular freeride destinations worldwide.
If you're interested in giving off-piste skiing a try, then you've come to the right place! In this blog article, we at CheckYeti reveal the 5 best ski resorts for freeriding in Austria and tell you where to learn powder snow skiing from expert instructors:
Freeriding on the Arlberg mountain: 200 km of freeride opportunities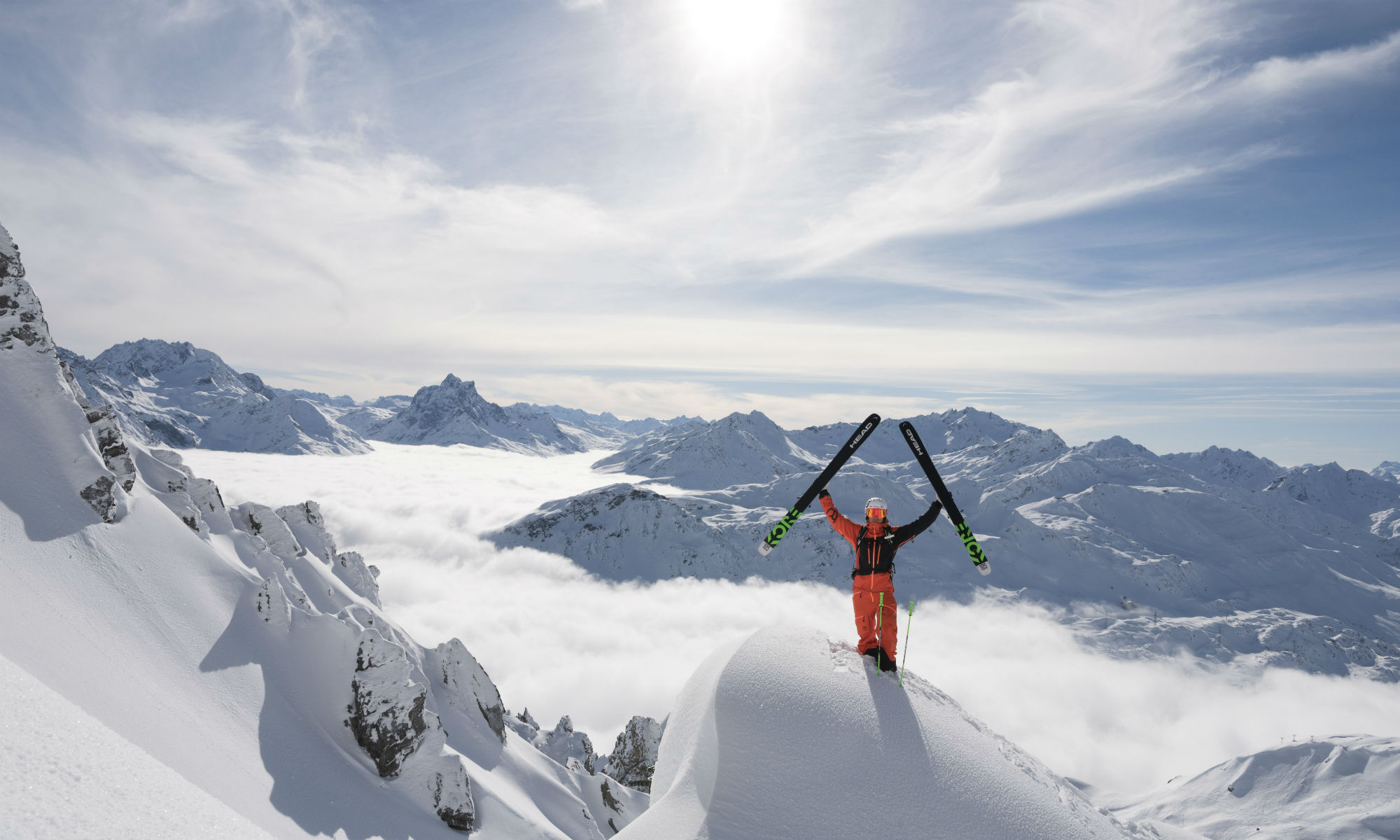 The ski area Ski Arlberg is not only Austria's largest ski area but is also internationally known as a powder snow mecca. Thanks to its altitude and location, right at the border between the Austrian federal states of Tyrol and Vorarlberg, the Arlberg mountain offers the finest powder snow during the winter months. A total of 200 km of marked deep powder snow slopes turn the areas between St Anton, Lech, Stuben and Warth into a true freeride paradise.
The ski resort in St Anton, which is known as the "cradle of alpine skiing" but also as the Alps' party hotspot, offers a perfect terrain for freeride skiers. Numerous off-piste descents can be found on the Valluga (2811 m), the Kapall (2330 m), the Rendl (2030 m), the Galzig (2185 m) and the Gampen (1850 m) mountains. The Arlberg's deeply snow-covered hillsides attract more and more freeride enthusiasts from all over the world. First-timers and beginners can find what they're looking for in one of the many ski schools in St Anton. Indeed, there is no other ski resort in Austria that offers that many guided freeride tours for beginners.
Whether they're teaching a group of friends or holding a one-on-one coaching session, the professional and local guides love to share their knowledge on powder snow skiing. At the very beginning of a freeride tour, participants are given an introduction to the most important rules of freeriding: how to behave in freeride areas and how to correctly use one's safety equipment in a case of emergency. After that, freeride skiers will gain an overview of the area, gather information on current avalanche warning levels and learn how to act in case of an avalanche. Together with their guide, participants choose an appropriate descent, practice their powder snow skiing technique and, finally, enjoy the purest form of skiing.
CheckYeti Tip: The ski schools in St Anton organise multi-day freeride camps. During these 3-day courses, participants learn all there is to know about risk management and discover the best powder snow descents all around the Arlberg.
Find out more about the freeride tours in St Anton >
Freeriding in Zillertal: beginner-friendly off-piste descents in the heart of Tyrol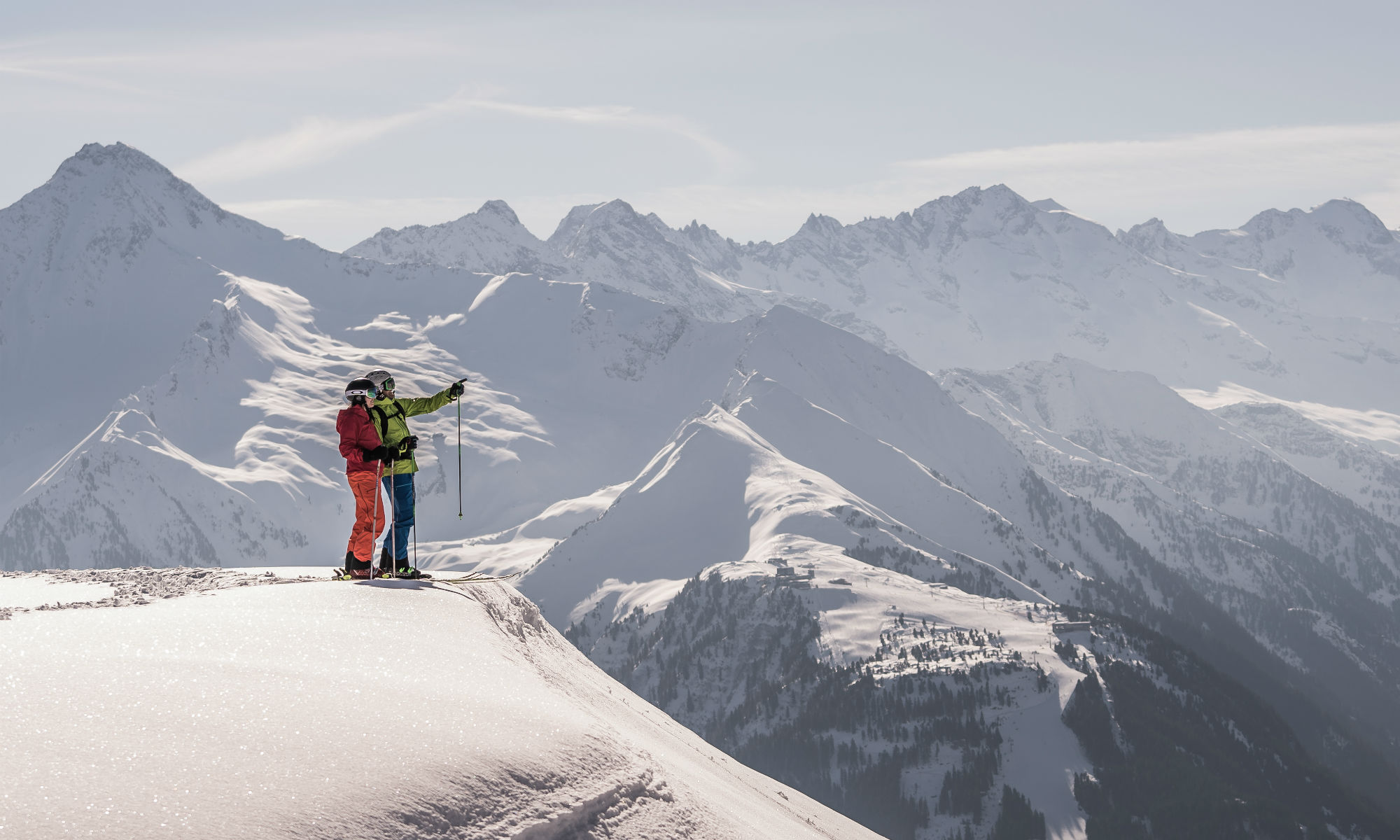 Zillertal, also known as Ziller Valley in English, lies in the south-east of Tyrol and is surrounded by beautiful summits: the Tux Alps in the west, the Kitzbühel Alps in the east and the Zillertal Alps in the south. With over 65 freeride runs, Zillertal is one of the largest powder snow regions in the Alps. Especially the area around Mayrhofen with its 300 km of off-piste terrain offers a true powder snow bliss for freeride skiers. Zillertal's backcountry is quite diverse: wide alpine meadows, forests, narrow gullies – everything a freeride skier could wish for. The Horbergtal valley and the Wanglspitz mountain in Mayrhofen are especially popular freeride areas.
Experienced skiers and snowboarders who've already discovered all the slopes in Mayrhofen can easily give freeriding a try: 80% of powder snow descents are directly accessible from the ski lifts and are therefore ideal for off-piste beginners. The local ski schools satisfy the requirements of all powder snow novices with their diverse freeride offers. Every trained mountain guide knows the area like the back of their hand and knows which descents are appropriate for beginners.
When choosing a freeride lesson, one can either opt for a private lesson or for a freeride tour in a group consisting of 4 to maximum 6 participants. The price of an offer usually includes learning materials on risk management and the rent of an ABS backpack, an avalanche transceiver device, a probe and a shovel.
CheckYeti Tip: Very ambitious skiers can opt for special lessons like the "Climb to ski" tour, during which a freeride adventure is combined with a 2 h-long Nordic ski tour.
More details on the freeride ski lessons in Mayrhofen >
Freeriding in Fieberbrunn: powder snow skiing where real pros compete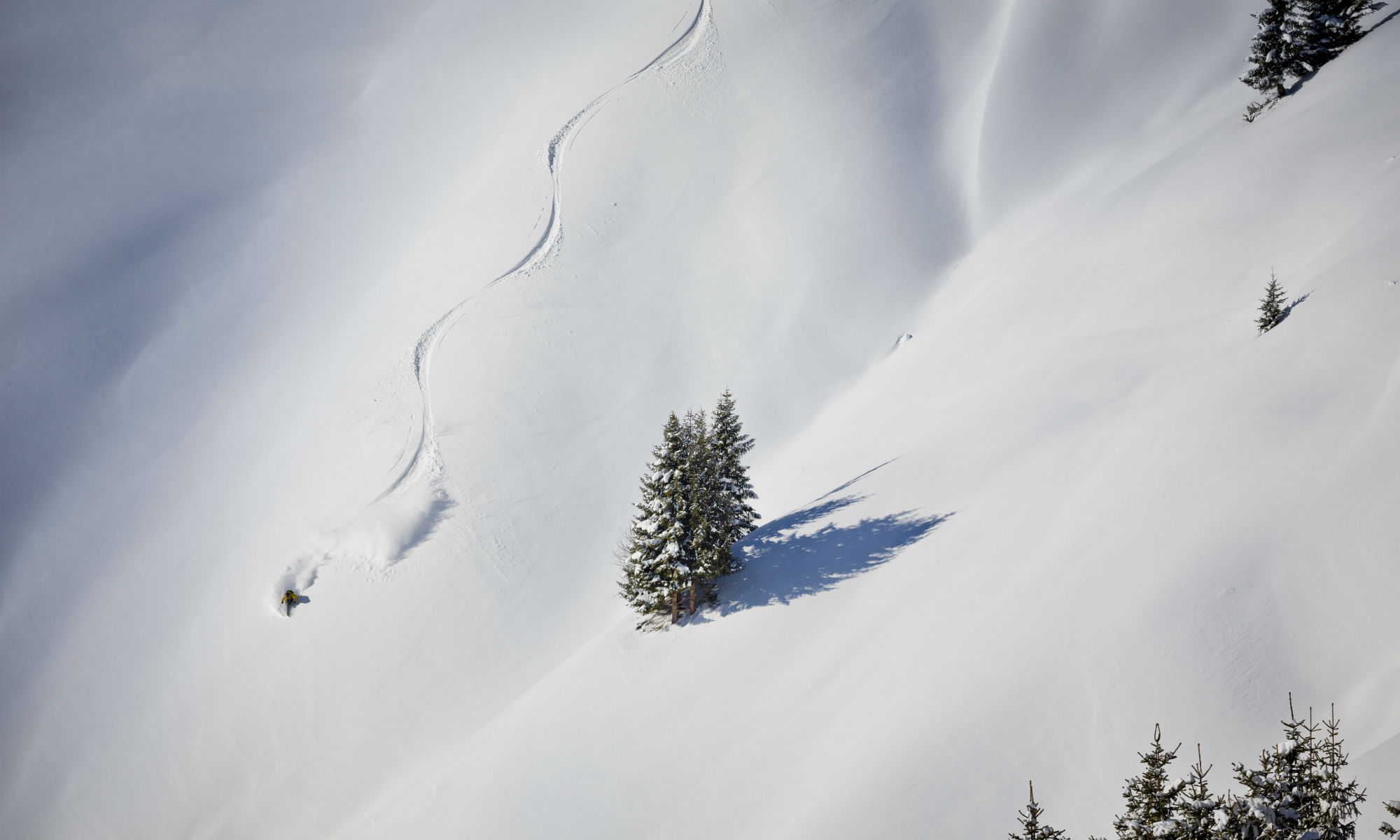 The ski resort Fieberbrunn is located in eastern Tyrol, close to the border of the Austrian federal state of Salzburg. Fieberbrunn is part of the extensive ski area Skicircus Saalbach Hinterglemm. A few years ago, the resort was chosen to become a fixed stop on the Freeride World Tour, making Fieberbrunn even more popular with freeride skiers. Every year, the world's best freeride skiers compete against one another on the Wildseeloder mountain (2119 m) in Fieberbrunn.
The hillsides of the Kitzbühel Alps offer next-level powder snow fun: freeride skiers can find challenging descents as well as long and soft runs. Thanks to modern lift systems, holidaymakers in Fieberbrunn can access freeride zones quickly and easily. Several freeride runs are marked on the map of Fieberbrunn. The off-piste area in and around Fieberbrunn is especially great for skiers and snowboarders who already have some experience with powder snow skiing. This is why the local ski schools offer numerous guided off-piste tours for experienced freeride skiers where they can try out steep descents and even jumps.
CheckYeti Tip: In Fieberbrunn, the safety of freeride skiers is one of the resort's top priorities. There are several avalanche transceiver checkpoints at which the equipment's functionality can be checked. At the valley station of the Streuböden cable car, freeride skiers can access information from the avalanche warning system LO.LA and get maps of the resort at the information point.
More information on the freeride lessons in Fieberbrunn >
Freeriding in Montafon: alpine ski fun in Vorarlberg
Montafon is a 39 km-long valley in the south of the Austrian federal state of Vorarlberg. It lies at the heart of the Verwall Alps, the Rätikon mountain range and the Silvretta Alps. As the Montafon valley is surrounded by numerous summits over 3000 m in height, it not only offers magical and breathtaking views but also perfect conditions for freeriding.
A large number of routes and alpine powder snow runs, diverse terrain, spectacular cliffs and steep gullies make the ski area Silvretta-Montafon what it really is: one of the most popular freeride destinations in Europe. An example of its popularity is the "Open Faces Contest", an event that takes place every year, where members of the freeride elite compete against one another.
However, it is not only true freeride professionals who feel at ease in Montafon. Powder snow novices do so just as much. The local ski schools offer diverse freeride lessons to everyone – even to children and teenagers. All young skiers who have already mastered parallel turns on the slopes can easily switch to discovering Montafon's freeride zones. Experienced ski instructors and mountain guides teach the kids and teens everything there is to know about skiing safely in powder snow and accompany them during their adventure – be it in a freeride zone or in a funpark where freestyle jumps and tricks can be practised.
CheckYeti Tip: The necessary ski equipment can be booked in conjunction with a freeride course for kids or teens. The equipment can be adapted to participants' individuals' height and weight by experts and is always competently serviced.
Discover the freeride offers in Montafon >
Freeriding in Gasteinertal: diverse terrains in the midst of the High Tauern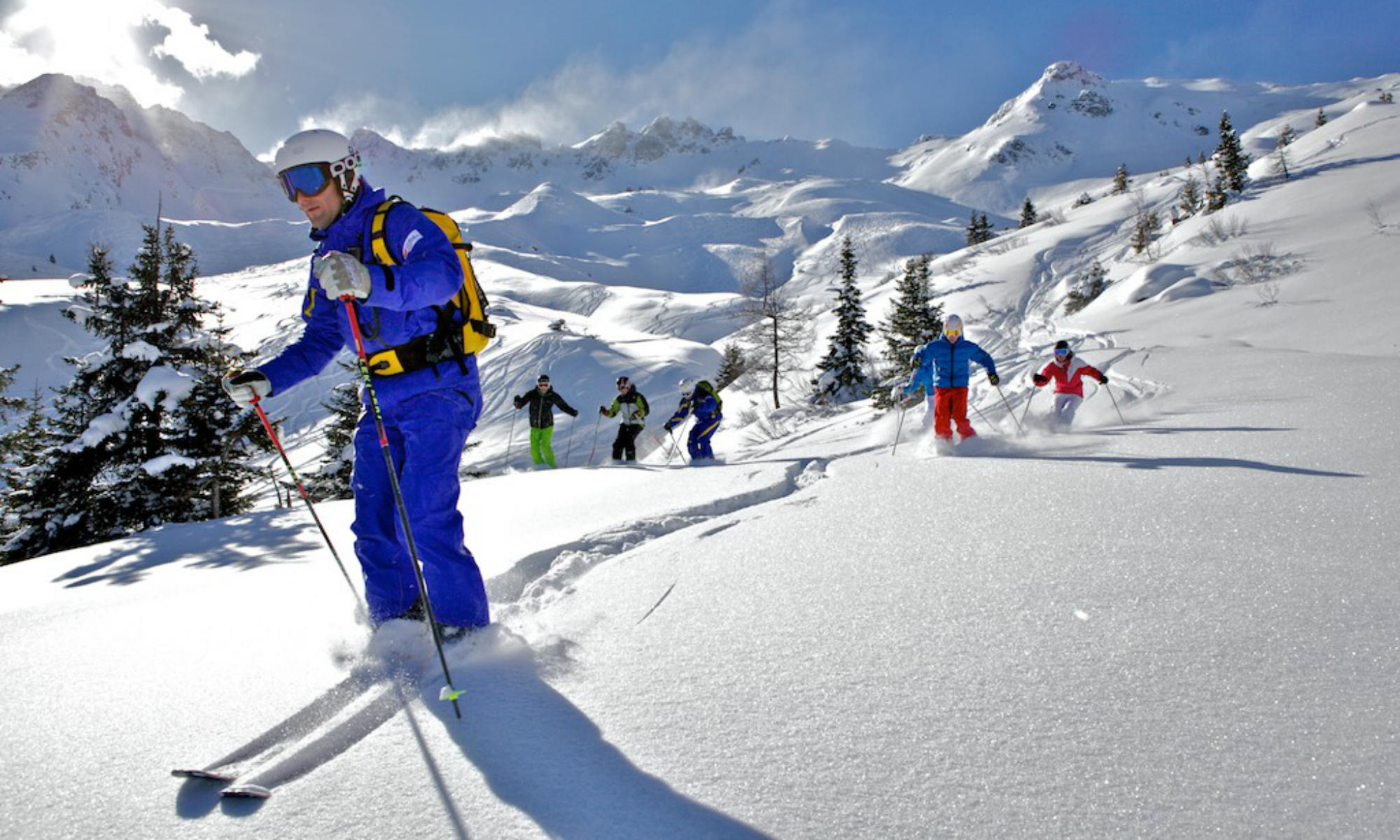 The Gasteinertal, also called Gastein Valley in English, lies in the High Tauern National Park in the state of Salzburg and is considered to be one of Austria's most popular freeride hotspots. Alongside Montafon, the Gastein Valley is host to the "Open Faces Freeride Contest" which takes place here every year.
All of the Gastein Valley is perfectly suited for freeride skiers: powder snow areas can be found all around the ski resorts in Dorfgastein, Bad Hofgastein, Bad Gastein and Sportgastein. The most popular off-piste runs are definitely the ones in Sportgastein, such as for example "Skiroute 3", also called the "Golden Ride". As this route is only 666 m long and not too steep, it offers great conditions for beginners. Powder snow novices can also easily discover the powder snow runs in Dorfgastein and on the local mountain in Bad Gastein, the Stubnerkogel.
Skiers of every age can make their first freeride experience at one of the ski schools in Gasteinertal. Local freeride coaches share their knowledge by using approved methods that have a proven record of success. The professionals teach powder snow techniques and also share important basic knowledge of snow conditions and avalanche awareness with participants. In Gasteinertal, schools offer freeride lessons during which participants can access powder snow areas with a ski lift, and also guided tours that can be combined with a long or short ascent.
CheckYeti Tip: Off-piste skiers can get the latest information and safety instructions for the region at the Freeride Info Base which is located at the mountain station of the Goldbergbahn cable car in Sportgastein.
See the freeride offers in Gasteinertal >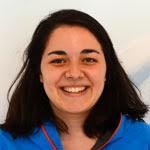 Whether I'm describing a beautiful ski area or telling you all about the right skiing techniques, writing articles always makes me want to leave for a new adventure, and I hope reading them has the same effect on you!