As the winter approaches, you may be starting to think about learning how to snowboard. Even though I have a great fondness for skiing, I decided to switch my skies to just one board a few years ago, and I never regretted it. I just love my boots tight, the wind and the snow against my face and the feeling of speed going down the slopes.
Take care – today's article is a convincing one that will immediately make you want to learn how to snowboard. I've got 6 tips for you:
With sharp edges, passion for the snowboarding sport, and your friends or family in the back, nothing will stop you from becoming the next Craig Kelly, probably the best American snowboarder ever!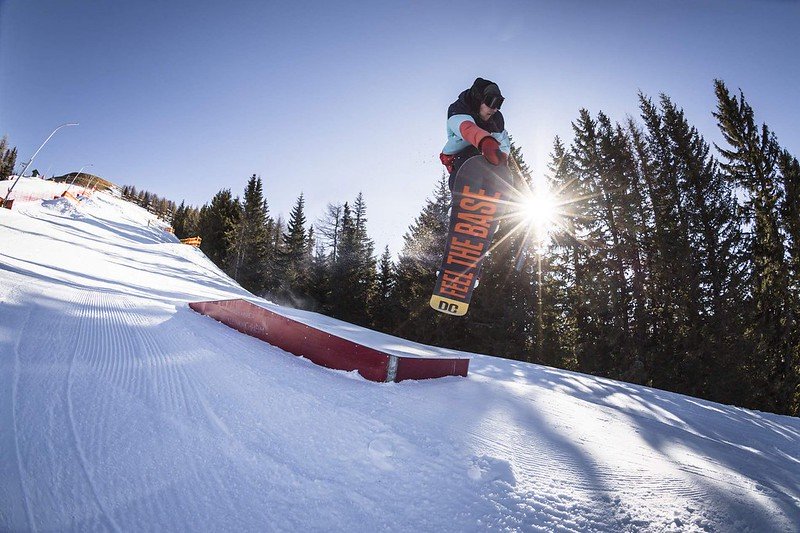 1) How much time does it take to learn how to snowboard?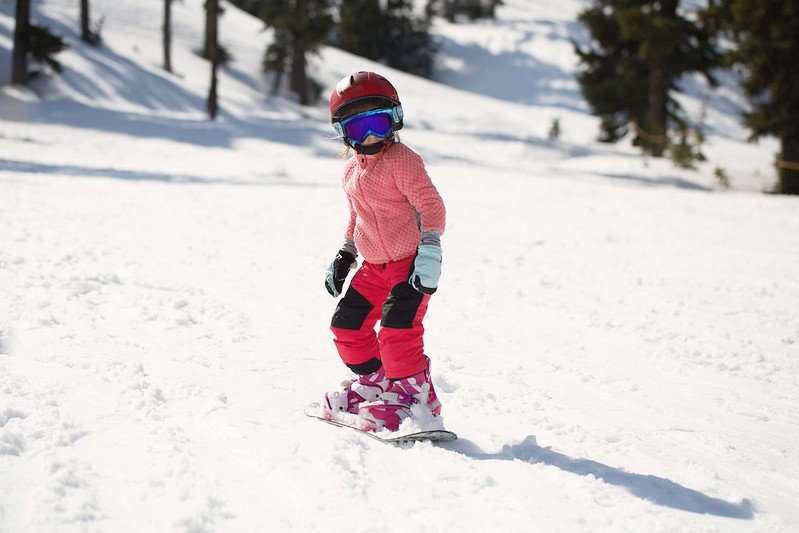 The famous statement "Snowboarding is not just a sport, it is a lifestyle" totally applies to most boarders. We love what we do and cannot get enough of the speed, the deep powder snow, and the snow park – that's where we, snowboard enthusiasts, live during the winter months and dream about during summer.
But in order to not get lost in dreams, I have to admit it's a long way to go. All beginnings are difficult, and this is especially true for learning how to snowboard. During your first day of lessons, you will rather sit on the slopes wearing soaked snowboarding clothing, than master deep snow off-piste. In the beginning, standing up, holding balance, and taking T-bar lifts without falling are already great achievements! For the majority of advanced boards, including myself, the first steps haven't been easy – like in any other sports endurance is the key to success. Learning how to snowboard is not done in just 2 days. Learning how to snowboard is also not easy, but it is worth every second you invest!
2) How do you learn to snowboard most efficiently?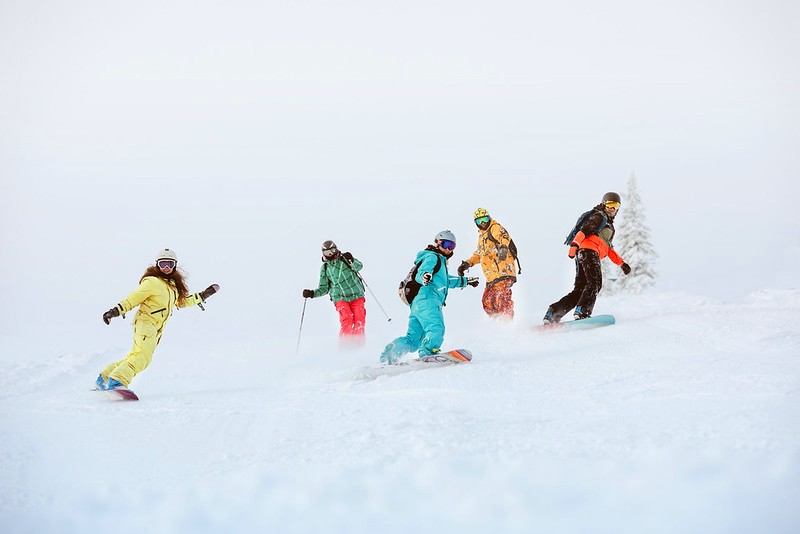 There are several ways to learn how to snowboard, but the quickest and most efficient one is to take the help of a professional snowboard instructor during group or private lessons.
Group lessons will keep your motivation up high due to like-minded peers who share the same passion. The group spirit usually leads you to increase your effort and progress quickly in a friendly atmosphere. Snowboarding lessons in small groups are especially efficient.
In private snowboarding lessons, you enjoy the full attention of the professional snowboard instructor. That allows you to focus on improving your strengths and balancing your weaknesses. In most cases, you are free to decide what you want to learn and flexible in time.
If you got interested, check out our snowboarding lessons in Livigno in Italy. The region in Alta Valtellina is a perfect spot for beginners who want to learn how to snowboard.
3) What are the first steps to learning how to snowboard? – Regular vs. Goofy
First: No, with Goofy, we don't mean Mickey Mouse's clumsy friend. Before you can start snowboarding, the most crucial part is to find your stance. The left foot in the front means regular-stance, and the right foot at the nose of your board is called goofy-stance. Knowing your stance will make you feel more comfortable and, therefore, also make your progress in learning how to snowboard faster.
So, how do you find out? There is not a standardized way of finding out. Still, you can do some of the tests below at home:
For skateboarders, usually, the leg that is constantly standing on the board is also the one that you are strapped in on your snowboard. Even though this applies in most cases, there are exceptions, in which it is the other way around.
You could also try sliding indoors with socks on and see which leg you put in front. Usually, that leg is also the one you feel more comfortable with on the nose of your snowboard.
If someone unknowingly gives you a light push from behind, and you try to catch up with your left leg, usually, you are regular-footed. If you try to balance yourself with the right foot, you are goofy-footed.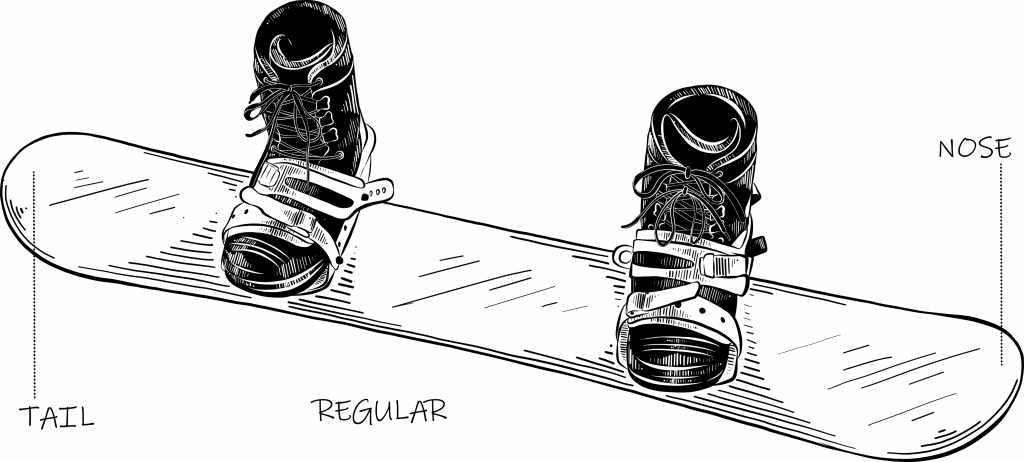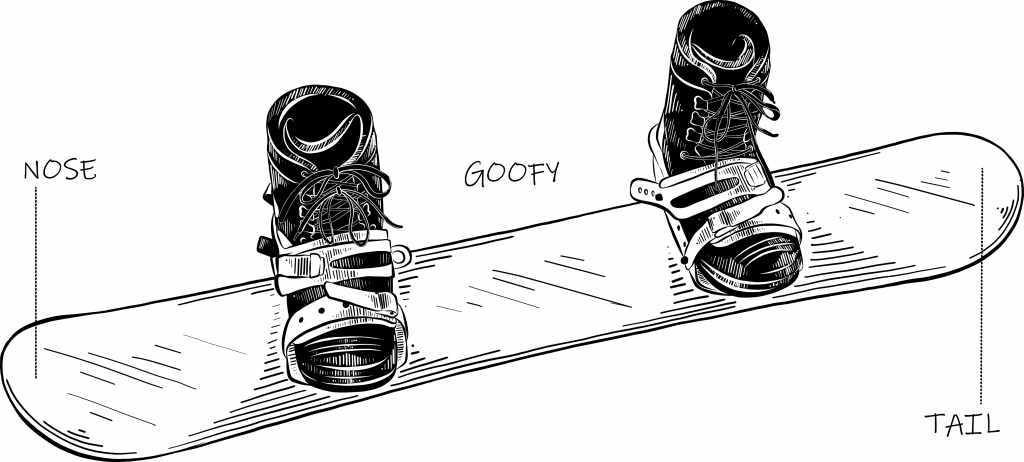 If you are still unsure, book some snowboarding lessons in Chamonix in France. The region is a paradise for snowboarders, and the instructors on-site will tell you more about the right stance.
4) What equipment do you need to learn how to snowboard?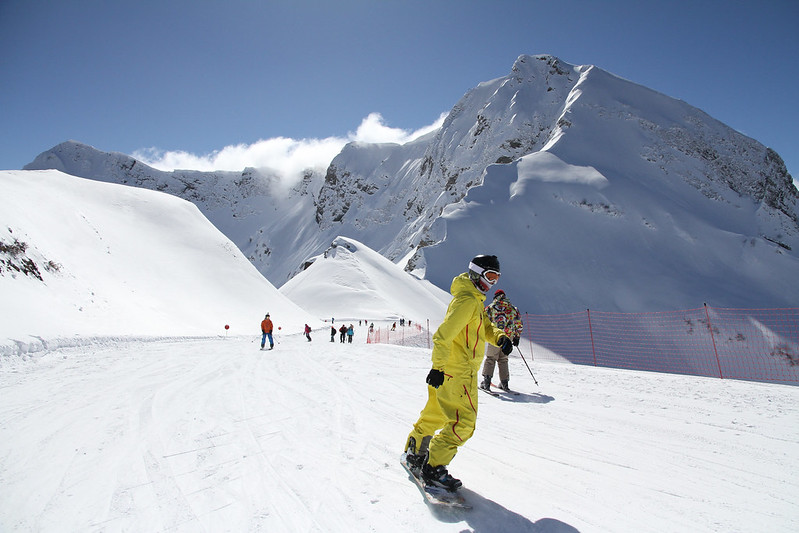 The right equipment makes you feel safe and also will increase your progress in learning how to snowboard. Here, you find the ultimate list of all the essentials you'll need:
The snowboard itself is obviously the most crucial part of your snowboarding gear. As a rule of thumb: When set up, the board should reach approximately to your chin. It also should be as broad as your boots are long.
Probably one of the advantages of snowboarders is the boots. But still, it is vital to choose the right size, which is usually half a size bigger than your regular shoe size (depends on the cut).
The binding makes a difference whether what kind of terrain you want to explore. Therefore, stiffness is the key factor. If you prefer deep powder snow or hitting the snow park a softer binding is appropriate, whereas snowboarding, preferably on slopes, requires a harder binding.
The helmet is as important as the snowboard or the boots and should be part of every snowboarder's equipment. Make sure it fits well and is not too loose.
Quality googles will make your life way better on snowy days. Good lenses will prevent fogging of the glasses, which makes even grey days in the snow fun.
Another must-have for every snowboarder is the back protector. Especially for those, who want to hit the fun park, a protector is crucial. Here, make sure that you can comfortably move.
Especially for beginners who want to try out snowboarding, an equipment rental is a nice option. If you book snowboarding lessons on our Website, you can conveniently pick the equipment rental option that includes everything you need.
The Austrian Alps make a great setting for mastering your first slopes. In the alpine resort of Saalbach, you can book snowboarding lessons + the perfect equipment with our partner board.at, who already made sure that a lot of people learn how to snowboard.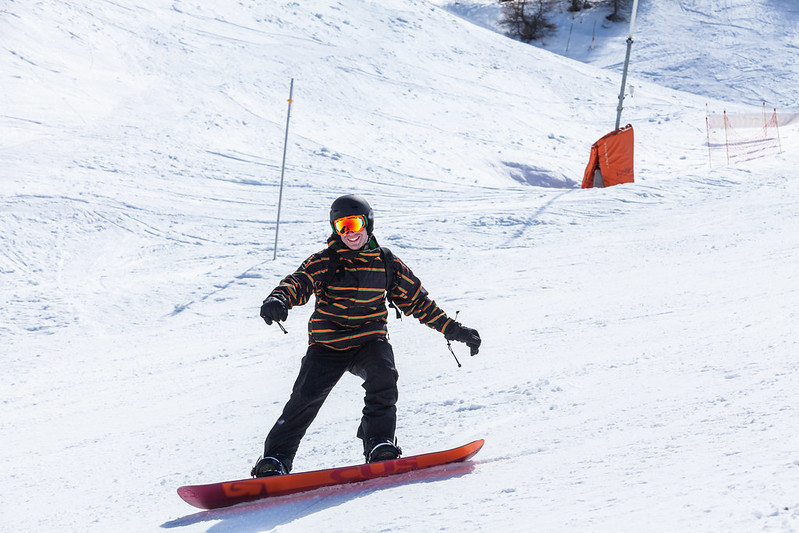 Another great option is to visit the western Alps in Tyrol. Check out our partner Ski school Vacancia Sölden in Tyrol, with whom you can easily book, including equipment.
5) What do you do in your first snowboarding lessons?
As I've already told you, learning how to snowboard includes a lot of sitting on the slopes, trying, falling, standing up and retrying to master your first meters on the board. Your first day of learning how to snowboard requires endurance. You will get in touch with the most basic skills, but that doesn't mean boredom. If you master the very basics blindfolded, you will set the stone for every following step.
Skating: Skating basically means getting around in flat terrain with the front foot strapped on the board and the back foot pushing you along. You have to take little steps and pull your snowboard next to you. Skating is essential to access ski lifts and to move further on very flat parts of slopes.
Gliding: By gliding, we mean going down very gentle descents with only the front foot strap in and the other one only resting on the board. It sounds easy, but believe me, it needs practice. This technique has to be used for getting off a ski lift.
J-Turn: The J-Turn is the first movement you will make that starts to look like a turn, in the shape of a "J". Therefore, you glide downwards and then turn slightly uphill.
Traverse: To traverse means to hold the balance on the edges of your board in order to go down the slopes and move sidewards. For the toe-side traverse, your board is horizontal to the slope and your back points to the valley. With slightly bent legs, you move your weight towards either the nose or the tail, depending on what direction you want to go. The heel-side traverse functions the same, only that your back now points to the mountain, and you look to the valley.
Did you get curious? Check out our offers for snowboarding lessons in Zermatt in Switzerland, which is a paradise for snowboarders. The instructors on-site already did a great job and made a lot of Yetis happy.
Or maybe you want to try out something completely extraordinary and learn how to snowboard in Spain's largest ski resort, Baqueira.
6) What is the ideal age to learn how to snowboard?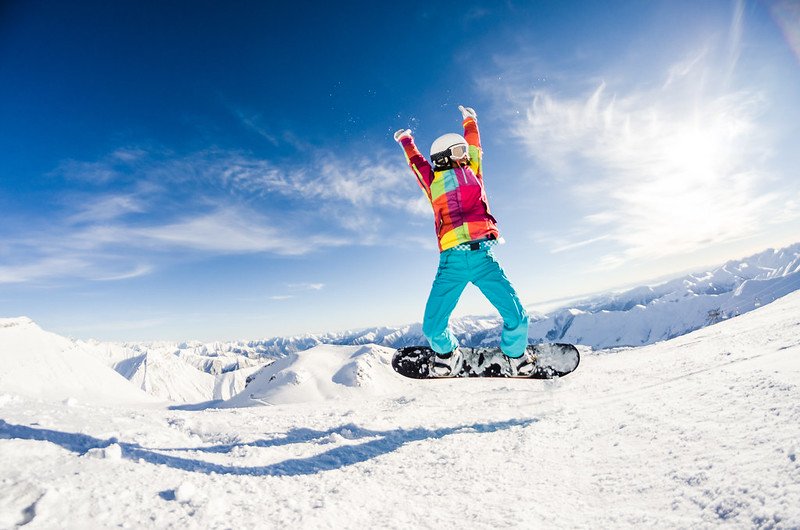 Snowboarding is for everyone, including the entire age range! It just needs endurance, balance and basic sporting condition. Whether you are 20, 40, or 60 years, one is never too old to build a new passion. The same applies the other way around – kids of 3 or 4 years who are able to hold balance are already ready to hit the slopes on a board. Take into consideration that the younger you start to learn how to snowboard, the less fear you have and the more progress you will make. Also, make sure to pick the right course outline for your needs. For very young kids, private snowboarding lessons could be the better choice.
In Italy, in Cortina, we offer private as well as group snowboarding lessons for all ages. Check it out!
Did I convince you? Or are you still a bit unsure whether you should go for learning how to ski or how to snowboard? Check out the article my colleague Ally wrote about skiing and decide what you like better! In the following article, my Spanish friend, Theresa, who has never done a winter sport before, decides what she prefers to learn. If you are like Theresa, stay tuned!