The Spanish ski resort of Baqueira-Beret lies in the Catalonian Pyrenees, in the heart of the beautiful Aran Valley. It was founded by locals in the 1960s and consists of three neighbouring areas: Baqueira, Beret and Bonaigua. The resort is known to be the best and most popular in the country.
Spain's largest ski resort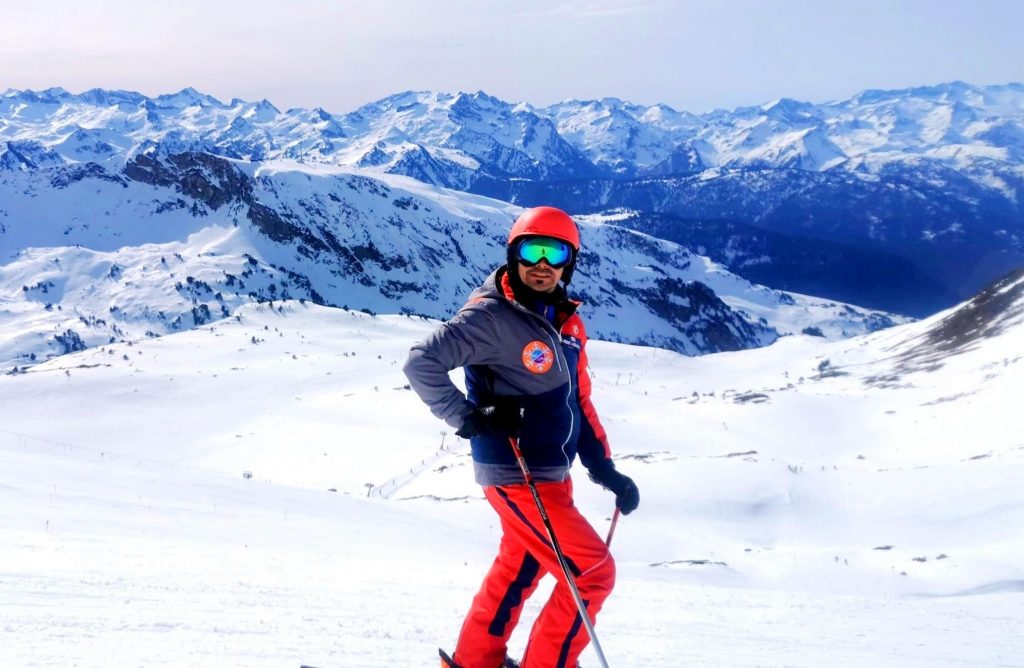 There are numerous reasons why everyone loves to ski in Baqueira-Beret, one of them being its huge number of ski slopes. A total of approximately 100 slopes are available to skiers of all levels, making the area Spain's largest ski resort.
Another factor that plays a major role in the resort's popularity is its location. It's only a 2.5h drive from Andorra and France. Furthermore, a vast majority of the slopes are at an altitude of over 2000m, so you can be sure to find ideal snow conditions throughout the whole season. Since the resort is located on the western side of the mountains, you can also enjoy skiing one hour longer than at some other resorts, as there'll be more sunlight.
What makes Baqueira-Beret so beginner-friendly?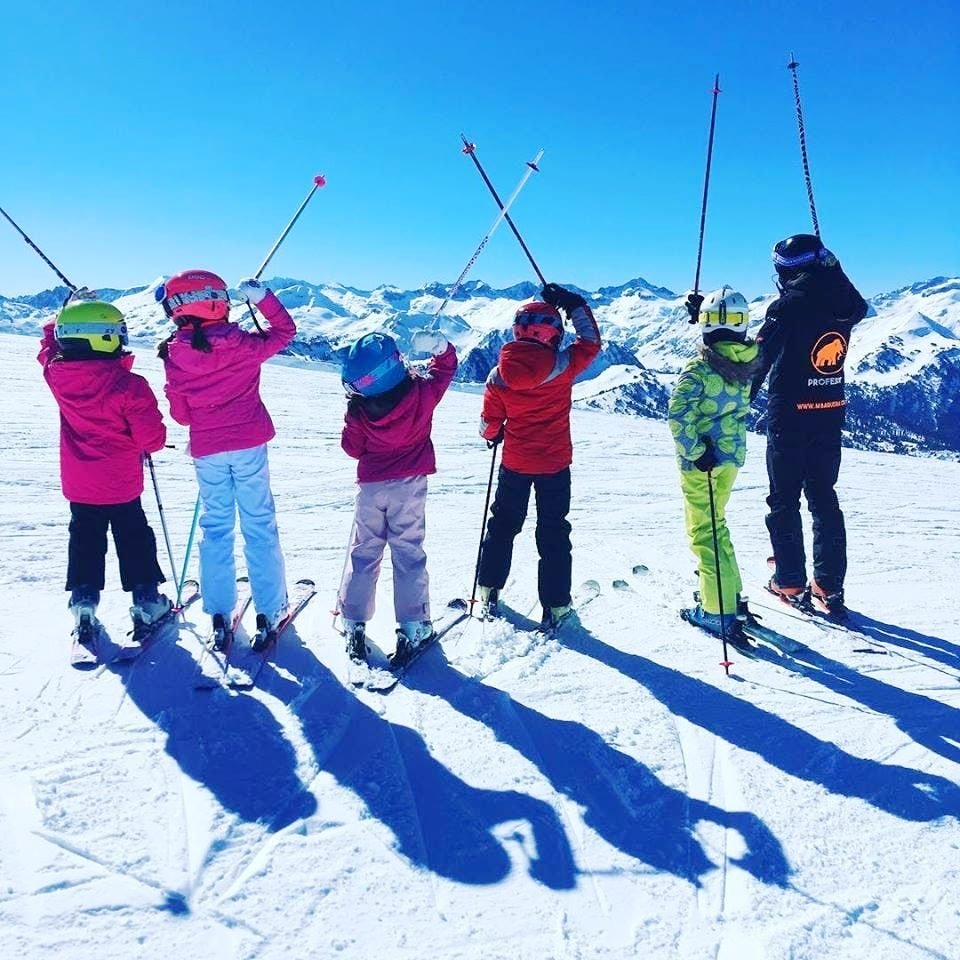 I've already mentioned that there are roughly 100 slopes in Baqueira-Beret. But did you know that half of them are green and blue? This means that as a beginner you can already explore half of the resort! More experienced skiers can explore the 37 red slopes, 15 black slopes, and even 3 cross-country trails.
The top of the Baqueira gondola station is a quite popular area for beginners as it offers great conditions for first-time skiers. A bit lower, on the Bosque Plateau, there also are two green "beginner zones" where you can ski in a safe environment.
While I recommend Baqueira for beginners, you can also find beginner-friendly slopes and zones in other parts of the resort. For example, once you feel confident enough on your skis, you can head over to the snowpark in Beret. Yes, you read that right, snowparks aren't exclusively for advanced skiers! The Marmota snowpark has both natural and artificial modules adapted to beginners, intermediate and advanced skiers.
Finally, all ski schools in Baqueira-Beret offer the option of renting the equipment (skis, ski boots, ski sticks, helmet). This is quite practical if you're a first-time skier, as you may want to find out if you enjoy skiing before buying your own equipment.
Ski Lessons in Baqueira-Beret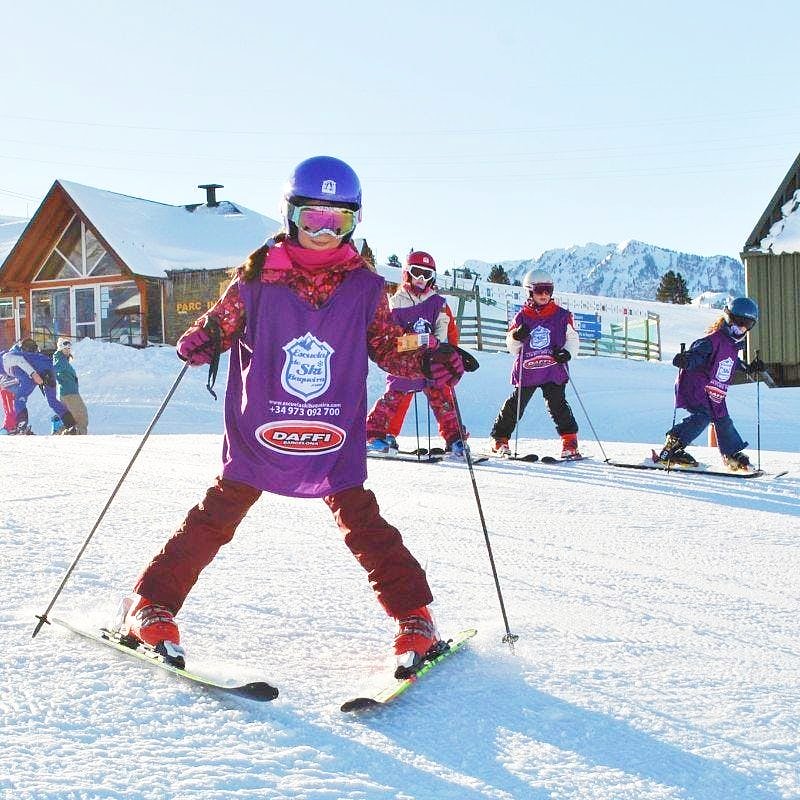 Another service that makes learning to ski in Baqueira-Beret great for beginners is the ski lessons themselves of course. All three ski schools described below offer exceptional lessons for skiers of all levels. Beginners and first-time skiers usually start by learning to put on their skis, to sidestep upwards and then of course also to snowplough, do turns and break.
If you're looking for a faster way to learn and progress, I recommend taking private lessons. In a private setting, instructors can more easily analyse your individual skills, weaknesses and needs and will adapt the lesson's content accordingly. Another advantage of private lessons is the small group size. You can choose between a one-on-one lesson or a private lesson with your friends or family. Please note that your instructor adapts the course programme to the needs of the skier with the least experience, meaning this makes most sense if your whole group has approximately the same level of experience.
Ski Schools in Baqueira-Beret
The meeting point of the following ski schools is at the top station of the Baqueira gondola. You can get started right there as this point marks the start of several blue slopes that offer a safe, not too steep but wide terrain. The instructors are all highly qualified (and multilingual!) and will teach you how to ski with a fun and easy approach.
| | |
| --- | --- |
| Group lessons: | for children (4-17) and adults |
| Private lessons: | for children and adults |
| Other offers: | snowboarding & off-piste skiing |
| | |
| --- | --- |
| Group lessons: | for children (4-6 & 7-12) and adults |
| Private lessons: | for children (4-12) and adults |
| Other offers: | snowboarding |
Ski Life Escuela de Esquí Baqueira
| | |
| --- | --- |
| Group lessons: | for children (3-15) and adults |
| Private lessons: | for children (over 3), families, and adults |
| Other offers: | snowboarding & ski touring |