When it comes to travelling and outdoor experiences, photography plays a critical role. Let's be honest, no one likes to see blurry, crooked, and out-of-focus pictures of the activity they want to book. People look at pictures before choosing an activity, to decide if it's worth their money, and afterward, to re-live those moments and maybe share them on social media. Therefore, having a good variety of high-quality photos and being able to take pictures while the activity is taking place is a true game-changer for any business in the outdoor activity industry.
In this article, we will briefly explain why it's important to showcase good-quality photos, which type of pictures should appear in your gallery, and how taking photos of customers during the activity will benefit your business.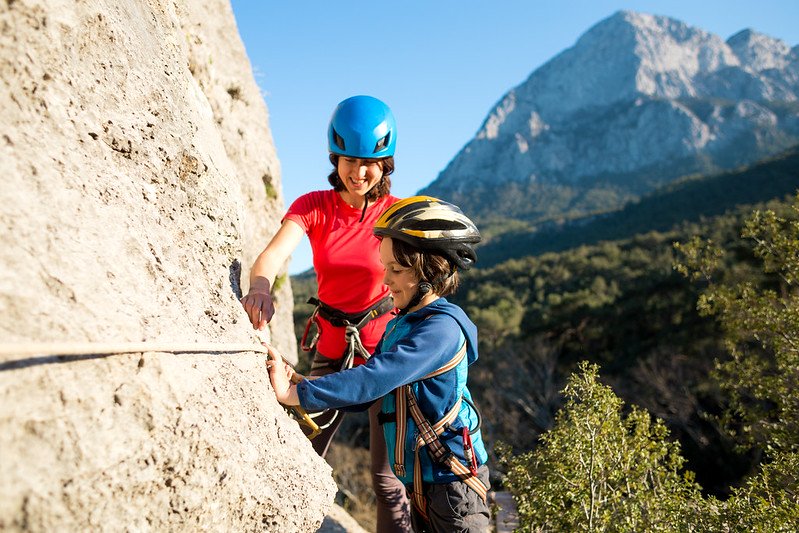 1. Why is it important to show customers good-quality photos?
When booking an activity, people idealize first and book second. They want to see what is going to happen, where, and what the surroundings look like. To successfully convey what the activity is about, we need to carefully fulfil the tourists' expectations through images that perfectly present the activity. It is important to notice that every element of a photo plays a crucial role in influencing the emotions of tourists. Emotions are usually the biggest factor that influences a decision. Colour tones, the presence or absence of people and their facial expressions, the background, and the scene compositions are all elements to be taken into account.
If you feel overwhelmed and taking pictures is not your cup of tea, we suggest you hire a professional photographer and invite them to join the activity. A professional photoshoot is a small investment for your business, but it will pay off for a long time!
2. Create your gallery: Must-have-pictures to sell your activity
When you present an activity to potential customers, it's important to show them different kinds of photos, to ensure that they get a good overview of the product. These types of pictures should never miss in a photo gallery: Intentional photos, action photos, and landscapes.
Intentional photos: those pictures where the participants, in a group or alone, are looking at the camera. The best type of intentional photo to have in your gallery is a photo of people who booked together, rather than a big group of people.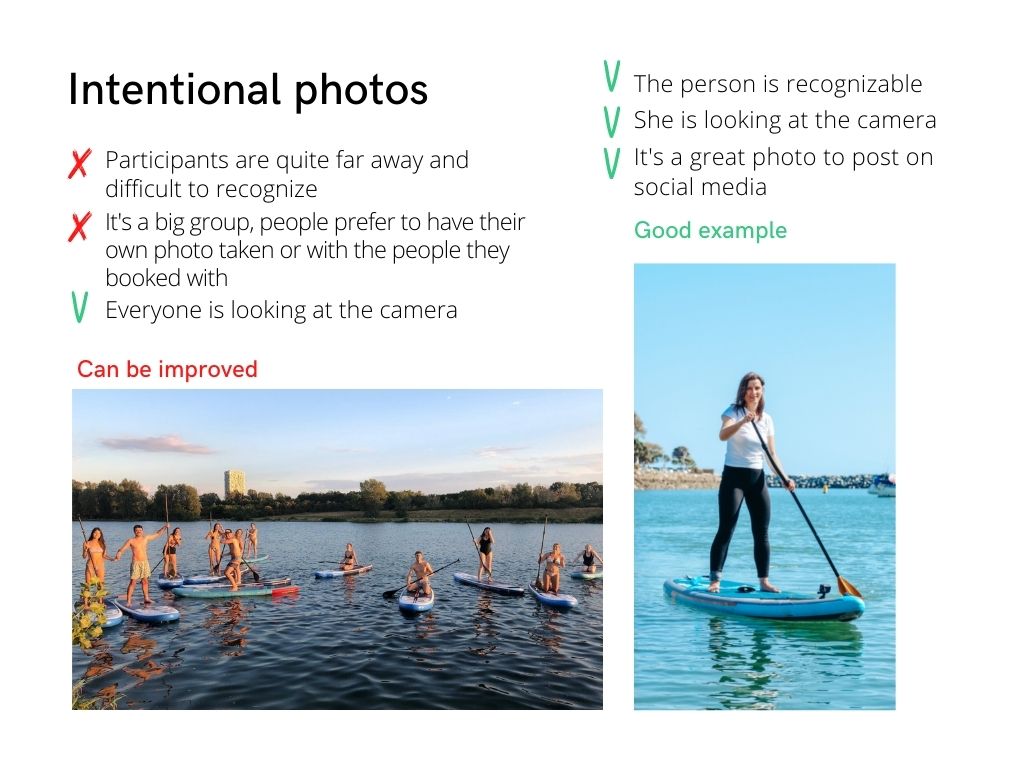 Action photos + equipment: this kind of photo is useful to show prospective customers what the activity looks like, and what they should expect. Having pictures on your website where people are shown while using the equipment (safety gear, kayak, bike, boat…) means building a reasonable expectation in the head of future clients.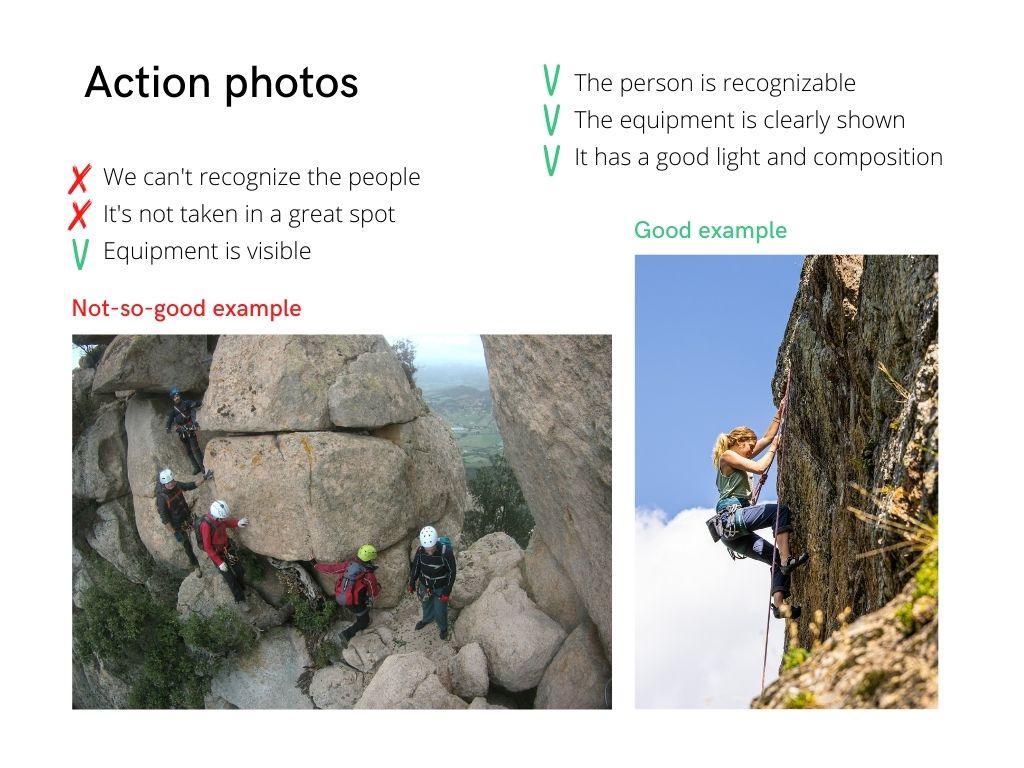 Landscape and highlights: this type of photo is essential to draw a complete picture of what your activity will look like. Pictures of the panorama, points of interest, and various highlights of the activity (for example, if the activity includes lunch or a visit to a relevant place) are important to have in your gallery, but it's better to avoid stock photos found online, as they always come off unrealistically perfect.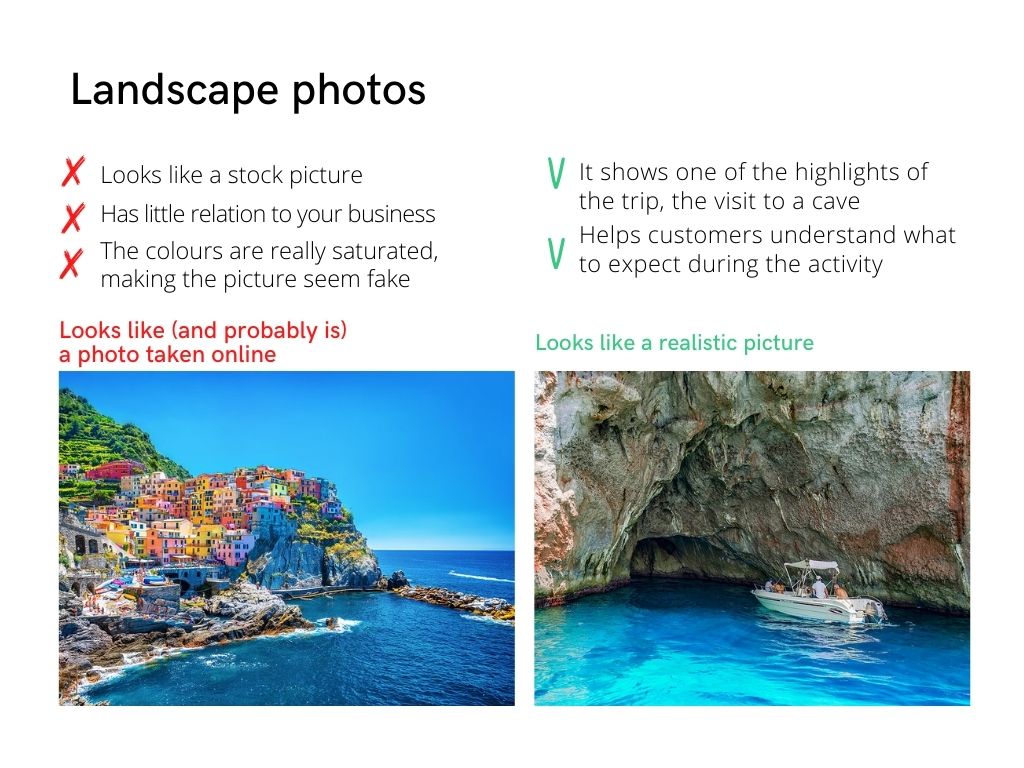 TIP: If you want to sell an activity in the best way, your gallery should be composed in equal parts of intentional, action, and landscape photos. A good combination of these will ensure customers' expectations are met during the activity.
3. Four reasons why you should start taking pictures of guests (and how to do it)
1. Make customers happy
People (at least most of them) are always happy to pose for pictures and create long-lasting memories of their holidays. Taking a couple of photos during the activity will take no longer than 5 minutes, and it's an added value for customers, who get to share them on social media and keep them as a souvenir.
2. Increase your visibility
For you, these photos represent an incredible opportunity to increase the visibility of your business, reaching people who would otherwise not know about you. Therefore, every time a customer posts a picture you took during the activity on their social media, you are getting free advertisement for your business.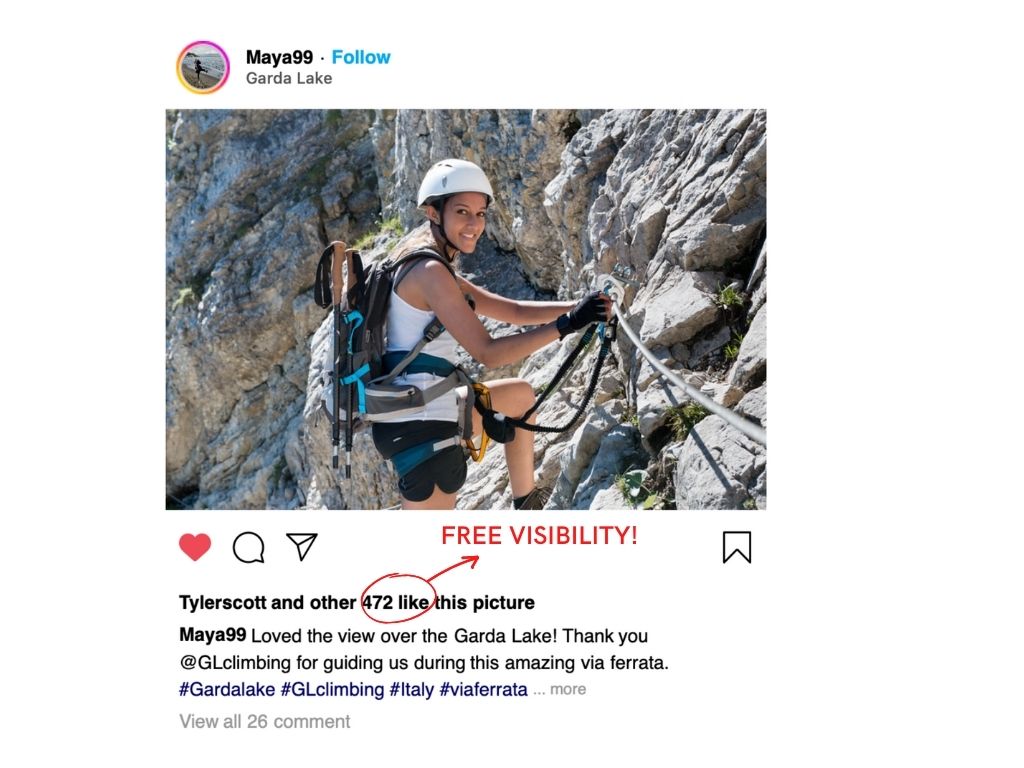 3. Interact with customers
Taking photos is a great way to interact with the guests by getting them to smile and pose for the camera. If customers see that you are willing to take pictures of them, they will be more likely to leave behind their smartphones and fully enjoy the experience.
4. Differentiate yourself from competitors
When offering the chance to take pictures of customers, you are giving an extra service that not all activity providers have. Whether you take pictures and send them to the customer for free, or you decide to sell them, this extra service is valuable and customers will appreciate it!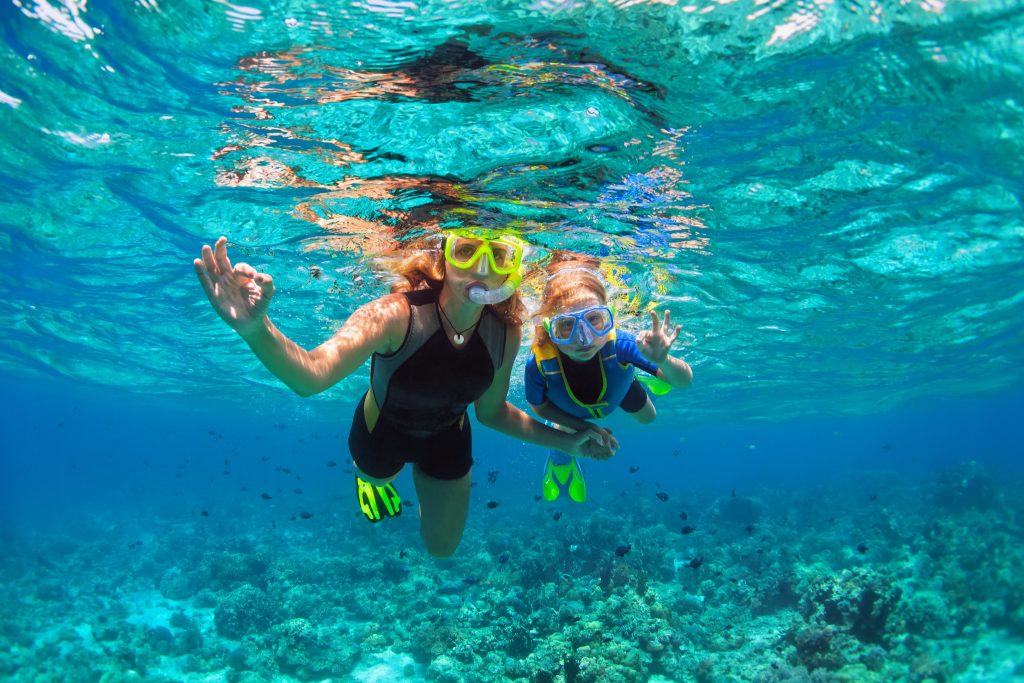 However, if you hope someone will share a picture of your activity online, you have to make sure they are of good quality (not blurry), with a nice composition and a decent light. As you start taking pictures, you will understand which backgrounds make the best photos, at what point of the activity is better to stop for a photo and what kind of composition works best (for example, people in the kayak, or next to the kayak? Someone who is snorkeling or on the boat after snorkeling?).
Also, it's good to notice that customers only care about intentional photos, and maybe a couple of action photos. Intentional pictures convert for higher customer satisfaction and social media shares and, when taken correctly, customers will be happy having as few as 2-3 shots where their faces are shown clearly. Finally, it's good to notice that the photos that are most appreciated are those of the people who booked together, rather than the whole group or a single person.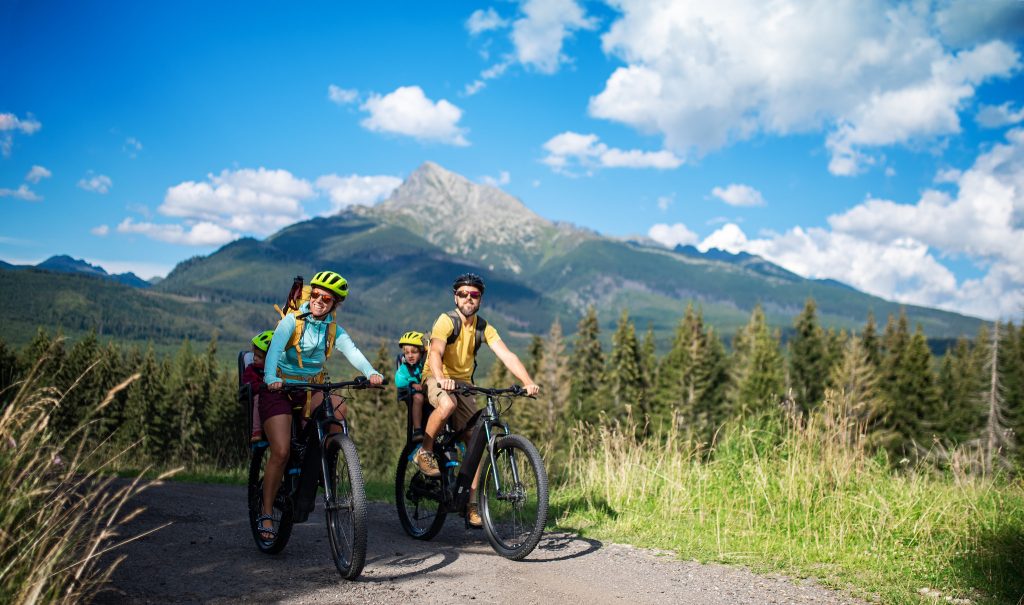 In short, investing time and resources into making photos of your activities will pay off in so many ways! Customers will book with a clear idea of what to expect, and if you also offer to take pictures of them during the activity, you will earn happy customers and additional visibility for your business. So don't underestimate the potential of pictures!