A magical experience awaits those who decide to learn to ski in Morzine. Indeed, beginners of all ages are welcomed here by professional and friendly ski schools that make learning to ski in Morzine an easy and fun experience.
Situated at the very heart of the vast Portes du Soleil ski region, visitors to Morzine have easy access to a multitude of slopes that are suitable for all levels, both for skiing and for snowboarding. The town itself is pretty and buzzing, with a wide assortment of shops & restaurants for all tastes and budgets.
The location: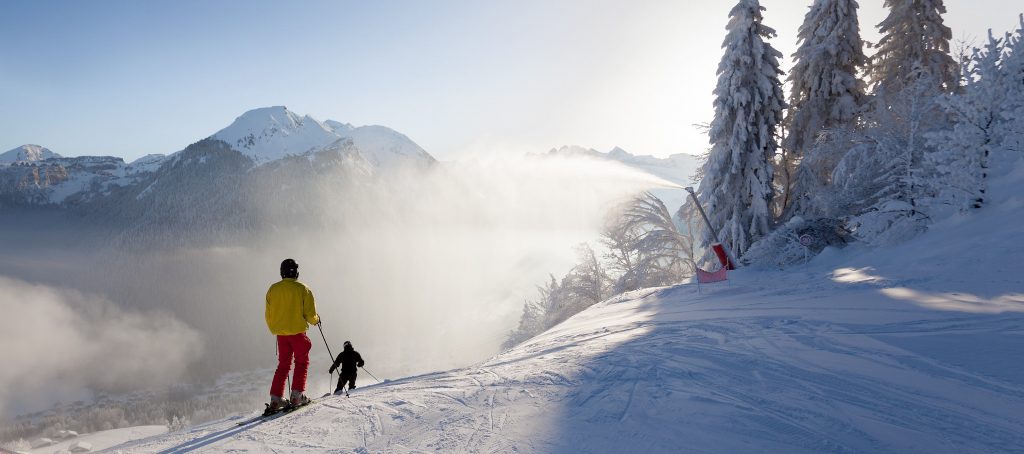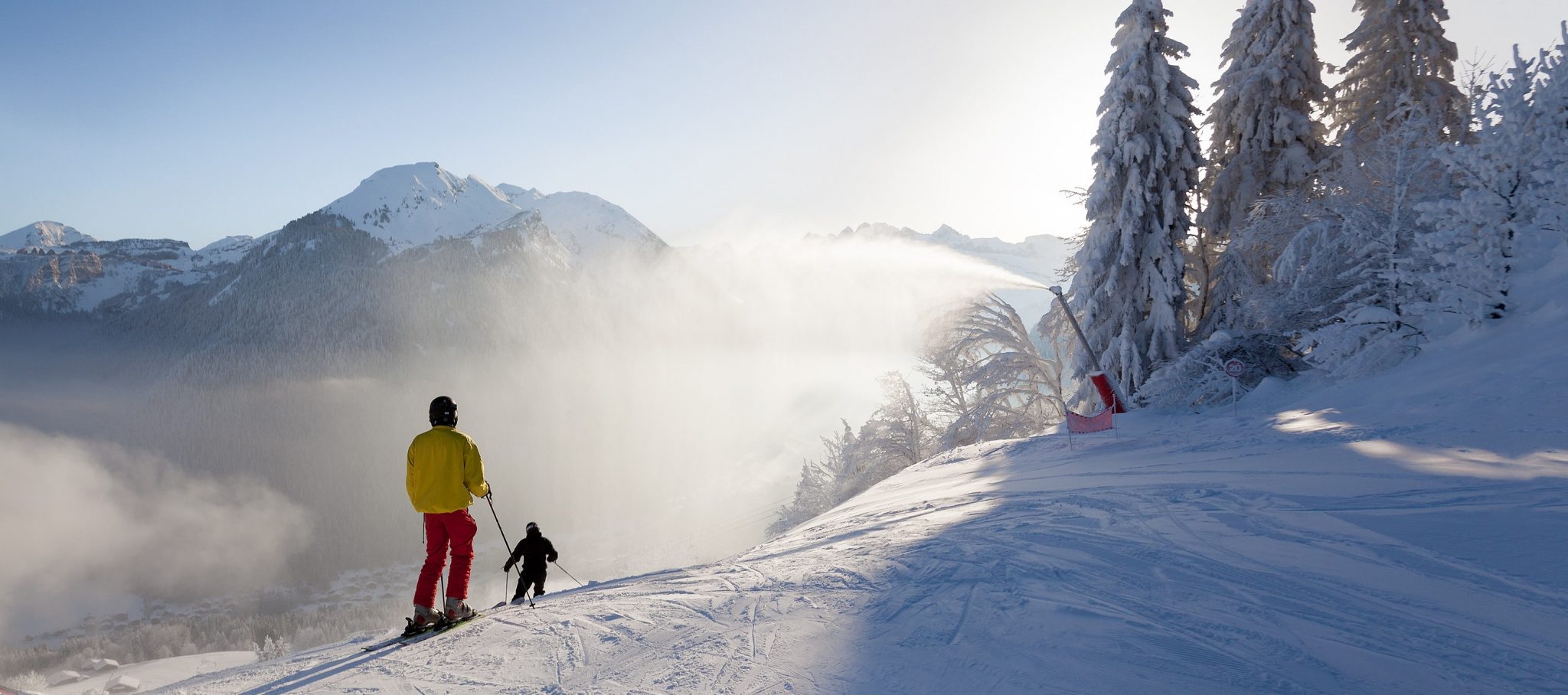 Situated close to the Swiss border in the Haute Savoie region of south-eastern France and just over an hour's drive from Geneva, Morzine is a pretty and traditional town with wooden and slate chalets. The resort lies at an altitude of 1000m, directly within the heart of the Portes du Soleil skiing region. With its neighbour Avoriaz, Morzine is one of the most northerly French Alpine resorts, both resorts benefitting from the glacial snow conditions of the nearby Mont Blanc.
The Portes du Soleil ski area comprises 12 ski resorts, 8 of which are located in France and 4 in Switzerland, and offers a total of 650 km of slopes. Within the Morzine region, there are three different areas:
Pleney, has numerous blue slopes and is, therefore, the destination of choice for all ski schools holding beginners' lessons. The Pleney slopes are also lit up for night skiing.
Nyon offers the best slopes for experienced skiers.
Chamossières is famous for its black piste.
Morzine boasts the prestigious Famille Plus label, meaning it is ideal for families with kids of all ages. Childcare services are flexible and ski schools are known for their particularly child-friendly lessons.
The best slopes to learn to ski in Morzine: the Pléney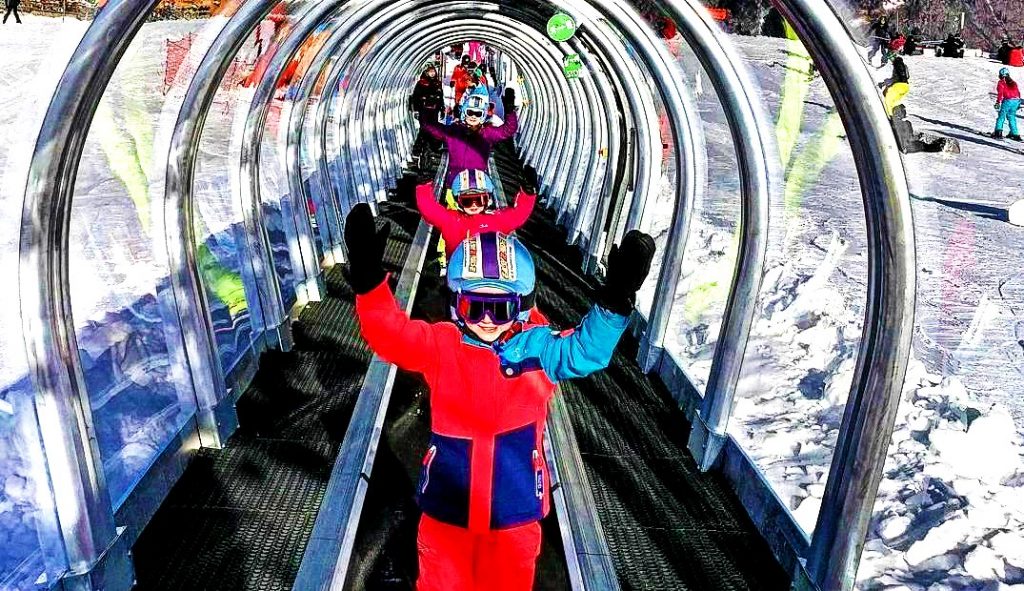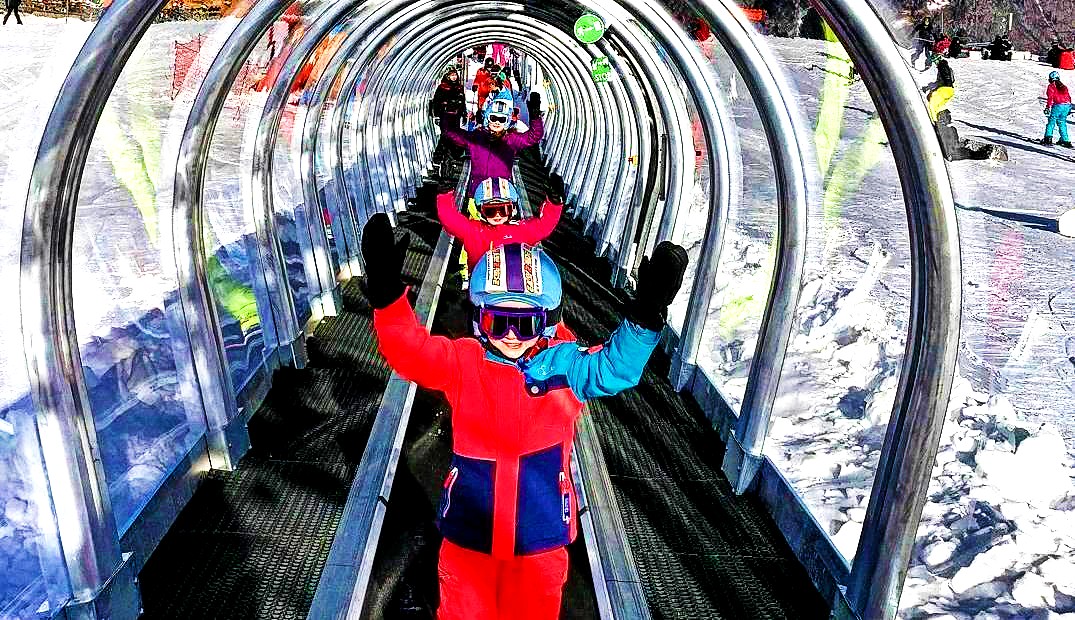 The Pléney is the ideal place to learn to ski in Morzine. The area has 2 green slopes and a children's area. The best slope for first descents by snowplow is served by the TS du Belvedere ski lift.
As a matter of fact, the Pléney is, overall, quite varied, having several excellent blue runs such as the Piste B, Piste C and Piste D, all of which lead down towards the bottom of the Pléney télécabine. Piste B is a great confidence builder, as the run is long, leisurely and doesn't have any steep sections. Advancing beginners head to Piste C and Piste G, which are accessed by the TS des Fys and TS d'Atray lifts. These runs have steeper gradients and are perfect for working on technique.
The other two areas of the resort: Nyon and Chamossières have slopes with a considerably higher level of difficulty. For this reason, they are only suitable if you are already a confident skier and wish to fine-tune your technique or just spend an all around pleasant day conquering these more challenging pistes.
Learn to ski in Morzine:
The ski schools in Morzine are very famous and well established. CheckYeti recommends two very good schools that, for years, have provided thousands of passionate skiers with an unforgettable skiing experience.
Founded in 1999 and with a team of 30 state-certified ski instructors, Easy2Ride offers skiing, snowboarding and freestyle lessons for all ages. Lessons are held in English and French.
Professionalism, dynamism and experience are the main values of this school, which also offers ski and snowboard lessons in English and French.
Group courses for beginners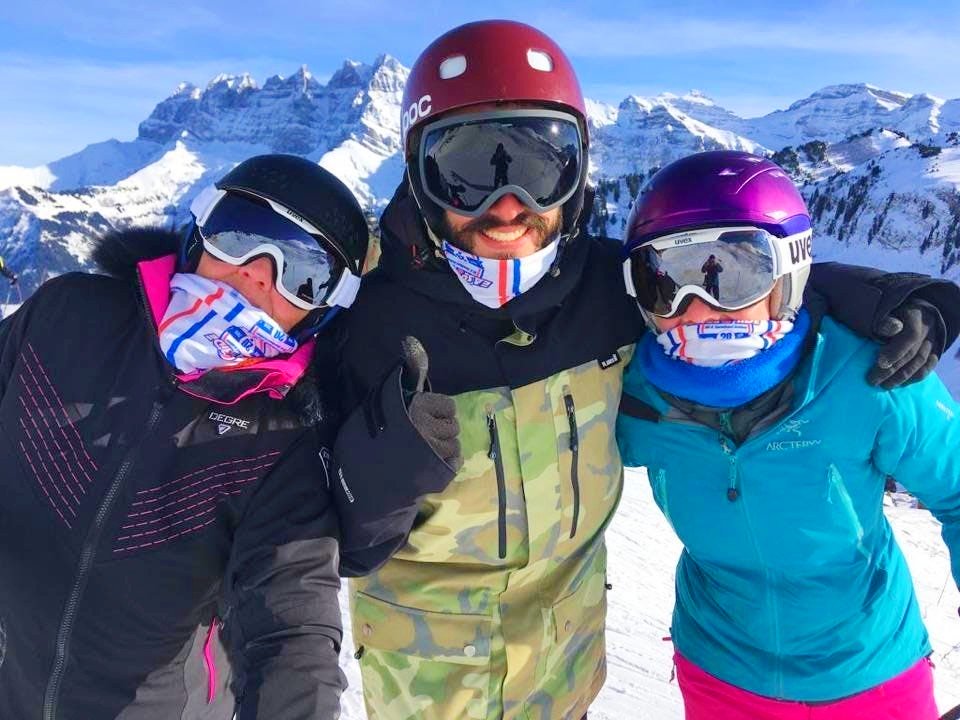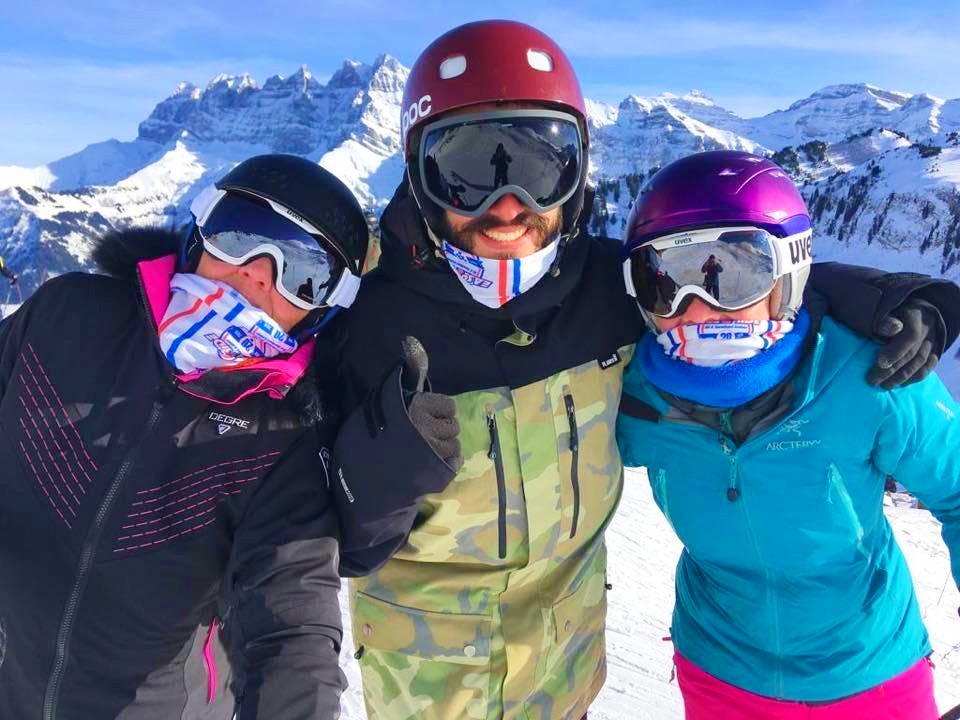 Beginner skiers can learn to ski in Morzine from 5 years old and up, with lessons lasting 2-2.5 hours. Groups have a maximum of 8 skiers and are divided according to age and experience level.
Ski novices are taught their very first technical elements on the two beginner slopes by the Pléney. Many beginners subsequently use the higher green Pléney run to practice the snowplough after their lessons, which can be accessed by the TS du Belvedere lift. In the meantime, those who have mastered the basics graduate onto the blue pistes within the resort.
Group courses for children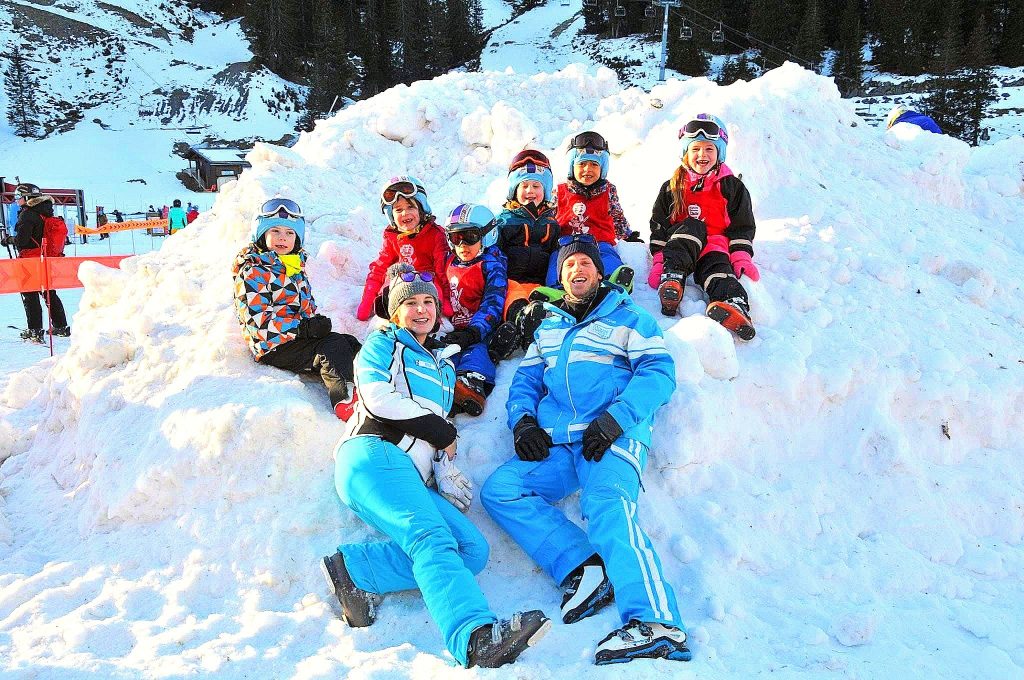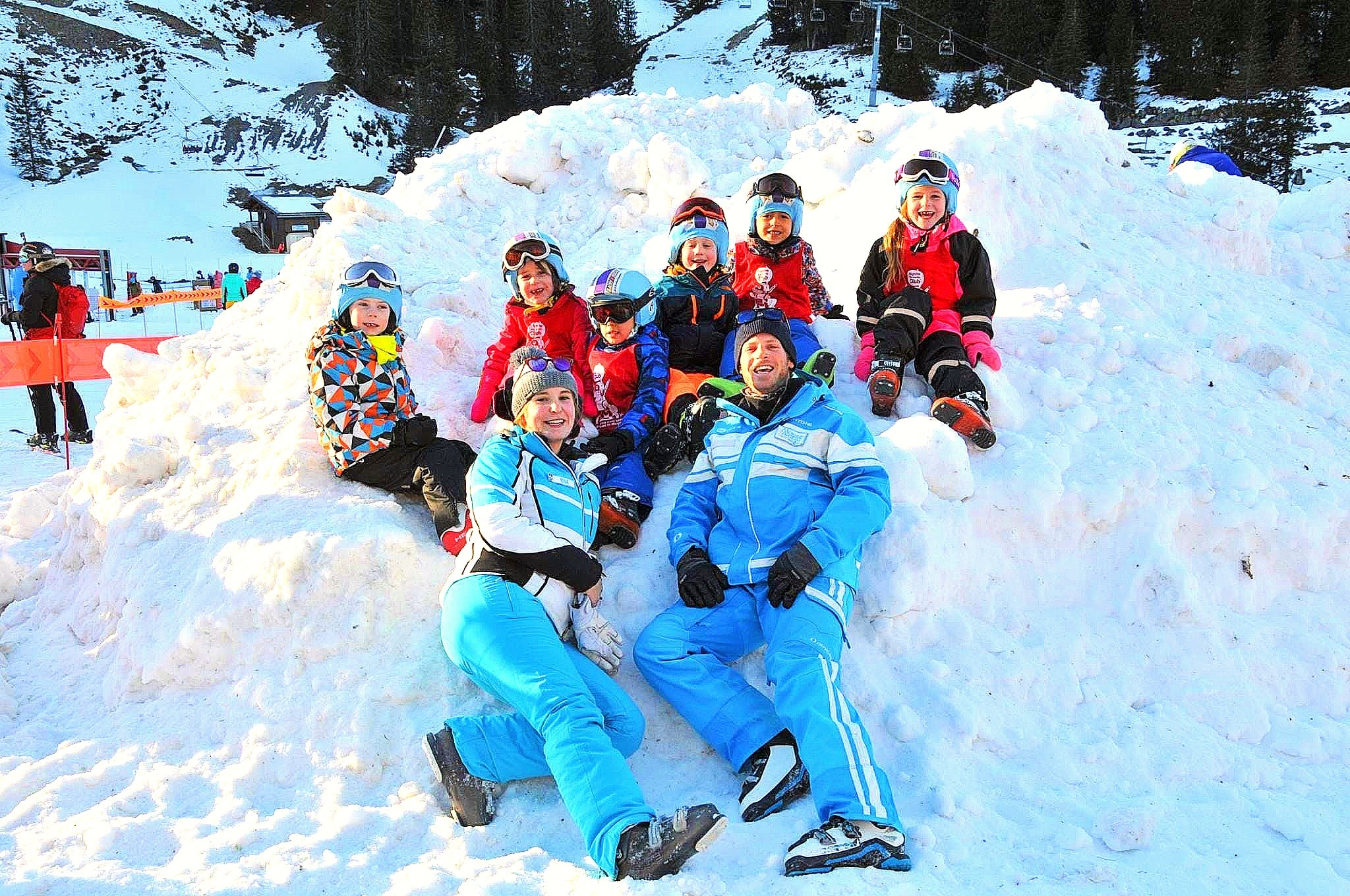 Group courses for children are the most fun way to learn to ski in Morzine. From 5 years old and up, all children are welcome. On CheckYeti, you can book course packages that include equipment and a ski pass for the Morzine Les Gets beginner slopes, so that the young skiers have all the prerequisites to learn to ski during their first skiing holiday.
Group lessons have a maximum of 8 participants, the groups being arranged according to the children's ages and skiing experience. Lessons can be taken in the morning or in the afternoon and generally last for 2-2,5hrs. Nevertheless, if you are interested, the children can even attend courses all day long.
First-time skiers are taken to the beginner slopes up at the Pléney, which has two green slopes, plus a children's zone where the youngest of the young can practise. Ski novices start with the basic elements such as the snowplough. Once these have been well-established, the group moves on to green and blue slopes that are more challenging and have a slight gradient.
Lessons for young intermediate skiers focus on parallel turns and improving posture. Whether the children are first-time skiers or have already advanced onto red or even black runs, the instructor takes the students to slopes that are appropriate for their level in order to ensure further progress. Ski schools in Morzine organise a medal presentation at the end of the week, so no matter how skilled they are, every young skier finishes the week with a sense of achievement.
Morzine ski pass
Visitors to Morzine can buy the Morzine-Les Gets ski pass, which covers all lifts within the two areas. Prices vary based on the skier's age with additional options such as a family or group pass also available for purchase. Skiers wanting to explore slopes outside the Morzine-Les Gets area can buy the Portes du Soleil pass, which gives them access to 12 ski resorts across France and Switzerland, including Les Gets, Châtel, Morzine, Avoriaz and Champéry & Morgins.
What to do in Morzine: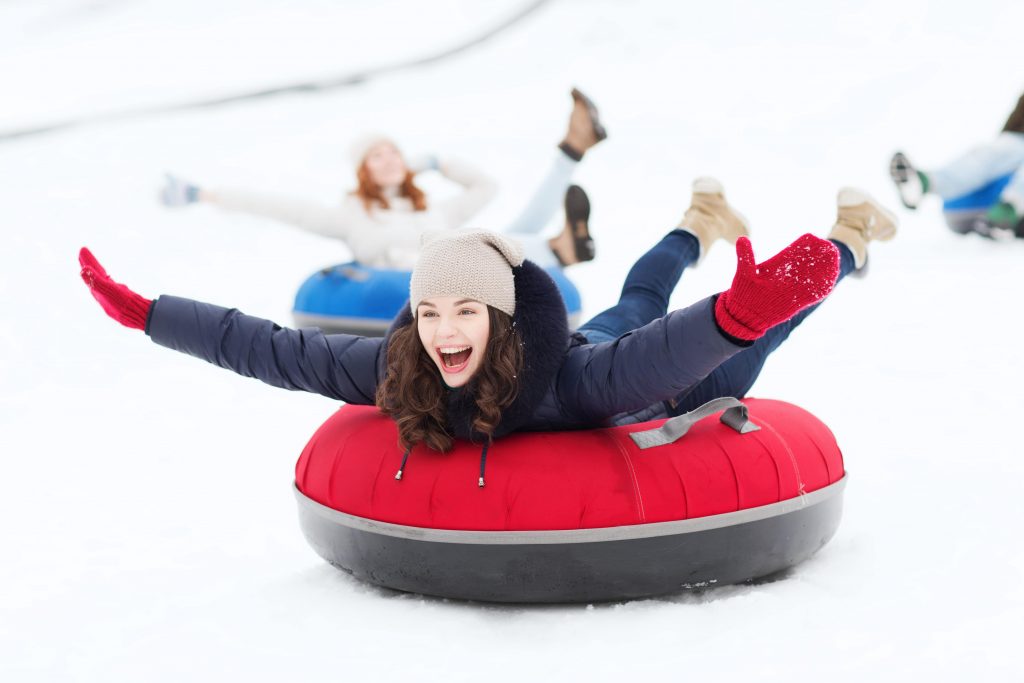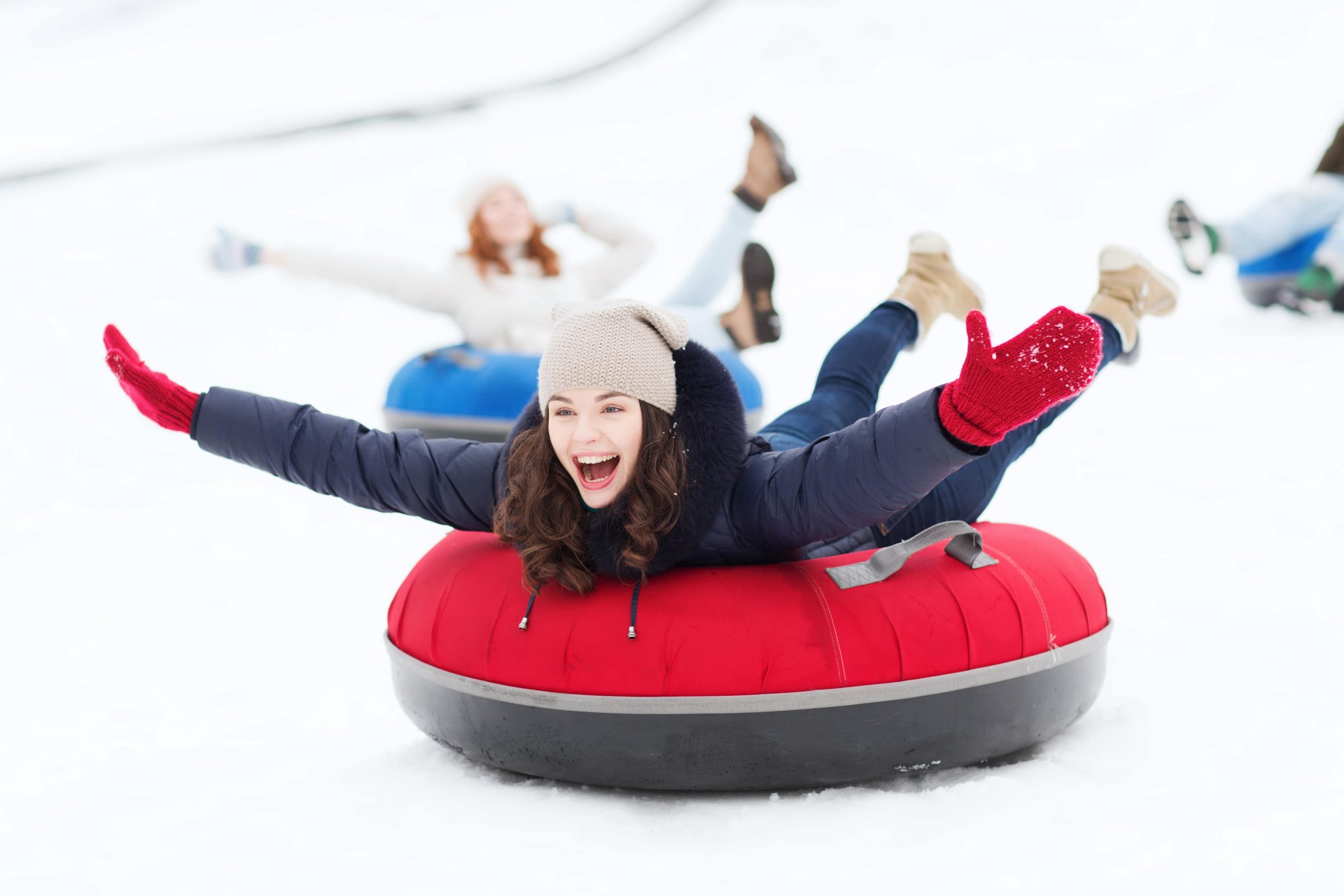 If, after spending a few days on the slopes of Morzine, you would like to try some other activities besides skiing, you can enjoy many other fun things to do:
Ice skating: Morzine has an indoor skating rink measuring 56 × 26 metres. Skates can also be hired on site for a small surcharge, a great deal for all holidaymakers. If you prefer to skate outdoors, Morzine also has a skating rink in the city centre.
Visit the city market: every Wednesday morning from 8 am to 12 pm, the city market comes to life. If you want to try typical products and meet the locals, the market gives you a chance to immerse yourself in the culture and the most typical flavours of Morzine.
A day at the spa: in one of the many hotels offering daily entrance to the pool & sauna area
Sledging or snow tubing lesson: ski schools often offer tobogganing lessons or organise night tobogganing for added fun in the snow.
Apres Ski: Morzine has a vibrant nightlife with several bars in which you can enjoy a drink after a successful day on the slopes and dance until late at night with live music.
Visit Les Gets: The town is only 11 minutes by car from Morzine and every Friday and Saturday there is a light show in the forest that enchants adults and children alike. The show, called Alta Lumina, is absolutely not to be missed.
Visit nearby Avoriaz: in just 20 minutes by car, you will find yourself in another town full of fun and relaxing activities. In Avoriaz, you can relax in a spa or experience the joys of a husky sleigh ride.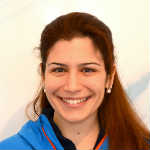 Born in South Tyrol, I love mountains and nature in general. Whether it's 30 degrees or -10 degrees, my motto is "always find new challenges and new emotions in the nature".