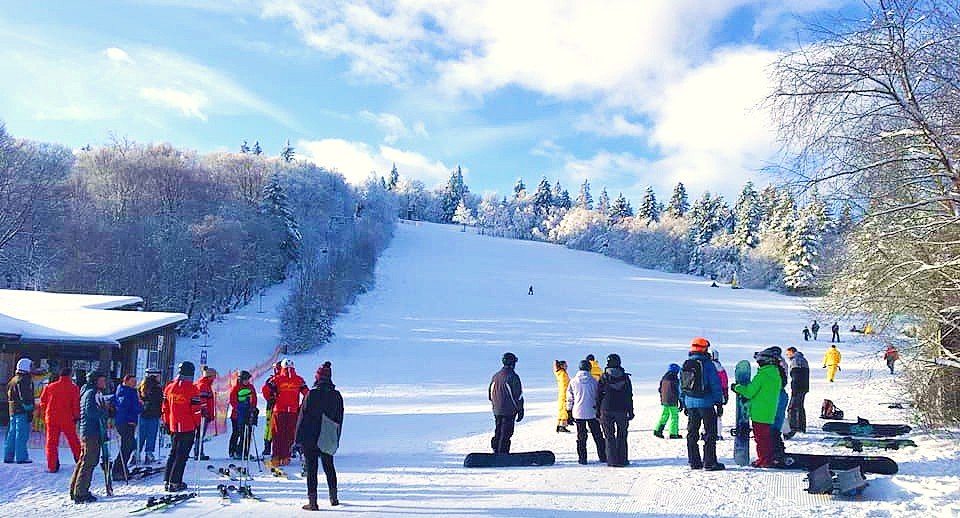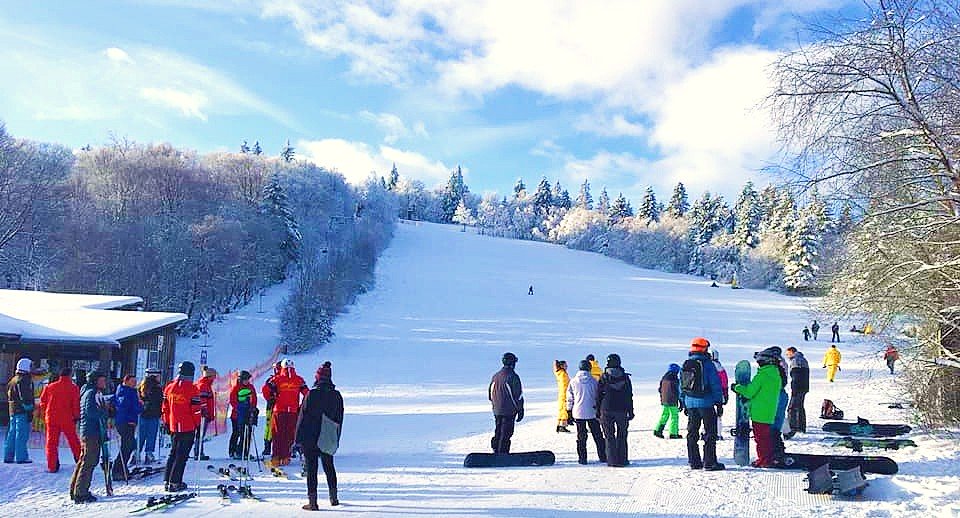 28km of slopes and guaranteed snow from December to March, a fun Kinderland and 3 ski schools recommended by CheckYeti, this is what awaits all those who wish to learn to ski in Winterberg.
In the article, you will find all the information you need to make the most of your vacation in Winterberg. You will find a description of the location and an introduction to the best ski slopes where you can learn to ski in Winterberg, as well as a short description of the various ski schools to allow you to choose the one that best suits you.
The location:


Situated only 1 hour's drive from Paderborn & Dortmund Airports, and 2 hours' drive from Dusseldorf & Frankfurt Airports, the Skiliftkarussell Winterberg is the largest ski area in the Sauerland region of Germany. Thanks to a modern and powerful snow-making system, the Winterberg slopes are considered to be particularly snow reliable and skiing is generally possible from December to March.
Winterberg offers 28km of pistes on 6 local mountains: Kahler Asten, Bremberg, Kappe, Poppenberg, Herrloh and Sürenberg, these varying in height from 733-842m. Half of the slopes are blue, making this well-organised ski area ideal for those who want to learn to ski in Winterberg.
At the Schlossberg and in the Snow World Züschen – also known as the Homberg-Ziegenhelle ski area – there are numerous easy slopes that are perfect for beginners and children. More demanding pistes for advanced skiers and snowboarders are found at the Winterberg and Altastenberg ski areas.
The best slopes to learn to ski in Winterberg: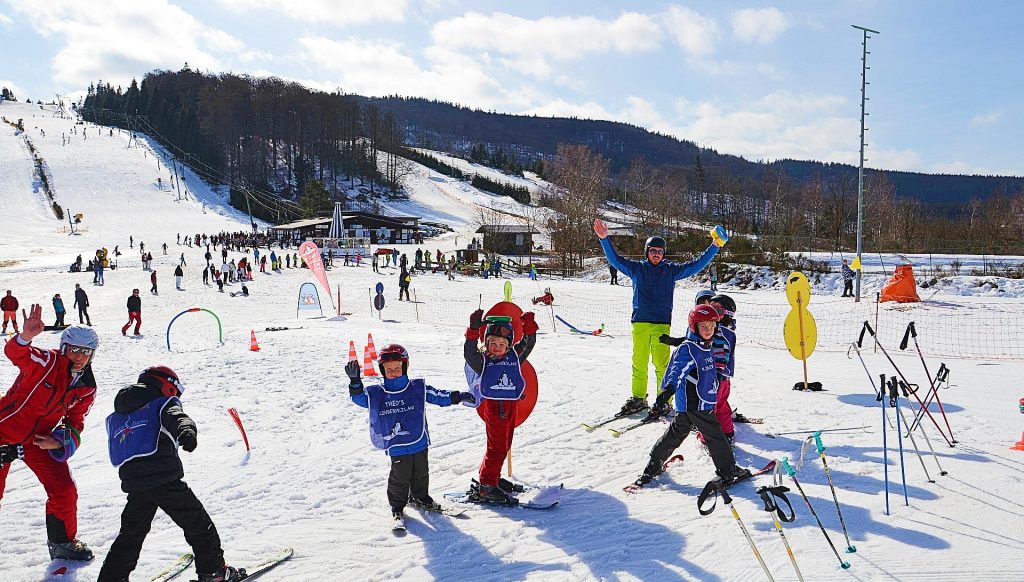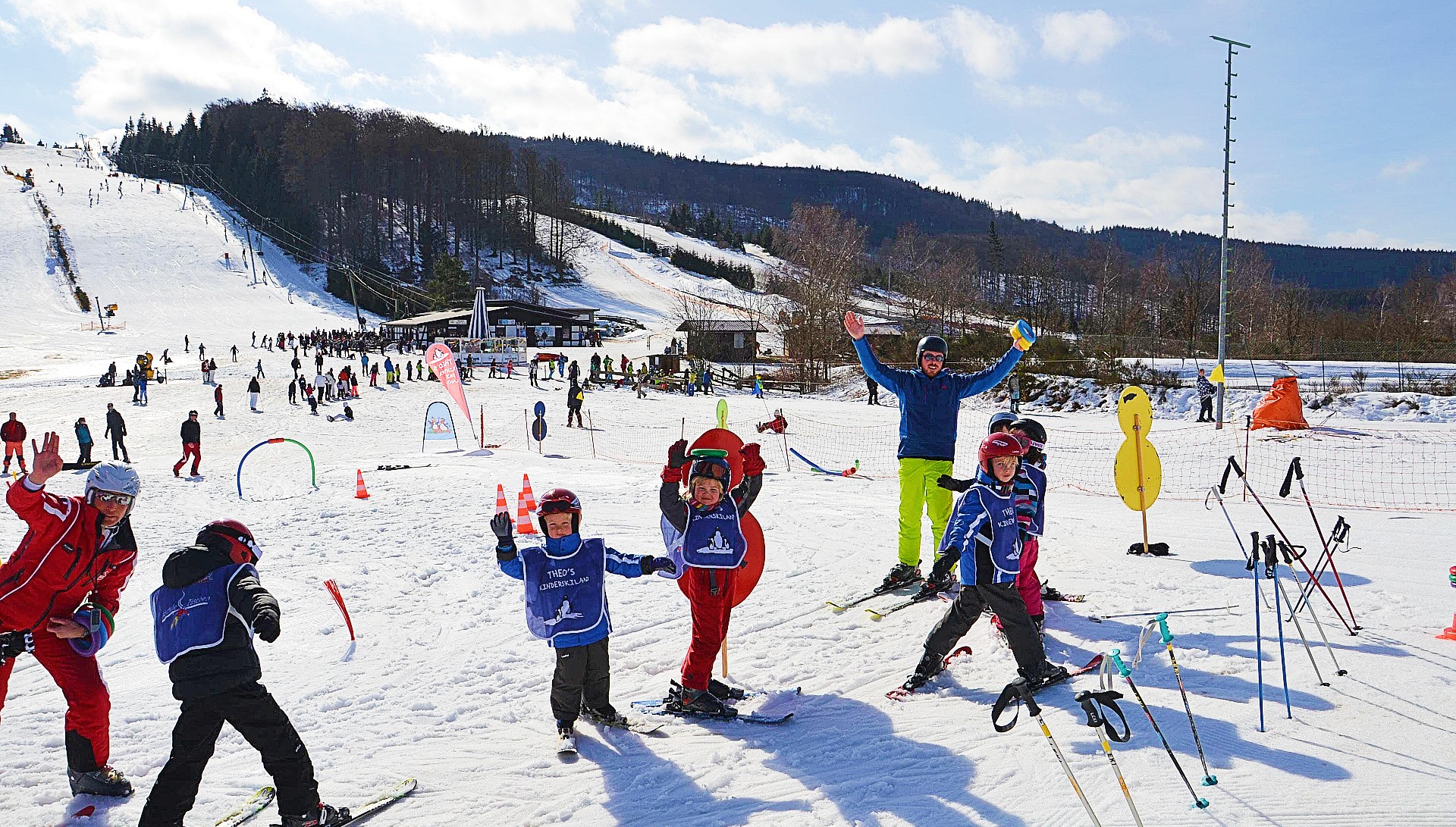 Beginners learn to ski on the easier slopes in the nearby ski areas of Schlossberg and Snow World Züschen. These can be reached from Winterberg in about 10 minutes by car. The quiet, flat slopes here are perfect for beginners learning their first moves.
Alongside numerous sledging routes for alternative snow fun after lessons, the resort also offers more than 50km of cross country skiing trails plus a 230m long snowpark with a boardercross and waverides for freestyle fans.
Winterberg may not have the wealth of slopes offered by bigger resorts but it has other distinct advantages, such as its accessibility from various airports within Germany, the wide range of lessons offered with equipment hire included, plus the snow reliability, due to the highly efficient snow-making technology.
Learn to ski in Winterberg
The schools recommended by CheckYeti in Winterberg are extremely well prepared for teaching children. Nevertheless, they also offer numerous courses for adults as well. A short description will help you choose the one that suits you best.
Skischule Kahler Asten: This certified DSV ski school offers group and private ski and snowboard courses for all ages in English, Dutch & German. Meeting point beginners: At the Schlossberghütte.
DSV ski school Züschen: As one of the first DSV ski schools in the Sauerland winter sports arena, the Züschen ski school offers group and private ski and snowboard courses at all levels. Instruction is given in English, Dutch & German. Meeting point: The assembly point next to the ski school office in Homberg.
Neue Skischule Winterberg: This highly motivated DSV ski school offers group and private ski, snowboard and night skiing lessons in English, German and Danish. Meeting point: The ski school office, 50 m above the "Lift No. 12 / Rauher Busch" base station.
Kids' ski lessons in Winterberg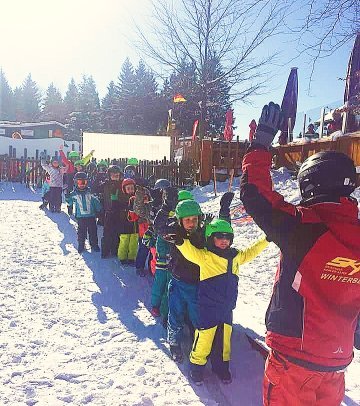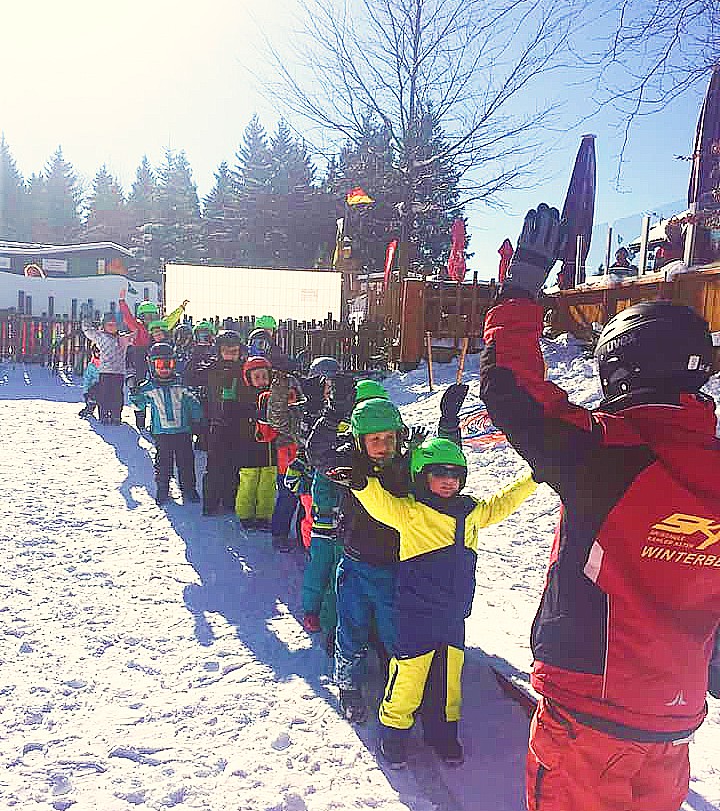 All children who wish to learn to ski in Winterberg can do so from the age of 5 years old. Group lessons are organised according to age and ability and the youngest skiers learn to carry out their first moves on skis – the glide, snowplough and braking – on the flat slopes of the Kinderland, which are secured and particularly child-friendly.
The Schlossberg offers a 2,000m² children's area with giant mushrooms, a magical castle and the friendly Snow Snake. Here, little ski novices playfully make their first foray on skis. Additionally, at Theo's Kinderland, which is located in the Snow World Züschen, children are introduced to the fun of skiing with the help of the penguin mascot Theo.
For young skiers aged 6yrs and above who are already proficient at skiing, the ski schools offer advanced ski courses that take place in Winterberg or in the neighbouring Altastenberg. Here, the ski instructors prepare young skiers for more challenging slopes and lessons focus on improving skiing skills and posture, whilst introducing more advanced techniques.
Winterberg ski pass
The Winterberg ski pass covers all of the slopes within the Skiliftkarussell area. Tickets valid for 3 days or more are also valid in 8 ski regions within the Wintersport Arena Sauerland: Skiliftkarussell Winterberg, Skigebiet Willingen, Skikarussell Altastenberg, Postwiesen Skidorf Neuastenberg, Familien Skigebiet Sahnehang, Snowworld Züschen, Skigebiet Bödefeld-Hunau & Skigebiet Ruhrquelle. The pass can be purchased for half a day or more and there are reduced prices for children. Family and evening passes are also available.
What to do in Winterberg:
Bowlhaus: after a day on the ski slopes, the evening can be spent at the bowling alley. On Saturday evenings from 8 pm to 2 am, you can enjoy disco music at the Disco-Bowling night with DJ Tommes Beck. 
Olympic Bob Race: Visit the bobsleigh track and experience the unique excitement of going down the 1600 m long track at 130 km/h. The bobsleighs available are for 4 people and are driven by capable guides. 
Kappe Express: If you get on this train, you can admire all the attractions of Winterberg while remaining seated. An ideal opportunity for families, because the children will stay warm. The route consists of 5 stops where, if you wish, you can get off and get back on afterwards. The train makes 8 daily trips lasting 45 minutes. 
SPA: A day of relaxation and tranquillity. In Winterberg, many hotels offer entrance to the daily spa. This way, you can take a break from all the outdoor fun and treat yourself to a day of pampering. 
Sledging: There are many places in Winterberg where you can rent a sledge and ride it down the slopes. Guaranteed fun for the whole family.