Located in the heart of the Alps in Savoie in the Auvergne-Rhône-Alpes region, skiing in the French ski resort 3 Valleys (Les 3 Vallées) means skiing in the world's largest interconnected ski area with magnificent views to Europe's highest peaks such as Mont Blanc.
Every winter, the 3 Valleys ski area attracts winter sports enthusiasts from all around the world. During 150 days of skiing, you can explore the area's 600 kilometres of slopes and 50 kilometres of ski routes under the French sun. The network with 162 ski lifts spanning over this huge winter wonderland is an ideal spot for those who want to learn skiing in the 3 Valleys. It also forms a playground for the experts among you and is a place to get together with friends and family. This diversity is also reflected in the balance of varying difficulty levels of the slopes domiciled in the 3 Valleys. 17% of the 600 km of slopes are green runs, 39% correspond to blue descents, 33% are red runs, and 11% are reserved for the pros ready to master black descents.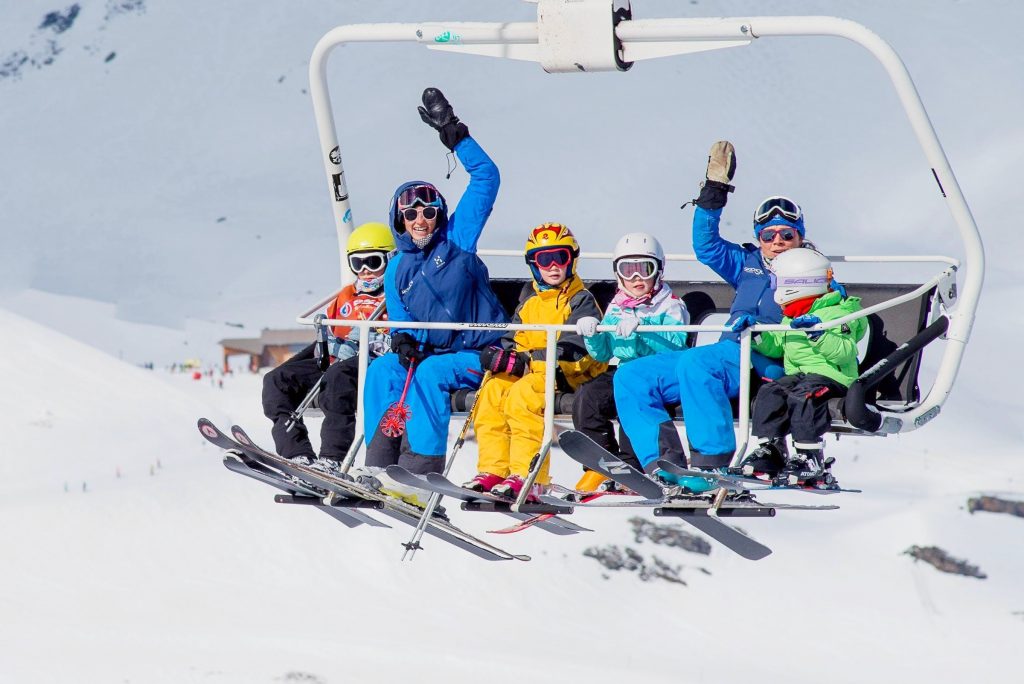 The name 3 Valleys derives from the 3 valleys that build the connection between the mountains of Savoie. Valley of Courchevel, Valley of Méribel, and Valley of Belleville are eponyms.
Skiing in the 3 Valleys first requires a bit of orientation to determine where exactly the journey should go. Eventually, one has not had enough time to explore the entire 600 kilometres of slopes during just one skiing trip. Val Thorens, Orelle, or yet 3 Valleys? – Skiing the 3 Valleys does not only mean skiing in the 3 Valleys. The ski area is composed of 7 resorts:
Val Thorens
Méribel
Courchevel
Les Menuires
Orelle
Saint-Martin-de-Belleville
Brides-les-Bains
Below, you will get insights about skiing and snowboarding in the 3 Valleys. I will talk about the most spectacular ones, consisting of Val Thorens, Méribel, Courchevel, and Les Menuires, in more detail. For Orelle, Saint-Martin-de-Belleville, and Brides-les-Bains, you will find a short overview. In the end, I will give you some tips about how to get to the 3 Valleys. A guide with interesting insider tips is waiting for you – check it out!
1. Skiing in Val Thorens – The World's Best Ski Resort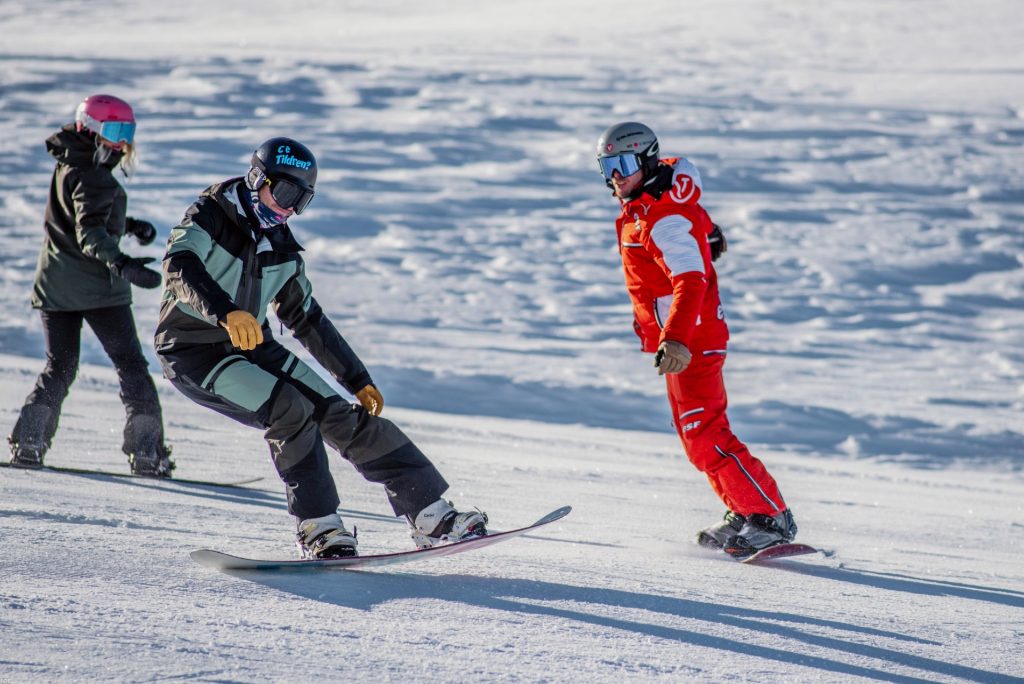 Voted as "the best ski resort in the world" already 7 times, Val Thorens sets the performance bar high. But Val Thorens' records don't stop there – with an altitude of around 2,300 metres, skiing in Val Thorens means skiing in one of the highest resorts of Europe. That brings the advantage of excellent snow quality during 5 months of the year.
Even though Val Thorens is part of the ski area 3 Valleys, the resort itself still consists of 6 areas made up of Soleil, Grande Rue, Balcons, Lombarde, Slalom, and Plein Sud. Your possibilities here are endless. You could decide for skiing through those areas of the 3 Valleys or even walk on foot in order to enjoy the magnificent view of charming Val Thorens. For winter sports enthusiasts who want to do a short stopover to explore as many areas and resorts of the 3 Valleys as possible, a free ski shuttle brings you to your next stop in no time.
For those of you who cannot get enough of the joy and pleasure of going down the snowy descents while feeling the warm sun on your cheeks and the cold wind on your nose, Val Thorens makes skiing in the 3 Valleys under the moonlight possible. The blue slope "Tête Ronde" as well as the red run "Christine" are available for snowy adventure until 6.30 pm.
Learn to ski in Val Thorens
Val Thorens offers a lot for first-timers who are new to skiing and want to have a snowy adventure in the 3 Valleys. 13% of Val Thorens 150 kilometres of slopes are green and 44% blue descents in order to enable a safe and fun skiing experience in the 3 Valleys. But also experts get their money's worth with a great variety of more challenging slopes. Check out the offers of our partner ski school Ski Cool in Val Thorens.
Besides Winter Sports: Après Ski and Kids Programmes
From skiing in the 3 Valleys directly to the vibrant après-ski life with its welcoming bars, clubs, and restaurants that turn into party hotspots as soon as the sun goes down, is how you end your day in Val Thorens. Le Malaysia, Klub Summit, or La Folie Douce are only some addresses for a short detour before going home.
But also, the little winter sportspersons have something to look forward to after a day of skiing in the 3 Valleys. Ice-skating, paragliding, snowmobiling, or the double zip wire "La Bee" that transports you 65 metres above the ground 1,800 m into the centre of the Valley, are waiting!
2. Skiing in Méribel – a Paradise for Families
Located in the heart of the 3 Valleys, charming Méribel with its Alpine hamlets, chalets, and snow-covered forests is the perfect resort to escape everyday life and experience an authentic winter trip. Méribel is the winner of the "Family Plus" award and, therefore, the ideal spot for skiing with your beloved ones. Yeti parks and Inuit trails or torchlight descents make your holidays an unforgettable one, especially for the little ones.
Like in Val Thorens, skiing in Méribel doesn't mean skiing in Méribel. The Resort consists of 5 districts made up of Méribel Les Allues, Méribel Village, Méribel Centre, Méribel Les Hauts, and Méribel Mottaret. Every part is located at different altitudes and has its charm that wants to be discovered.
Steep powder runs and glistening snow in different altitudes are waiting for you, freeride enthusiasts. Méribel is a paradise for off-piste lovers, as is it has a lot to offer, not to neglect the "Mauduit" ski run. Feel like a ski star while skiing down La Roc de Fer slope with a breathtaking view and follow the tracks of international ski stars.
As a family resort, Méribel is especially appealing for the first-timers among you. Learning to ski in Méribel on approximately 67 kilometres of easy slopes is a highlight of your winter adventures in the 3 Valleys. If that sound interesting to you, check out our partner Prosneige, who offers ski lessons in small groups of a maximum of 6 skiers or a private setting in Méribel.
More than Skiing & Snowboarding: Events for Adults & Kids
Méribel is a popular host of various famous winter sports events. Next on the schedule are the Alpine Skiing World Cup Finals and the World Ski Championships in 2023, which will be hosted at the La Roc de Fer slope. After cheering your favourite ski stars during the race, the lively nightlife invites you to end the day in an exuberant atmosphere.
Children don't miss out on either. The resort organizes kids events all year round, such as the visit of Father Christmas in the centre of Méribel, or the New Year's Eve celebration.
3. Skiing in Courchevel – The Largest Resort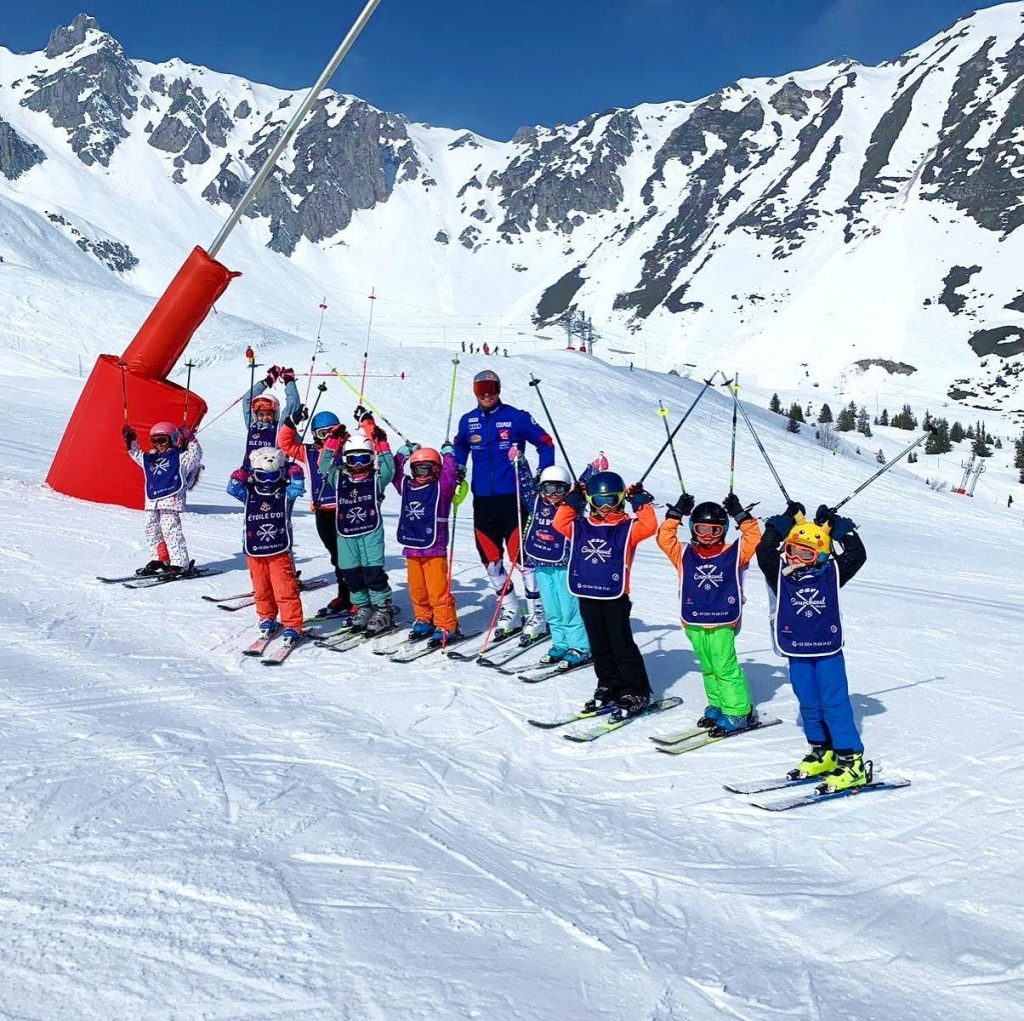 Enjoy the outstanding panoramic views of the Vanoise peaks and the Mont Blanc from the 3 Valleys' largest ski resort, Courchevel. This part of the 3 Valleys is of particular interest as it leads you with your skis strapped on through diverse landscapes that range from steep pine forests to vast open snowfields.
Courchevel is a resort that is made up of 5 resorts, namely Courchevel-La Tania, Courchevel-Le Praz, Courchevel-Village, Courchevel-Moriond, and Courchevel. Each of them has its specifics and charm, but they are also somehow interconnected. Cosmopolitan, active, quiet, or fun – everything is found here. Take advantage of the free shuttle service or get around on your skis.
Courchevel is a resort that domiciles slopes for every skill level. First-timers can explore the resort's gentle green and blue slopes. Skiers with disabilities have a separate area that is easily accessible and equipped with special lifts, where they can turn their dream of skiing in the 3 Valleys into reality. Experts are free to approach the new black slope "L'Eclipse", which represents the border of Méribel and Courchevel. Additionally, with 3.3 kilometres, it now is the longest black descent in the 3 Valleys and offers an unforgettable panoramic view, besides the perfect adrenaline kick.
Learn to ski in Courchevel
In Courchevel, newcomers to skiing cannot only enjoy approximately 57% of easy green and blue slopes, but they can also learn to ski in 5 different resorts of 5 different altitudes. Our partner, ESF Courchevel 1550, invites you to join skiing lessons, where beginners and advanced skiers can explore Courchevel at an altitude of 1,800 metres.
Maybe you prefer to explore Courchevel Moriond, located at an altitude of 1,650 metres. Our partner ESF Courchevel 1650 has a great variety of offers.
After a Ski Day: Cultural Program & "Haute Cuisine"
Besides skiing and winter sports, Courchevel has a lot to offer cultural-wise. That might be a guided visit to the villages, art exhibitions, heritage talks, or art galleries. In the 3 Valleys' biggest resort, you won't get bored even after skiing. The end of your perfect day in Courchevel could be a visit to a nice restaurant, maybe even one with a Michelin star.
4. Skiing in Le Menuires – The Modern Resort for Families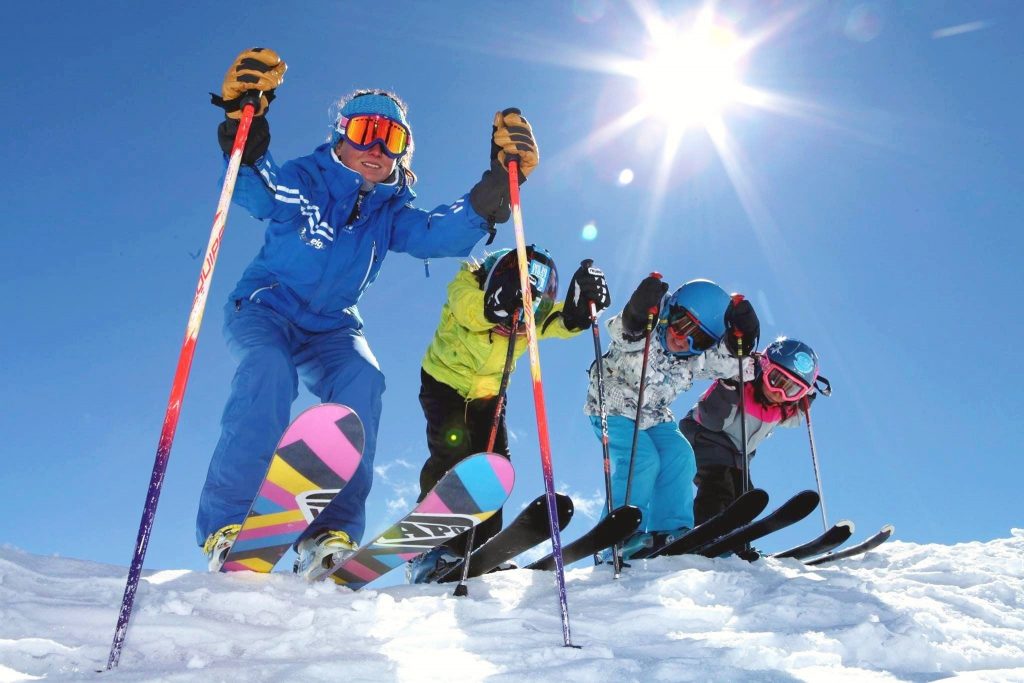 A modern resort with unique architecture that is unique in the 3 Valleys up at an altitude of 1,850 metres is waiting for you and your family. Le Menuires, a family-friendly resort, is appropriate for all ages and every level. Enjoy together with your beloved ones one of the 3 Valleys' most beautiful panoramas, "Pointe de la Masse" – don't miss it out!
Le Menuires offers not only descents for families to learn how to ski in the 3 Valleys with a children's ski village and various play areas. Besides, it also has something up its sleeve for experts. Try out the Speed Mountain slope for the right adrenaline kick. The ski descents of Lac Noir or Lac de Lou are in no way inferior to it but are lesser-known. So, enjoy the silence there!
Le Menuires is divided into 5 districts that you can easily reach by skis or the free ski shuttle. Explore La Croisette, Preyerand, Les Fontanettes, Grand Reberty and Les Bruyères. You could, for example, head to Mont de la Chambre in 2,800 metres of altitude and experience its amazing landscape.
Learn to ski in Le Menuires
Families feel comfortable in Le Menuires and so do beginners. Here, first-timers don't have to fear steep slopes everywhere, even though they exist. More than half of Le Menuires slopes are easy green and blue slopes. From green to black in just one week? It is hard to achieve, but let's give it a try and check out our partner ski school Prosneige who already made more than 200 people to winter sports enthusiasts.
Besides Winter Sports: Events for Comedy & Yoga
Le Menuires is a hotspot for probably the most unusual events in winter destinations. In March, a one-man comedy show with magic acts, named "Les Menuires du Rire Festival" takes place. Or what about something more relaxing? At the end of the winter season in April, you could join the slow life during the "Yogiski" event, which is all about yoga, meditation, and forest bathing. Those, but many more events are waiting for you in Le Menuires.
5. Skiing in Orelle, Saint-Martin-de-Belleville & Brides-les-Bains – Hidden Gems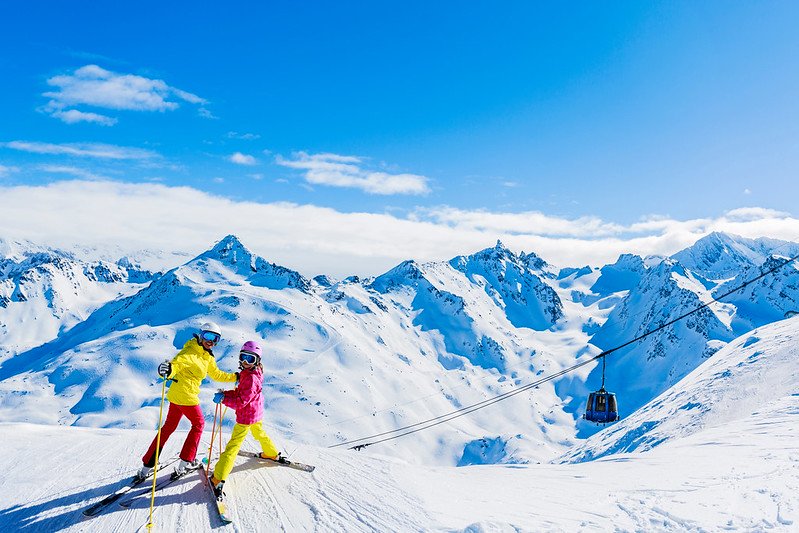 Orelle is the secret tip right next to famous Val Thorens. Authentic and quiet – a resort where you can relax and unwind. Compared to its counterparts of the 3 Valleys, skiing in Orelle is even cheaper. Far from the crowds in a traditional village, you can also get your adrenaline kick with the highest zip wire in Europe – in 2 minutes, you descend on a 1,300 m long flight.
Saint-Martin-de-Belleville starts at an altitude of 1,450 metres and goes up until 2,400 metres. Here, you have limitless options for skiing in the 3 Valleys. If one resort is too boring for you, get on the free ski shuttle that goes directly to Val Thorens and explore endlessly.
In Brides-les-Bains, there is no end to skiing – adventures and fresh powder snow are waiting for skiers and snowboarders of all levels. Even Nordic walking enthusiasts find their happiness in this resort. It only takes a short ride with the Olympe gondola accompanied by amazing views, and you are in Méribel.
6. How to get to the 3 Valleys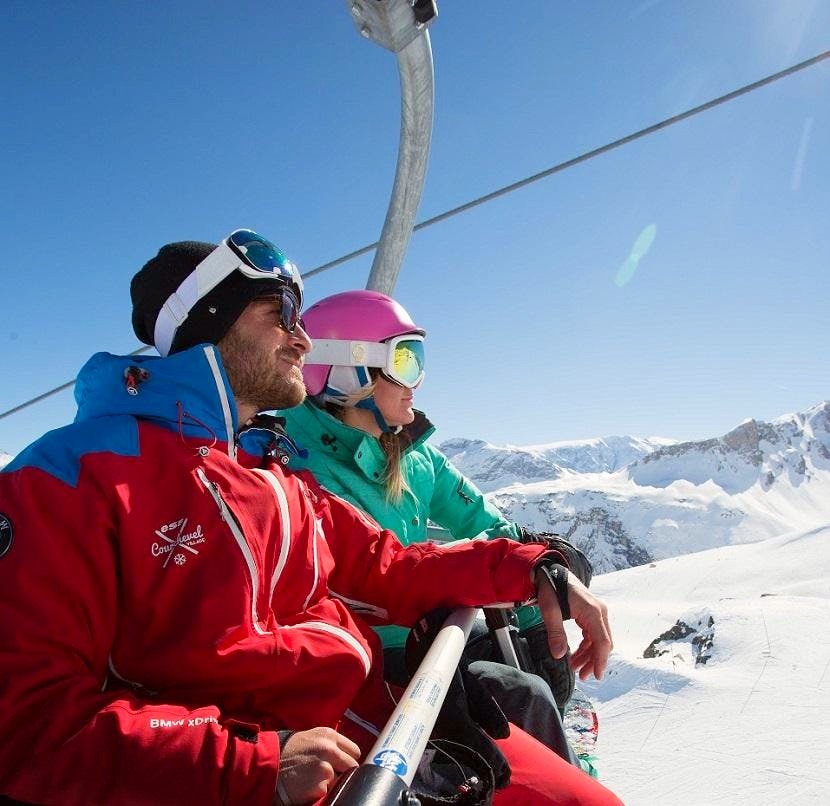 The 3 Valleys ski area is close to 4 airports (Chambéry, Grenoble, Lyon or Geneva) and, therefore, by plane easily accessible. Except from Grenoble, you can then reach the 3 Valleys by the regular Altibus service, which should be booked online upfront. If you want to arrive by train, Moûtiers-Salins-Brides-les-Bains is the closest train station that is also connected to the resorts of the 3 Valleys with the Altibus. For those who arrive by car, make sure that you reserve your parking spot in advance. Every one of the 7 resorts has indoor and/or outdoor car parks. The ones in Orelle are even free of charge. To change location within the area, you are best advised to use the free ski shuttle.
I hope I could give you a nice overview of the 3 Valleys, the world's biggest interconnected ski area, and made the decision for your next ski trip to the Alps even easier. If you rather search for a smaller getaway in a lesser-known region, stay tuned and read our next article about the hidden gems of France, located outside the Alps.