Our list of the 6 best spots to go surfing in Portugal covers all hotspots along the coast. To give you the best possible overview, I'll start with the southernmost spot, Albufeira. The beautiful spots of Arrifana, Ericeira, Peniche and Nazaré lie on the way up to the northernmost spot, Matosinhos.
Find out which offers you can find at these surfing spots and what makes each of them so special. However, before we dive in, there's an important question that must be answered first: What can you expect from a typical surf lesson?
What to expect from a surf lesson in Portugal
Before booking a surf lesson, you first have to decide what type of lesson you want. Private or group setting, one-day or multi-day course, half or full-day lesson – the options are endless! If you want to experience the true surfing adventure though, I recommend booking a multi-day course, as it takes a while before you learn to stand properly on your board.
On the (first) day of your course, all participants usually meet at the surf school. If you're lucky, your school may offer a pick-up service from your accommodation. At the school, the instructors introduce themselves and hand out the equipment. A briefing on the safety rules, the area, the equipment and the course itself either takes place at the school or directly on the beach. Once everyone is all "zipped up" and ready to go, it's showtime!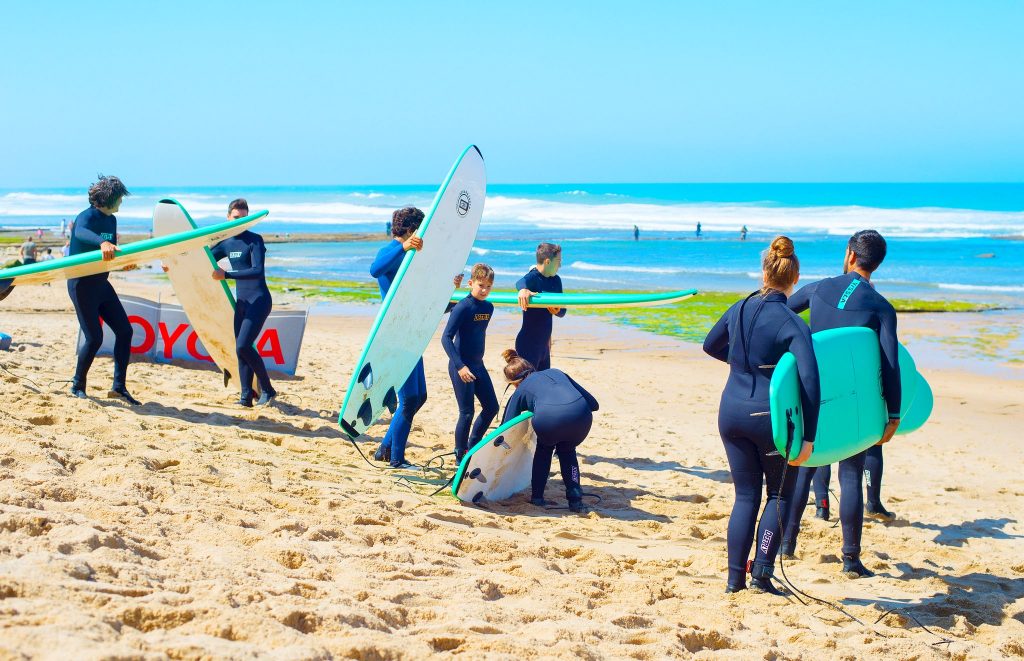 The course content varies from the participants' level of experience, of course. While beginners will first learn how to catch and ride a wave, how to stand up on the board and do balance exercises on the beach, more experienced surfers can go straight into the water and learn new techniques and advanced moves.
One session usually takes 2 hours. If you choose a full-day lesson, you will have a total of around 4 hours of surfing and do a lunch break in-between. Also, please note that the starting times depend on the tides and weather conditions. Usually, the school contacts you a few days before your lesson to fix a time.
Surfing in Albufeira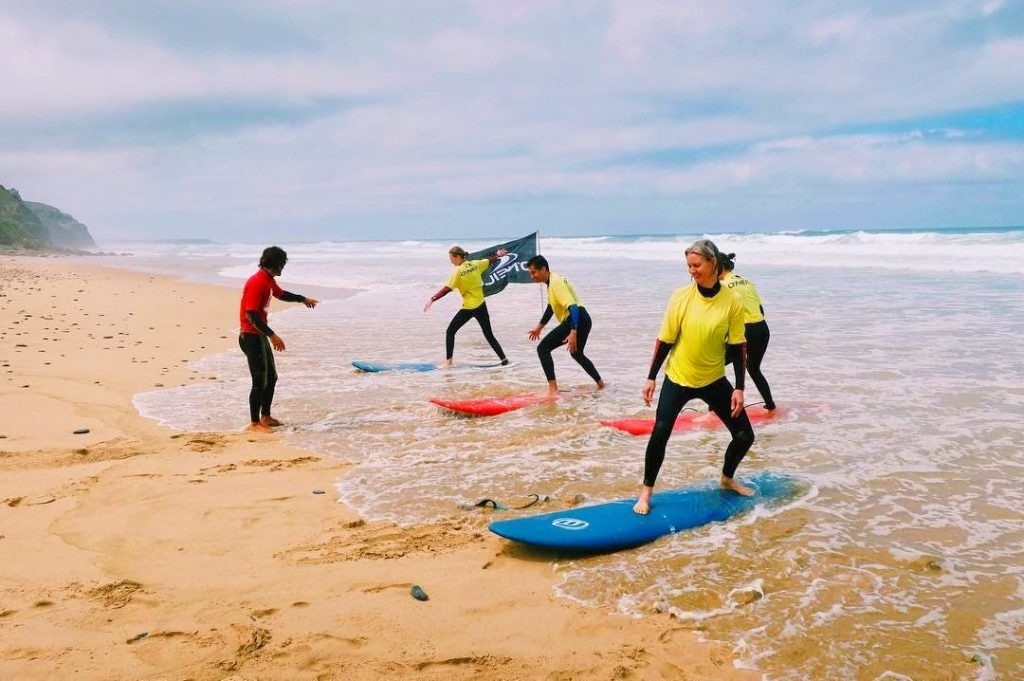 I usually recommend Albufeira for beginners and children wanting to go surfing in Portugal. As it is situated on the South coast of Portugal, the waves in this area are usually not too strong or high. Furthermore, Albufeira is home to one of the best and most beginner-friendly beaches in Portugal: Praia da Galé. Albufeira is also the perfect spot for a summer holiday in the beautiful Algarve region.
The local schools cater to the wishes of all surfers. Their offers include private and group lessons for surfers of all levels. You can choose between half-day lessons, multi-day courses and Albufeira Surf & SUP even offers a full-day surf experience at Monte Clérigo beach, a beautiful surf spot that's a bit further away, on the West coast.
Surfing in Arrifana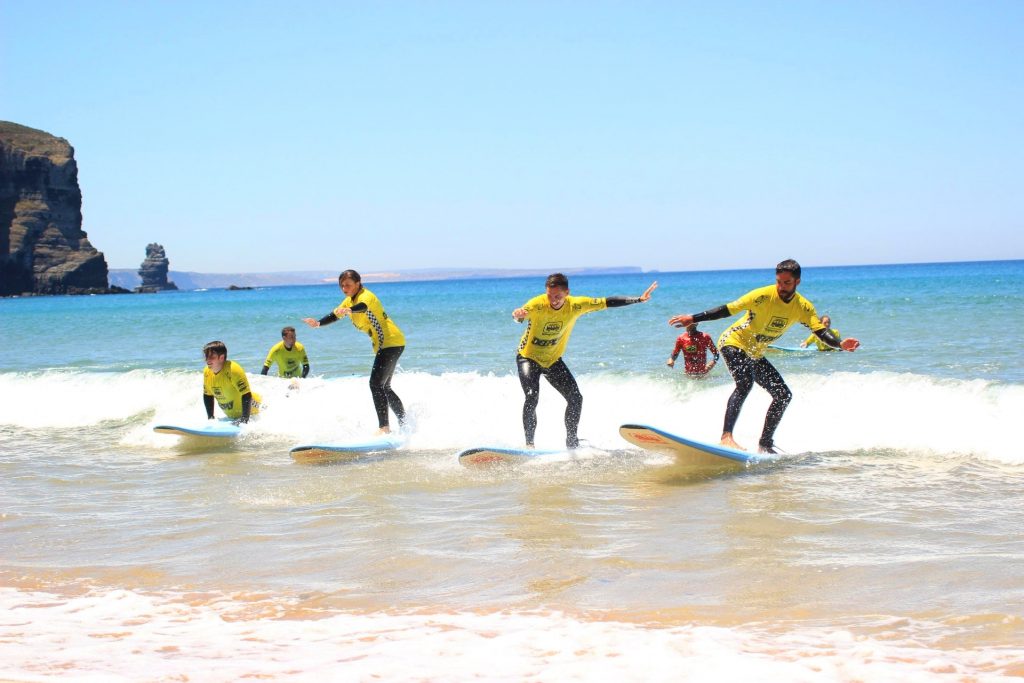 Arrifana is also in the Algarve region and is only a 1h car drive away from Albufeira. Unlike Albufeira however, Arrifana is located on the West coast. The West is pretty popular for surfing in Portugal as the waves here are more challenging than in the South. The surfing lessons usually take place on Praia da Arrifana, but the local schools may also take you to the neighbouring beaches in Aljezur, Vale de Telha or Amoreira.
A varied range of offers awaits you here. Whether you're looking for half-day or full-day lessons, private or group courses, you'll for sure find what you're looking for. Surfers of all levels aged 7 and up are welcome here anytime. And by "anytime", I mean any time, as the Arrifana Surf School offers winter lessons up until mid-March! This excellent school has a nice surf base directly at the beach and is surrounded by great restaurants.
Surfing in Ericeira
Ericeira is a beautiful old fishing village. It's not only one of the most popular spots for surfing in Portugal, but due to its long history and breathtaking landscape, it is also the only World Surf Reserve in Europe. Another big plus: Ericeira is only a 45-minute drive from Lisbon!
Both schools in this area, Ericeira Surf School and Surf Riders Ericeira, offer lessons in small groups of up to 6 people. You can choose between group and private lessons and you even have an optional pick-up service for most lessons. Amongst the varied offers, you can find surf lessons for all levels of experience and lessons for children aged 5 years or older. There's even an exciting 5-hour surf tour, during which an instructor takes you to several beautiful beaches, including the most famous one: Ribeira d'Ilhas.
Surfing in Peniche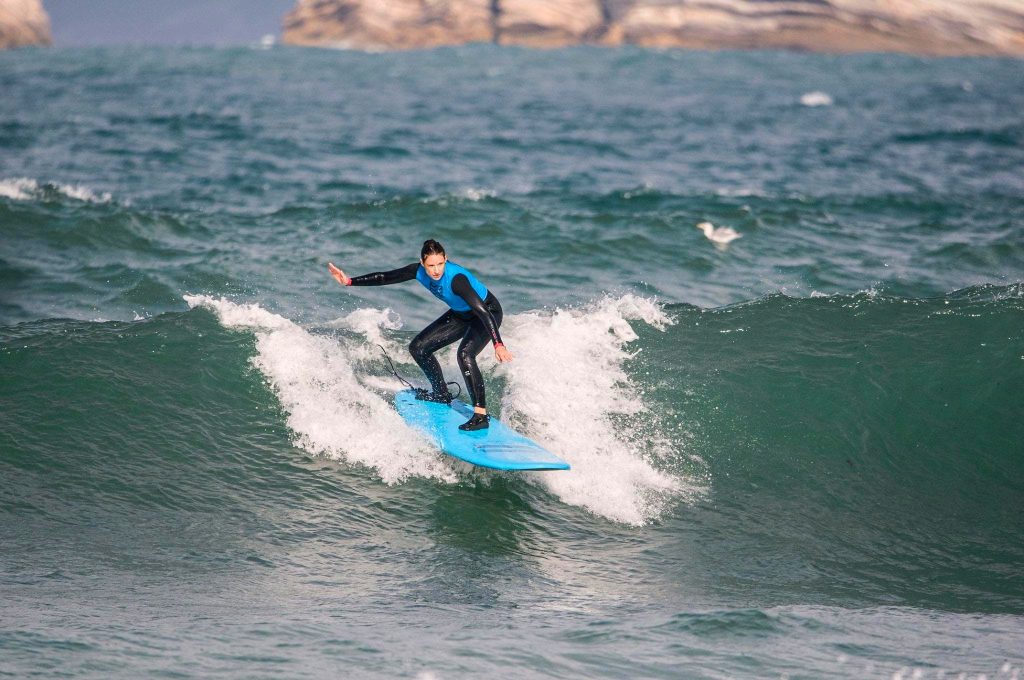 Peniche is one of the most famous surf spots in Portugal, and even in Europe. It is located on the famous Silver Coast, a large coastal area that is home to 150km of beautiful beaches and awe-inspiring landscapes and cities. Every year, Peniche's Supertubos Beach is host to the Men's Surf Championship. But don't worry, if you're new to surfing, there are more than enough beaches where the waves aren't too challenging.
Offers you can find here include private and group lessons for surfers of all levels. The lessons usually take place on Gamboa Beach, however, there are a variety of beaches all around and not too far, such as Supertubos Beach and Cova da Alfarroba. Children are of course also welcome here. In fact, Go4Surf Peniche welcomes children as young as 2 to their lessons!
Surfing in Nazaré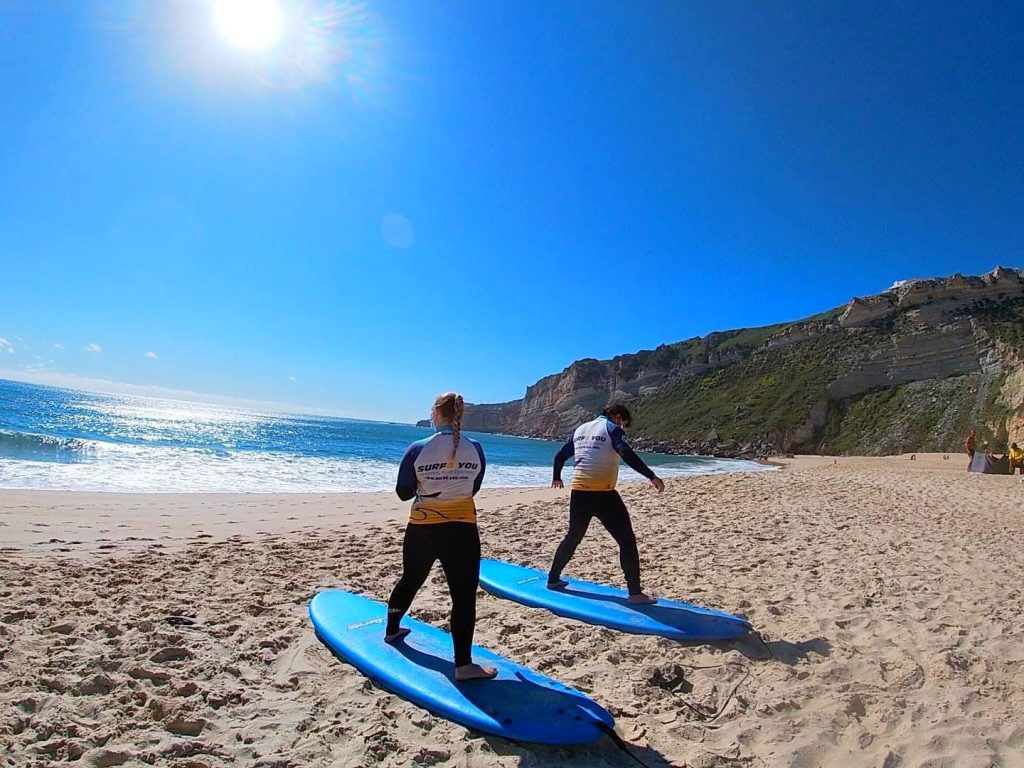 Nazaré is also a very famous surfing spot on the Silver Coast. Part of its fame is due to the fact that this is where you can find the world's biggest waves. In 2013, a professional surfer caught a wave that was approximately 30 metres high! Don't let that scare you if you're a beginner though: just like at most spots, there are several beaches in a 10km radius you can go to that also offer great conditions if it's your first time surfing in Portugal.
Our local surf school Surf4You Nazaré offers private and group lessons to surfers of all levels. There also are lessons for children aged 6 and up. Most of the time, the instructors take you to Nazaré Beach.
Surfing in Matosinhos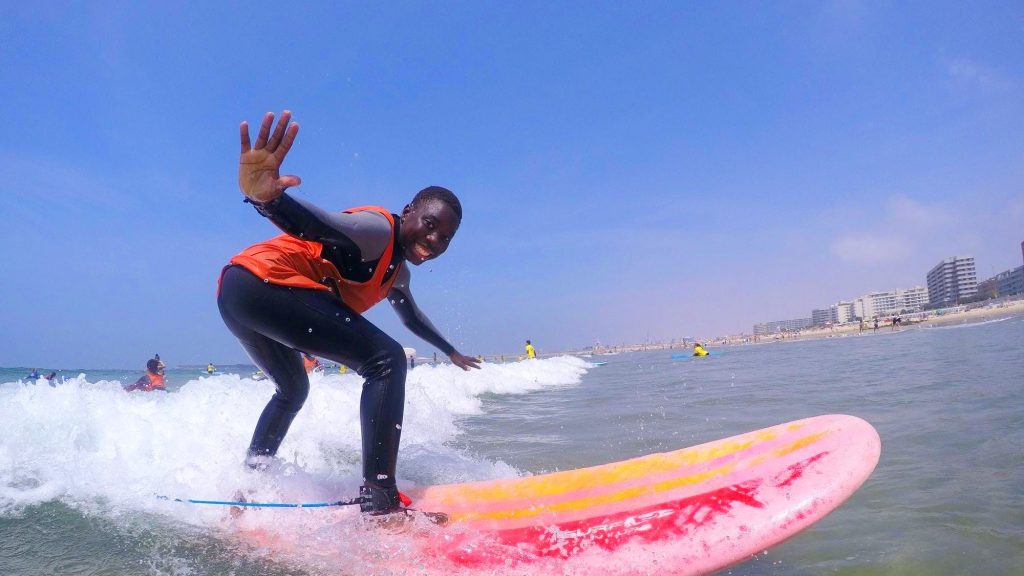 Our last spot lies in the North, at the very top of the Silver Coast. It's only a 20-minute car ride from the charming city of Porto, which makes this the perfect spot if you want to combine a surfing outing, a beach day and a city trip!
The surfing lessons usually take place on the beautiful Matosinhos Beach, close to the harbour. While beginners will stay in the Northern part of the beach, where the waves are easier to surf, experienced surfers can also explore the rest of the area. In general, the further South you go, the more intense the waves become.
Children from the age of 5 can participate in surf lessons. Here too, you can choose between group and private lessons. The Surfaventura Matosinhos school even offers fun SUP lessons, in case you need a break from surfing.