Ready to plan your next skiing holidays in the snowy Alps but not sure where to find Danish-speaking ski instructors for you or your kids? Don't worry, CheckYeti took care of the research for you and presents you the 7 best ski resorts with Danish-speaking ski instructors:
Zell am See: a memorable experience for teenagers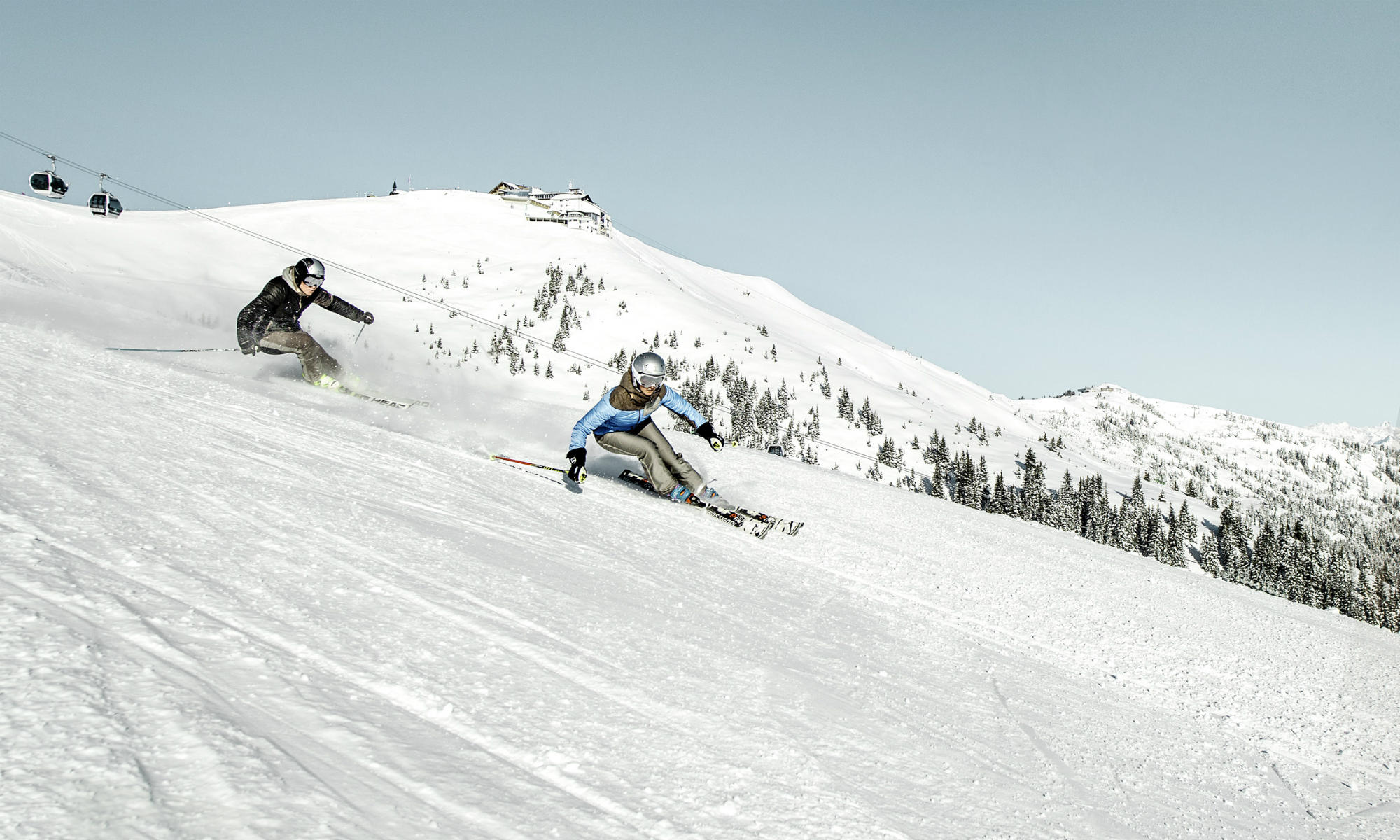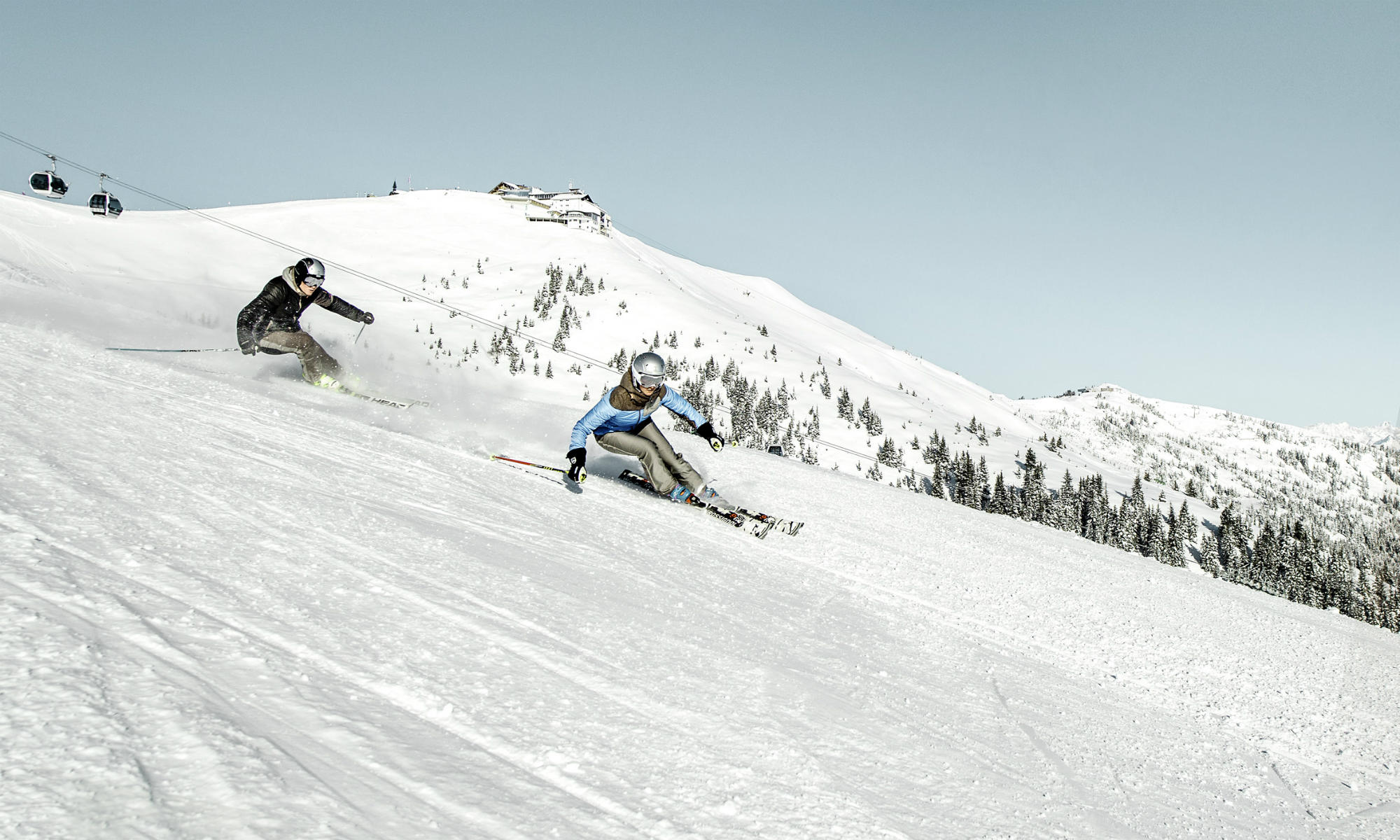 Zell am See is located in the Kitzbühel Alps, in the Austrian state of Salzburg, only a 2h car ride away from Salzburg and 3h from Innsbruck and Munich. In this winter sports destination, the local ski schools offer ski lessons with Danish-speaking ski instructors for kids and adults of all levels of experience. Together with a professional instructor and in-between numerous beautiful mountains and the marvellous Zellersee lake, skiers will experience a vacation that is never-to-be-forgotten.
This skiing destination is especially suited to teenagers as they can participate at special ski lessons only for teens. Both adolescents who want to bring their skiing technique to perfection, as well as teenagers who are on the hunt for some new winter-sport activities, will feel more than welcome in these courses. Together with other teenagers, they will find 77 km of perfectly groomed trails and professional ski instructors who will help them refine their skiing techniques and prepare them to face new challenges at their disposal.
In the ski resort Zell am See ski schools also offer snowboarding lessons for kids and teenagers who would like to discover the resort on a board instead of two skis. Especially when trying out a new winter-sport, the help and assistance of a professional ski or snowboard instructor is vital in order to be able to fully immerse oneself in the new type of sport. In Zell am See both ski and snowboard courses are offered as group or private lessons.
CheckYeti Tip: Whoever is searching for an adventure after their ski lessons should definitely check out the fun park Funslope Schmitten XXL. On the world's longest funslope, skiers and snowboarders enjoy a lot of action and fun. Composed of different elements as for instance tunnels, waves, snails and steep curves, this funslope is the perfect conclusion to a sunny day on the slopes of Zell am See.
More information about ski lessons in Zell am See >
Lofer: learning to ski with the kids' mascot Lofino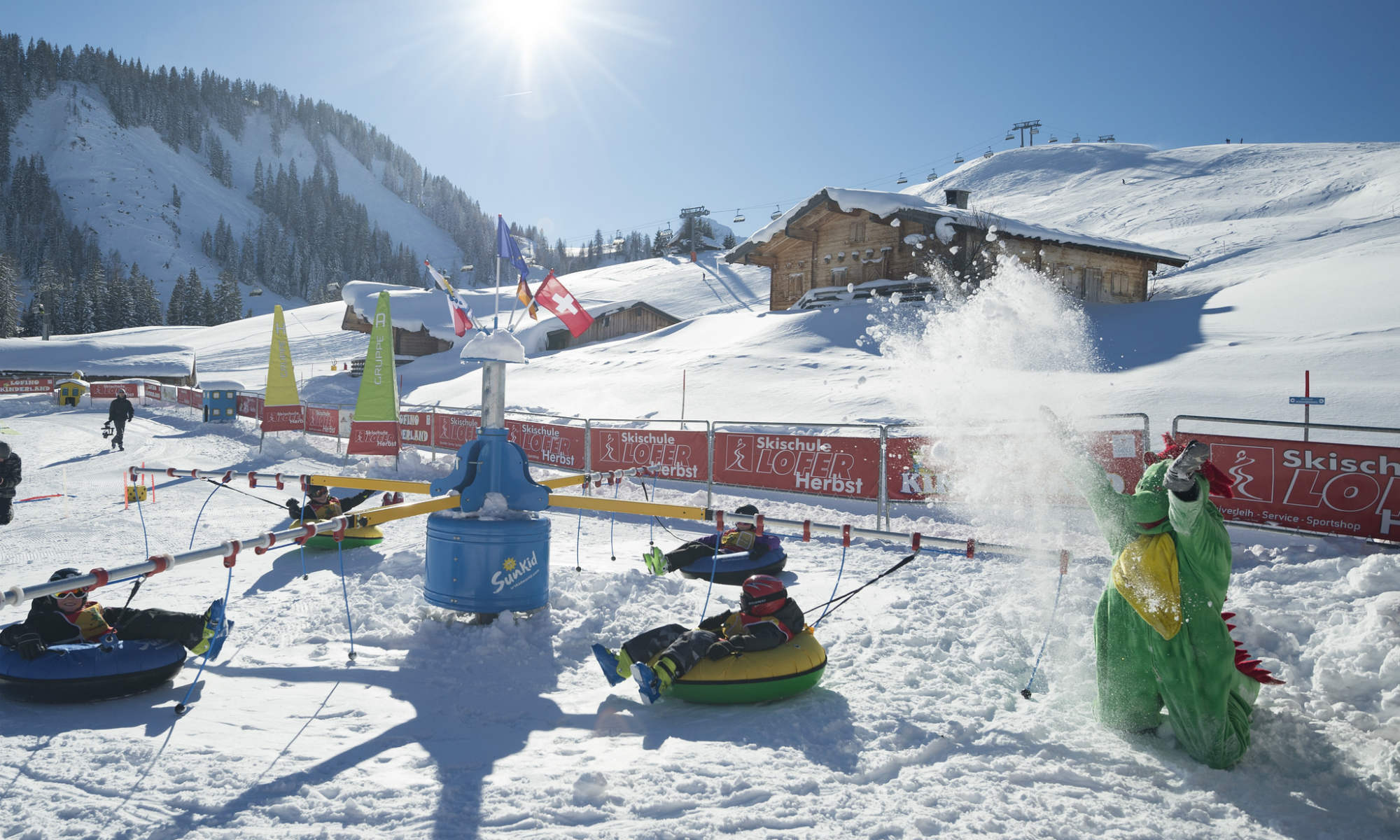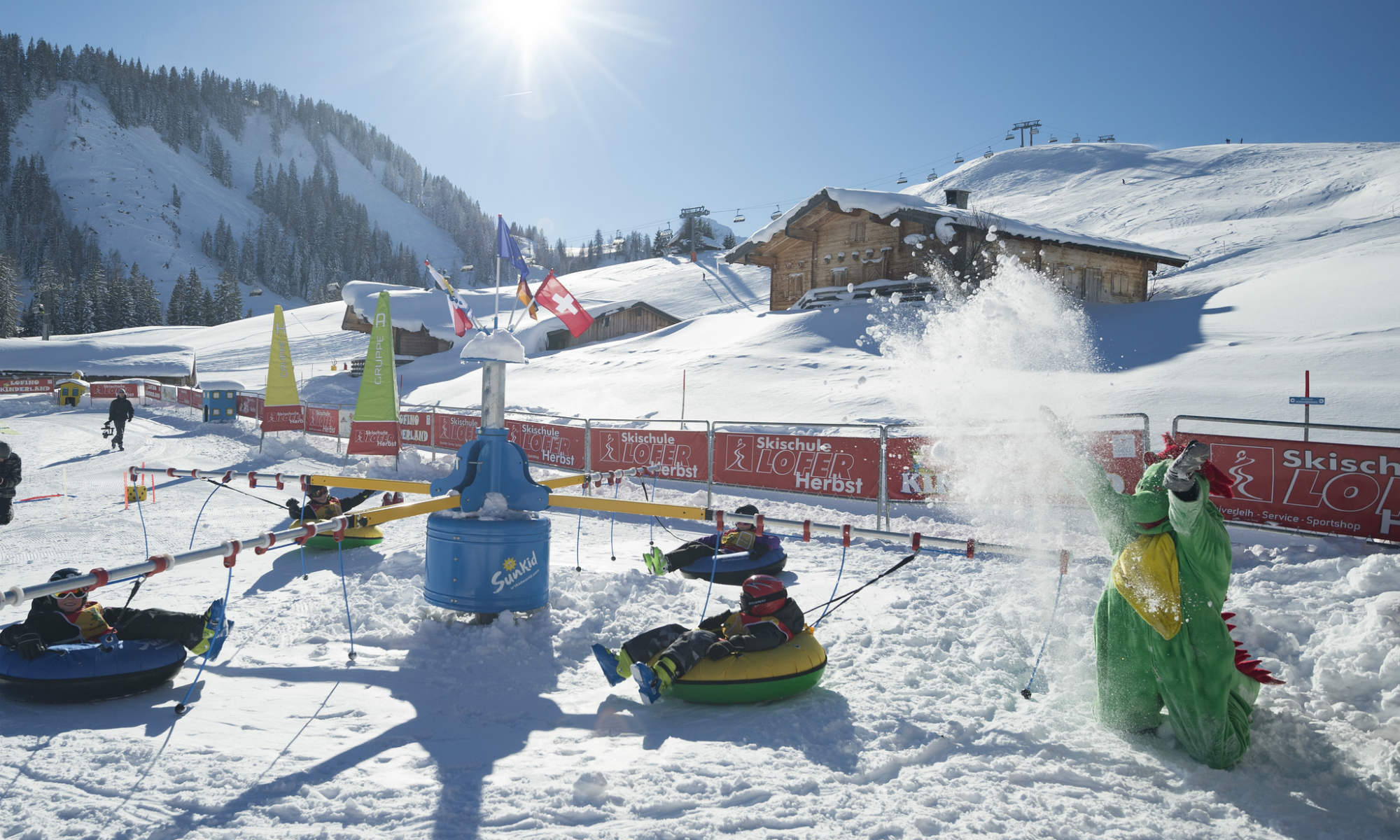 The village Lofer is located in the valley of the Saalach river in the Austrian state of Salzburg, only 2h distant from Munich and less than 1h away from Salzburg. More than 70 % of the ski resorts slopes are categorised as blue (very easy) which makes it the perfect destination for beginners.
The ski resort Almenwelt Lofer offers a great range of ski lessons that are perfectly aligned to kids' needs and wishes. Lofer's ski schools and the LOFINO Kinderland are happy to welcome kids from 3 years of age and support the little ones as best as they can when they take their first steps into the world of skiing. The LOFINO Kinderland offers many different training tools and skiing activities that will help the children get a sense for their skis and the speed. Pedagogically trained Danish-speaking ski instructors teach the basic skiing techniques while playing cheerful games with the little skiers. The dragon mascot Lofino also does his best to support the little skiers and entertain them in the snow. In such an atmosphere and with agemates, the first curves on skis will quickly be a great success.
A special highlight in Lofer is the children's train Lofino's Zauberzug. In the morning, the future skiing pros are picked up and driven to their first ski lesson.
This adventurous and playful trip to the children's area is the perfect start into an amusing day of skiing.
CheckYeti Tip: Curious kids that are too young for a classic ski lesson but still want to participate in ski lessons, can join special courses for kids from 2 to 3 years of age. There, they will be supervised by professional ski instructors and complete their first beginners exercises on the snow in order to be perfectly prepared for their first real ski course next year.
More details on ski lessons in Lofer >
Schladming: private ski lessons for all levels of experience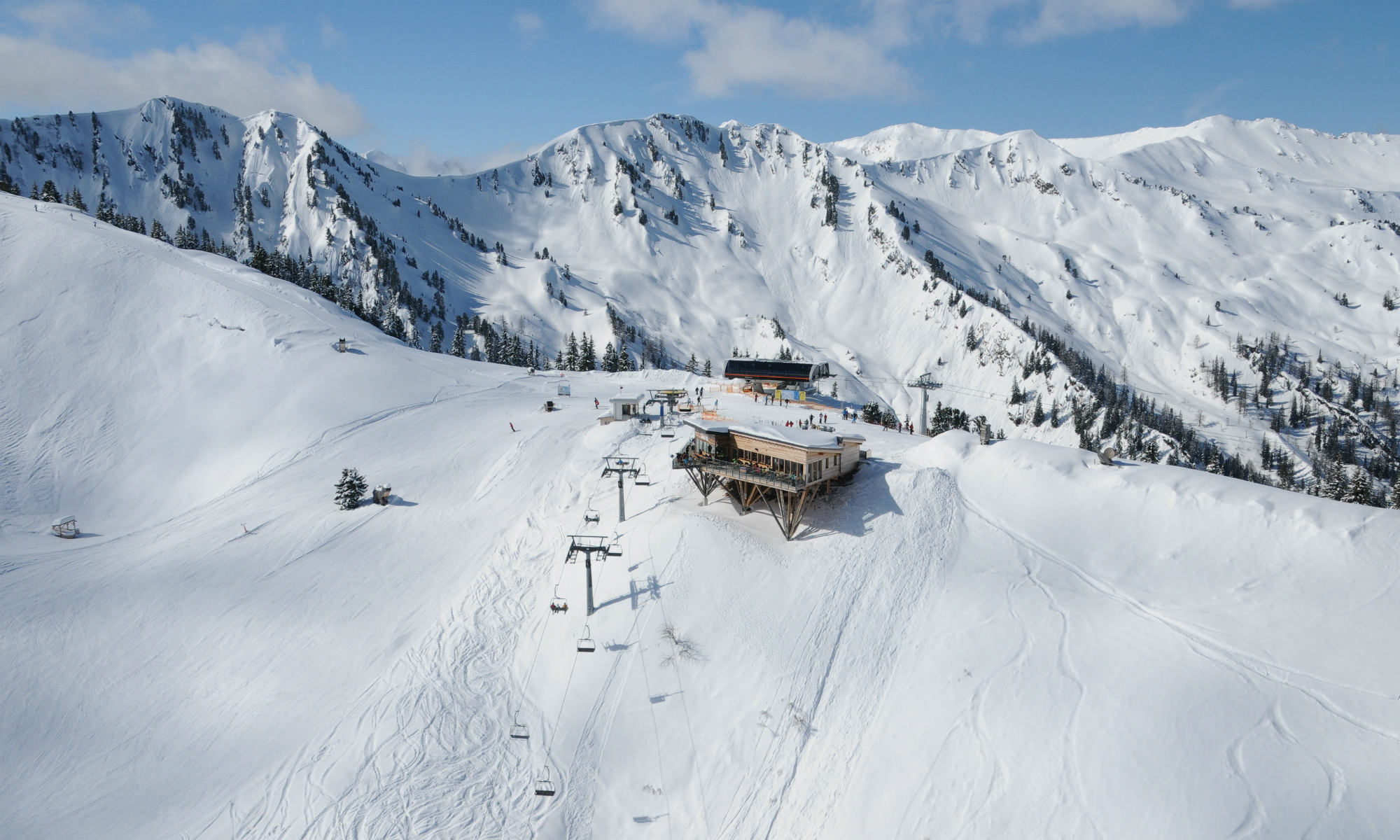 Schladming is a small town in the northwest of Styria, in Austria. Well known for several FIS Alpine World Championships, this skiing destination is located 1.5h from Salzburg and 2h from Villach. The ski resort Schladming-Dachstein offers 230 km of perfectly groomed slopes on numerous skiing mountains as e.g. Hauser Kaibling, Planai, Hochwurzen, Reiteralm, Fageralm or the Dachstein glacier.
The ski resort is perfectly suited for adult skiers of all levels of ski experience as its slopes are very diverse and of a great range of difficulty levels. Especially recommendable for adult skiers are private ski lessons since the chances to find a Danish-speaking instructor in your desired time slot is particularly high. Moreover, private ski instructors have more time to focus on the skiers' needs and skills and can consequently give personally tailored advice. This will decisively speed up the learning process and raise one's spirit and self-confidence. Additionally, private lessons can be arranged far more flexibly.
CheckYeti Tip: Who desires to carry on skiing in the afternoon or evening after the ski lesson will be happy to hear that, on the slopes in Schladming, even night skiing is possible. Everybody who is up to an extra night adventure in a very special atmosphere should definitely check out the lighted tracks on the Hochwurzen mountain in the ski resort Schladming-Dachstein.
Further information on ski lessons in Schladming >
Zell am Ziller: a children's paradise in Austria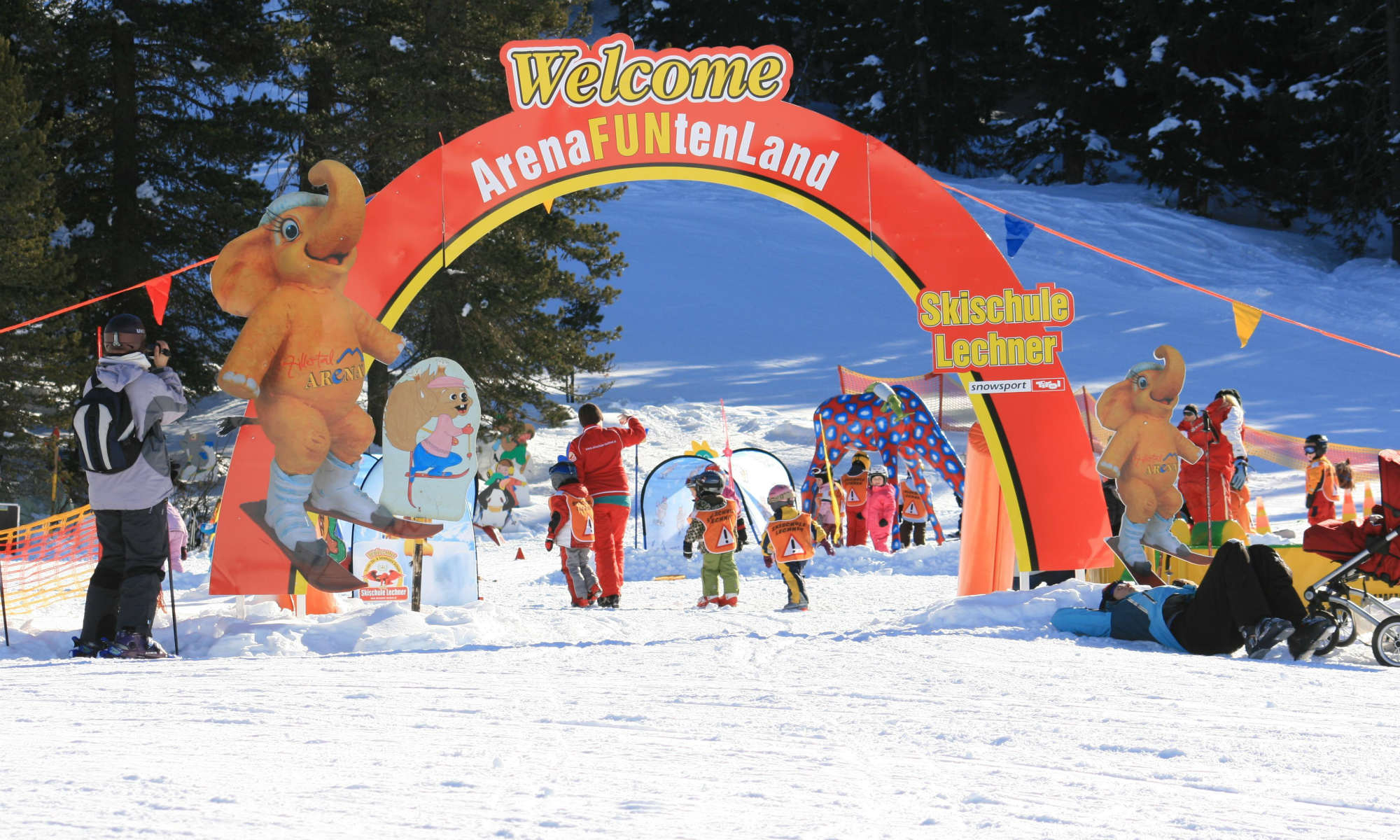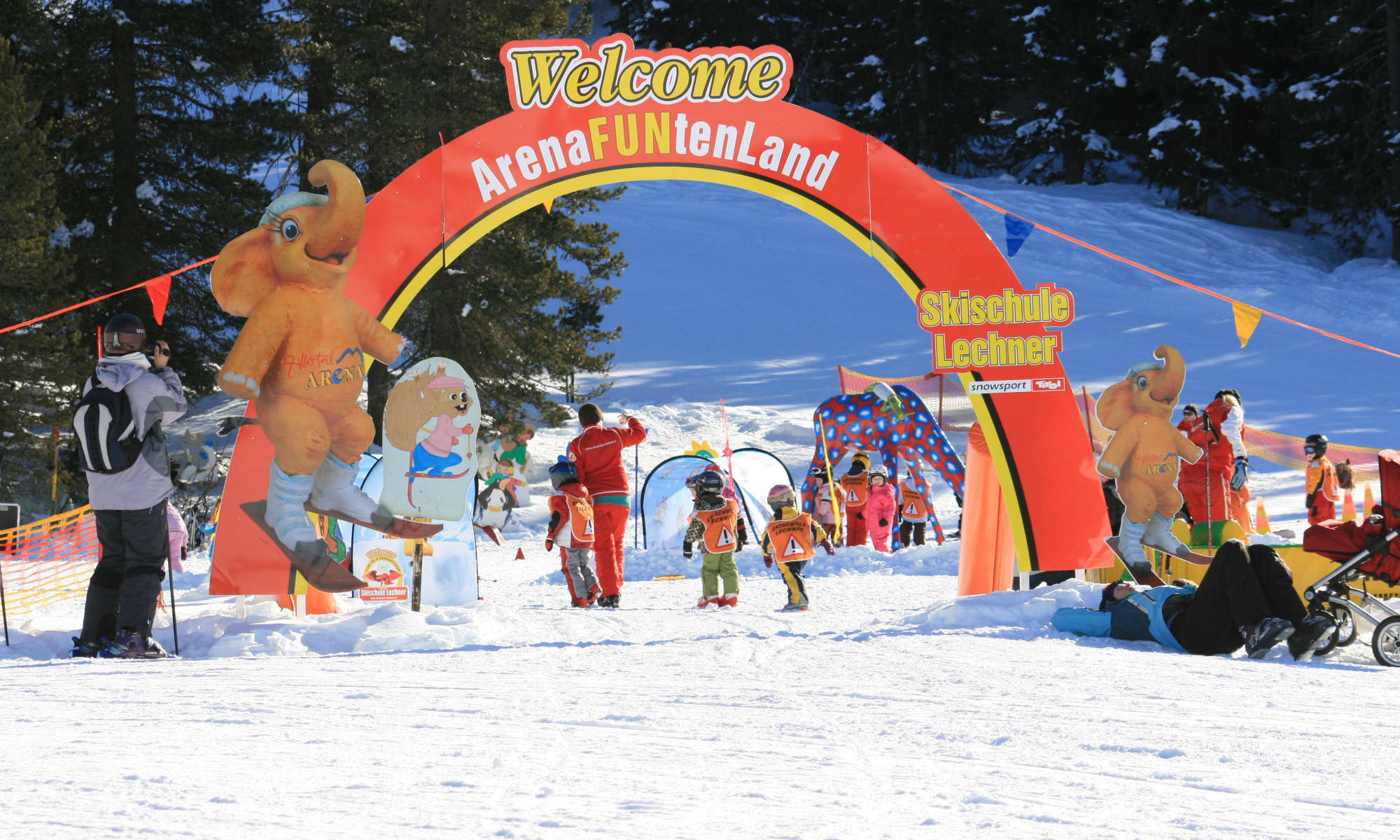 The locality of Zell am Ziller is situated in the Austrian state of Tyrol and is part of the huge ski resort Zillertal Arena which combines 5 big skiing areas. Zell am Ziller is located at a 1h distance from Innsbruck and 2h distance from Munich and Salzburg. Skiers will discover a highly family-friendly ski resort that offers a great variety of ski lessons with Danish-speaking instructors.
The ski lessons in Zell am Ziller welcome kids from the age of 3 upwards and are well prepared for their needs and wishes. The village's Kinderland FUNtenLand is equipped with various training tools for little skiers as for instance a magic carpet, various obstacles and colourful figurines. These support the learning process and make a child's first ski lesson an unforgettably fun experience. Additionally, the village's elephant mascot Funty steps by to motivate and help kids with precious insider tips.
Parents who want to practice with their children what the little ones have learned in their morning ski lesson should try out the slopes on the Rosenalm in Zell am Ziller. Those local tracks are perfect for families with small children as the gentle slopes are specially fitted for beginners' skills.
CheckYeti Tip: For a skiing holiday that is rich in variety and entertains your kids in the afternoons, a sleigh ride is recommendable. The sleigh track Rodelbahn Gerlosstein in Zell am Ziller is 7 km long and illuminated during dark winter afternoons. In order to reach the track's starting point comfortably with your kids, you can use the cable car Gerlossteinbahn, where you can also rent your sledge. On the way down there are several traditional taverns for a short break and a little snack for the kids.
More details on the ski lessons in Zell am Ziller >
Tignes: taking private lessons with the whole family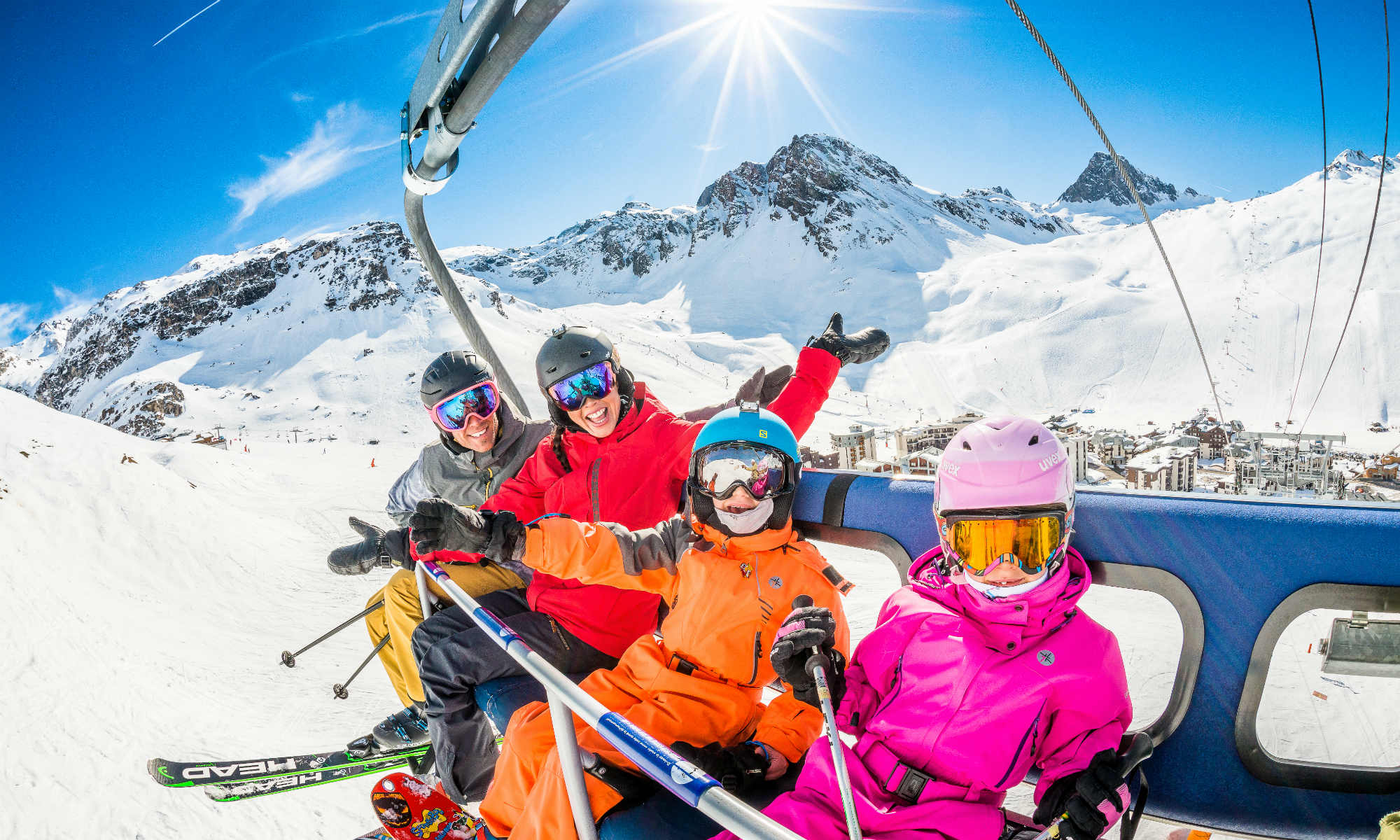 Tignes is located in a high-altitude ski resort (more than 2000 m) in the French Alps. From Lyon and Geneva, this ski resort is reachable in 3h, from Turin in 3.5h. Being part of the giant skiing area Espace Killy, skiers can slide down a great number of slopes from Tignes to the locality of Val d'Isère.
In Tignes, kids find numerous easy slopes, whereas teenagers and adults can conquer the more challenging and thrilling tracks. Because of the territory's variety, this ski resort is perfectly suited for families. Special private lessons with the whole family and a Danish-speaking ski instructor are an ideal occasion to spend quality time with the family while fine-tuning your skiing technique. And since a private ski instructor can give personalised tips the whole family will soon speed over the snow.
CheckYeti Tip: With the 2- to 15-days Tignes-Val d'Isère skipass, the entry to the local swimming baths and ice skating ground is free. With a relaxing evening in the pool or a fun ice skating experience, you can perfectly finish off an exciting family day on the slopes of Tignes.
More detailed information about ski lessons in Tignes >
Flachau: following the steps of professionals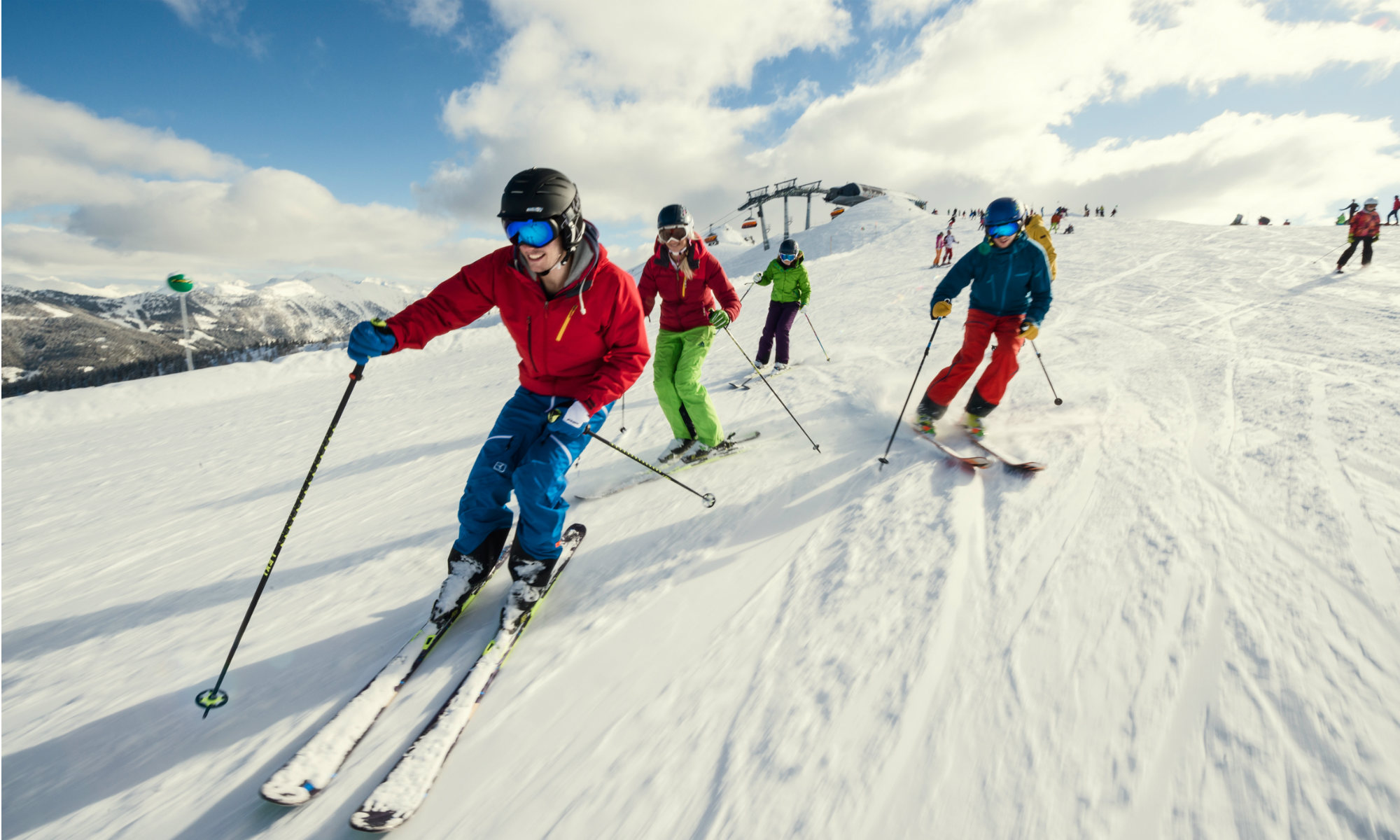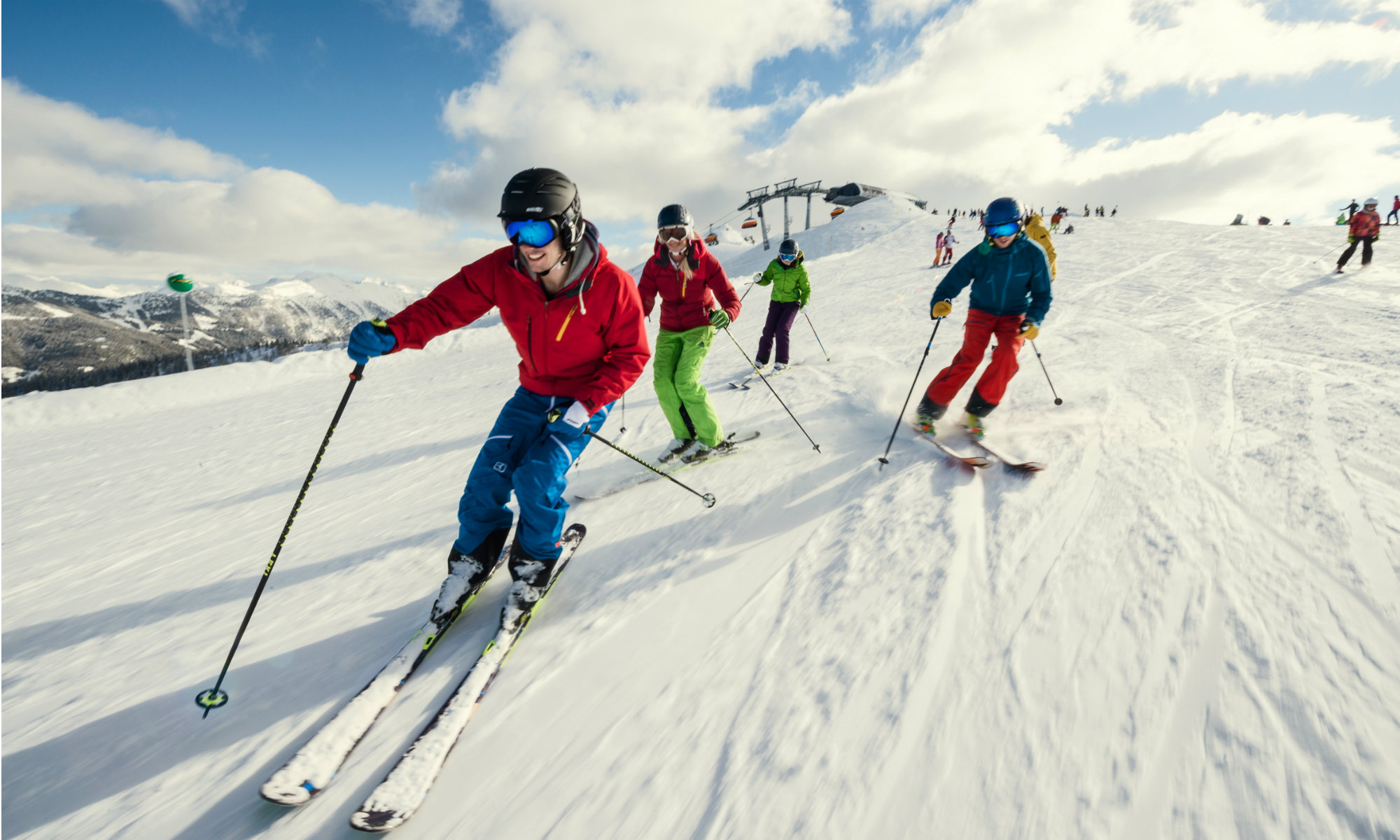 Flachau is located in the Austrian state of Salzburg and is, with its numerous skiing facilities, part of the huge ski resort Ski Amadé. Together with the nearby villages St. Johann im Pongau and Wagrain, it is commonly known as "Snow Space Salzburg". To reach Flachau it takes less than a 1h car ride from Salzburg. From Villach and Munich, you can reach it in about 1.5-2h.
The skiing area in Flachau is the home of the famous Austrian ski racer Hermann Maier. He started skiing in this alpine resort where expert skiers now love to race down the Hermann Maier FIS World Cup run. Flachau is also the venue of the annual Audi FIS Ski World Cup Ladies Night Slalom. This Austrian highlight of the Alpine Ladies Ski World Cup is a floodlit spectacle and the world's fastest ladies slalom.
Thanks to its vast number of challenging tracks for adrenaline junkies, Flachau is the perfect skiing holiday location for advanced skiers who want to follow the steps of professionals. Here, skiers can bring their technique to perfection and reach a new level of skiing experience. In ski lessons for advanced skiers, the Danish-speaking ski instructors will help you correct minor skiing errors and gain more confidence in your own abilities.
CheckYeti Tip: For an occasional change of pace during your skiing holiday a winter hike on one of many beautiful paths around Flachau is recommended. The Griesenkar Winter Way, for instance, starts directly in the centre of Flachau and leads to the Munzenhof and Brennhütte. Here, you can have a snack and take a break while enjoying the amazing view on the mountains.
Further information about ski lessons held in Flachau >
Sölden: the perfect destination for a family skiing holiday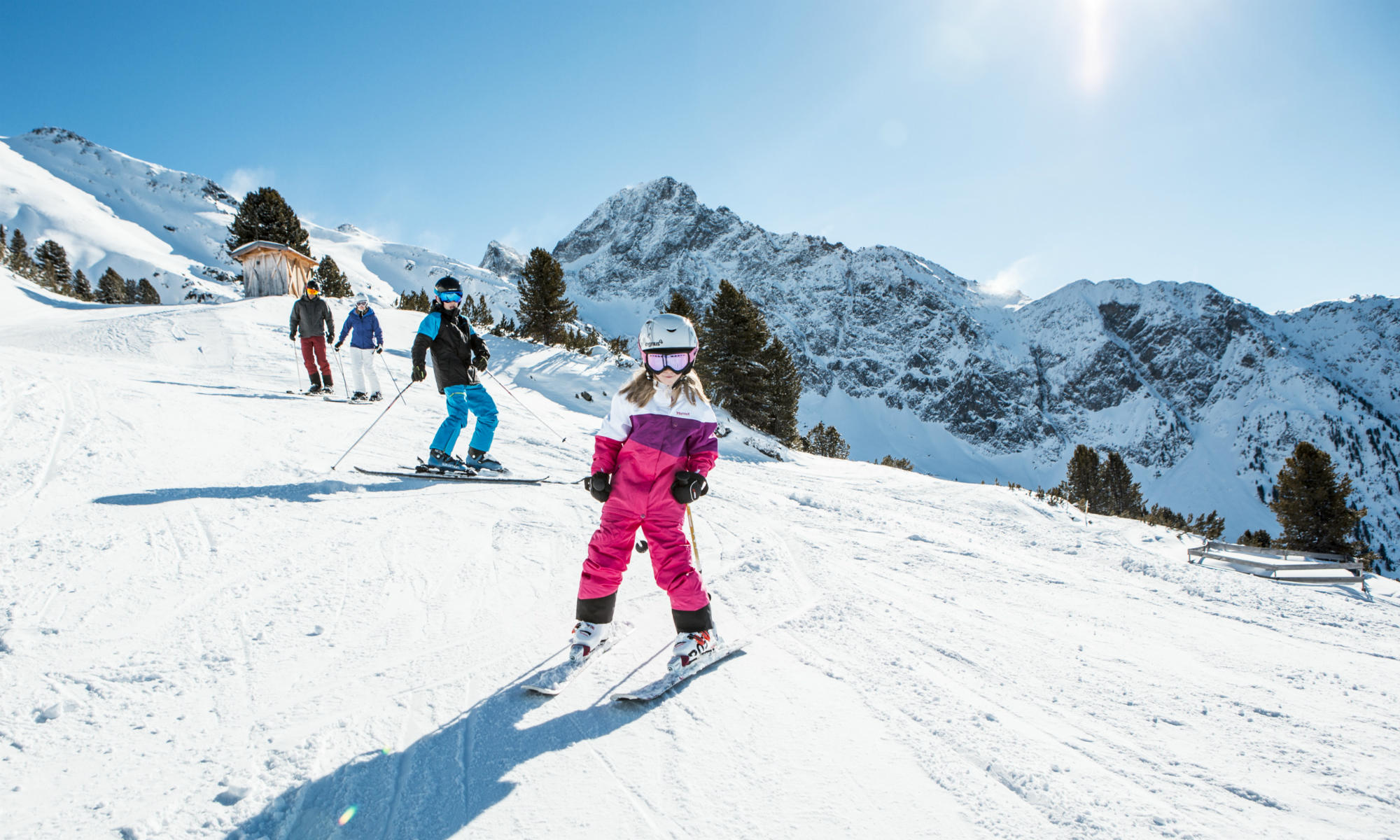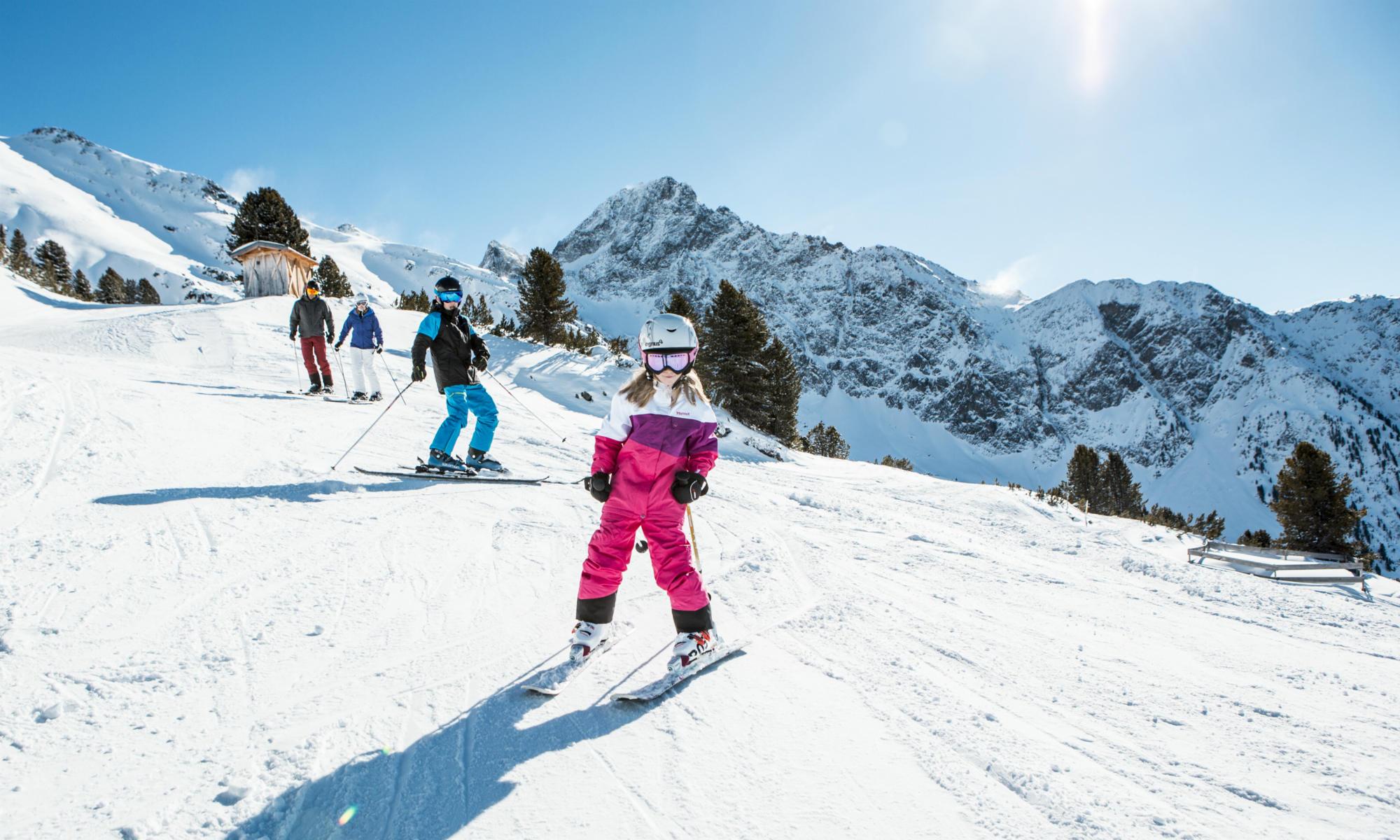 Sölden is located in the Ötztal valley in Tyrol, in Austria. You can reach this ski resort in less than 1.5h from Innsbruck and 3h from Munich. The sunny slopes in Sölden are predominantly classified blue and red which means that they are very family- and beginner-friendly. This makes the ski resort Sölden a perfect destination for your family skiing holiday.
Most of the ski schools in Sölden are located at the Giggijoch mountain. There, the whole family can enjoy a beautiful day on numerous gentle slopes. Moreover, this ski resort is perfectly prepared to host international guests which will make your stay in Sölden as smooth and enjoyable as possible. During the ski lessons with a Danish-speaking ski instructor kids can enjoy themselves on the snow and get to learn the basic skiing techniques. In the meantime, parents can explore the ski resort together with a professional ski instructor and work on their skiing style.
CheckYeti Tip: One of this skiing area's advantages is that you have a very high snow reliability as it is situated between two glaciers, the Tiefenbachgletscher and the Rettenbachgletscher. Thanks to this, Sölden benefits from a relatively long winter season that starts in September and lasts until May. That allows you to be more flexible when planning your next skiing holiday.
More details about ski lessons in Sölden >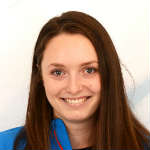 Being from Salzburg, Austria, I learned to ski at the age of 3. Since then, skiing has been a very special highlight of my winter seasons!