The ancient island of Santorini constitutes a wonderland of rich culture and history, with nature unique to its island. According to Greek mythology, the island was created from a chunk of earth thrown into the sea by Euphemus, son of Poseidon.
Santorini (originally named Thira) is the aftermath of an enormous volcanic eruption that destroyed the first settlements of once a single island and created the geological Caldera that now lies in the Aegean Sea.
Now, the island is a world-known destination for its spectacular cliff formations, black sand beaches, steep and narrow streets, with an active volcano that lies under the island's volcanic depression. Many boat tours offer the chance to discover this unique underwater crater. We show you some helpful tips & advice to help you find the perfect boat tour, or perhaps inspire the next location for your upcoming trip!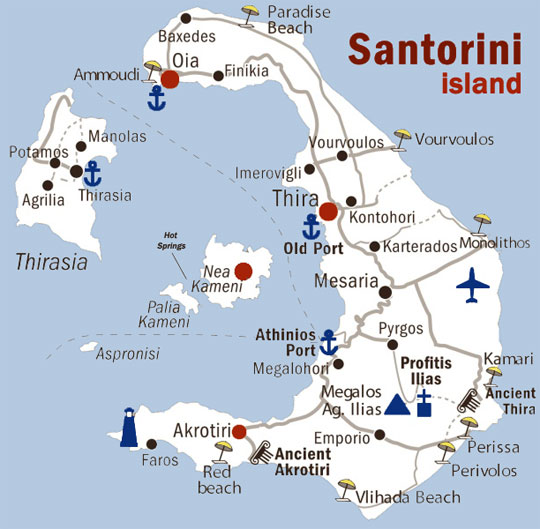 A giant central, rectangular lagoon which is surrounded by high, steep cliffs is what forms the island of Santorini, made up of main island Thira; Thirasía and Aspronisi at the periphery and the two crater islands in the center, Nea Kameni and Palia Kameni.
When it comes to getting to all the different islands, a boat trip can be a perfect activity to fully explore all of its attractions in a relatively short period of time and from the comfort of a sea-going vessel.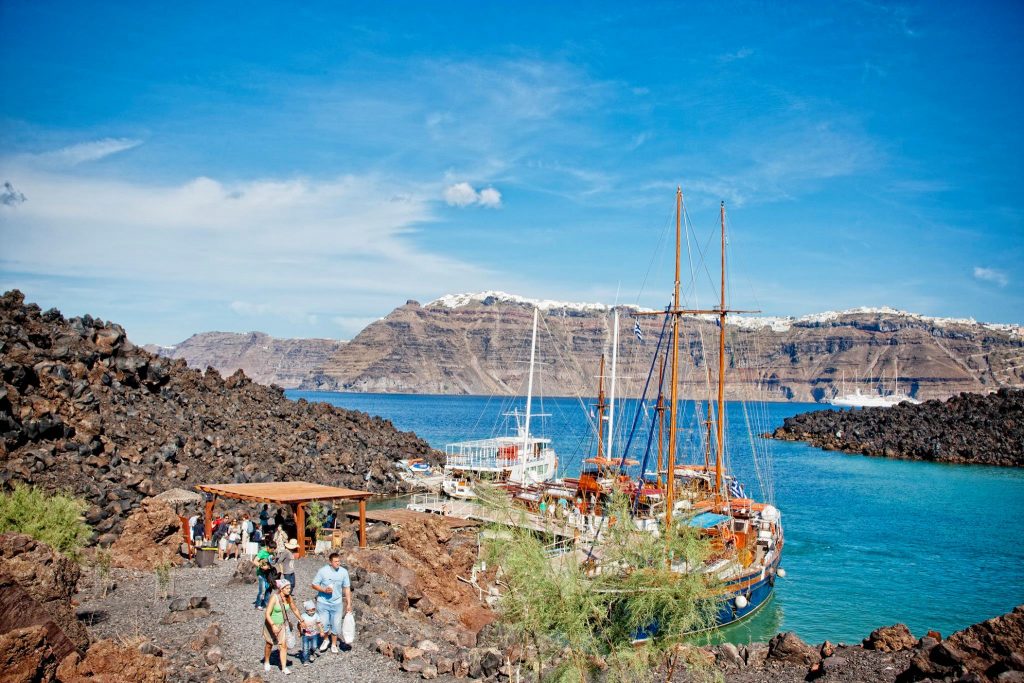 Departing from the towns of Oia, Fira, Kamari, and Akrotiri, you can find many tours to visit the coastal waters of the island. From traditional wooden sailing boats to fast motorboats and modern catamarans, you can embark on a day trip adventure to Santorini's hotspots, many of which are only accessible by boat.
Some of these spots include the Agios Nikolaos beach, right by Oia, it is home to a quaint white church, spectacular views of the volcanic caldera and cliffs lined with traditional white-painted houses.
You also have the chance to sail towards Thirasia island for a visit. With just 300 inhabitants, this island is a vivid image of Santorini before it became one of the world's most popular destinations. This slow-paced, quiet island is home to pristine beaches and a few authentic taverns and cafés, which has succeeded in keeping true charm and essence.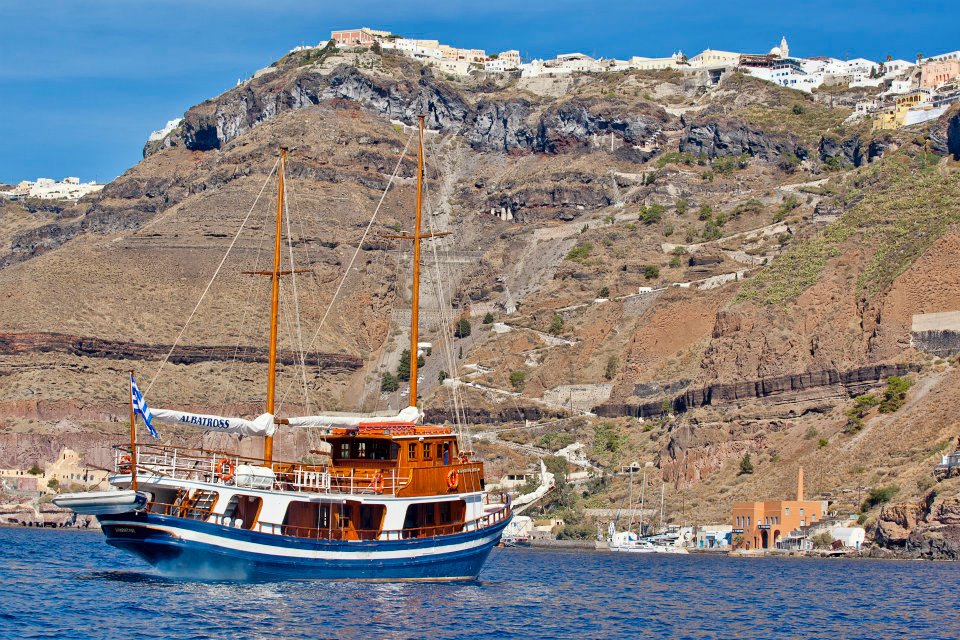 Other activities like swimming in the caldera, snorkeling on the rocky seashore, or even hiking up to the volcano are possible depending on your tour. During the trips, you can also get a taste of the gastronomical culture of Santorini, with some tours offering a delicious traditional Greek lunch buffet style that you can enjoy aboard a catamaran together with your friends or family.
One of Santorini's highlights appears when the end of the day arrives. Listed by many travelers as the world's most beautiful sunset, a boat trip is a perfect way to get away from the crowded streets of Oia that thousands of tourists stroll right before the sun goes down.
Both private and group tours are a great choice if you want to enjoy this once-in-a-lifetime experience.