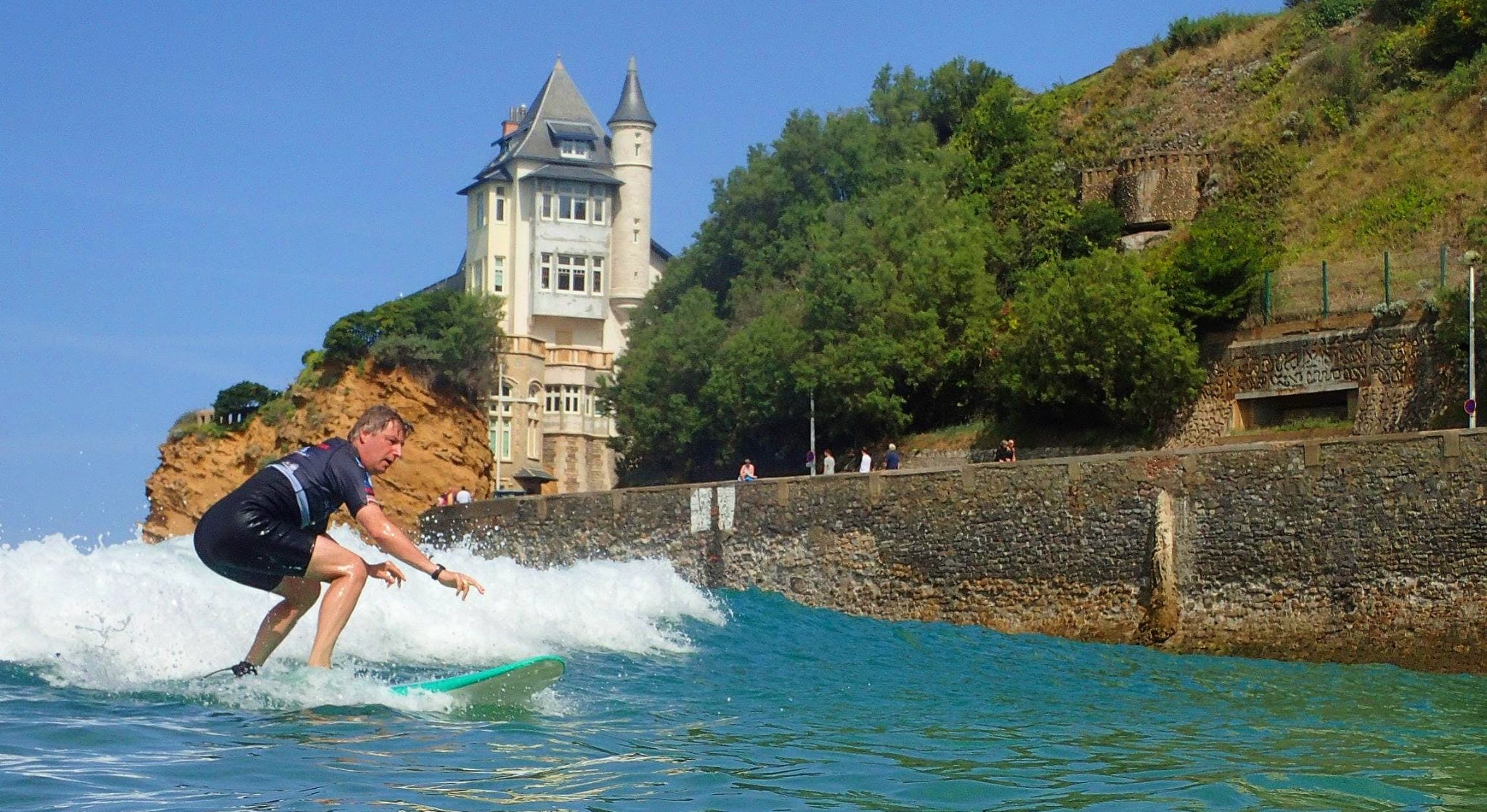 The reason for choosing Biarritz as a destination for your surfing holiday is easy: Biarritz was, in fact, the birthplace of surfing in Europe.
In 1957, the American Peter Viertel shared his passion for surfing with the city of Biarritz. Since then, the town has been recognized as a landmark for surfing in Europe. The numerous beaches with different characteristics make this resort perfect for anyone who wants to surf in Biarritz, whether beginner or advanced surfer.
When surfing in Biarritz, you can expect perfect waves for surfing throughout the year, numerous surf schools where you can learn to surf or improve your surfing technique safely and 6 wonderful beaches with a fantastic view of the city.
Biarritz is a destination that satisfies everyone's wishes because not only is it an ideal place for surfing, it is also a place of historical and cultural interest. Worth a visit are, for example, Napoleon's villa, the Aquarium (Le Musée de la mer – great for families) and the city's lighthouse. This combination of things to do makes it the perfect place for a trip with your family or a group of friends where not everyone is interested in surfing lessons.
Every day, those who wish to learn how to surf, can rely on one of the many surf schools in Biarritz, while those who wish to do something else have many more possibilities than in other places in the area. In fact, in addition to spending the day on the beach, you can also decide to visit some cultural sites or go shopping in the city.
In this article, we will go into the particularities of surfing in Biarritz. The aim is to provide a complete and detailed overview of what you can expect during a surfing holiday in Biarritz.
What can I expect from surfing in Biarritz?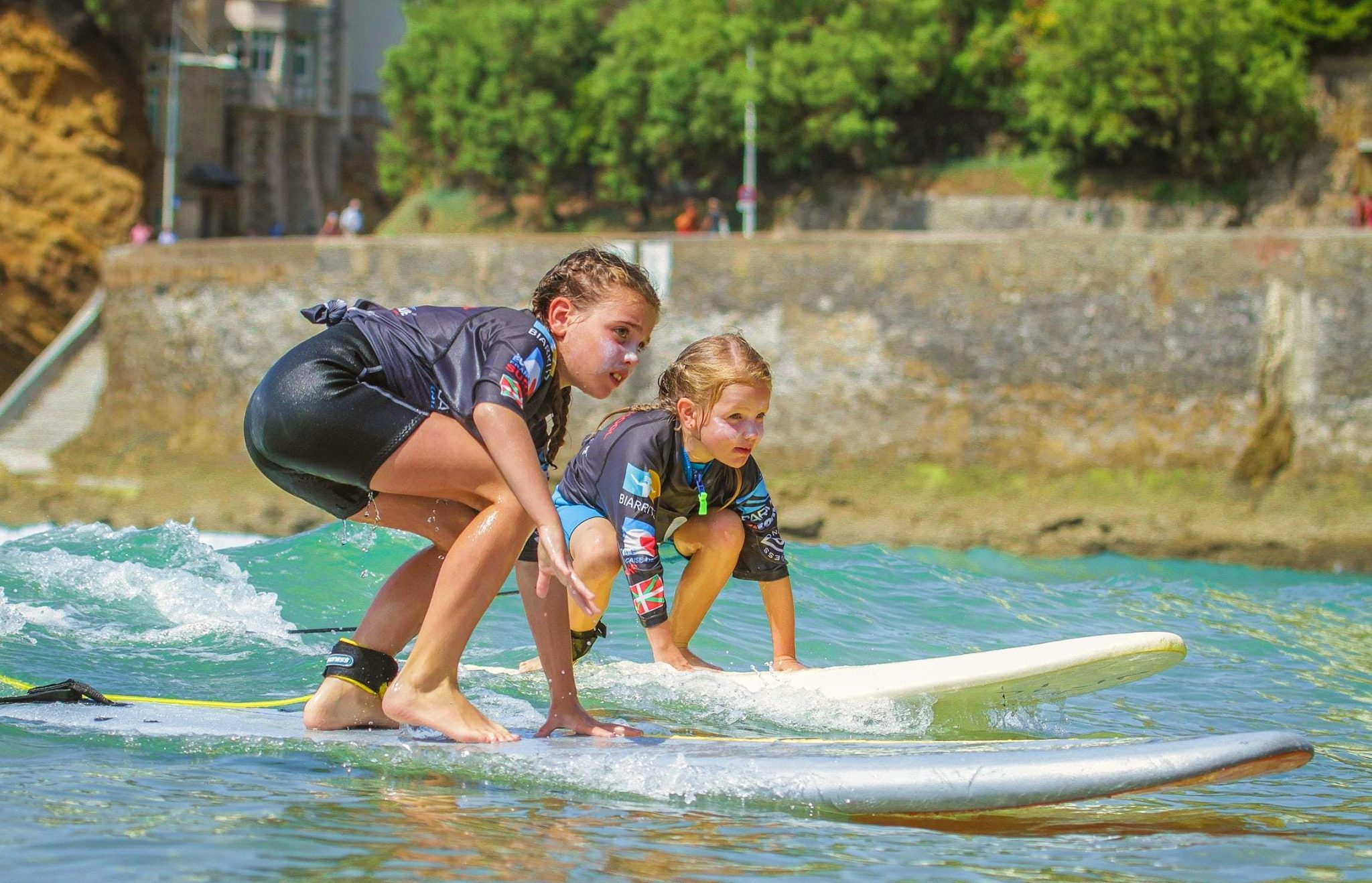 You can go surfing in Biarritz 365 days a year. The city has 6 beaches which, going from south to north, are La Milady, La Marbella, Plage de la Côte des Basques, Plage du Port Vieux, Grande Plage and Plage du Miramar.
The first 3 beaches on the list: La Milady, La Marbella, Plage de la Côte des Basques, are located south of the city of Biarritz and overlook the Côte des Basques. These beaches are best for those who want to learn to surf in Biarritz. Plage du Port Vieux is a very small beach located in the centre of the city with a wonderful view of the historic buildings that make up the old port. Finally, further north, between the old town centre and the lighthouse, there are 2 more beaches: Grande Plage and Plage du Miramar. These two beaches are more suitable for advanced surfers.
Although the best time for beginners is summer, due to the smaller waves, the surf schools in Biarritz are able to find the ideal daytime and location any month of the year in order to carry out surfing courses for beginners. Biarritz is a city with a very high number of tourists. As such, there are often large crowds on the beach, as well as in the water. This could be a bit of a challenge for surfers, especially if they are absolute beginners. For this reason, June and September are the two months during which the beaches are perfect for beginners' surfing lessons in Biarritz.
Private and group surfing lessons in Biarritz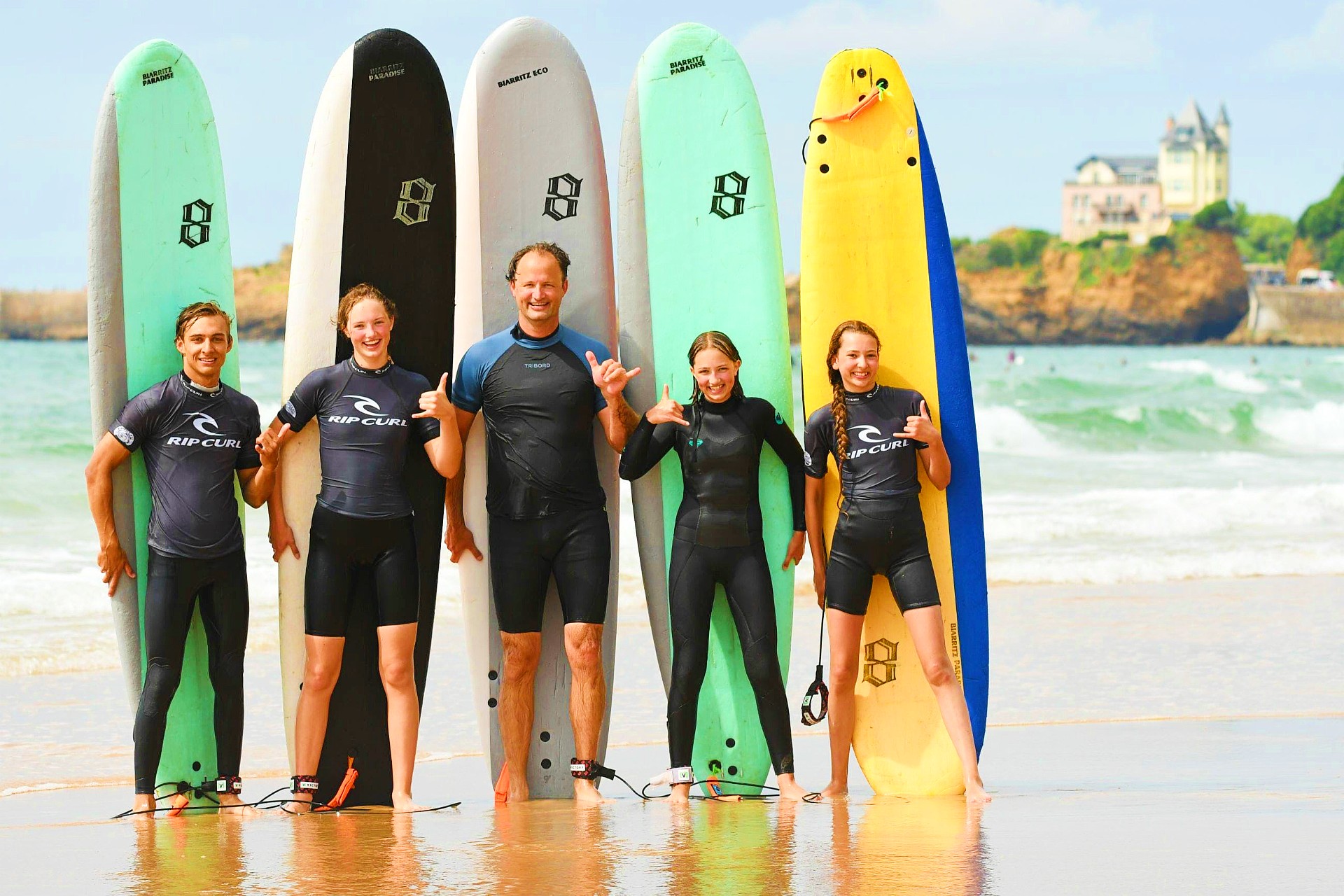 Group surfing lessons are held in groups of up to 8 people. If you are in a group of friends or with your family and wish to learn all together, or if you prefer a lesson tailored to your individual abilities, you can book a private lesson. Private surfing lessons in Biarritz can accommodate groups of up to 6 people.
Both private and group lessons last 1 and a half hours. Should you wish to have two sessions, you can also book lessons for 4 hours per day where 2 lessons are combined in one day. The two training sessions allow you to take a break in between to recover your strength and maybe have a light snack. The 4-hour lessons are most recommended for those who already have an advanced-intermediate level. Indeed, a 1 and a half hour surfing lesson already requires a lot of physical effort. One important thing to remember is that the starting time of the courses is updated every day according to the waves and the tide.
What to do after a surf lesson in Biarritz
Besides being a famous surfing hotspot, Biarritz is a vibrant city, beloved since the second half of the 1800s by the French aristocracy, especially by Napoleon's wife, Eugenie. It was also the villa built by Napoleon for his wife that quickly transformed the former fishing village into a popular and highly renowned tourist resort. The 1900s brought new possibilities for development in Biarritz. In fact, Biarritz was a strategic meeting place not only for French high society but also for many Spanish and Russian aristocrats who decided to build numerous villas in art nouveau, art deco and baroque style.
The place also attracted many artists and well-known names such as Coco Chanel who, for example, opened her first fashion house in Biarritz. Thanks to the combination of all these factors, Biarritz today offers great historical wealth and architectural beauty.
Visit the surroundings for more surfing experiences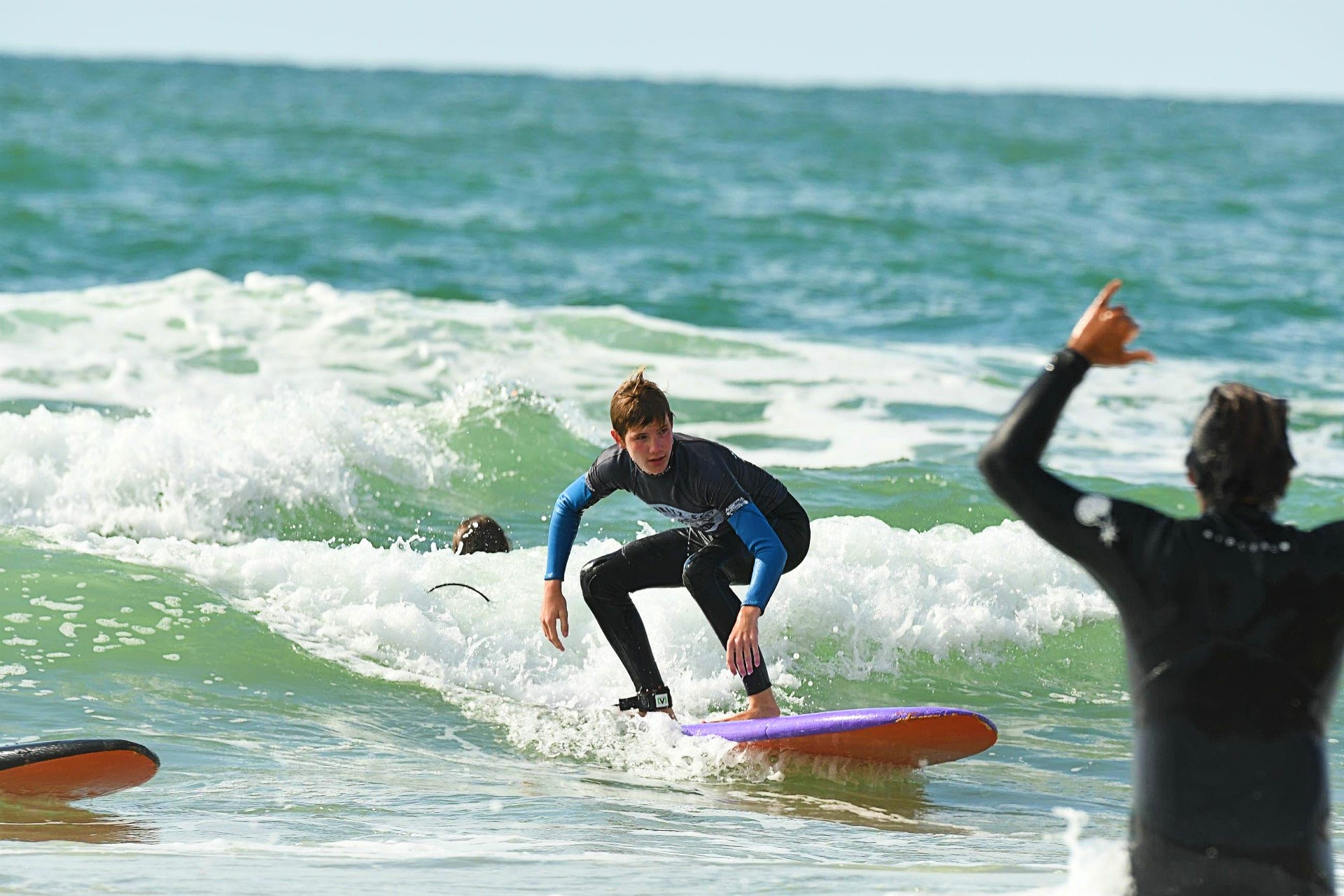 Not only the city of Biarritz is famous for surfing, but so are its surroundings. On the border to Spain, for example, you will find Hendaye, which, thanks to its protected beaches and medium-low waves, is also known as a great place to learn how to surf in France. Furthermore, Anglet, 4 km from Biarritz, is another place where visitors can try surfing. With a longer and less sheltered coast than Biarritz, Anglet offers great excitement for all surfers. 40 minutes by car further north, you will come across 2 more seaside towns not to be missed: Hossegor and Seignosse. These two resorts offer surfing holidays in total tranquility surrounded by pristine nature.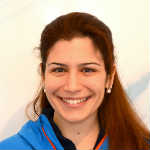 Born in South Tyrol, I love mountains and nature in general. Whether it's 30 degrees or -10 degrees, my motto is "always find new challenges and new emotions in the nature".