Surfing in Hossegor is a real pleasure for the senses: long sandy beaches surrounded by nature, beautiful natural dunes that create a buffer between the beach and the town, and perfect waves. If you want a relaxed surfing holiday, away from the crowds, Hossegor is undoubtedly the best place to go.
The seaside resort is very famous in the surfing world. Indeed, Hossegor is renowned for hosting the World Surfing Championships since 1987. This annual event is the only leg of the competition that takes place in Europe. For this reason, all European surfers gather in the French resort from the end of September to the beginning of October to support their champions.
However, not only Hossegor is perfect for surf lessons. In fact, the entire area along the south-western coast is well known for its great surfing conditions. Each location has its own peculiarities. In this article we will talk about surfing in Hossegor and what makes it so special. We will also compare Hossegor with some similarly famous locations nearby. This way, after reading the article, you can be sure whether surfing lessons in Hossegor are what you are looking for.
Why is Hossegor perfect for surfing lessons?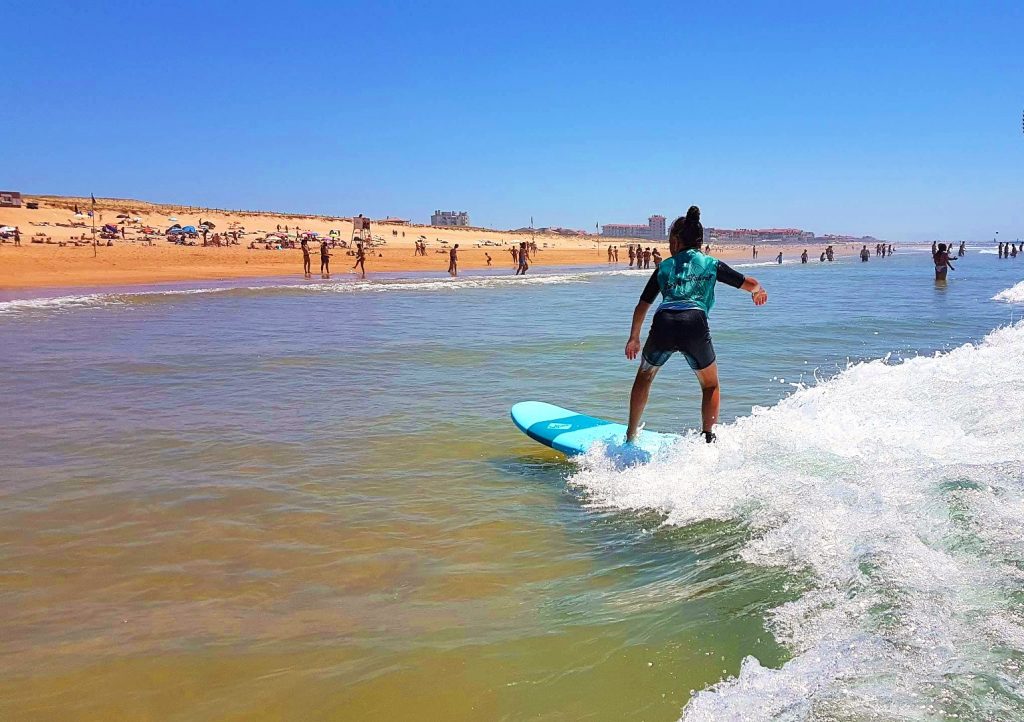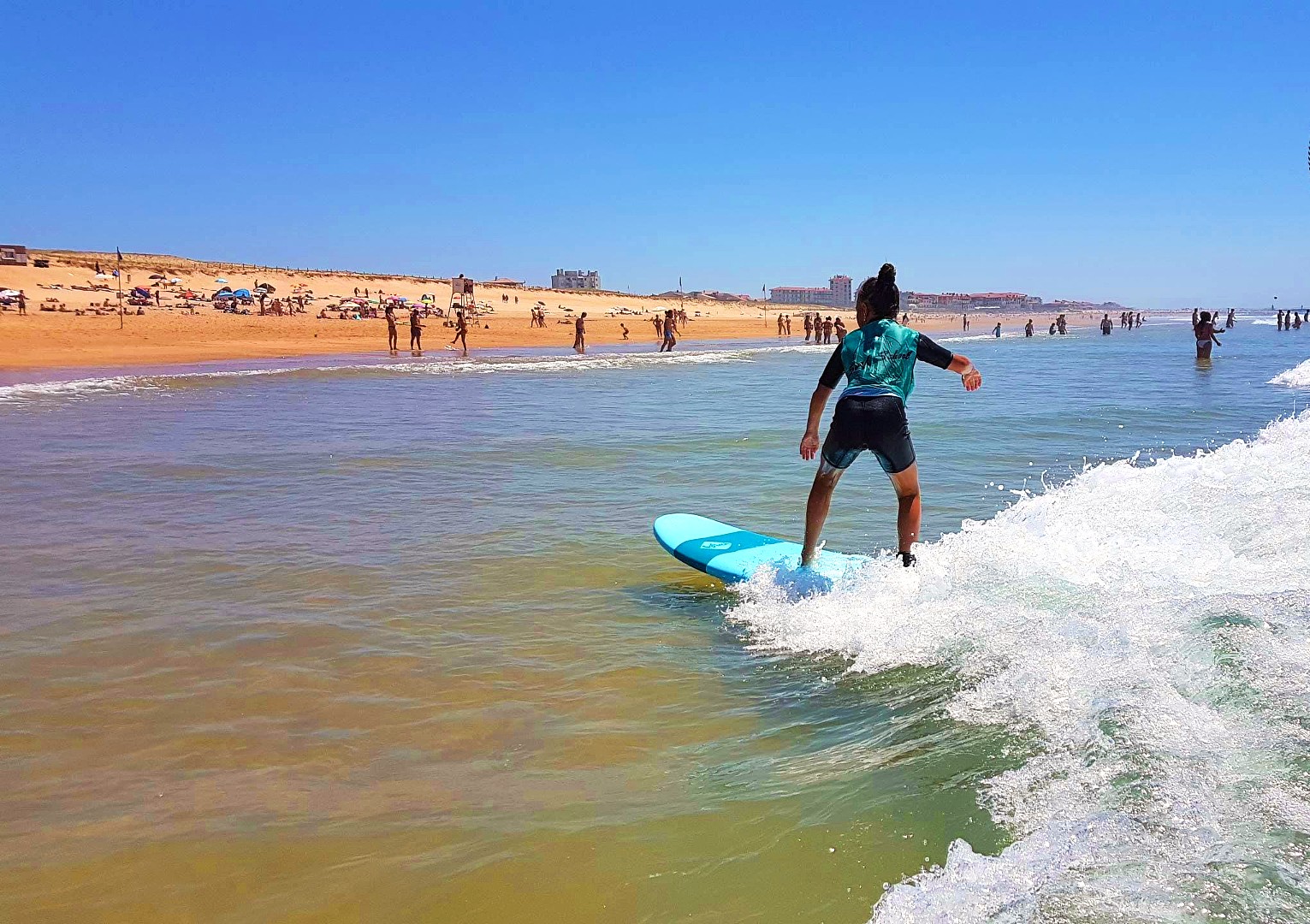 Surfing lessons in Hossegor are suitable for all levels. The strength of the waves during the day varies, which is why the surf schools in Hossegor adapt the starting times for group and private surfing lessons according to the waves.
The beach in Hossegor is extremely long so visitors can spread out without having to congregate too closely and practice social distancing both on the beach and in the water. This makes it perfect for those who want to learn how to surf or improve their skills. Indeed, every surfer has enough space for themselves and does not have to worry about dodging other people.
Hossegor beach is quite far from the city and is surrounded by beautiful nature. 7 km long, the coast is divided into several beaches including: La Sud, La Nord, La Gravière and Les Culs Nus. Although each section is a continuation of the other, they all have their own distinctive features. La Sud, for example, is a beach recommended for all beginners. Here, waves are usually medium in height, making them ideal for those who want to take their first surfing lessons in Hossegor. La Nord has great swell and is normally surfable at any tide. La Gravière is perfect for advanced surfers. Les Culs Nus offers waves suitable for all levels.
The beaches are located between the ocean and a lake. The lake itself has 5 more beautiful beaches: Les Chênes-Lièges, Blanche, Hortensias, Rey, and Parc. The lake, although not suitable for surfing, offers numerous other water sports activities and it is a popular place for all lovers of the sea and nature. Formed by the Adour river, the water basin has been artificially connected to the ocean and for this reason, it is subject to tidal variations and is populated by numerous animals, both marine animals and birds.
Group surfing lessons in Hossegor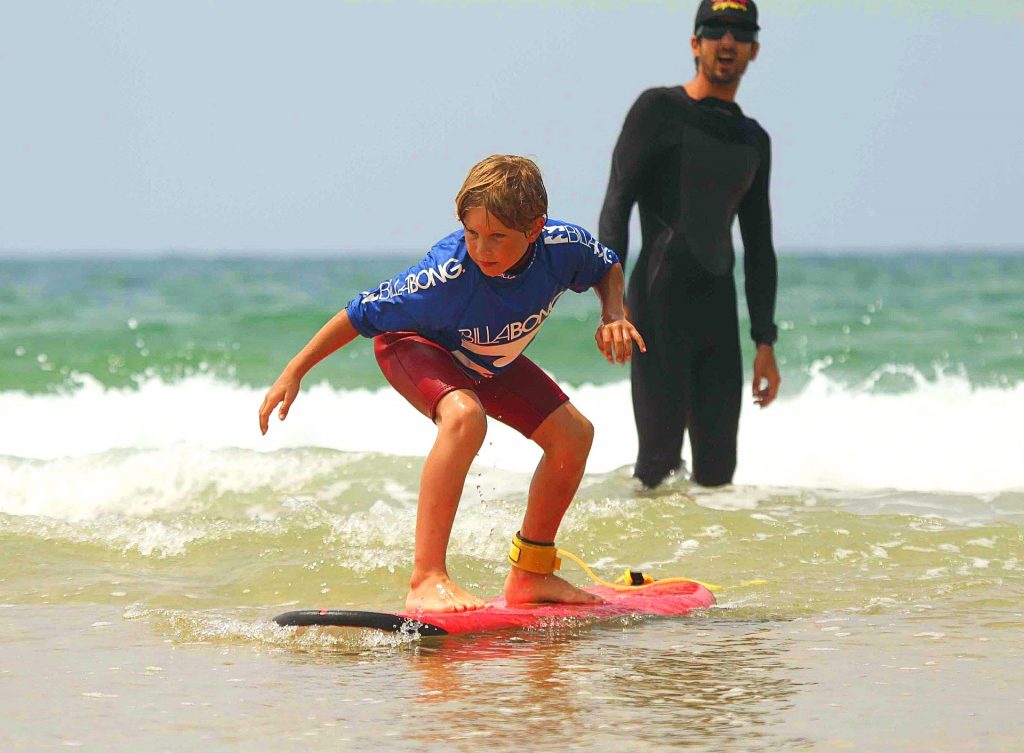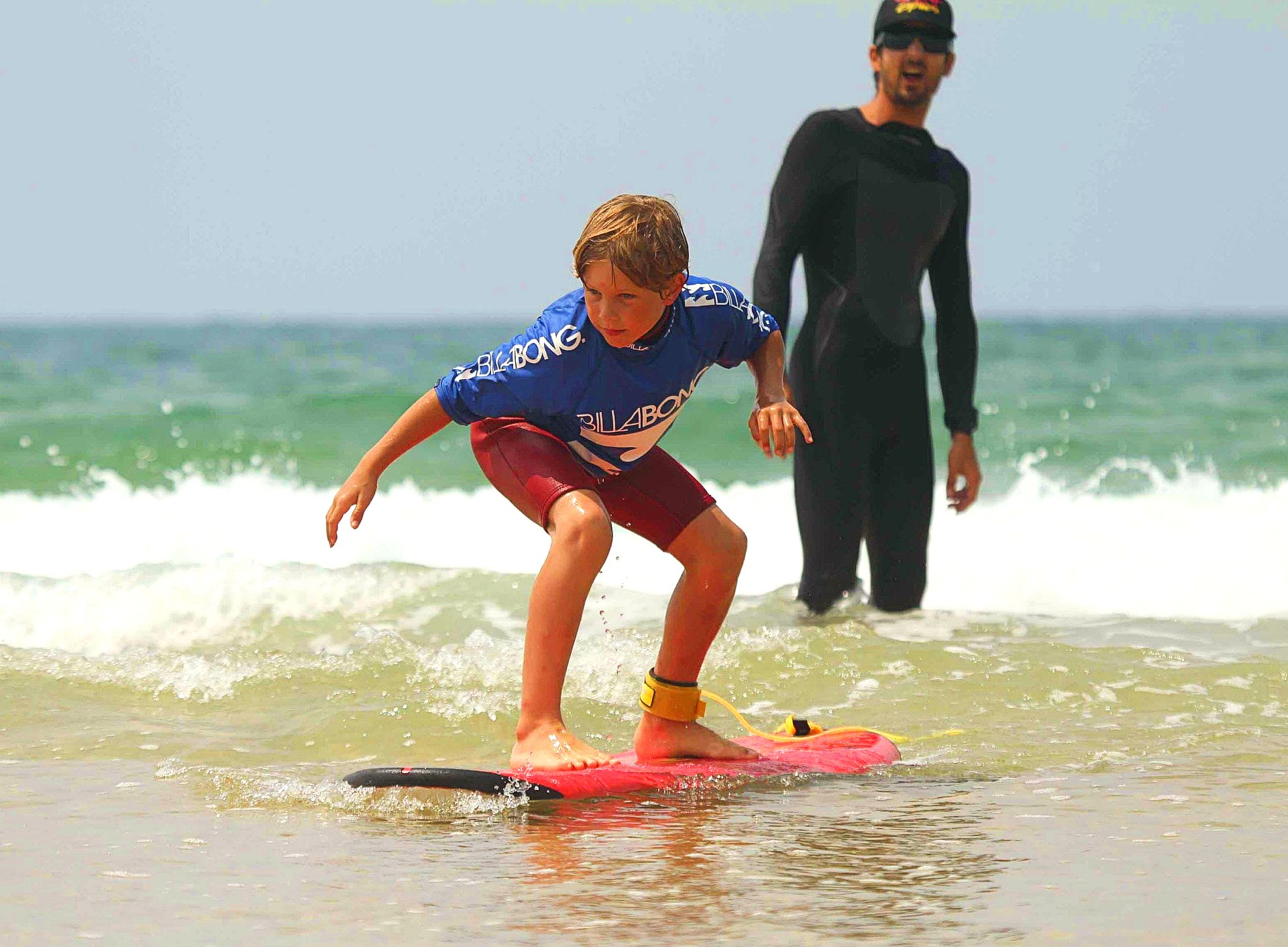 Surfing in Hossegor requires a minimum age of 6 years. This is in fact the lowest age required by most surf schools in Hossegor. Groups are usually formed by people of a similar age and level and typically comprise a maximum of 8 participants. Courses last from 1 to 5 days depending on your preference and can last from 1 hour and 30 minutes to 4 hours a day. Lessons can be taken on different sections of the beach like: Gravière, Plage Sud or Culs Nus.
Surfing near Hossegor: The Surfing Coast
The beating heart of surfing in France is the southwest coast which starts in the French Basque Country and ends in the Landes region. This is where, every year, all the surfers meet as it is a real hotspot due to its many beaches with perfect waves. Along the coast, which can be covered by car in about 1 hour and 40 minutes, there are many famous surf spots. Going from south to north, there are 3 great locations that best characterize this coast.
Hendaye: The first town after the Spanish border, Hendaye, is a beginner's paradise, and welcomes surfers throughout the year who have finally decided to take their first lessons.
Biarritz: Continuing eastwards along the coast, you will find Biarritz, a legendary place because it is here that surfing was first introduced to Europe. Together with Anglet, Biarritz offers beaches that are accessible directly from the city and, being as famous as they are, the beaches tend to be very crowded.
Hossegor: Finally, in the Landes region, you will find Hossegor, which is quite the opposite of Biarritz, since the beach is further away from the city and less crowded.
Surfing lessons in Seignosse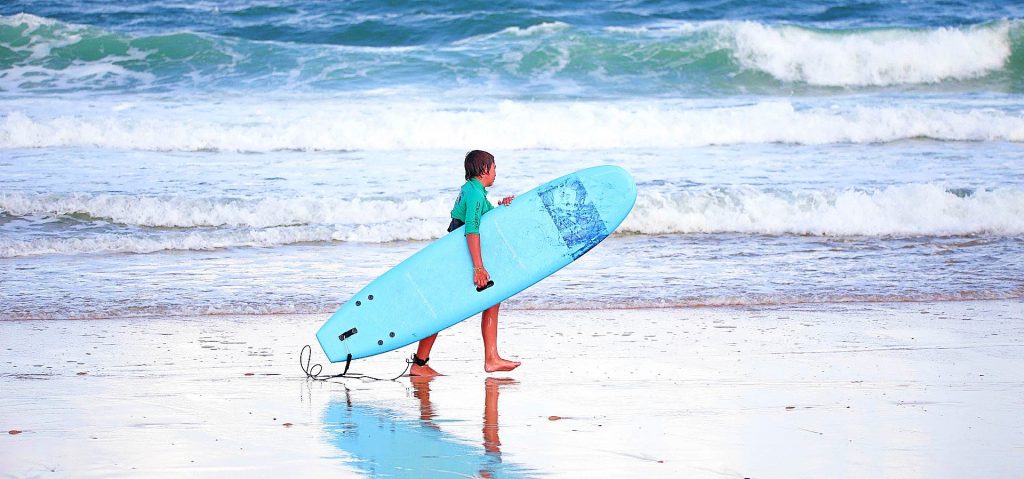 Bordering on the beach of Culs Nus, there is another popular surfing spot: Seignosse. Seignosse is the natural extension of the sandy beach of Hossegor and for this reason, you can book surfing lessons in Seignosse just as well as in Hossegor. The advantage of booking a lesson here is that although the beach maintains the same characteristics, the town is still a little further away from the coast (10 minutes by car) and since the location is a little less well-known, there tend to be fewer people on the beach, allowing you to enjoy an even more relaxing experience.
Surfing lessons in Vieux Boucau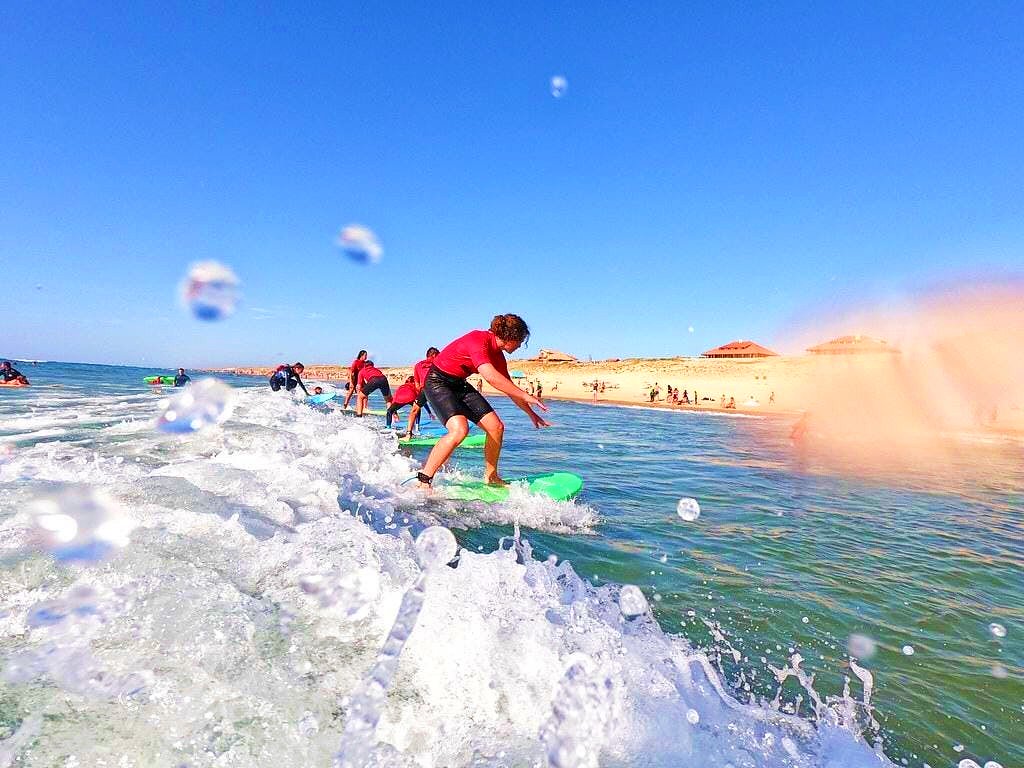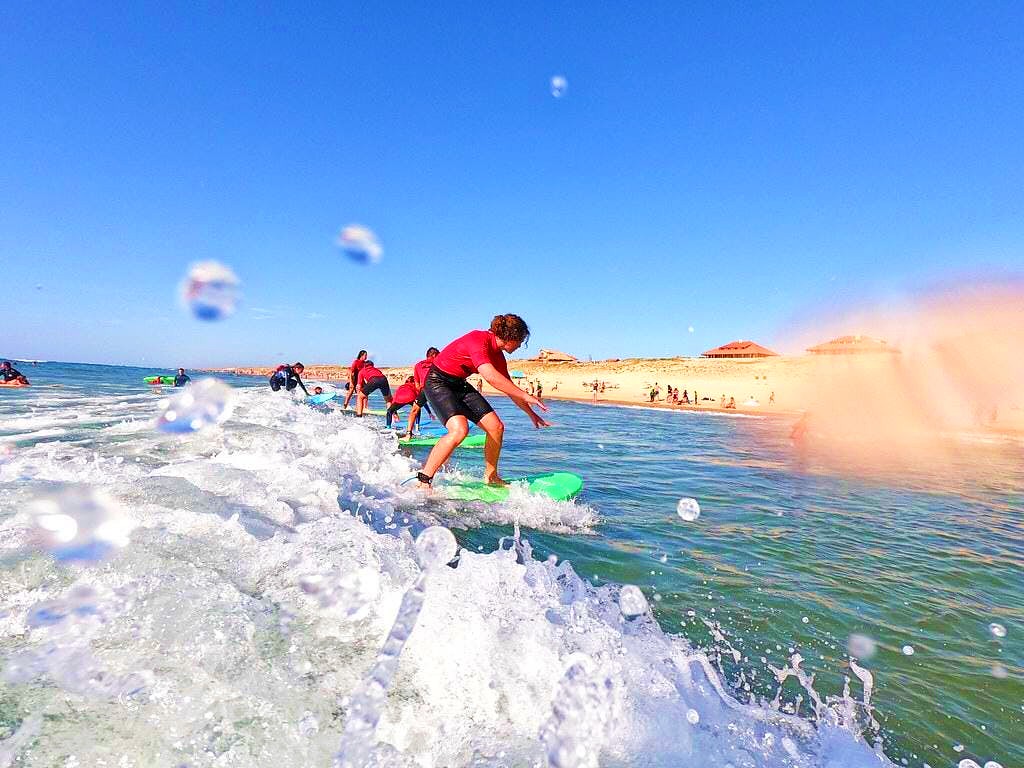 If you are staying further north than Hossegor and Seignosse for your holiday, Vieux Boucau may be easier to reach. Surfing lessons in Vieux Boucau are similar to those in Hossegor as the two towns are just over 20 minutes apart and have very similar characteristics: the long beach, the dunes and the lake. Indeed, Vieux Boucau also has a lake, Lac Marin de Port d'Albret, which is located in the southern part of the town and which offers very beautiful and family-friendly beaches.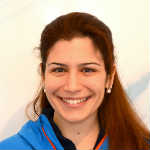 Born in South Tyrol, I love mountains and nature in general. Whether it's 30 degrees or -10 degrees, my motto is "always find new challenges and new emotions in the nature".