Europe offers countless fascinating and spectacular places to snorkel. But, which are the most beautiful? In this article, I will show you the 10 best snorkeling spots in Europe. These spots have been selected for the pureness of its waters and exceptional marine life.
Many of these locations are Nature Parks and are part of the European Natura 2000 initiative to preserve the planet's biodiversity.
Here is our ranking:
1) Snorkeling in the Cala Coticcio, Italy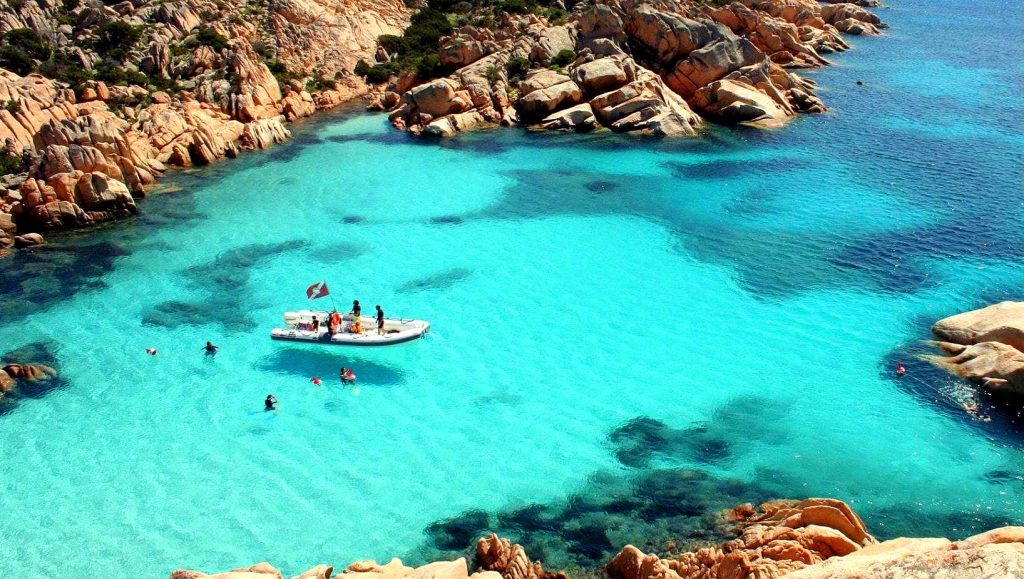 Cala Coticcio is located on the island of Caprera, part of the archipelago of La Maddalena, in Sardinia, Italy. Being part of the National Park of La Maddalena Archipelago and a Natura 2000 site, the largest network of protected areas in the world, this uncontaminated cove is protected by strict regulations to preserve the species and habitat. Cala Coticcio, known as Tahiti, has fine white sand and a clean sea with bright blue reflections, creating a natural swimming pool. The sea here is rich in marine life, makes it a true dreamscape for any snorkeller.
This is the best place to snorkel: the scuba diving schools, in fact, offer tours by boat with a stop in Cala Coticcio. They will provide you with a tube, mask, and fins for snorkeling. The shallow waters and sheltered shore create a glass sea with almost no currents.
If you want to know more about boat excursions in the archipelago of La Maddalena, read our article: Boat trip to La Maddalena: Which tour to choose to spend an unforgettable day
2) Snorkeling in Balos, Greece

Balos is a lagoon located on the island of Crete, Greece. This world renowned natural wonder is a peninsula, so if you are standing on Balos beach, you will have the sea both in front of you and behind you. As part of the Natural 2000 project, you will find many rare species of flora and fauna, including the loggerhead or Caretta-Caretta sea turtles and monk seals.
The easiest way to do snorkeling in Balos is by taking a boat tour. In this case, you will have to bring your own snorkeling equipment. Make sure to pack yours because the pureness of the water, the variety of its nuances and the creatures that live in it are absolutely worth seeing.
If you want to know more about snorkeling in Crete, read our article: The 5 best snorkeling boat trips in the North of Crete.
3) Snorkeling in the Blue Lagoon, Malta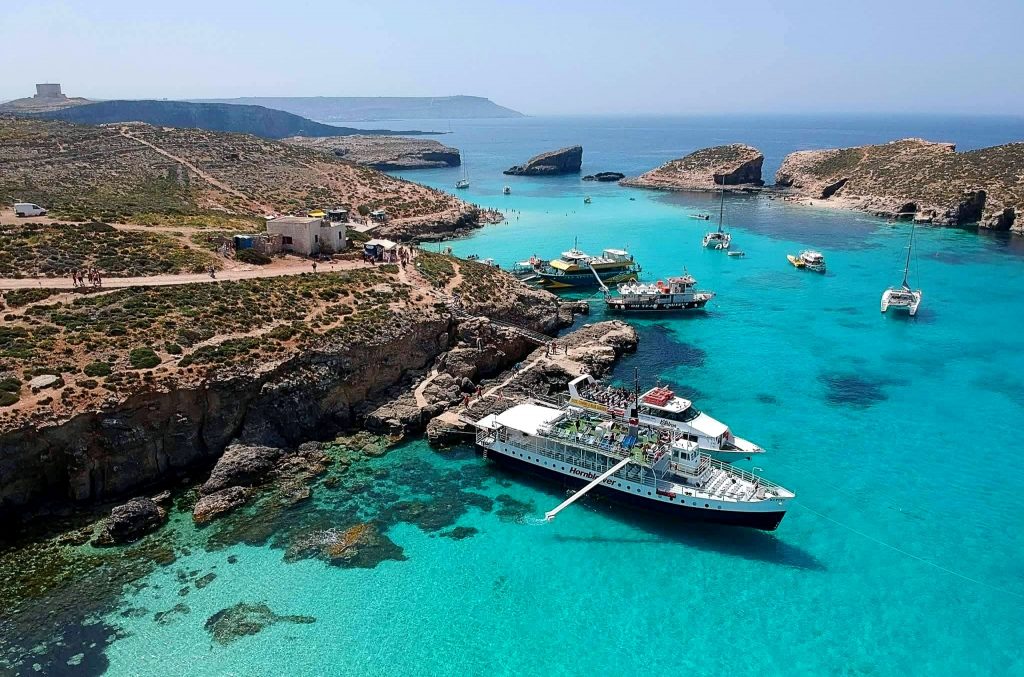 The Blue Lagoon is located on the small island of Comino in Malta. The shallow bay is quite protected from currents by another small island called Cominotto. These two small islands of the archipelago, which lie between Malta and Gozo, are uninhabited. Therefore, the only way to reach this wonderful little island is by boat.
Snorkeling at the Blue Lagoon is an unforgettable experience. The rocky walls of the islands and the pure white sand bottom not only create fascinating nuances in the water. This shallow lagoon is also home to a large number of fish that can easily be admired with a mask and snorkel and even above the water. On a boat trip to the Blue Lagoon you can enjoy up to 5 hours in this paradise.
If you are on holiday in Malta and would like to try different outdoor activities read our article: 8 outdoor activities in Malta (with a map) to find adventures near you.
4) Snorkeling in Kap Kamenjak, Croatia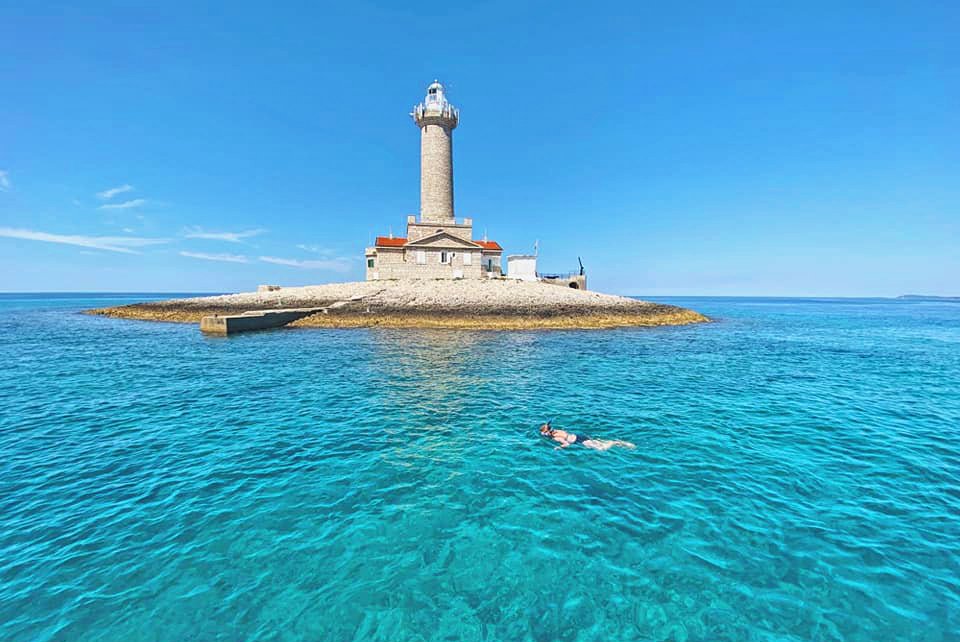 Kap Kamenjak is an approximately 5 km long indented peninsula in the Istrian region, not far from Pula, Croatia. This narrow strip of land has been a National Park since the 1990s and has recently become part of the Natura 2000 project. The peninsula is one of the richest fish habitats on Croatia's coast, and its crystal-clear waters have made possible the sighting of the Mediterranean monk seal, believed to be extinct in the Adriatic Sea.
While snorkeling at Kamenjak, you will be surrounded by the pristine seabed, rich in starfish, sea urchins and a wide variety of fish. You can reach this park by car along a dirt road or more comfortably by boat. The staff know what the best bays are and will be happy to tell you all about the marine ecosystem of Kamenjak.
5) Snorkeling in Punta Prosciutto, Italy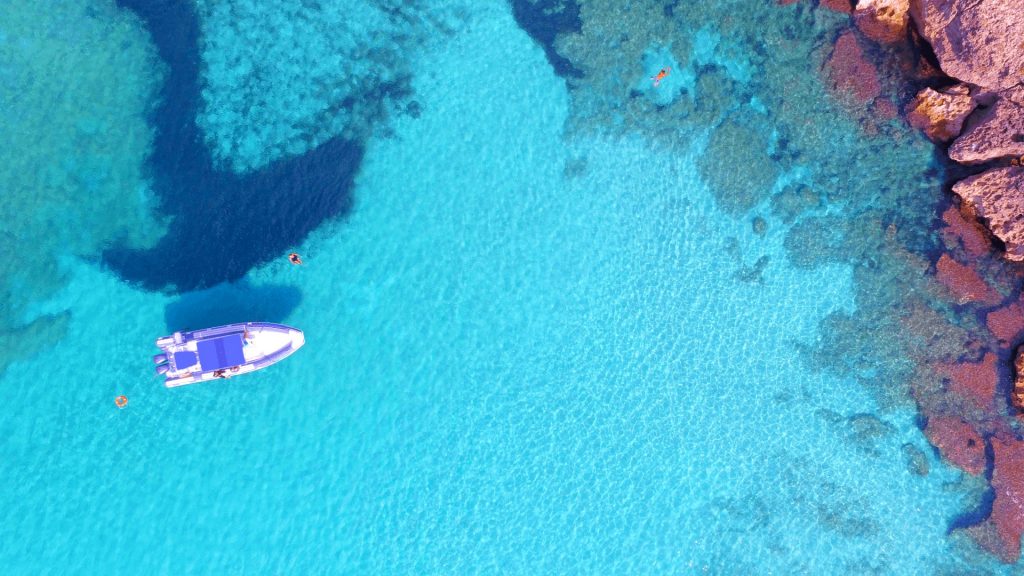 Punta Prosciutto is a beach in Puglia near Porto Cesareo, Lecce. This location is part of a marine protected area that extends from Punta Prosciutto and stretches 32 km of coastline southwards enclosing Torre Lapillo, Porto Cesareo and the beginning of the municipality of Nardò.
These beaches in Salento are characterised by a clear, soft sandy seabed and clean, transparent water. A boat trip from Porto Cesareo to Punta Prosciutto will allow you to snorkel in the most fascinating places in the marine protected area. 
For more information about snorkeling in Puglia, you can read our article: The 5 best snorkeling spots in Puglia.
6) Snorkeling in Parc National des Calanques, France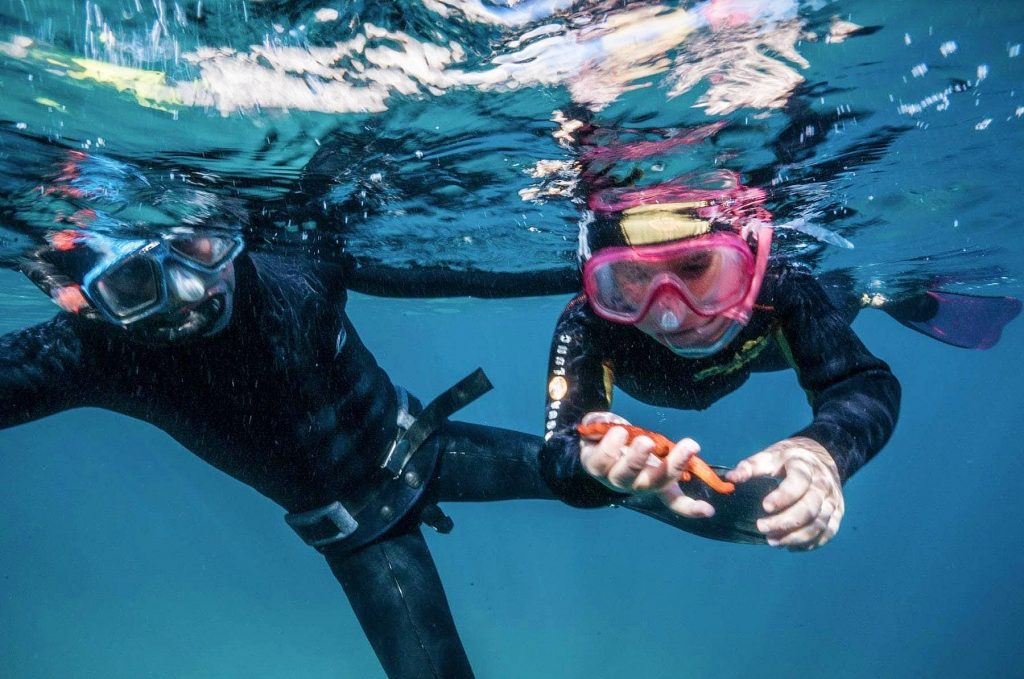 The Parc National des Calanques is located near Marseille in the Provence-Alpes-Côte d'Azur region of France. The park covers 85 square kilometers and was founded in 2012. This area was created in order to protect several endangered marine species, especially because of its proximity to Marseille, the second-largest city in France.
In this beautiful French marine area, diving schools also offer snorkeling excursions. These trips are suitable for everyone as not only is the equipment provided by the school, but the snorkelling sessions are conducted with a qualified instructor.
7) Snorkeling in Port d'Andratx, Mallorca, Spain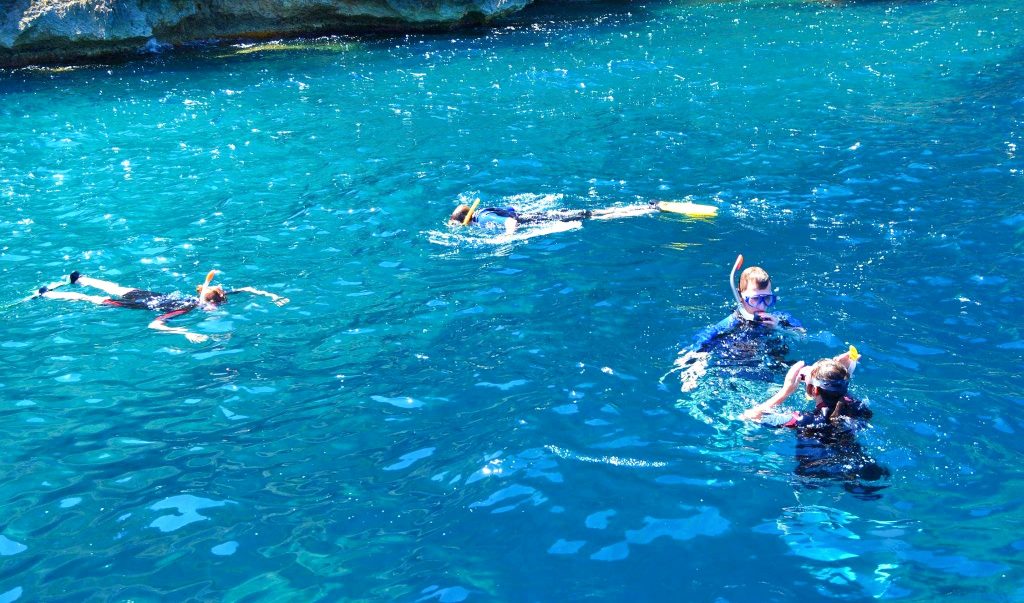 Southwest of the island of Majorca, you can find Port d'Andratx. Although the place is becoming more and more popular from year to year, due to the absence of actual beaches, its waters are still very clean and well-preserved. Local diving schools offer daily snorkeling excursions and provide all the necessary equipment for the activity: mask, snorkel and fins.
If you are interested in other activities to try in Mallorca, read our article: 7 outdoor activities in Mallorca (with a map) to find adventures near you
8) Snorkeling in Blue Lagoon, Corfu, Greece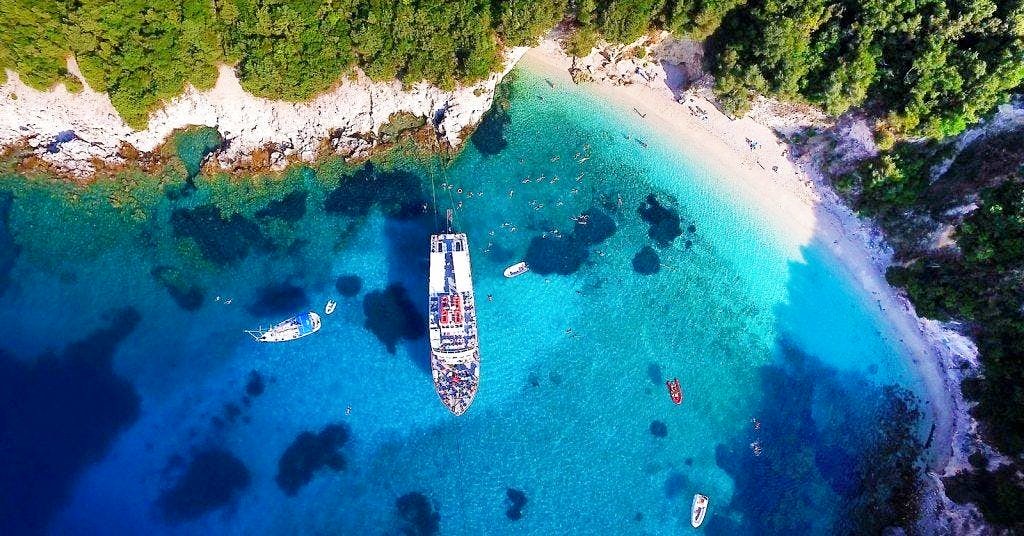 The Greek Blue Lagoon is located in Nisida Syvota, a small island not far from Corfu. This beach, which can only be reached by boat, is undoubtedly the most beautiful and charming in the Epirus region. The beach is not crowded with sunbeds and umbrellas, this allows you to enjoy its natural beauty. The seabed is shallow, and the lagoon is sheltered from the currents, creating the perfect scenario for snorkeling. From Corfu it is possible to reach the Blue Lagoon by boat. In this case, don't forget to bring your own snorkeling equipment, since it is not provided by the operator.
9) Snorkeling in Îles de Lérins, France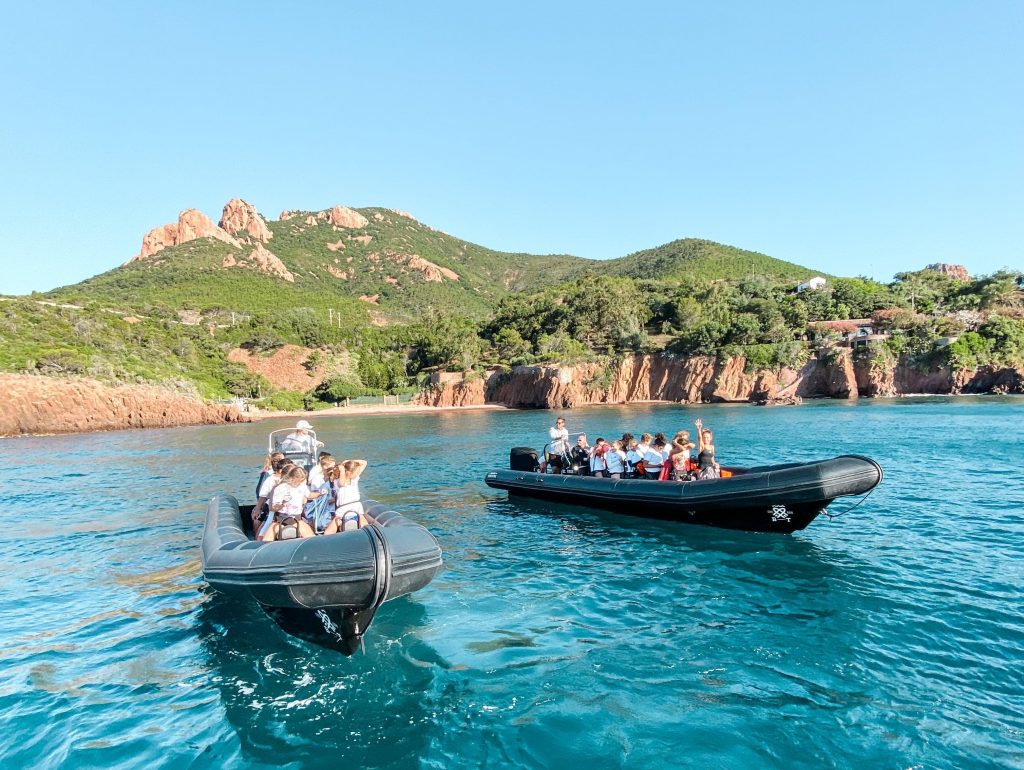 The small archipelago called Îles de Lérins is located near Cannes, France. Its small beaches offer tranquillity and, if visited with a boat trip, where you can spend a few hours away from the crowds of Nice and Cannes. The rocky seabed provides an excellent habitat for different marine organisms, and the high visibility underwater allows you to admire the seabed with just a mask. This area is also home to the Estérel Natural Park, a Natura 2000 site which includes the Ésterel massif, the Siagne Gorge and the mouth of the Argens river.
10) Snorkeling in Makarska Riviera, Tučepi, Croatia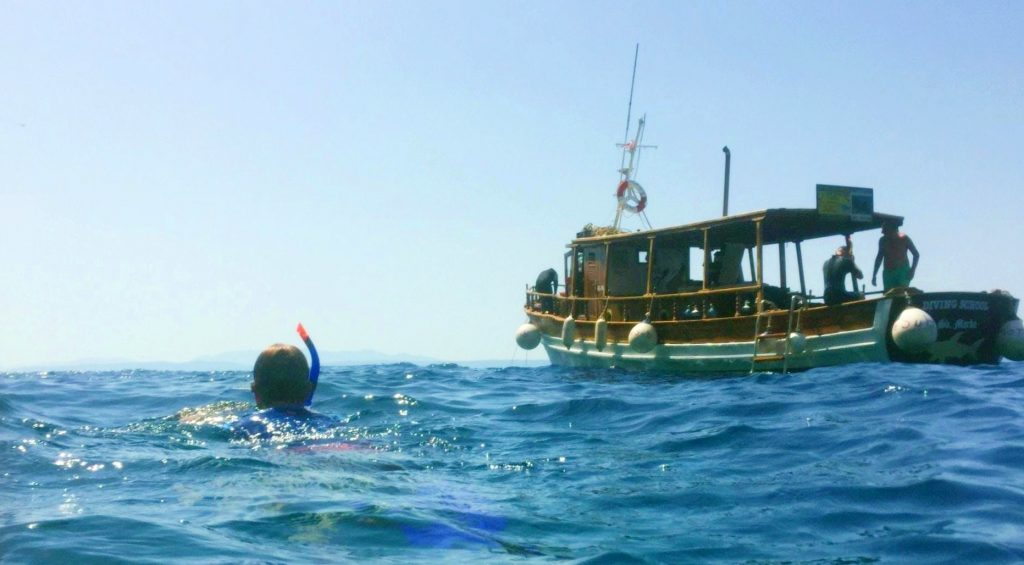 Makarska Riviera is a coastline that stretches for about 50 km in Dalmatia, Croatia. The small bays and longer beaches along the coast are made of sand or gravel. In its clear azure waters, rich in echinoderms, you can find a wide variety of fish. If you decide to explore the area with a boat trip, you can opt for a diving school.
They also offer snorkeling trips, and you will be accompanied by an experienced local guide who will provide you with all the necessary equipment for the activity, as well as useful and interesting information about the area. The locals know the best areas to dive and see lots of colourful fish.